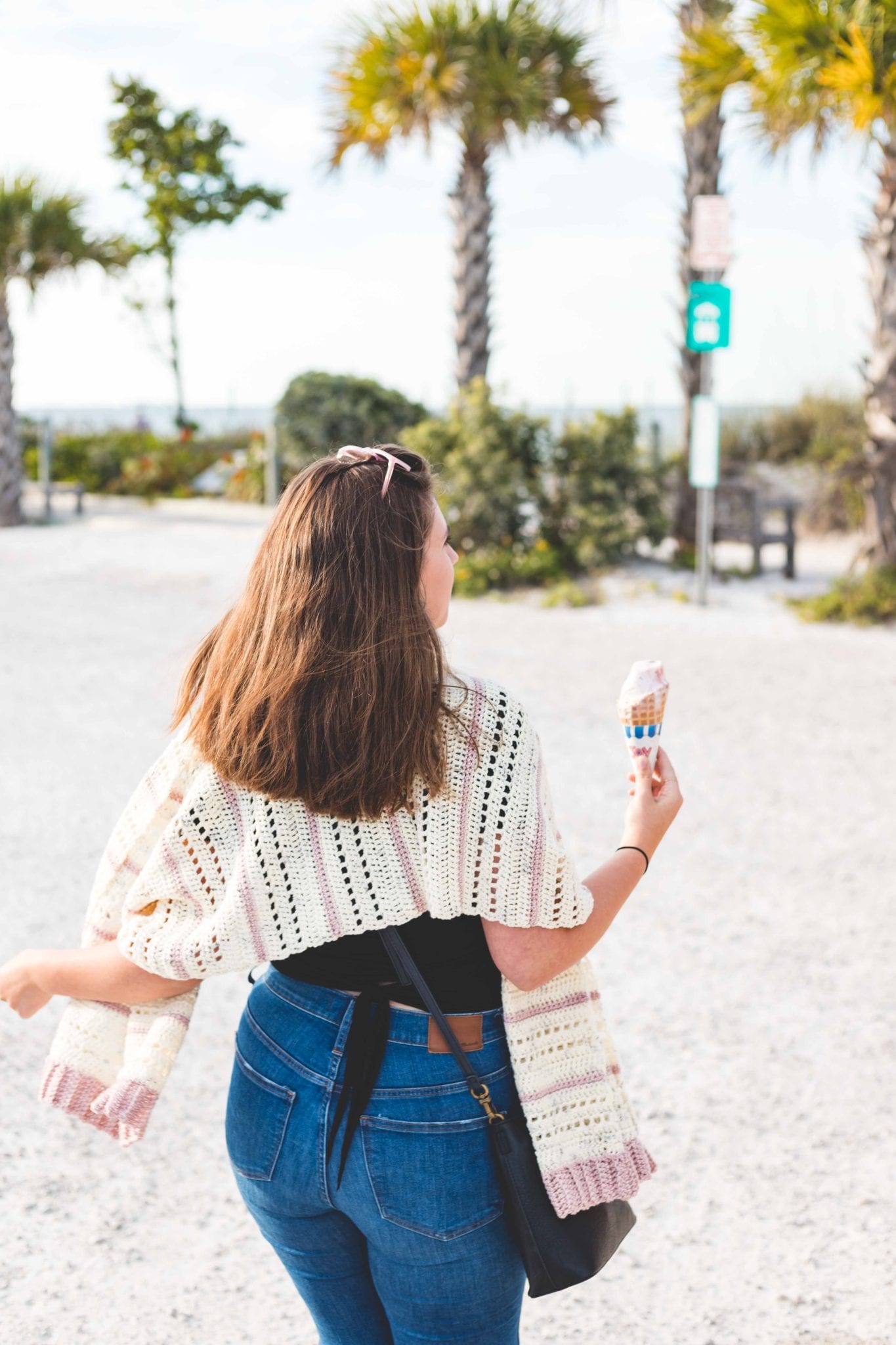 Hey friends. How are we doing? Ready for a summer vacay? Me. Too. I will raise my glass of cold brew to that!
Here in Florida, spring came and went real quick. Mother Nature said hi, hello, here's some flowers – okay, g'bye! Then enter the sweltering hot humidity that we have affectionately named summer. Anyone else a southerner experiencing this intense heat? Please say I'm not the only one suffering…
HOWEVER – I will say I am enjoying some relaxation by the pool just about every day now and I can't complain too much about it. Plus, I've almost conquered that summer tan glow you're always seeing all over Instagram. Not to worry, I always have my fave sunscreen at the ready! (shop it HERE! & it's good for babies too!)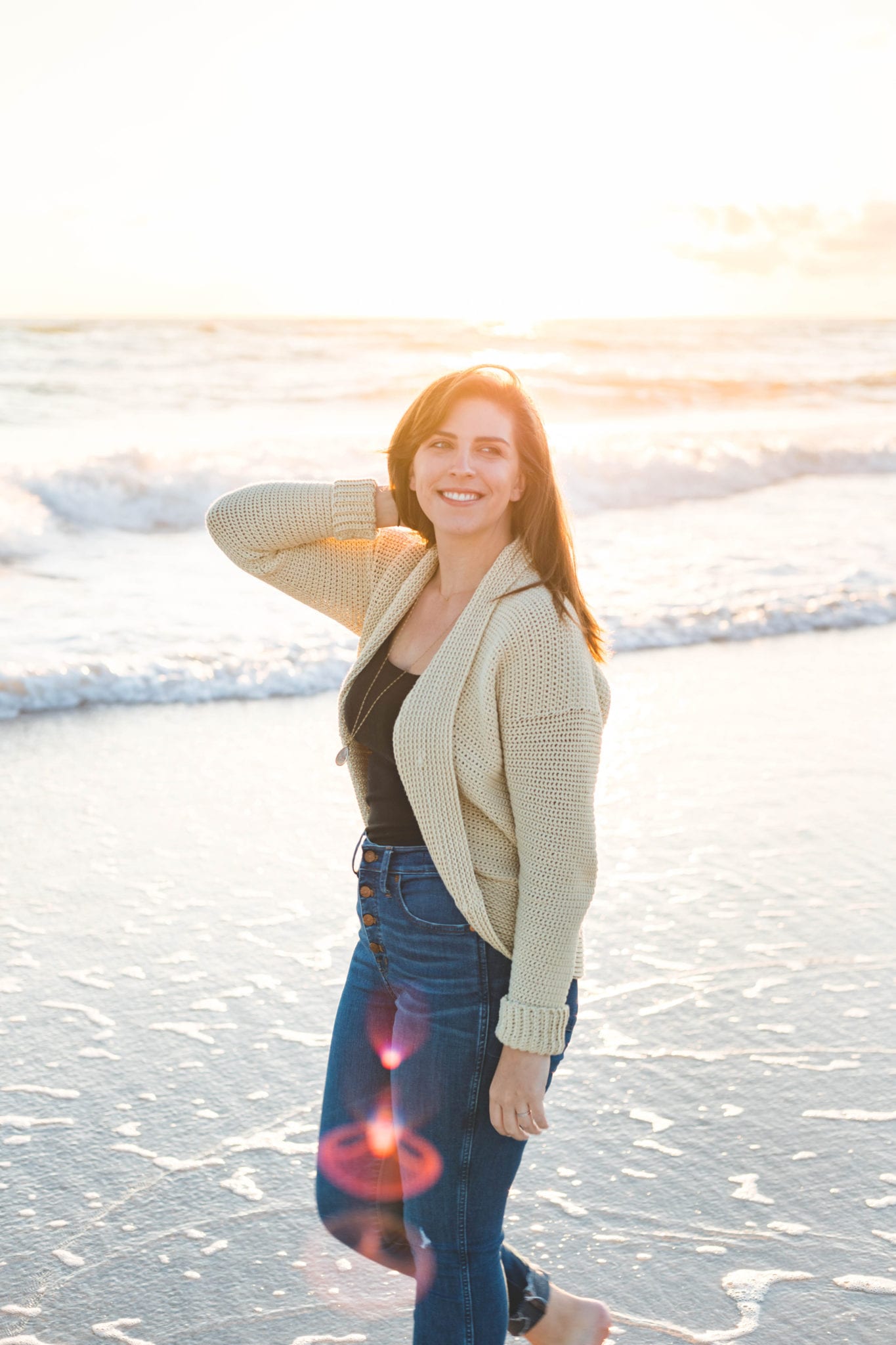 Here are some fan-favorite crochet patterns that are quick, simple, and easy to make for the season! They're also perfect projects to take with you on the go if you're road tripping this summer, or just on your way to the beach!
Contrary to popular belief, yarn is not just for cooler months! Don't get me wrong, I love snuggling up in those thick and cozy blankets and sweaters just as much as the next gal. But there's just something super fun about making (and wearing!) these garments that were made to keep you cool so that you can continue making all year. Scroll on down to see these summer gems!


PATTERNS
Click the photo or link below to check out my free patterns! Don't forget to shop my favorite tools and materials HERE!
Crochet Double Scoop Shawl – This little number may or may not be my favorite pattern to date! Okay, at the very least, my favorite that I've made with my very own hand-dyed yarn: Handmade Home Fibers. I call it the double scoop because it's as dreamy and luscious as your favorite double scoop cone from that local ice cream shop. Well, it's almost as good. Don't quote me… But do make one for yourself and see! I promise it's worth it 😉

Crochet Joni Topper – Ah, miss sweet Joni, we meet again. She was born last summer with a very special cotton yarn that comes in some really stunning colorways (new ones were just released!). It's spun in a variegated twist that works up looking like speckles and I am just in love with it. (spoiler: you will be too!) Shop this super affordable kit from Lion Brand HERE!

Crochet Twist Swancho – This sweater-poncho combo was made for year round layering. Which means you don't have to shove it in a drawer for the other half of the year it's cold out… Nope! Throw a sweater on under this stunner, and she's ready for a cool night's stroll. The amazingly easy construction makes this pattern even better! Shop the kit HERE!

Crochet Seaside Cardigan – This exclusive LB yarn is so luxe and soft, and makes the perfect summer cardi. With ultra thick ribbing and a fold-over collar, it's super comfy and oversized (I sized down for a slimmer fit pictured below). Being another year round piece, you can layer this gem with a tank or sweater what ever the weather. Sorry, I can resist a good rhyme! Shop the kit HERE!

Crochet June Sun Hat – The tape style yarn I used for this project works up to make the most stunning beach hat! Seriously, I could not have dreamt it up better myself. It creates a flexibly comfy, yet stiff brim to hold its shape. Wear it with your fave outfit to brunch with your gal pals, or poolside with a good book. (I recommend THIS empowering summer read!) Shop the kit HERE!

Crochet Weekender Tunic – The beach cover up to rule them all – this pretty v-neck tunic! It has an eye-catching scallop neckline for a fun little detail, and nice open stitches for the ultimate warm weather garment. Don't miss out on this quick make for summer! Shop the kit HERE!

Crochet Lil Denim Cardi – The lil denim cardi is the Everyday Cardigan's cool aunt that we all wanna be. She's effortlessly chic with a slight crop that is just the thing you need for a cover-up at the beach or a day out shopping at the mall. Plus, the yarn I used is so comfy, you won't want to take it off! Shop the squishiest yarn ever HERE!

Crochet Laikini Cardigan – The tried & true 24/7 Cotton yarn from Lion Brand works up beautifully for this lacy summer cardigan! This one was actually one of my first garments ever to leave my hook and I gotta say – it's a nice and light accessory to have on hand all season long. Throw it over a romper, or your bathing suit to run up the road for lunch after a morning trip to the beach. No matter how you style it, you're bound to be comfy and trendy! Shop the inexpensive kit HERE!

OTHER WARM WEATHER FREE CROCHET PATTERNS