A wrap with speckled style – my Crochet Double Scoop Shawl – is a free pattern here on the blog!
Read through my inspiration, design process, and lots of info on the perfect yarn I chose, or scroll on down for the free pattern.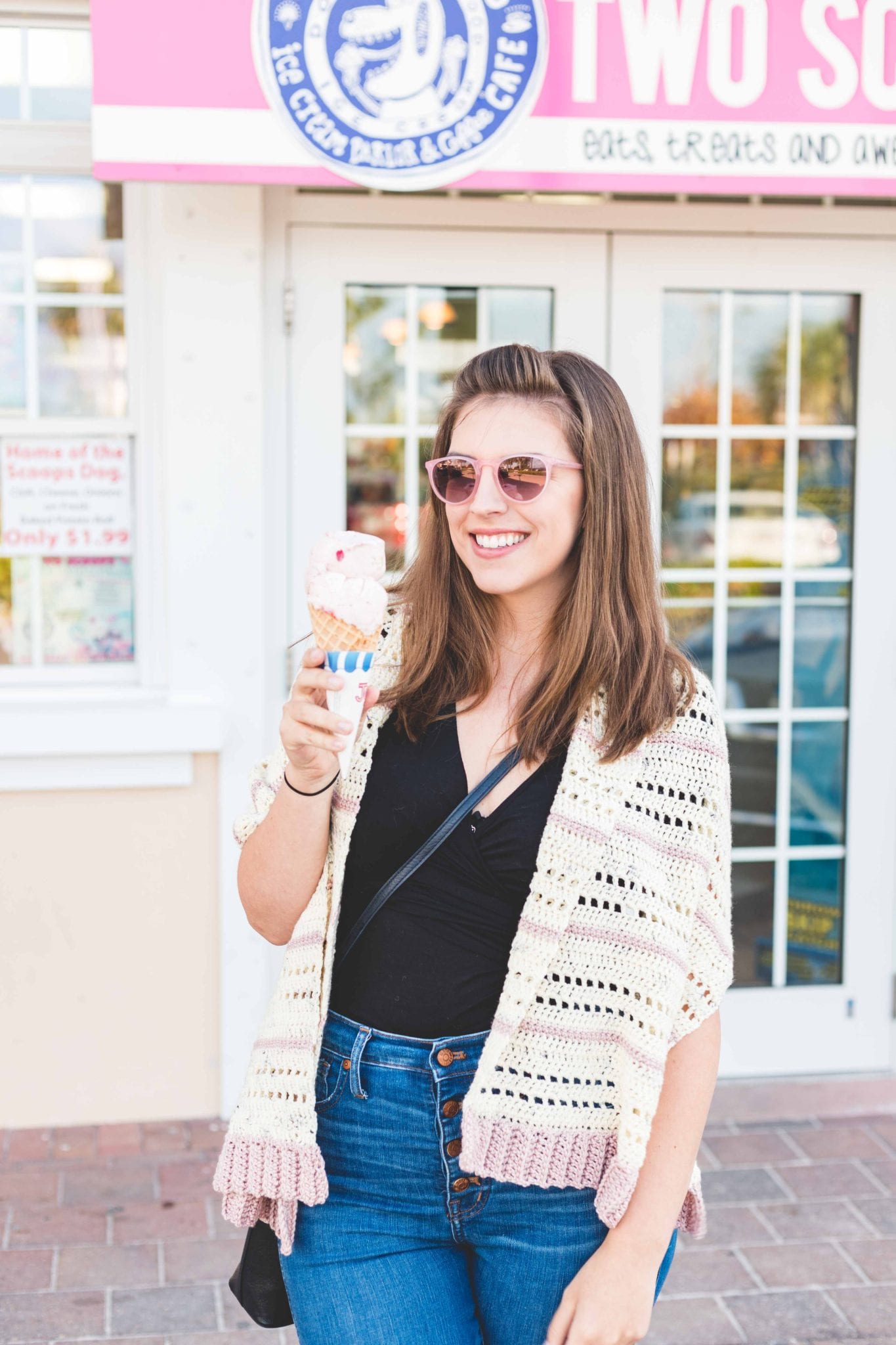 The Inspiration + Design
I've been dyeing my own yarn now for over a year and it's a shame I haven't designed more projects with it! I'm putting a stop to that with this stunningly simple shawl pattern!
Spring and summer are what I like to call "breezy layer" seasons. When the wind kicks up by the shore or the air gets chilly after sundown I always like to have a light wrap or cardigan around to throw on over my tanks and tees. It's been a while since I designed a shawl and I wanted something different from my usual triangle shawl (like the Wishing Well Wrap or Le Nuage Wrap) I designed last year. I decided on a simple rectangle that's large enough to snuggle up in without too much extra fabric that would be hot and heavy.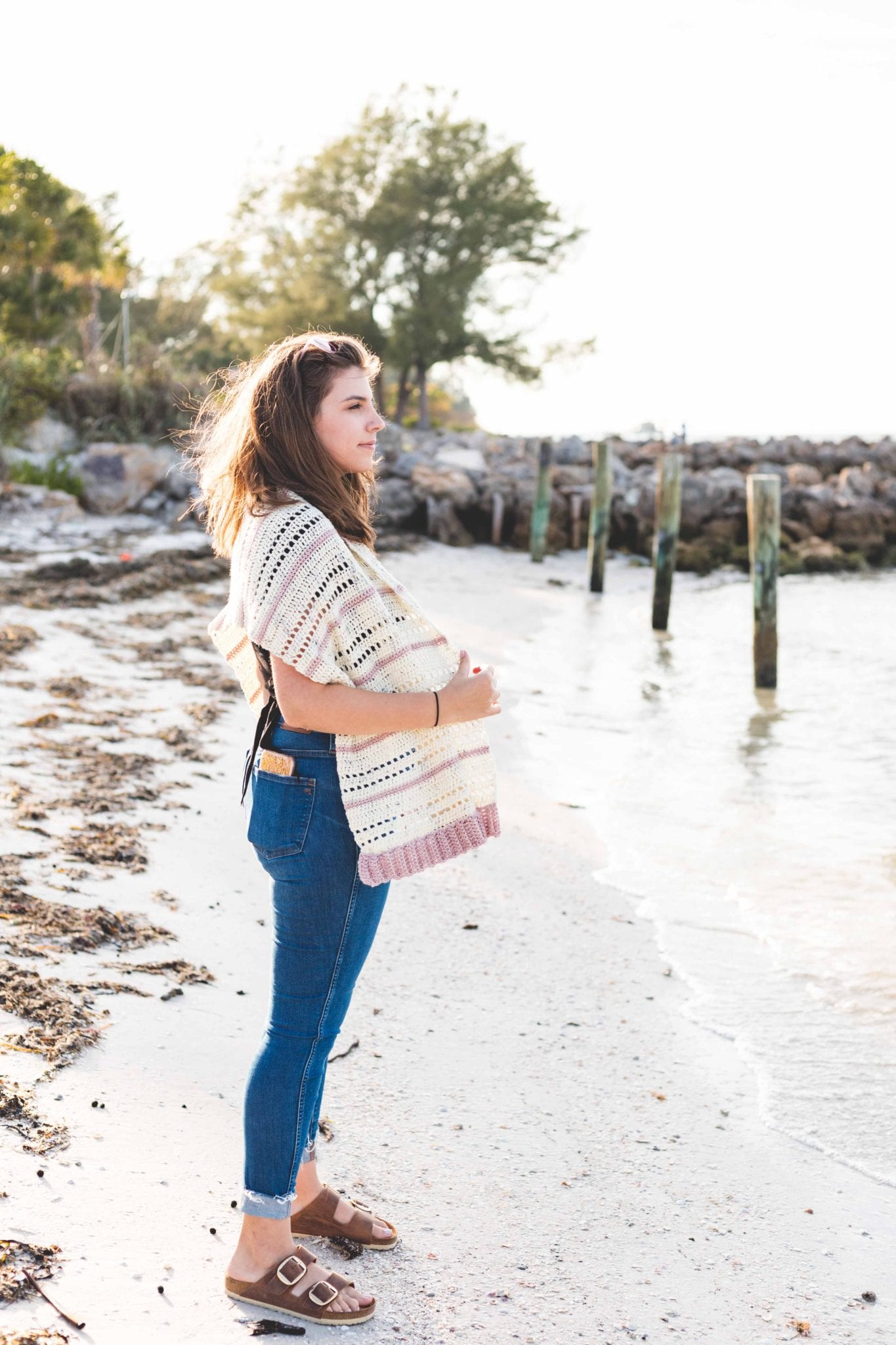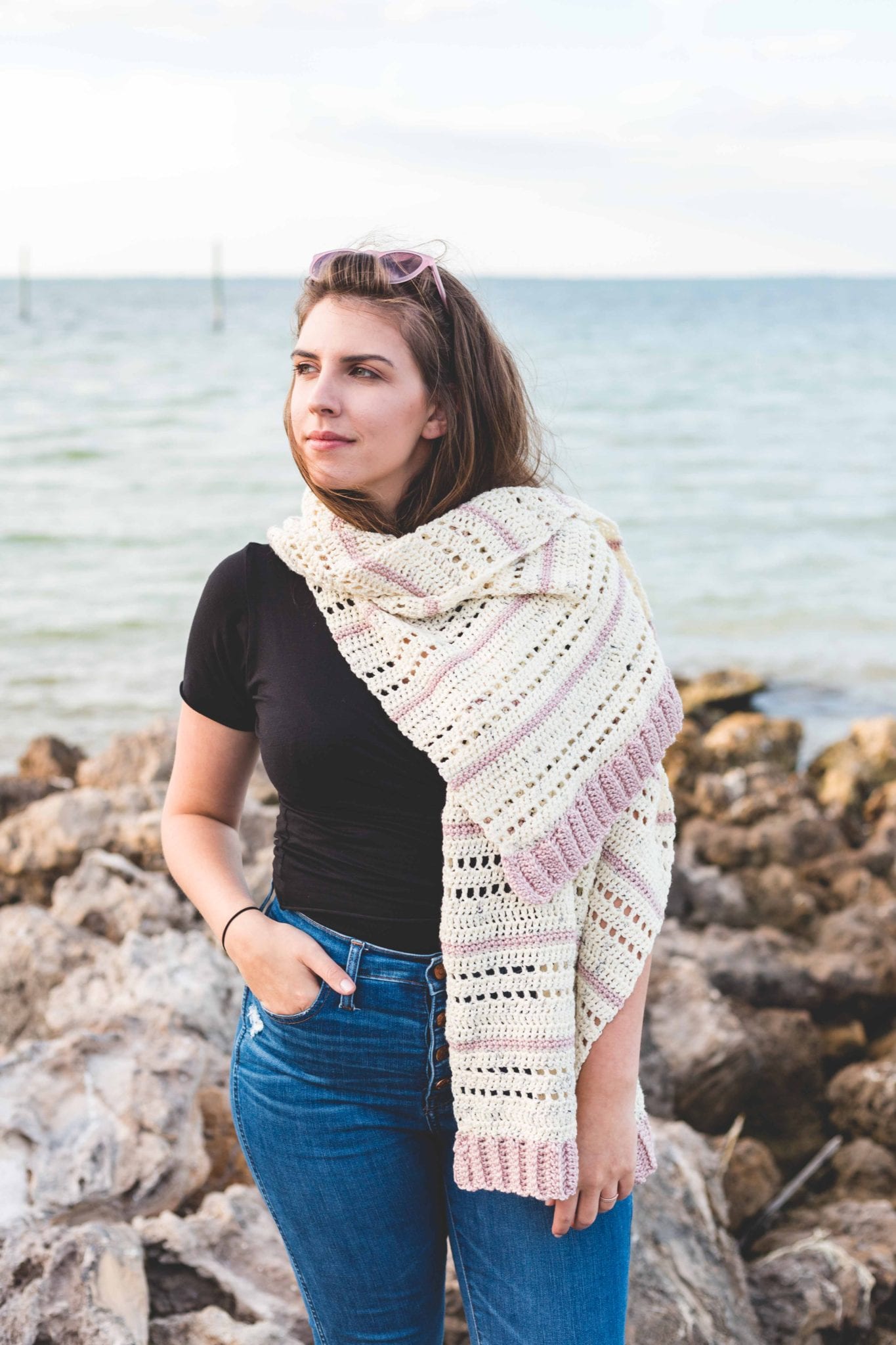 Simple eyelet stitches made by skipping stitches and easier-than-you-think ribbing make this project easy enough for a beginner – even though the finished product looks super luxe and stylish. I love tossing this wrap on over a simple black V neck and Jeans (my top is the Grace Wrap Top & is handmade by my friend Raney at www.RaneMade.com – check out her gorgeous comfy clothes here!)

The Yarn
Once I decided on what I wanted to make with our yarn, I set out to choose a yarn base and colorway – fun!
I love our Crocheter's DK base yarn – we always dye a lot of it for our monthly shop updates (get on our email list HERE to be notified of the next one!) and I originally hand selected it to be ideal for crocheting. So much of the hand dyed yarn community caters to knitters that I knew I had to carry a yarn just for crocheters!

Ever since I first dyed our Vanilla Bean colorway back in January, I knew I wanted to make something with it. It's a soft vanilla color with tiny black speckles that are barely there. It's the perfect amount of interest without being too busy! I paired it with our Ava solid pink color that's the perfect dusty shade of blush.
I'm so thrilled with how this super soft yarn worked up and how the colors and drape all came together in the finished product.







PATTERN
To sum it up: Crochet this simple wrap with show-stopping yarn that will keep the cool summer breeze off your shoulders all season long!
Materials:
–Sewrella Yarn Crocheter's Base DK Yarn (Weight 3/Light, 100g, 231yds)
3 skeins Vanilla Bean (MC)
1 skein Ava (CC)
Shop all of my favorite tools & materials here!
Sizes:
1 size fits all (with easy additional repeat)
Gauge:
16 sts x 9.25 rows in Dc = 4″
Finished Measurements:
17 x 56″
Pattern Notes:
-Pattern is worked as one large striped panel with ribbing crocheted separately and seamed at the end.
-Pattern is one size fits most but may be easily lengthened by adding sequential repeats. This may, however, affect yardage.
-Carry MC yarn up the side of the piece but do not carry CC yarn (the floats will be too obvious).
-All sts in < > are final st counts for the Row. These counts include ch spaces.

Crochet Double Scoop Shawl Pattern
Wrap Panel
With MC yarn, Ch 70, sk 1st st
Row 1: Sc across, t <69>
Row 2: Ch 2 (does not count as a st throughout), dc across, t <69>
Row 3: Ch 2, dc, *ch 1, sk 1, dc; rep from * to end <69>
Row 4: Ch 2, Dc across, t <69>
Rows 5-6: Rep Rows 3-4
Rows 7-8: Ch 2, dc across, t <69>
Change to CC yarn
Rows 9-10: Ch 1, sc across, t <69>
Change to MC yarn
Rep Rows 1-10 until you run out of MC yarn or until you finish 13 total repeats.
Rep Rows 1-8 once more.
Finish off, weave ends.

Ribbing
*make 2
With CC yarn, Ch 10, t, sk 2 sts
Row 1: Dc across, t <8>
Row 2: Ch 2, BLO dc across, t <8>
Rep Row 2 until you've finished Row 40 (or your ribbing length matches your panel width).
Finish off leaving a tail about 3x as long as the length of your ribbing.
Whip stitch ribbing selvedge edge to foundation ch of wrap panel.
Whip stitch second ribbing selvedge edge to last row of wrap panel.
Weave all ends.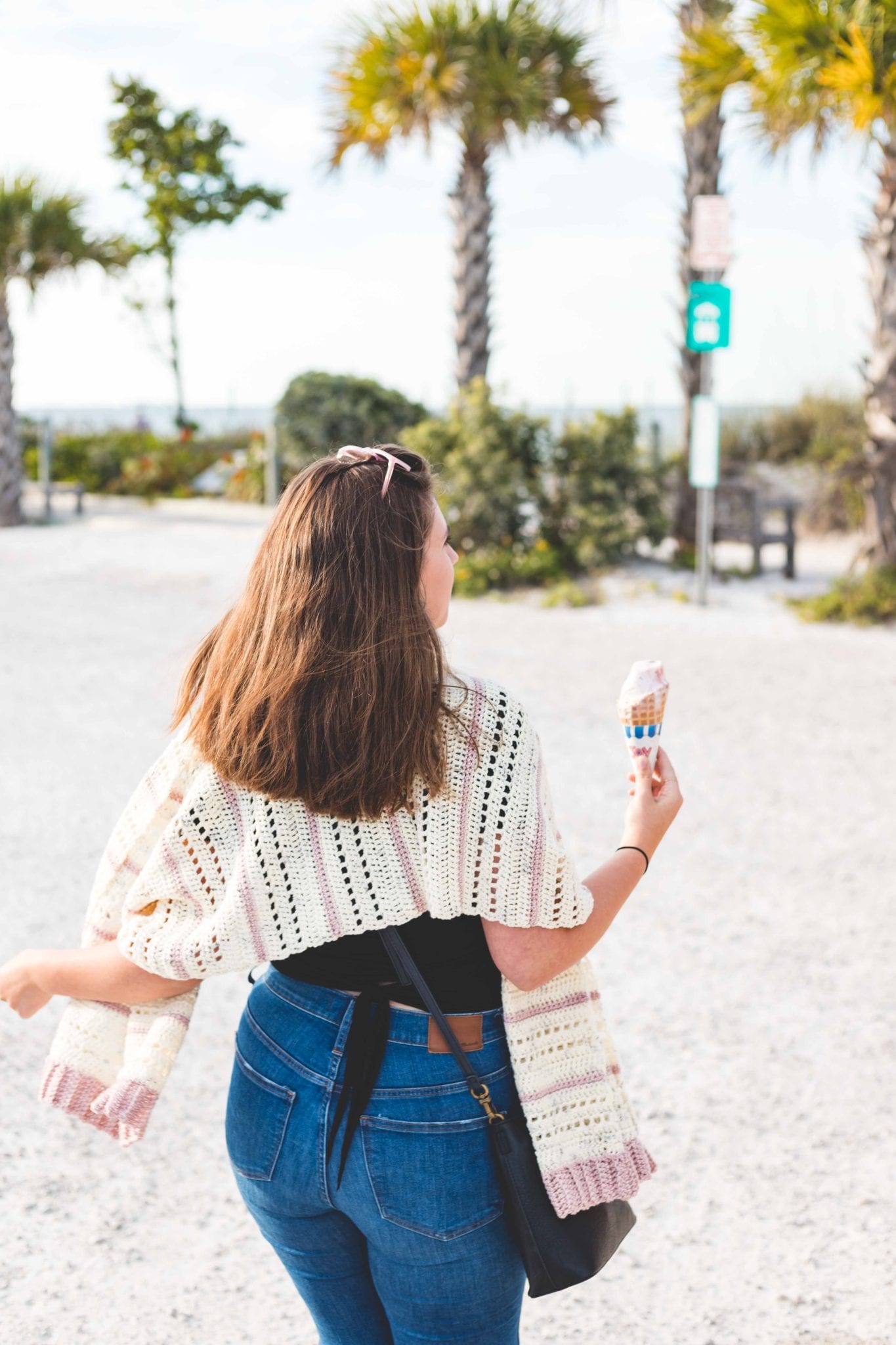 Abbreviations:
BLO – back loop only
CC – contrast color
ch – chain
dc – double crochet
MC – main color
rep – repeat
sc – single crochet
sk – skip
st(s) – stitch(es)
t – turn
OTHER SPRING ESSENTIAL FREE CROCHET PATTERNS

1. Crochet Elle Convertible Shawl / 2. Crochet Rancher Poncho / 3. Crochet Audrey Tunic