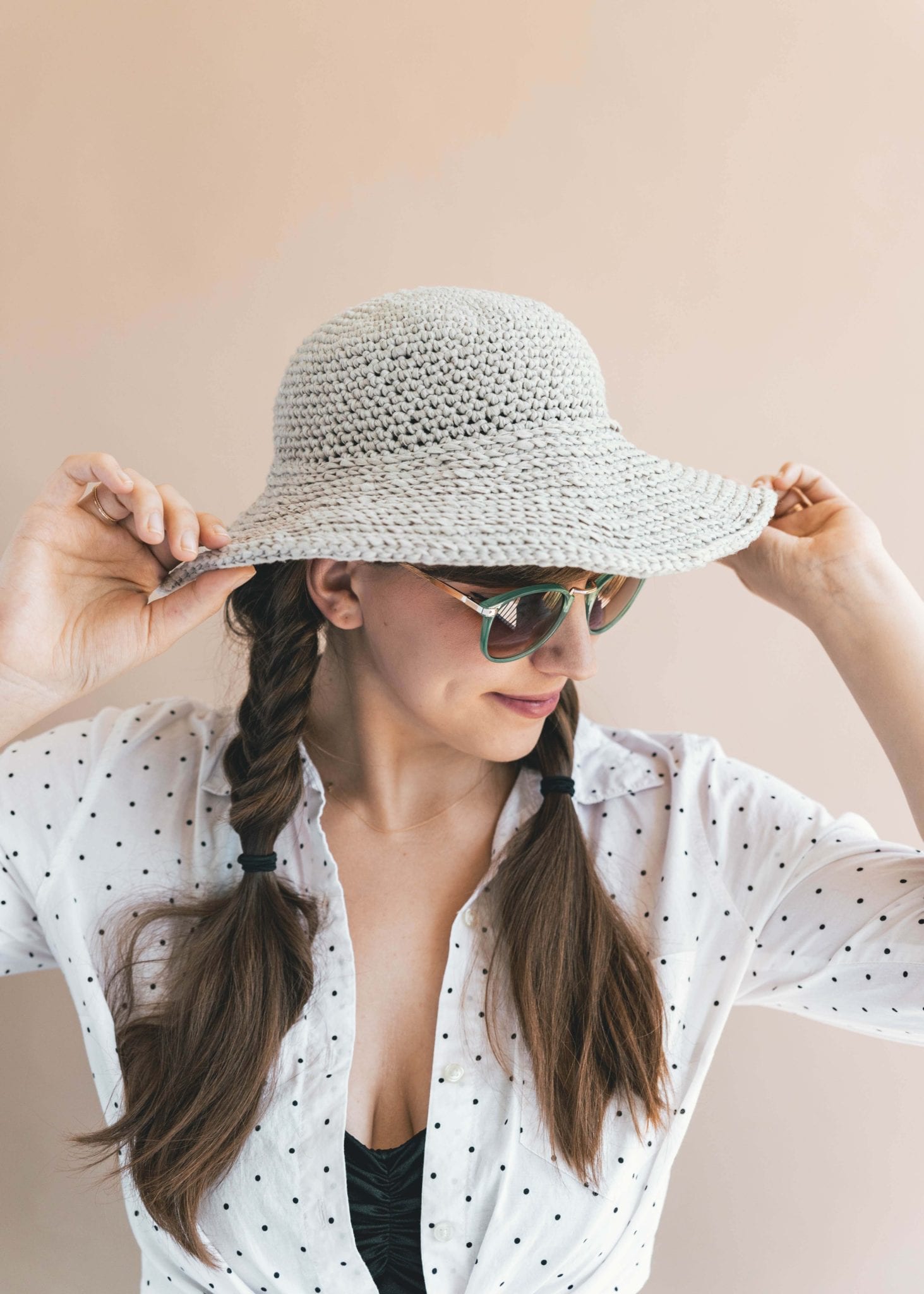 The weather is warming and I've got summer on my mind – so I had to make a chic accessory for sunny days: The Crochet June Sun Hat!
I won't beat around the bush, this hat is amazing. It uses just 2 skeins of yarn (really 1.5 – you could easy get 2 hats from 3 skeins) and NO other funky materials to keep that brim stiff. No fussy wires, cords, starch or glue. Just good old fashioned crochetin'.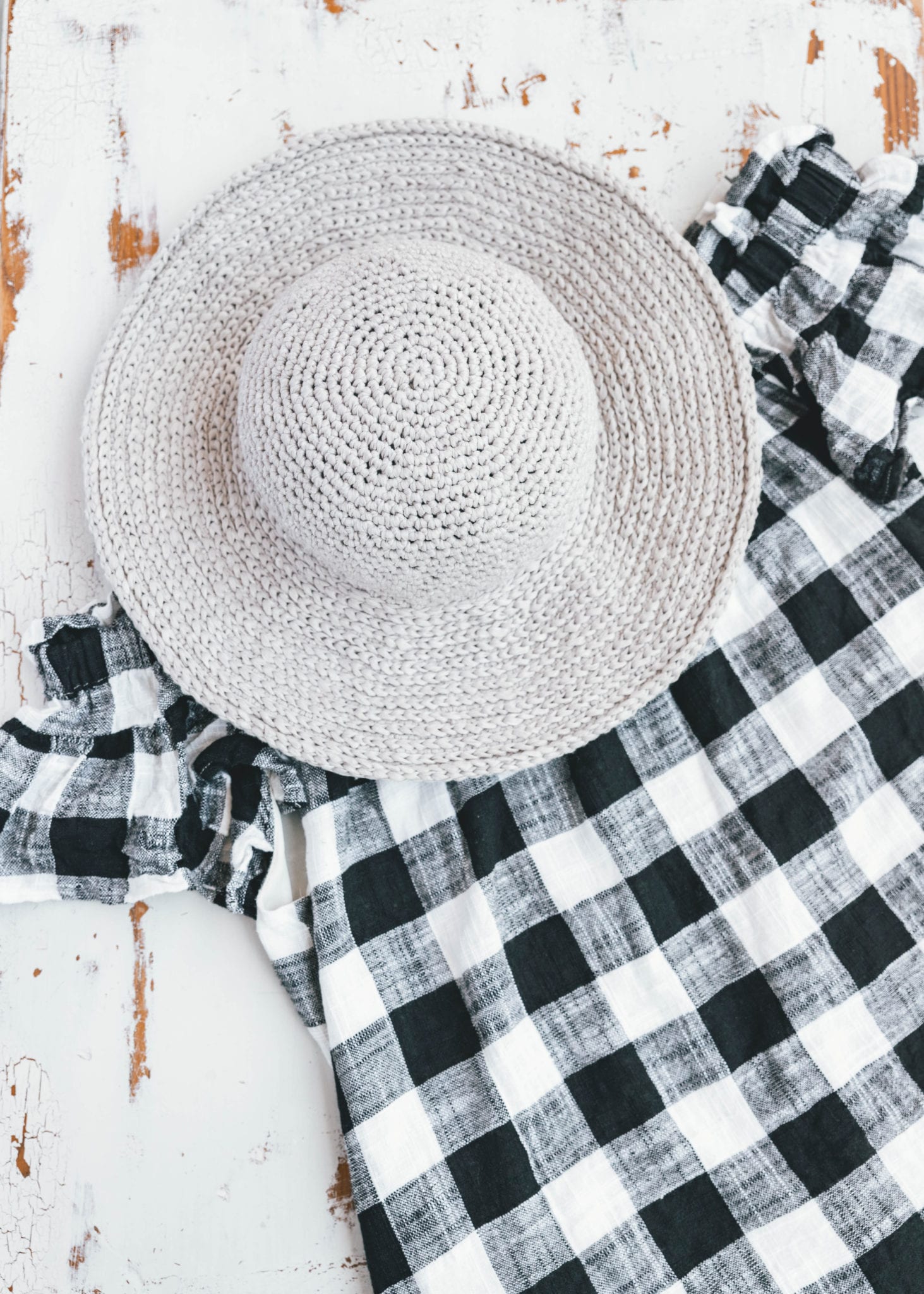 This hat works up fast with the bulky category 5 weight yarn I used, but don't let the weight fool you – this hat is so lightweight and breezy for when that sun is beaming down on ya. Style it with your favorite swimsuit and sandals, or accessorize gal's brunch with a pretty sundress. I love a piece as versatile as this one!
Add flair to suit your style to really personalize this piece, or leave it as is! You could add colorful pom poms with other scrap yarn, adorn it with embroidery, iron on a patch, or just tie a feminine ribbon around the crown.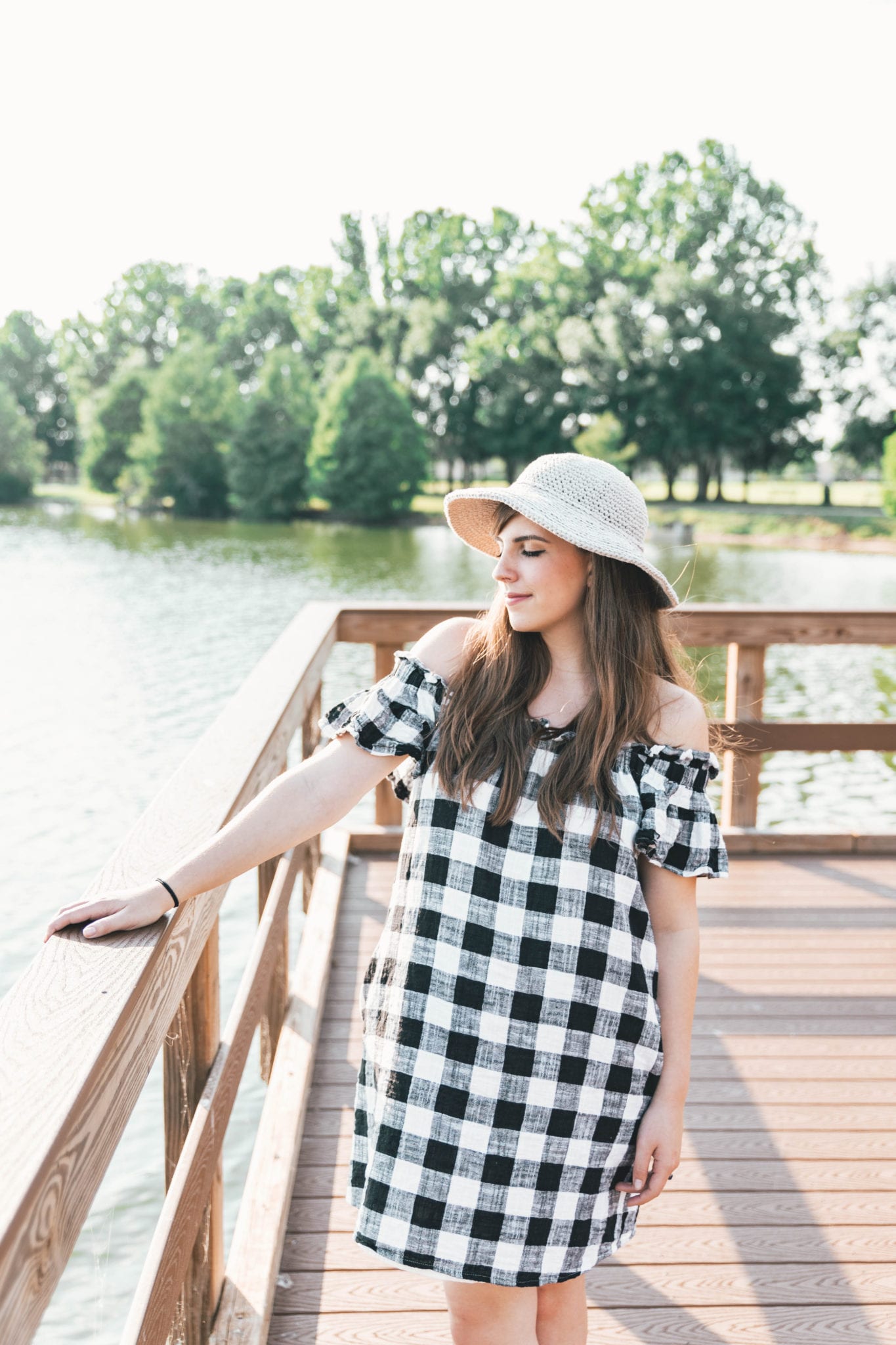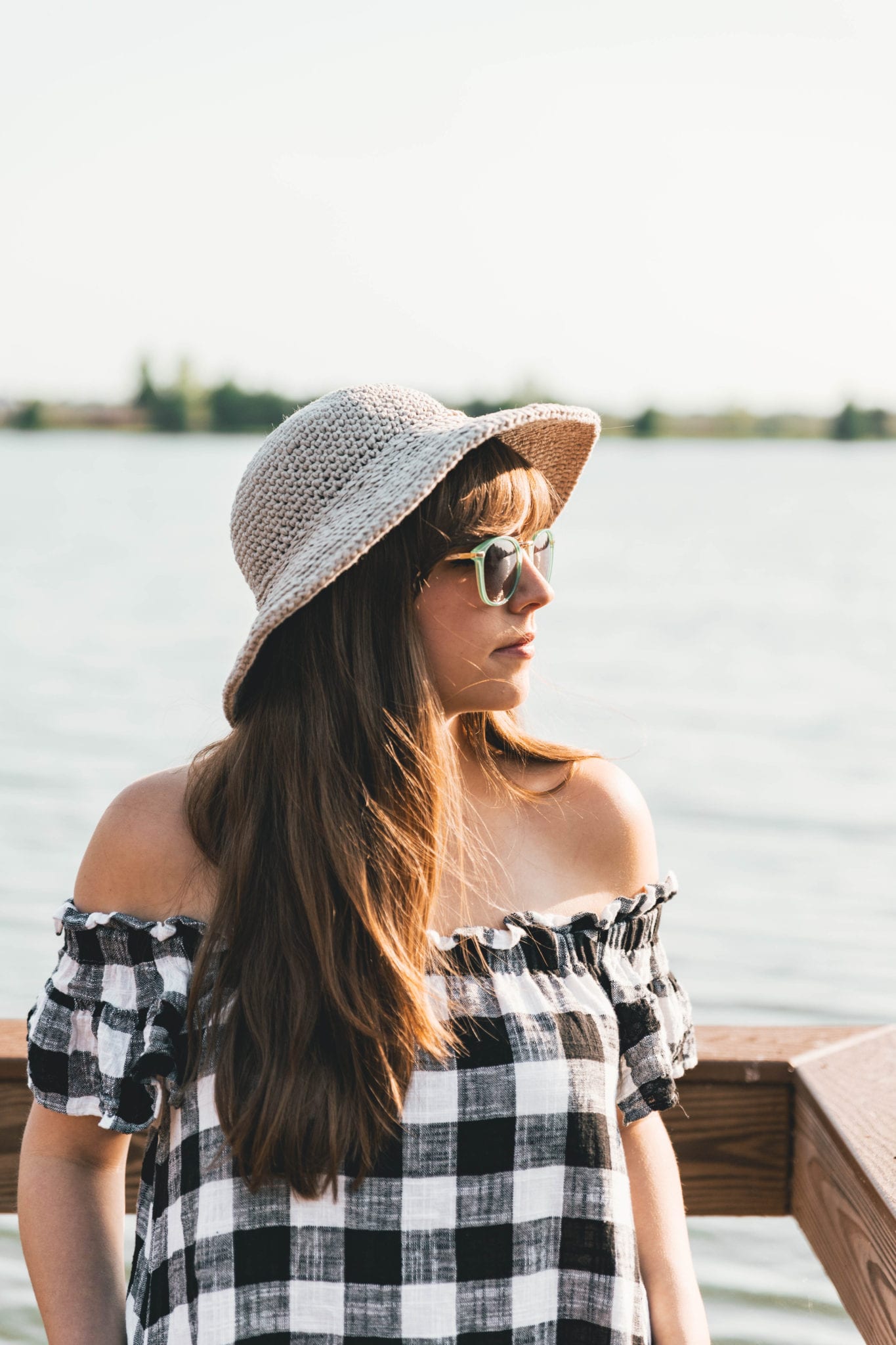 PATTERNS I LOVE (& you should too)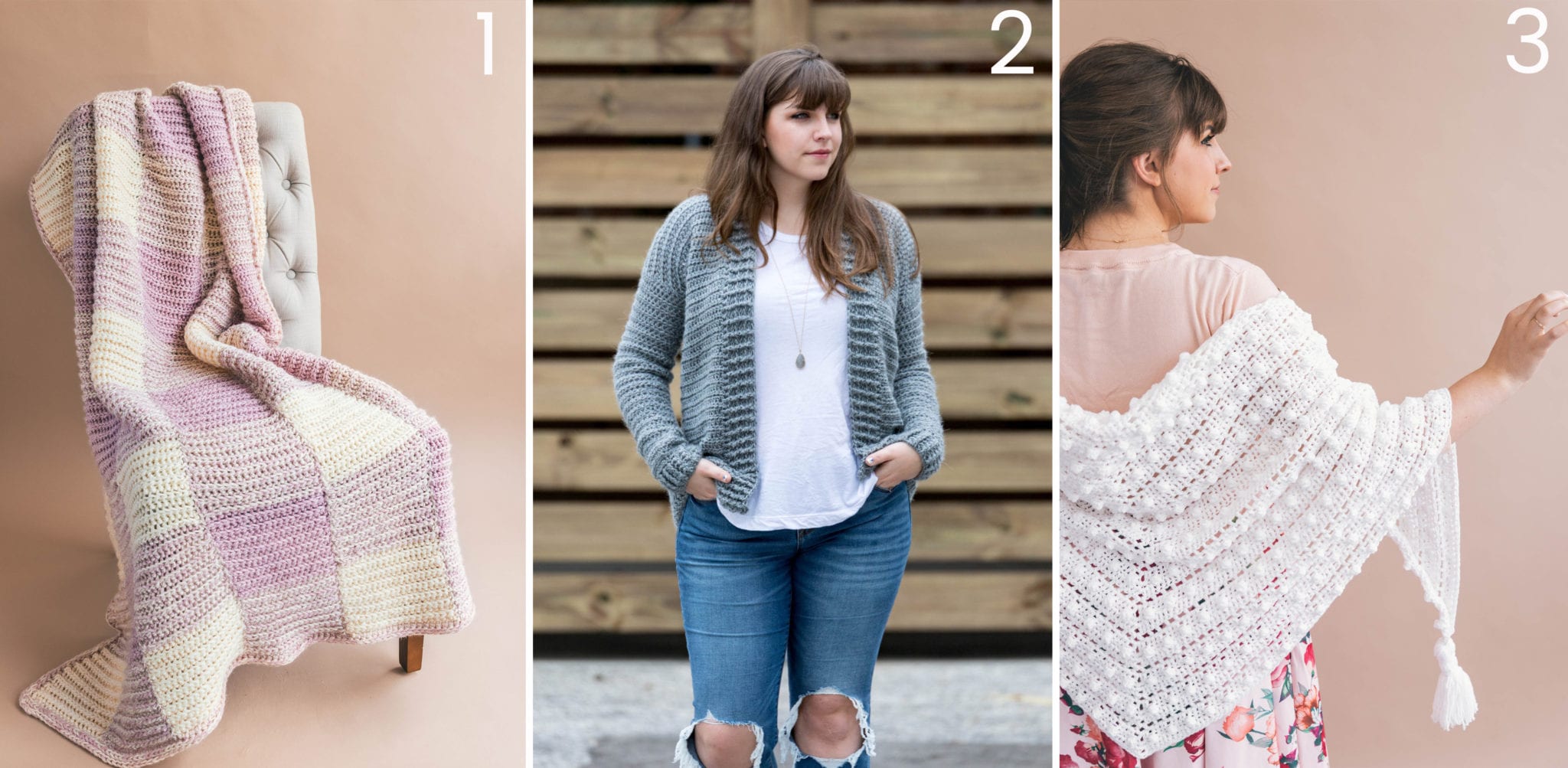 1. Crochet Homemaker Gingham Throw / 2. Crochet Everyday Cardigan / 3. Crochet Le Nuage Wrap/Triangle Scarf
I chose to use Lion Brand's new Rewind yarn. It's a blend of polyester and viscose fibers which is most unusual – and totally perfect for my June hat. It's a tape style yarn, which means that the orientation of the strand is flat and skinny, like a piece of tape. It's so hard to communicate the feel of this unique yarn with words and photos – it really is something you have to feel to believe!
The best way I can think to describe it is: really really thin velvet and wax paper had a baby. And it was Rewind yarn. It's the most innovative fiber I've ever felt!
Lion Brand has created a kit using Rewind that includes all the yarn you need plus a printed copy of the pattern! It's on sale for 20% off this week only so go grab it here. it's is super affordable and this hat only takes 2 skeins – and those color options you guys! My favorites are the Greige I used here and the couple of others that are options in the kit!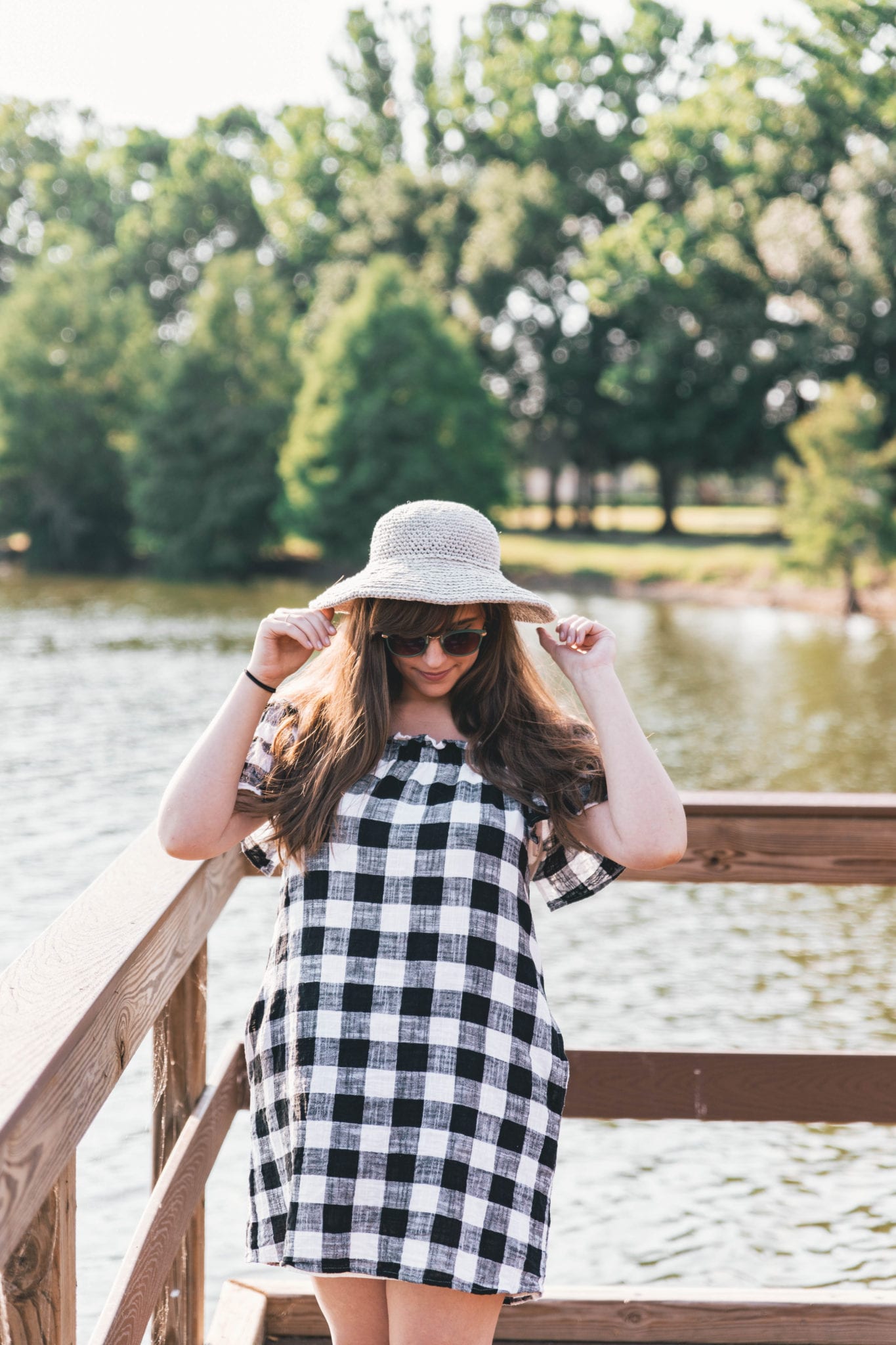 I've also got the video tutorial for you here, as per usual. Hope it helps ya!


PATTERN
To sum it up:
Sunny summer afternoons need a lightweight topper to filter that harsh glow – enter, June. She's simply chic and ready for anything. June's versatility takes her from a day sunbathing at the beach to margaritas at la cantina in the evening. She works up fast and is beginner friendly – holding the perfect shape without the help of wires, starch, or glue. Everybody needs June.

Materials:
–Lion Brand Rewind Yarn – 2 skeins (or comparable Category 5 yarn)
Grab the kit with everything you need (including a PRINTED copy of the pattern!) HERE
-Size G 4mm crochet hook
-Scissors
-Tapestry needle
(Click HERE to shop all my favorite tools!)
Gauge:
16 sts x 16 rows in single crochet = 4″
Dimensions:
6.75″ = Diameter of dome
14″ = Diameter of outer rim
Abbreviations:
ch – chain
inc – increase (2 single crochets in the same stitch)
sc – single crochet
sl st – slip stitch
st(s) – stitch(es)
rep – repeat
t – turn
Difficulty Level:
Level 2 – Easy
Pattern Notes:
-Do not join rounds in this pattern, do not begin rounds with any chain stitches
-Pattern is worked beginning in the center of the dome and in continuous rounds to the end of the brim. We will then break yarn and go back in to work our stabilizing slip stitches along the brim. Pay close attention to stitch counts.
-Increase rounds read "Inc, Sc, rep around" whereas you'll repeat Inc, Sc, Inc, Sc, Inc, Sc, etc until you've finished the round.
-Be sure to check gauge! You don't want your hat to come out too large or too small.
-See the video above for further visual instruction!

June Sun Hat
Begin with a magic ring, Ch 1
Round 1: 6 Sc into ring (6)
Round 2: Inc around (12)
Round 3: Inc, Sc, rep around (18)
Round 4: Inc, Sc 2, rep around (24)
Round 5: Inc, Sc 3, rep around (30)
Round 6: Inc, Sc 4, rep around (36)
Round 7: Inc, Sc 5, rep around (42)
Round 8: Inc, Sc 6, rep around (48)
Round 9: Inc, Sc 7, rep around (54)
Round 10: Inc, Sc 8, rep around (60)
Round 11: Inc, Sc 9, rep around (66)
Round 12: Inc, Sc 10, rep around (72)
Rounds 13-24: Sc around (72)
Brim
Round 25: Inc, Sc 5, rep around (84)
Round 26: Inc, Sc 6, rep around (96)
Round 27: Inc, Sc 7, rep around (108)
Round 28: Sc around (108)
Round 29: Inc, Sc 8, rep around (120)
Round 30: Sc around (120)
Round 31: Inc, Sc 9, rep around (132)
Round 32: Sc around (132)
Round 33: Inc, Sc 10, rep around (144)
Round 34: Sc around (144)
Round 35: Inc, Sc 11, rep around (156)
Rounds 36-37: Sc around (156)
Rounds 38-39: Sl st around (156)
*Note: Round 39 will be tight to work in but it really makes the edging of the brim much more sturdy!
Break yarn and finish off.
Brim Stabilization Stitches
Join yarn to the small space between the first and second stitches in Round 26 of your hat. Pull up a loop onto your hook.
Surface Sl st into the space between the next two sts in Round 26. (see the video above if you've never worked surface sl st before!)
Continue slip stitching along every stitch and every Round to Round 37 following the natural spiral of the un-joined rounds.
Finish off, weave all ends.



Earning a Living with my Handmade Home
If you love crocheting and knitting, you should think about starting a blog! I'll help you get started to turn your hobby into a money-making career with my free "Start a Blog" guide.
Or you can check out my latest income report to see how this blog earned over $10,000 last month!