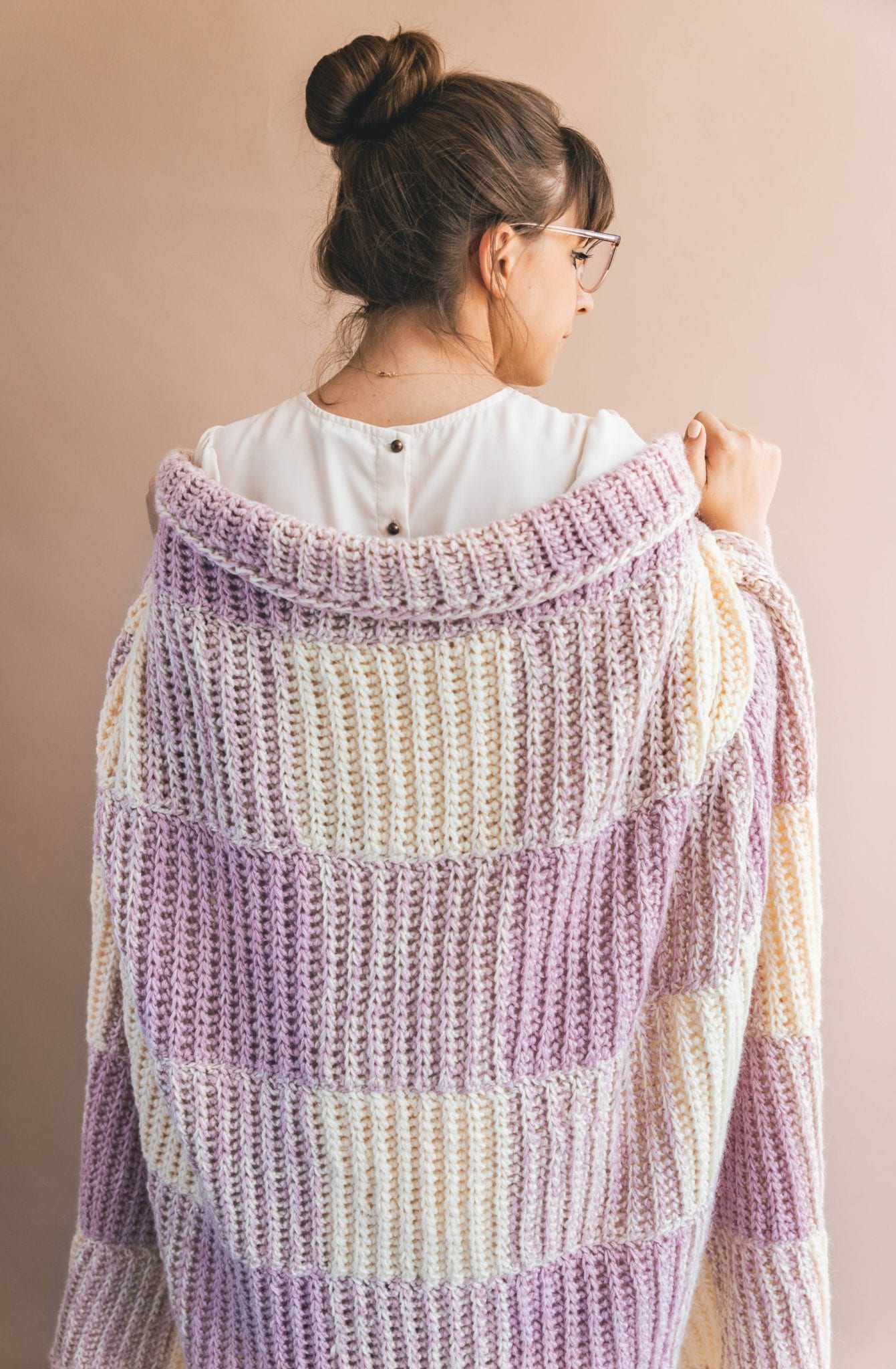 The Homemaker Throw is the perfect feminine accessory for any couch that needs some snuggles.
Made in soft blush gingham, this blanket is subtly retro with modern faux-knit stitching. Homemakers fill their houses with love and warmth, and this Homemaker Throw is no different!
I was inspired by a knit blanket I found originally on Martha Stewart's website many years ago, you can still find that one here if you love to knit. I made mine with similar construction, a series of strips sewn together to make a plaid gingham pattern.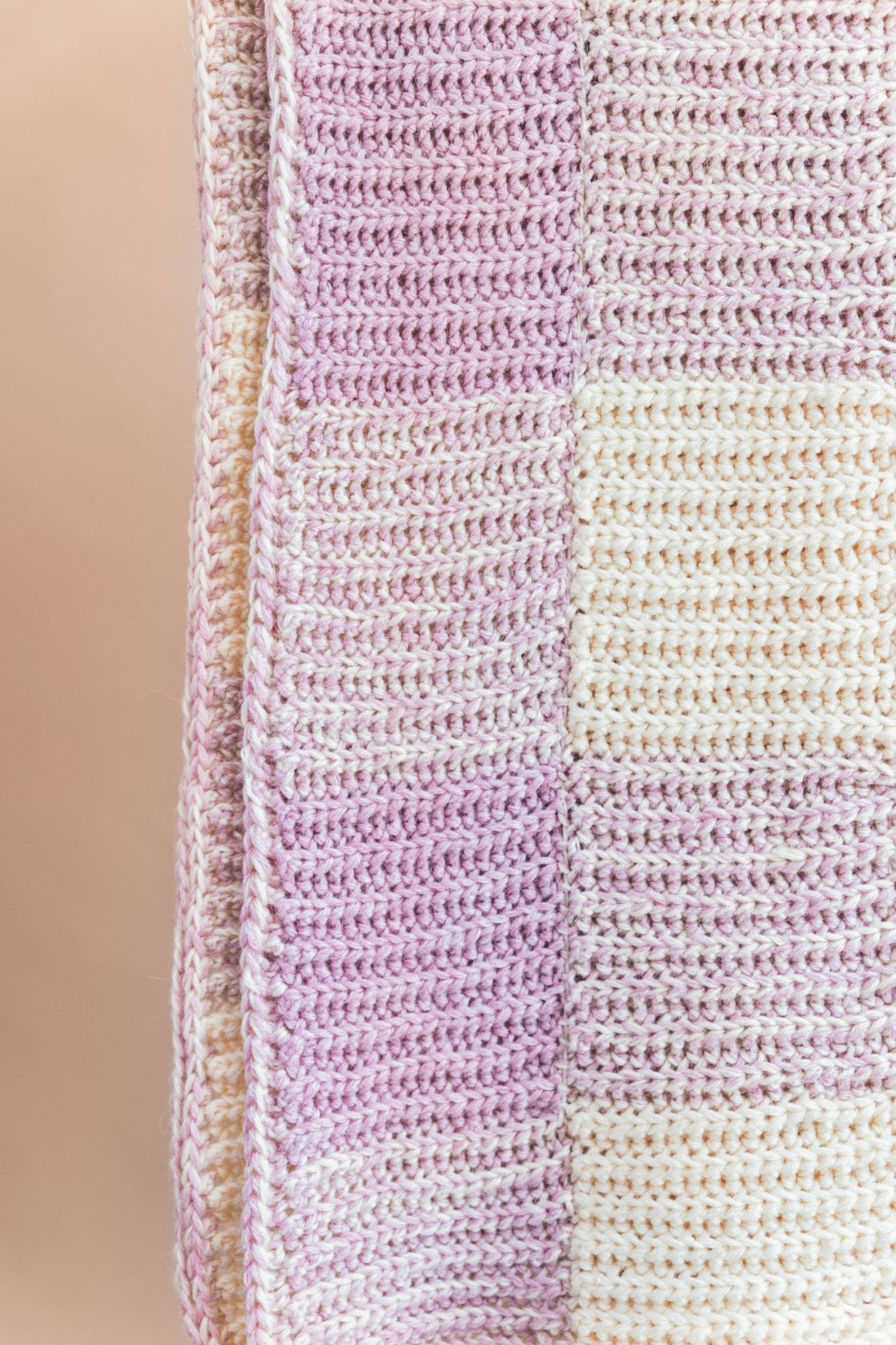 This way, you don't have to carry yarn and hide it under each individual stitch as with many other gingham patterns. It conserves a lot of yarn and gives a cleaner look overall!
I hope you love this blushy gingham Homemaker Throw as much as I do, it was so easy to make with just one repeating stitch for the entire blanket. That makes it the perfect mindless project for making while you catch up on the latest episodes of This Is Us (priorities, am I right?). Also for any This Is Us fans, I almost named this one the Rebecca Pearson throw… because she is just everything and I'm pretty sure she would squeal with me over this throw.


The special stitch mimics a knitted rib stitch (inspired by one of my Instagram crushes, Daisy Farm Crafts!) and creates a thick, warm blanket without the large gaps that a lot of crochet afghans have. I don't care for those types of blankets as much because they don't really keep you super warm – too much space for little tiny breezes to pass through! Not with this blanket – the Homemaker throw will keep you as warm and snuggly as an old-fashioned, cookie-baking Mama.
The video below will teach you everything you need to know to make your strips with our special knit-like stitch, sew up your panels, and add the border. I hope it helps ya!

I've teamed up with Lion Brand Yarn to put together a kit for this pattern, it includes all the yarn you need AND a free printed copy of the pattern below shipped right to your door! Grab yours HERE for 20% OFF THIS WEEK ONLY! (this link is an affiliate link and will help to support this blog at no additional cost to you, thanks for shopping through my link!)


PATTERN
Materials:
–Lion Brand Yarn Touch of Alpaca Bonus Bundles in Blush and Cream (4 bonus bundles of each color)
Grab the kit with everything you need for this pattern from Lion Brand!
Gauge:
11 BLO HDC SLST stitches x 10 rows = 4" x 4"
Dimensions:
45" x 62"
Abbreviations:
Ch – chain
Hdc – half double crochet
St(s) – stitch(es)
T – turn
Notes:
Skill Level: Level 2/Easy
-The gingham pattern is worked in a series of strips then sewn together.
-Each strip consists of 9 blocks of alternating colors as per the diagrams below. 3 of each style strip will be made for this pattern (3 light and 3 dark).

-For the entirety of the pattern, hold 2 strands of yarn together as one.
-You'll be holding together 2 blush strands, 2 cream strands, or one of each depending on what block of color you're working on.
-In the diagram above, white blocks represent 2 strands of cream, dark grey blocks represent 2 strands of blush, and light grey blocks represent 1 strand each cream and blush held together.
-Each strip will follow the same written pattern below, just adjust your color changes as needed to make your 3 each of the light and dark strips above.
-If you're substituting yarns, just be sure you have a white/cream yarn for your lightest, and a saturated/colored yarn for your darkest. The darker your saturated yarn is, the more stark and dramatic your gingham will be.
-Break yarn or carry up yarn each time you switch color to start a new block. If carrying yarn, be careful that yarn isn't too taught as this will affect the shape of the blanket later on.
Special Stitches:
-BLO HDC SLST – back loop only half double crochet slip stitch: yarn over, insert hook in back loop of the stitch only, yarn over, pull up a loop, pull through 2 stitches on hook
Pattern Instructions
Holding 2 strands together (begin with either 2 strands of cream for lighter strip or 1 strand each cream and blush for darker strip), Ch 20, BLO HDC SLST in 3rd st from hook and each across, Ch 2, t
Rows 2-18: BLO HDC SLST in each st across, Ch 2, t
Change color to next color block as per diagram in notes (change color to 1 strand each cream and blush for lighter strip or 2 strands of blush for darker strip)
Rows 19-33: BLO HDC SLST in each st across, Ch 2, t
Change color back to what you started with for this strip.
Repeat Rows 2-33 until you've worked 9 complete blocks as per the diagram in the notes.
Finish off, weave ends.
Repeat strip until you have 6 total strips, 3 alternating cream and blush mix, and 3 alternating blush mix and blush.
Weave all ends in preparation for assembly.
Assembly
With a long piece of mixed yarn (1 strand blush and 1 strand cream) ~12 ft. long, mattress stitch strips together.
Be sure that you have right sides facing up and begin stitching with the end of your strip that begins with a foundation chain.
Stitch up strips alternating light and dark until all are sewn together. Weave ends.

Border
Join mixed yarn (1 strand blush and 1 strand cream) to any corner, Ch 2, Hdc in each st around perimeter, work 2 Hdc in each corner st, sl st to 1st st of the round to join, Ch 1
Round 2: BLO HDC SLST in each st around, sl st to join, finish off, weave ends.

Earning a Living with my Handmade Home
If you love crocheting and knitting, you should think about starting a blog! I'll help you get started to turn your hobby into a money-making career with my free "Start a Blog" guide.
Or you can check out my latest income report to see how this blog earned over $10,000 last month!