If you want to quit that dead-end job and make amazing money blogging at home, check out my
FREE START A BLOG GUIDE!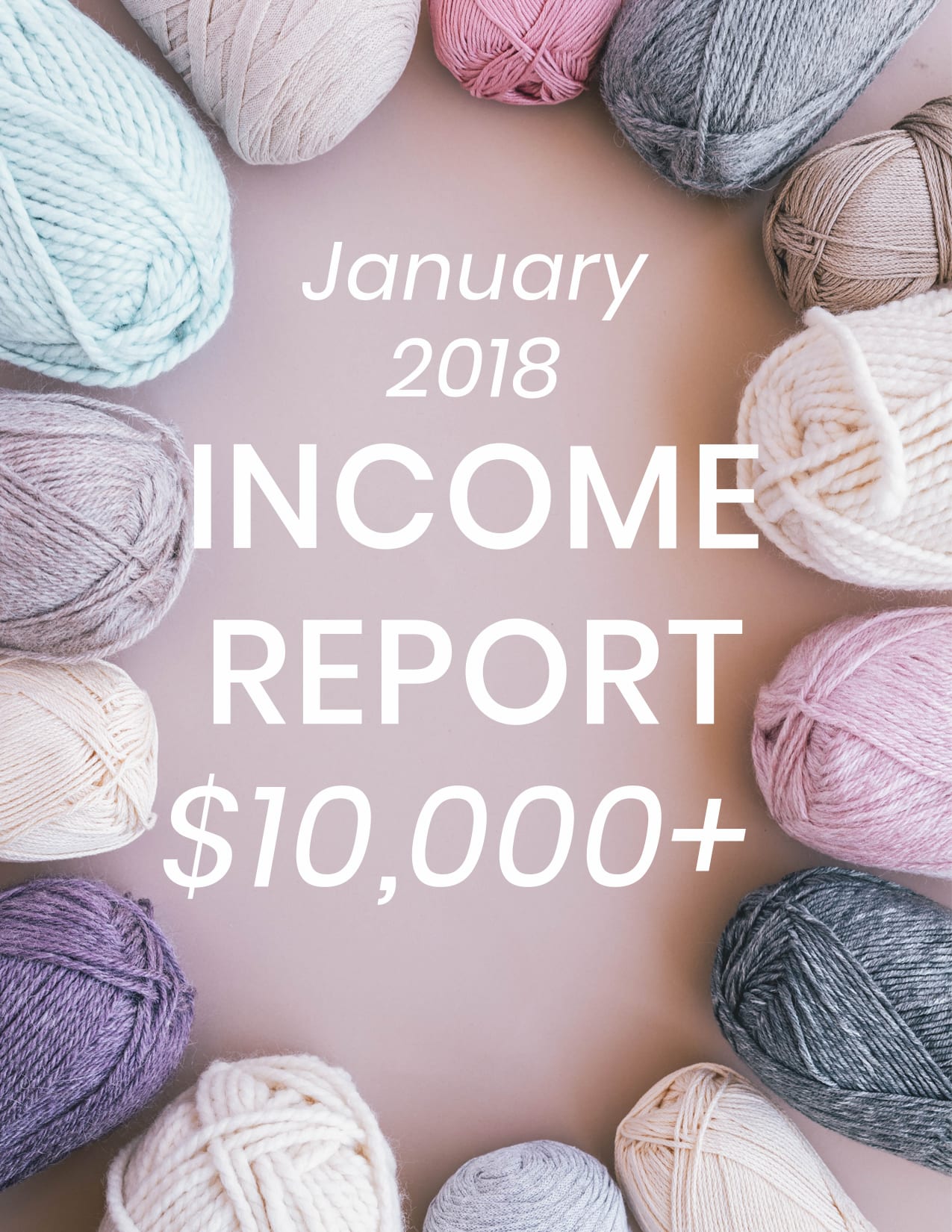 Hey there everyone!
As some of you may know I started this little bloggy right at the beginning of 2016 with yarn in hand, creativity abounding, and no expectations.
It's been a while since then and BOY have things changed.
Below is a breakdown of my current traffic and income here on the blog, and some factors that led me here.
Now, you may be asking yourself "Why on EARTH would she put her income and numbers out there for all the world to see? Isn't that part of the secret sauce?"
Nope! I started this blog a short while ago and have found great success (considering how long I've been working on it).
I want to encourage others to blog too!
Actually I put together my 3 Easy Steps to starting your own DIY blog HERE!
In the crochet niche of the internet, I've found one thing to be true – lots of people crochet, but not very many are publishing new patterns and putting out content.
There is a very small group of crochet bloggers out there (spend any time on Pinterest and you'll quickly name several) dominating the market.
And this job is not hard to do!
Let me repeat that. THIS JOB IS NOT HARD TO DO.
It took me about half an hour to set up my blog initially and although I've made many adjustments along the way, my blog has been earning me good money with a really basic setup.
Now what do I mean by "good money"?
January 2018 Income
EARNINGS TOTAL = $10,779.28
January 2017 Expenses
MadMimi: $42
Adobe Creative Cloud: $9.99
Etsy Seller Fees: $126.35
Supplies for blog posts: $0
*Keep in mind that not all of this money is mine forever. I am the sole proprietor of my business and will pay taxes, am responsible for my own health insurance, and other expenses that a traditional job would supply. That's still a lot of dough for playing with yarn though!

January 2018 Traffic
Some screenshots from google analytics:

Let's talk about what happened this month:
Quite a few things changed as far as income, expenses, and traffic. Let's look at it a little more closely!
AdThrive is still amazing.

My RPM (Rate per 1000 pageviews) has been higher than I've ever seen it this month. So I did a ton of pageviews (more on that below) compared to my usual and it really made an impact with the higher RPM. Right around Christmas it dropped because nobody was online but that's the only time I saw it dip down, yay!
The AdThrive video player is continuing to make more money, which is awesome! I'm excited to see how this continues to grow when I add more and more videos to the player. Thanks for watching my videos, guys!

This month I uploaded only one video to youtube, but it still earned me several hundred dollars and my subscriber count is now over 70,000! Wahoo!

I'm usually not one for tracking follower numbers like this, but in the case of youtube, more subscribers mean more income (unlike Instagram for example where almost no traffic converts and more followers don't mean more earnings)
More videos to come – make sure you're subscribed to my channel!
I've got solid plans in place for creating more consistent video content for you guys this year, and I've already got some progress made on those goals! So I can't wait to see where the earnings and subscriber count go with more video tutorials (heyyyy visual learners, I'm coming for ya!)

I know I've said "more videos soon!" for about a year now but I'm serious this time! Ha!

Sponsored content was decent this month! This is one of those areas that's always changing and will never be predictable income. This is the time of year when sponsors are spending more money on campaigns for the holidays, especially in my niche.

You might have noticed my photography looking better lately – well, that's no accident. I've finally started to really hunker down and decide to limit myself to the projects/looks/photography/editing style that I LIKE. It's hard to commit to one style and one aesthetic when there are so many options. So when I decided to become more narrow, I decided to just do what feels good to me. I have this dream job where I get to create a perfect little home on the internet – so I asked myself what I wanted that to look like? In my perfect little world would I wear stretched out leggings with holes in them to model my new garment I spent 60 hours making? Hell no! Even though that's something I *may* have done last year (oops).
Instead I pulled out the prettiest skirt in my closet and actually fixed my hair for once. And you know what? They're my favorite photos on the blog to date – enter, Crochet Le Nuage Wrap!
Anyway, what I'm saying is there is a bit more refined look starting to happen here on the blog and you haven't seen the last of it!

Pageviews are growing like a weed!!!

See above that pageview number?! Holy smokes! Over 800k!
I owe this to the last 6 months of absolute HUSTLE. Now I don't say that to have the "I work harder than anybody everrrrrr" mentality – I certainly take time off. But in these last several months I've pulled more late nights than ever working on the blog and I've spent every minute of work time intentionally. Let me say that again: INTENTIONALLY.
Gone are the days of mindlessly tapping my notebook thinking about what to do next when I have exactly 1.5 hours of precious naptime-quiet-house mojo. I put that baby down for bed and I know exactly what I'm going to do and just.get.to.it.

I'll be sharing a lot more about my productivity tricks in upcoming content this year but for now, I'll leave you with this – turn off the social media notifications on your phone. Turn them off, I say!!!

ALSO I WENT TO NEW YORK THIS MONTH!!!!!! I've been blessed to have been on a good number of vacations in my 23 years but nothing (and I mean NOTHING) could compare to the Lion Brand Yarn Blogger Bash. 7 of the most inspiring, influential gals I've ever met just spent a week chatting about yarn together and it was surreal. I still can't believe that it happened. Also it was my first ever expenses paid trip earned by the blog! So that was an incredible bucket list item to check off!

So considering I basically lost an entire week of work time (even though the experiences I had far outweigh any crocheting I could accomplish) – it's amazing that I hit the pageview numbers I did. I wasn't actively working on social media or posting new patterns – I was galavanting around the Big Apple with my yarn friends! Work smarter, not harder friends.

Google has FINALLY started listing more and more of my blog posts and patterns in their search engine, hallelujah! You may remember from October and November's income reports that my website was unlisted on Google for about 20 months. That's 20 months of content that I got no referrals from Google! That's a big problem!

Things are finally starting to turn a corner in this area and I'm so happy for it. I've still got lots of back end, boring data entry style stuff to do on all my old blog posts to optimize them for Google but all in all, we are headed in a good direction. Better late than never!

I'm still not producing content at the speed of lighting like I was last year, but I've got a few guest posters coming on the team to help bring you more free patterns & that's bringing me a little boost in traffic while letting them start growing their blogs! Win/win for everyone!

HAPPY YARN MAIL IS STILL AMAZING! (Click HERE if you haven't heard of HYM!) We sold out again this month and that means that where my Sewrella productivity has dipped, HYM is making up for it.

I'm not including those numbers here because it's really a separate business from my blogging business.

Bluehost and Beautiful Dawn Designs have continued to do well – I'm so glad you guys are taking what I write to heart and starting those blogs!
If you haven't started your blog yet, need I say more?? Click here to get started! I've even got special pricing for you guys to start your blogs super cheap!
Expenses weren't high this month, without spending much money on reinvestment in my blog, and a lot of my supplies being donated or sent for free via sponsorship collabs, I didn't invest anything this month, just focusing on getting through the hustle of the season with what I have!
If you want to quit that dead-end job and make amazing money blogging at home, check out my FREE START A BLOG GUIDE!