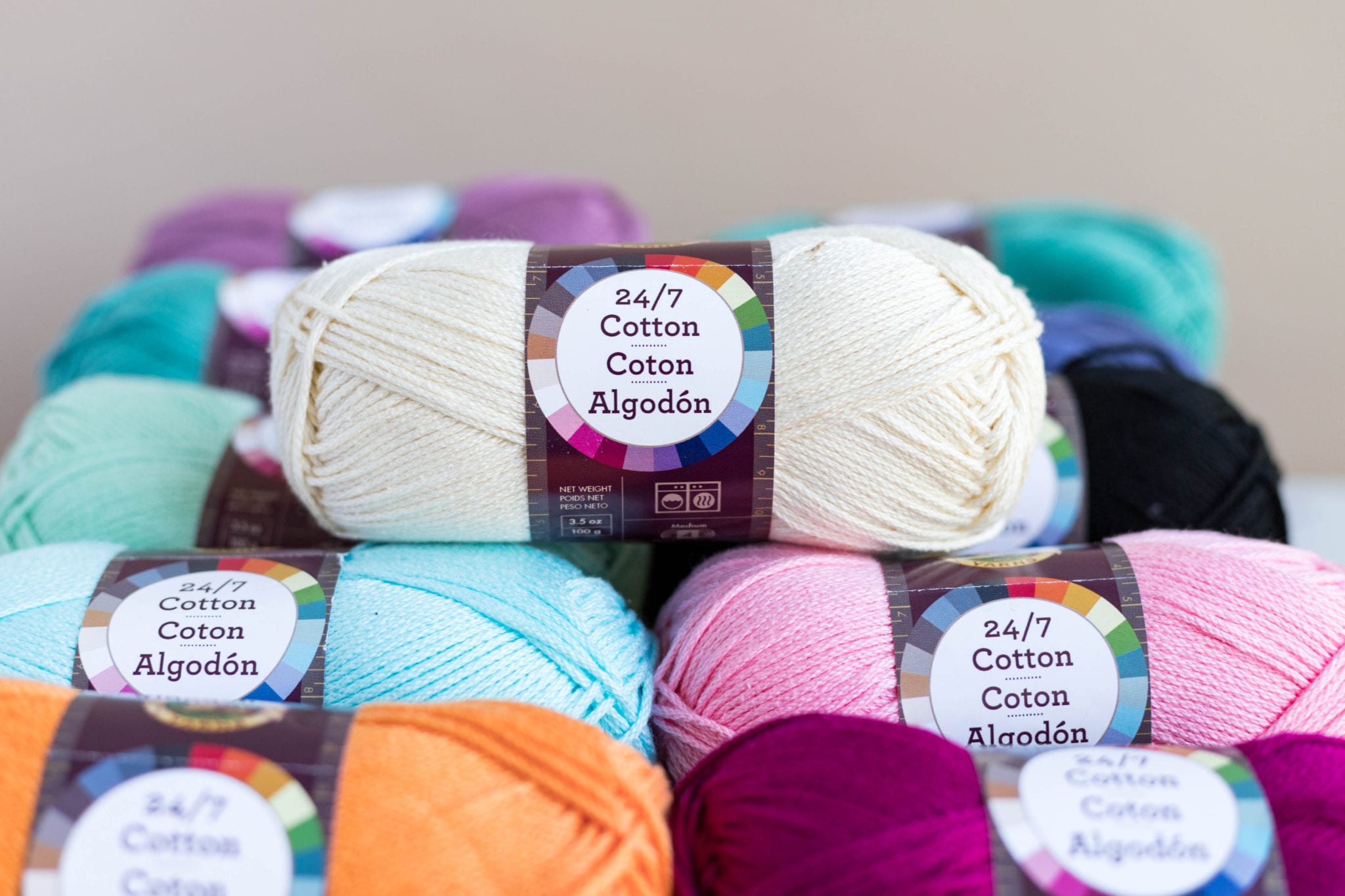 Lion Brand 24/7 Cotton is one of my all time favorite yarns and I am so excited to tell you a bit more about it today here on the blog! I've also rounded up my top 10 favorite crochet patterns using this yarn below so scroll down for that!
ALL THAT COLOR
The name 24/7 Cotton comes from a couple of sources – this yarn is so super versatile it can work around the clock, year round for really any type of project. Garment? You got it. Bag? Can't beat it. Home decor? Absolutely perfect. You get the idea!
Also, this yarn comes in 24 absolutely show stopping colors. I love every single one of them for different reasons and different projects but I'm telling you – you can't beat the color options in 24/7 Cotton.
Below you can see one of every single color that Lion Brand sent me to photograph for some of their website promotions. Here's the only problem – how on earth do you choose?!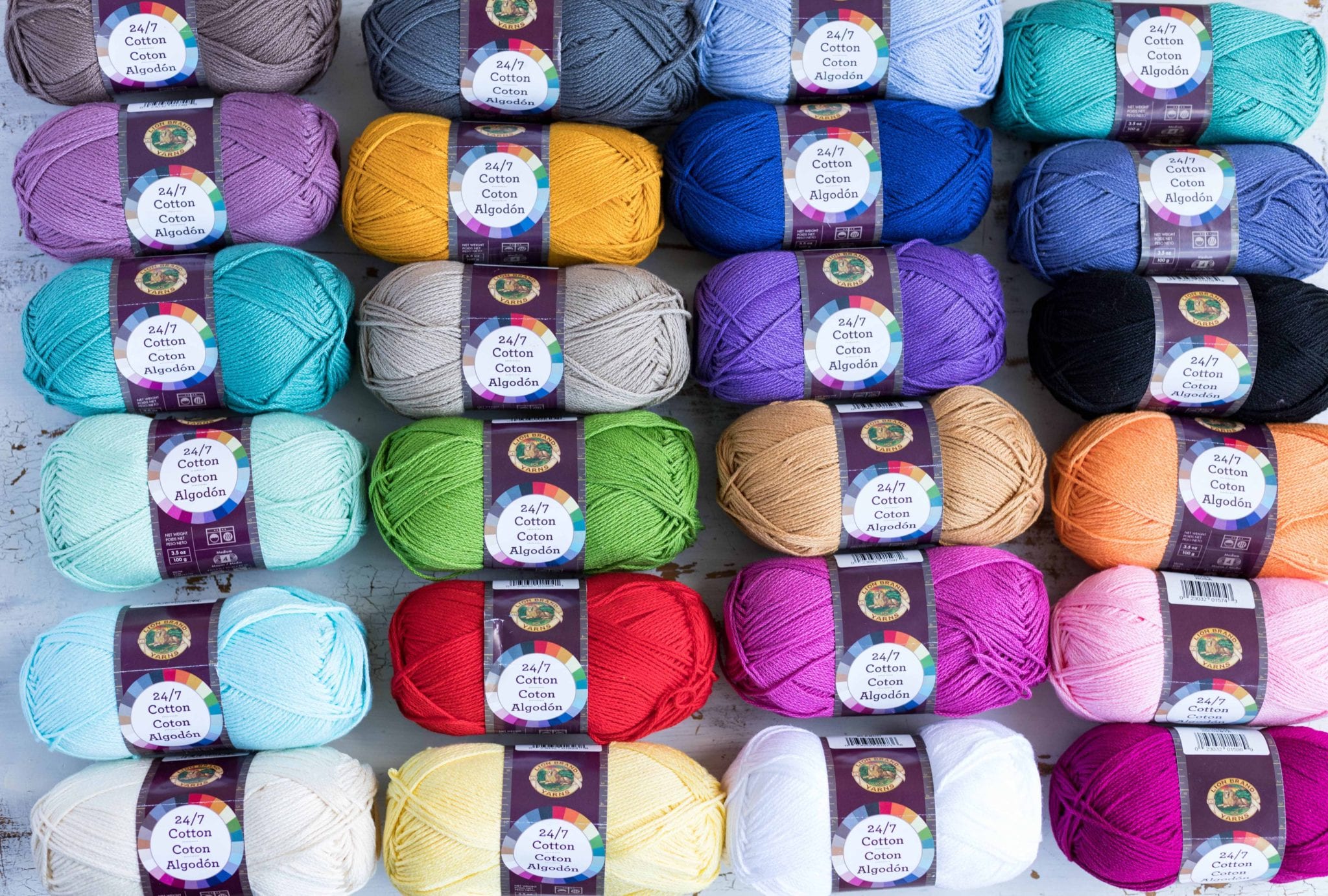 24/7 COTTON PATTERNS I LOVE (& you should too)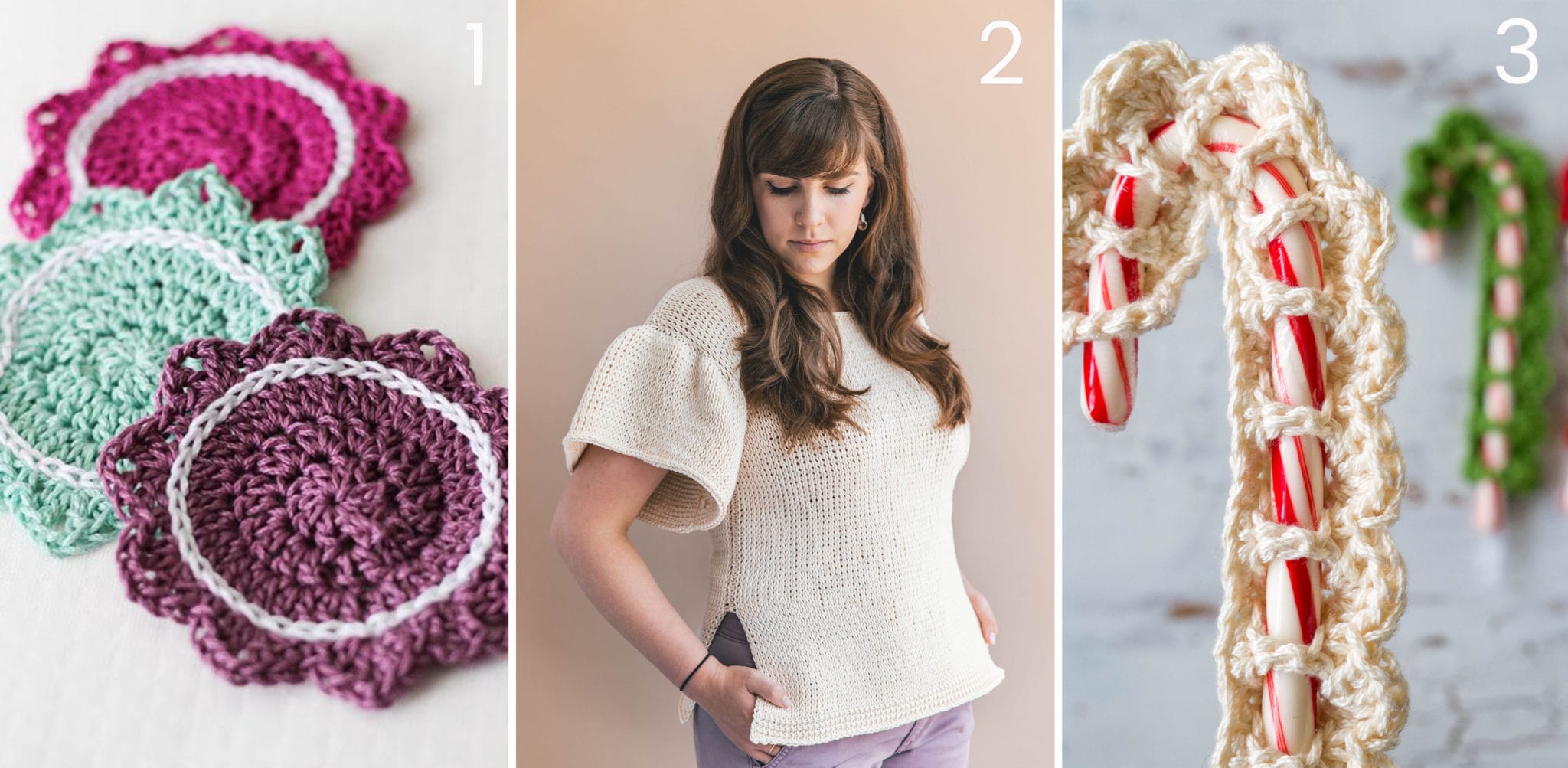 1. Crochet Betty Coasters / 2. Crochet Parisian Tunisian Top / 3. Crochet Candy Cane Cover Ornaments
MY EXPERIENCE WITH THIS YARN
I've used 24/7 Cotton for garments like the Parisian Tunisian Top and the Laikini Cardigan where they offer beautiful structured drape, while being cool and comfortable too!
I've also made an entire collection of kitchenwares, the Summer Kitchen Series with my favorite coaster pattern two summers ago.
I've even made a collection of amigurumi Christmas ornaments with this yarn. They're adorably tiny and will last forever looking beautiful because of 24/7 Cotton. This yarn really does work so well for everything!



PATTERNS
Click the photo or link below to check out the patterns!

I hope you found a pattern you'd love to make using Lion Brand 24/7 cotton! Thanks so much for checking out these patterns and using my affiliate links to make your kit purchases – the proceeds help support this blog and its free content!



ENTER THE GIVEAWAY FOR 24 SKEINS OF 24/7 COTTON!
a Rafflecopter giveaway
Earning a Living with my Handmade Home
If you love crocheting and knitting, you should think about starting a blog! I'll help you get started to turn your hobby into a money-making career with my free "Start a Blog" guide.
Or you can check out my latest income report to see how this blog earned over $10,000 last month!