Hi friends! I'm so excited to bring you another great designer to pal around with, Taylor! She's so sweet and makes such cute crochet designs. Show her some love!
If you'd like to see the last Guest Designer Program post (a headband pattern!) from another great yarnie, click here.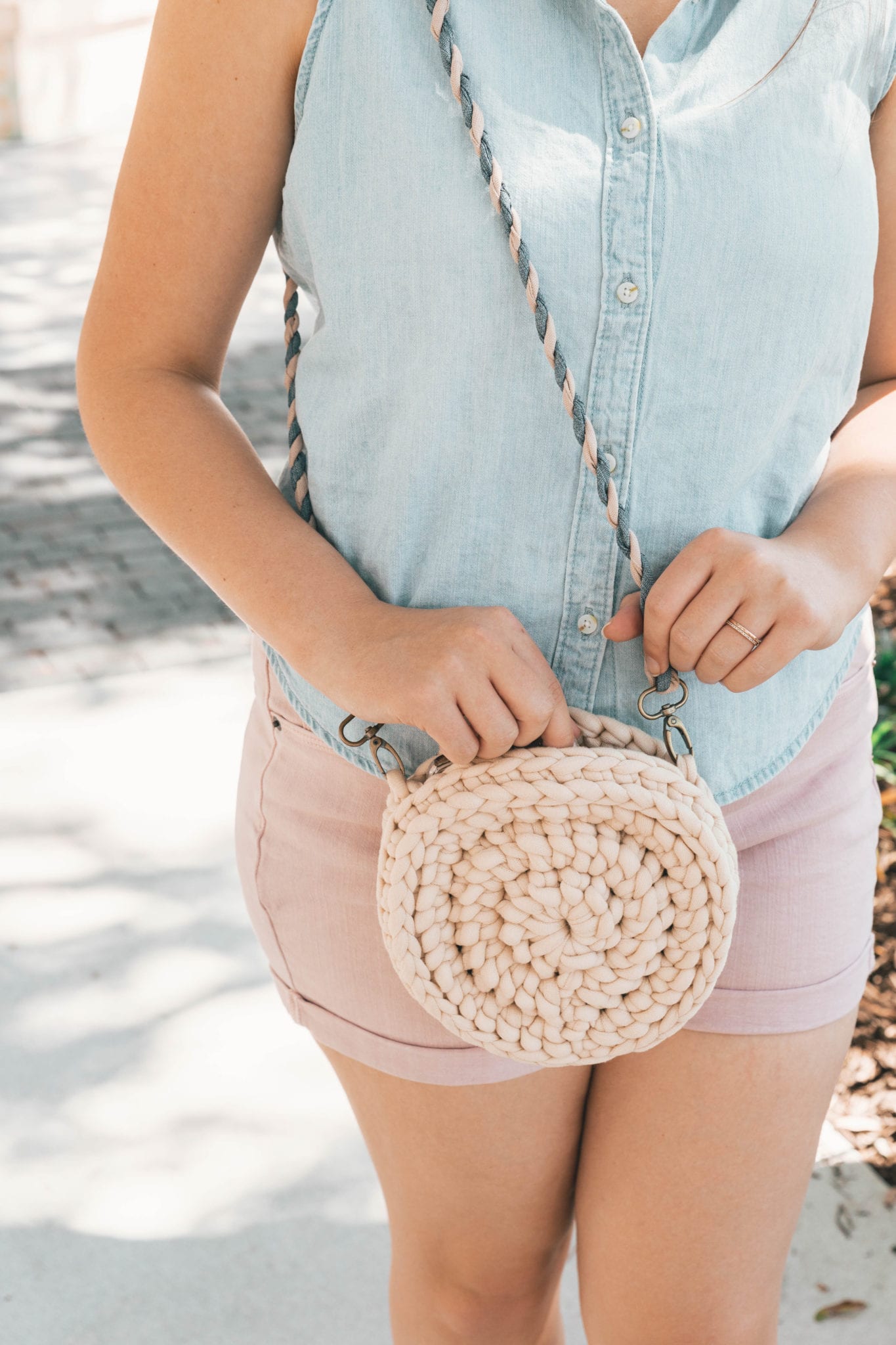 I'm Taylor of the blog Taylor Lynn Crochet. I started my blogging and designing journey over a year ago and I never imagined I would love doing it as much as I do. I have tons of free patterns and crochet tips that are constantly being posted to my site if you want to see what new things I have been up to!
PATTERNS I LOVE (& you should too)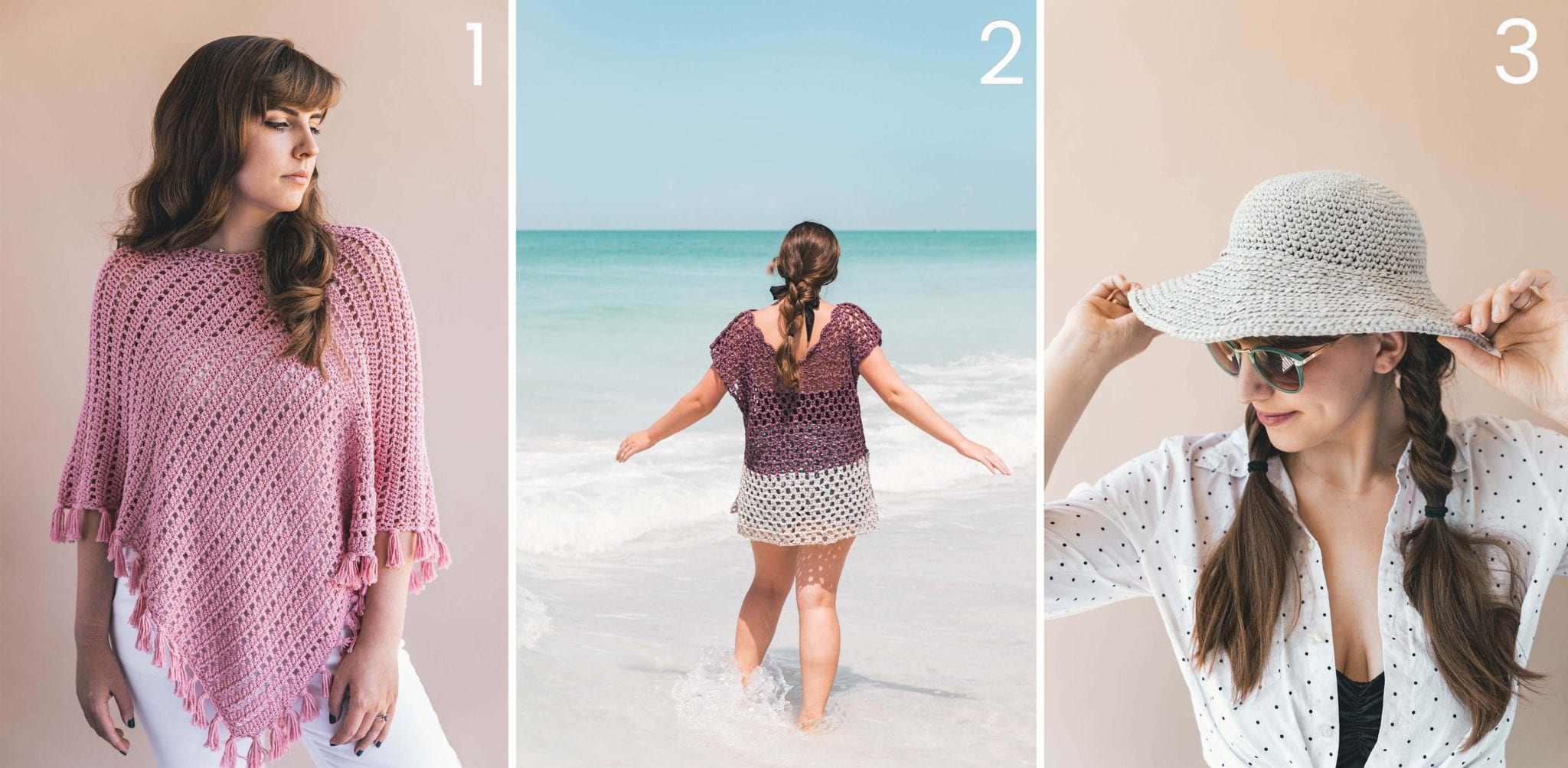 1. Crochet Ava Poncho / 2. Crochet Weekender Tunic / 3. Crochet June Sun Hat
The Rover Bag is a circular bag that is just as beautiful as it is functional. It's a bag that you could pair with the perfect spring sundress and wear to brunch, yet it would still look great with a band t-shirt and highwaisted shorts for a concert. I wanted a bag that was versatile enough for any occasion. As someone who hates changing my wallet into different bags trying to match my outfit, I started brainstorming a solution. Ergo the Rover Bag was made, and the bag switching has come to an end. The best part is that this bag can be made in less than an hour with just a single skein of yarn!
For this pattern I used Bernats Maker Big yarn which I found at my local JOANN. It's a jumbo weight (weight 7) yarn that makes for sturdy and quick projects. It's a bulky cotton/nylon blend that gives great stitch definition and one skein is more than enough to make your Rover Bag.




PATTERN
-1 skein Bernat Maker Big yarn (66 yds)
-12mm Hook
-Chosen strap (fabric, belt, crocheted chain etc.)
-Metal clasps (optional)
Abbreviations:
ch – chain
ss – Slip Stitch
sc – Single Crochet
dc – Double Crochet
tlo – Third Loop Only. Tutorial on how to find the third loop can be found here (https://www.youtube.com/watch?v=9dHzmZ03MQA&t=44s).
Notes:
– You will work in the round and will join to your starting chain at the end of each round
– You will be making the purse in two identical halves that you will connect at the end.
– Ch 3 at beginning of every row counts as a dc.
– If you don't feel comfortable crocheting in the third loop only, you can simply do a regular back loop only single crochet stitch instead.

Rover Circle Bag
Row 1: ch 3, make 11 dc in the first ch. Ss to first ch 3. (12)
Row 2: ch 3. Make 2 dc in each stitch. Ss to first ch 3. (24)
Round 3: *2 dc in the first stitch, 1 dc in the next* repeat around. Ss to first ch 3. (36)
Round 4: ch1. Sc tlo all the way around. Tie off. (36)

Repeat rounds 1-4 again for second half.
Put your two halves right sides together. Insert your hook into the front loop of any stitch from the last round you made on one half and through the back loop of the second half. Connect the two halves with sc's all the way around the edge, leaving a 4-5" gap at the end.

Attach straps of your choice and weave in all ends. Straps can be anything from spare yarn, old belts, shoe laces, ribbon or lace, or even fabric twisted together. Don't be afraid to think outside the box and make it your own!
& Project complete!
I'd love to see how your Rover Bag turns out so tag me on instagram when you've whipped up one of your own! Also check out my blog for more strap design ideas, yarn substitutions, and color options. Remember to subscribe to my email list so you can always be notified when more awesome patterns and content are posted on my blog.
XOXO Taylor Lynn




Earning a Living with my Handmade Home
If you love crocheting and knitting, you should think about starting a blog! I'll help you get started to turn your hobby into a money-making career with my free "Start a Blog" guide.
Or you can check out my latest income report to see how this blog earned over $10,000 last month!