Hi friends! I'm so excited to bring you another great design from our Guest contributor, Meg! She's the sweetest gal who is so talented. Show her some love!
If you'd like to see the last Guest Designer Program post (a blanket pattern!) from another great yarnie, click here.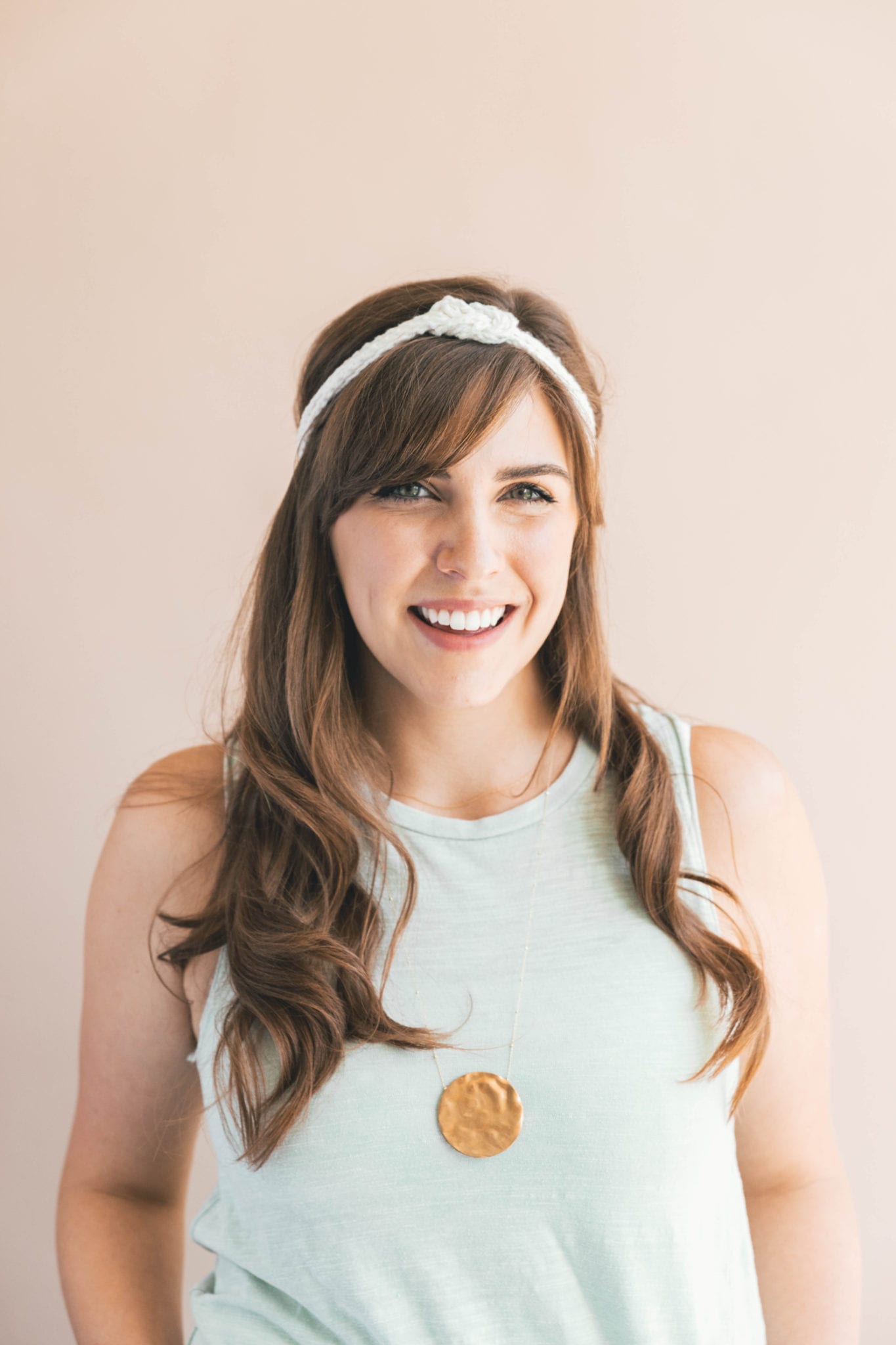 I'm happy to bring this cool little headband tutorial over here on Sewrella! It's oh so simple, made up solely of chains (gasp!), and features a fancy infinity knot. I've taken plenty of photos to help you make one of these headbands for yourself, and it really takes no time at all– I think you'll love it!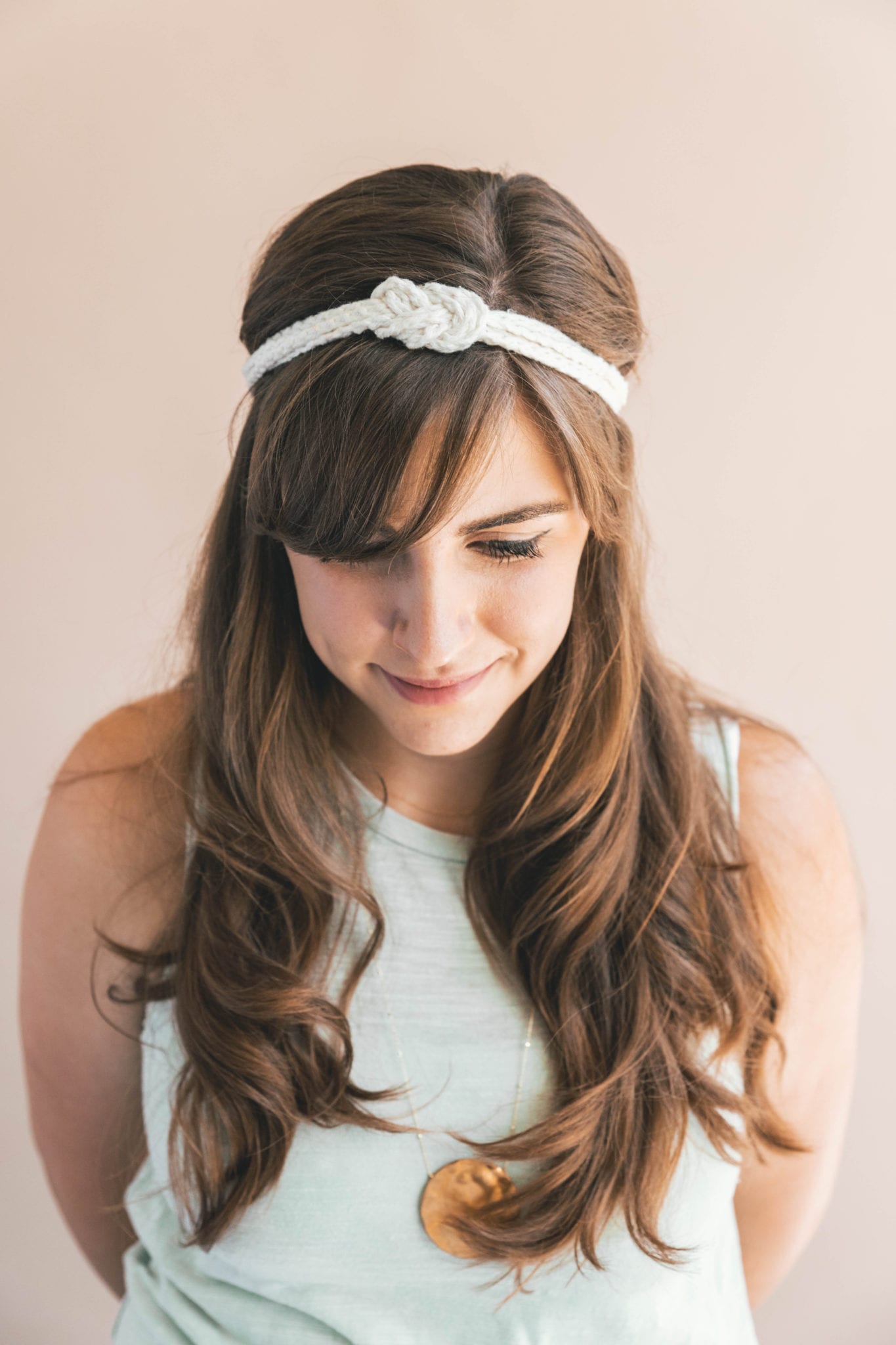 This headband was inspired by the Joi Headband over at Krochet Kids. Which, by the way, is an awesome company who essentially assists people in poverty by providing fair employment and services for them. They've got tons of cute stuff, and I'm a big fan of what they're doing– check 'em out!
PATTERNS I LOVE (& you should too)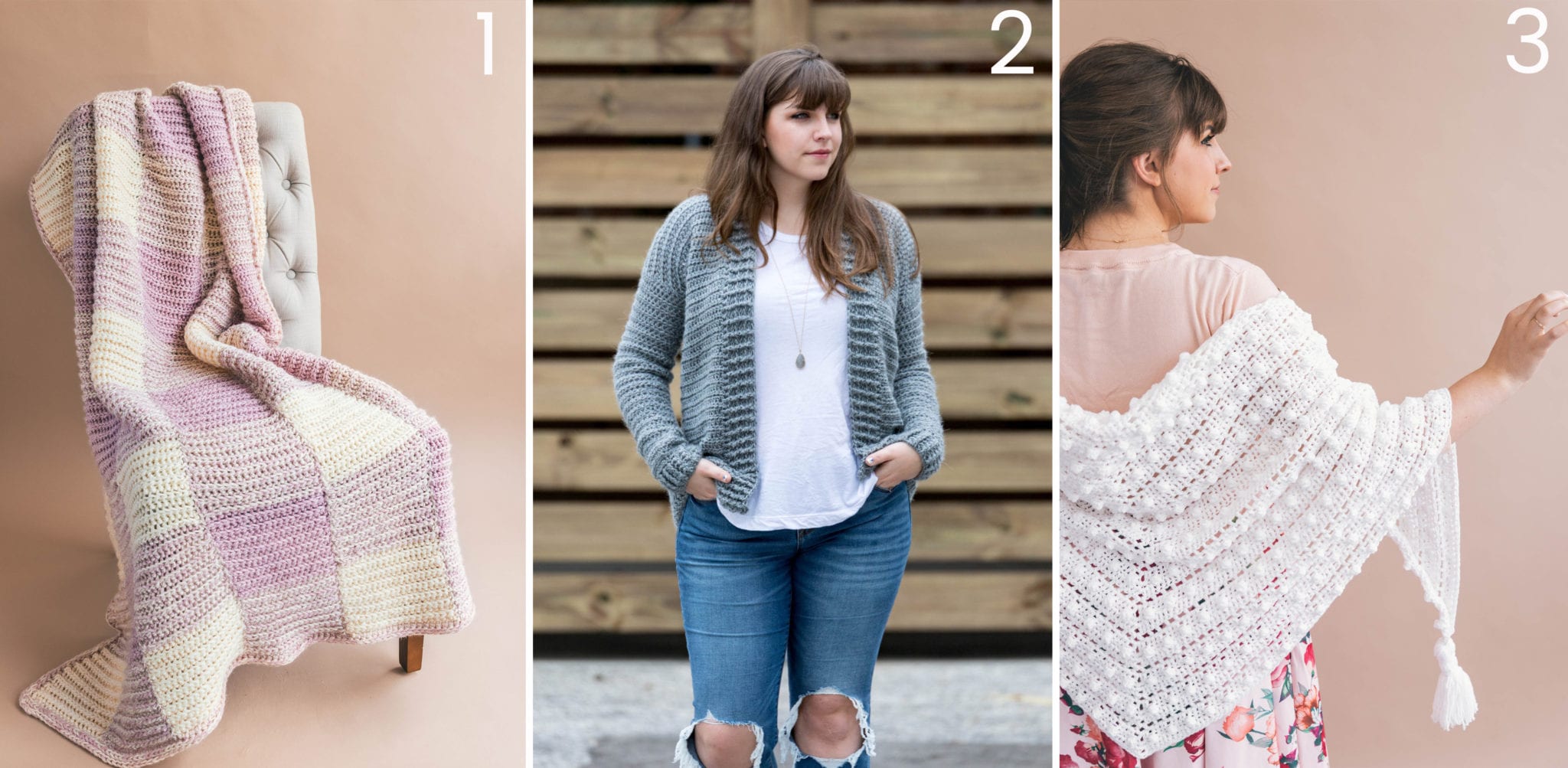 1. Crochet Homemaker Gingham Throw / 2. Crochet Everyday Cardigan / 3. Crochet Le Nuage Wrap/Triangle Scarf




PATTERN
PIN this pattern to your Pinterest boards for later HERE.
Add this pattern to your Ravelry queue HERE.
-Worsted weight (4) cotton yarn (I used a ball of Peaches & Cream in White)
-Size H hook (5 mm)
-tape measure
-Flat elastic headwrap (found in the hair care aisle, I used Scunci No Slip Grip Flat Headwrap found here)
-yarn needle
-sewing needle and thread
-hot glue gun

Tutorial:
To begin, you will work a chain that is 78 inches in length. I ended up chaining 260 to get to this length.
After your chain length is at 78 inches, you will slip stitch into the first chain to join the two ends. Be careful not to twist your chain.
Then you will fasten off and weave in both ends into your chain.
Now you are ready to tie the infinity knot… Lay your circled-chain down like in the photo above.

Then you will fold your chain in half.

Next you will take the right side of the chain and bring up under the chain to the other side. You will create a loop (shown in the photo above, on the right) that has some space in it for you to work into.

Take the side you just brought up under and come back down over the chain.

Still holding onto that side you brought over, you will insert it into the loop you created earlier– make sure insert it underneath the loop, and through the center.

At this point your knot has been made, but needs to be adjusted so that all the chains look nice and tidy. You will also want to decide if you want the knot centered or a little off centered. I chose to center mine.

Just keep gently tugging and arranging the knot until it looks the way you'd like. Do note that if you tighten too much, you lose some definition of the knot.

Once your knot is to your liking it's time to add the elastic.

First cut your elastic to make it one long piece. You're going to insert the two ends into the loops of the chained part of the headband. Now, how long you make your elastic may depend on the brand you use and how stretchy it is, so I highly suggest giving it a try-on with the elastic and cut to fit your own head. In my case, with the Scunci brand headband I used, I cut it down to about 13.25 inches.

After your elastic is where you'd like it lengthwise, you're ready to add it on. Insert the ends into the loops like previously mentioned, and center them… pinching them together with the underside of the elastic, like in the photo above.

Now you're ready to sew the ends of the elastic using your needle and thread. Insert the needle in between the elastic…

Make passes through both sides to connect the two ends of the elastic to the underside. Continue to sew until it feels secure. It doesn't matter how pretty your sewing looks, because you'll cover it up. Tie it off and snip your threads to hide.

I chose to cover the part of the elastic that was sewn with the yarn I used for the chained part. You could also use some black ribbon– that was my initial plan, but I didn't have any around and thought I could use what I did have. I wrapped the yarn neatly around that sewn part.
Once it was covered, I drew the ends of the yarn through the middle of the wrapped area to hide the ends. I chose to put a tiny bit of hot glue in the center of the wrapped area to ensure the ends wouldn't move and it would stay wrapped. You could also use super glue.

I also chose to put a few dabs of hot glue hidden within the knotted portion of the headband so it wouldn't tighten too much whenever you put it on your head– because like I mentioned before, if the knot gets too tight, it loses definition.
After that, your headband is complete! What a simple and cute project, that truly doesn't require much time or yarn. Total win in in my books. I think it'd be a great item to sell at a craft sale. 🙂
I hope you get to make one of these, feel free to tag me over on Instagram if you do!
Happy hooking my friends,
Meg




Earning a Living with my Handmade Home
If you love crocheting and knitting, you should think about starting a blog! I'll help you get started to turn your hobby into a money-making career with my free "Start a Blog" guide.
Or you can check out my latest income report to see how this blog earned over $10,000 last month!