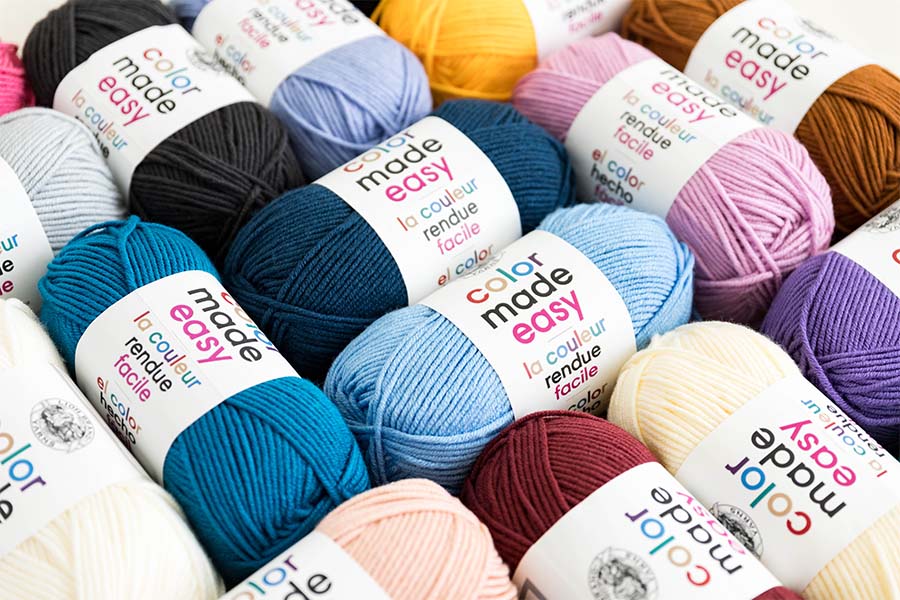 I present to you: the very best yarns to make the blanket of your dreams! Whether you knit or crochet, I have some patterns and kits here for you to make that dream a reality. I chose my three favorite bulky, chunky yarns, that I think you'll ooh and ahh at too.
Even if you know of them or use them all the time, I hope I introduce you to a new pattern to make for the ultimate cozy couch snuggles. Because who are we kidding – it's not a good snuggle without a throw that has premium cuddly powers, and any of these yarns are capable of that. Let's just refer to them as superhero yarns, okay?
Scroll on down to find your Superman! 😉



Lion Brand Wool-Ease Thick & Quick Yarn
If you ask me – and I think a lot of other yarnies would agree – Wool-Ease Thick & Quick (affectionately known as WETQ) is the blanket yarn. If you're a new crafter, or not yet part of the fan club for this yarn… Prepare to be converted!
This particular Lion Brand line has gained such a following that they have now made over 60 different colors – wowza! It's made of a wool acrylic blend, which creates a soft and cozy strand that works up just perfectly for blankets, throws, and afghans of any size!
There's also bonus bundles that include twice the yardage, making it easier than ever to tackle those big projects! It's pretty incredible. Thanks for doing us a solid, LB!

Lion Brand Color Made Easy Yarn
This bulky weight 5 yarn is so special because not only is this weight hard to come by, Lion Brand really nailed it! When I first locked eyes with it, I fell in love! I'm talking swoon-worthy, magical, doe-eyed love.
It's got this plushy, marshmallow-like feel that is just unlike anything else. Disclaimer: it will make you praise the yarn gods. Seriously. But wait, it gets better! This squishy skein is workin' with quite a bit of yardage, clocking in at dang-near 250 yards! You can easily get two small projects out of one ball – like my headband pattern HERE.
Whether you have your eye on a pattern for this gem or not, make sure to pick some up the next time you see it in your local craft store! Trust me, it's an essential you want to you have in your stash for any project (yes, ANY project!).

Bernat Blanket Yarn
Bernat is killin' it over here with their oh-so soft and cozy blanket yarn. It's a chenille-style super bulky weight yarn, which makes it perfect for snuggling up in on cold nights. It's one of my favorites to work with for all kinds of home decor projects!
It's so popular, Bernat has even made several other sub-collections – all of which are just as amazing. But all the patterns you will find below are from the original line, which boasts over 30 shades (!!!) of solids and variegated colors. Honestly, this squish-tastic yarn is a staple that you just have to try. It's definitely a must-have to keep on hand!

OTHER SUMMER ESSENTIAL FREE CROCHET PATTERNS

1. Crochet Joni Topper / 2. Crochet Double Scoop Shawl / 3. Crochet June Sun Hat