If you love a chic blanket, you're in the right place. Here's my tutorial on how to knit a plaid blanket!
If you scroll down you'll find the pattern for my simple plaid blanket in sizes baby, wheelchair, and adult throw, enjoy!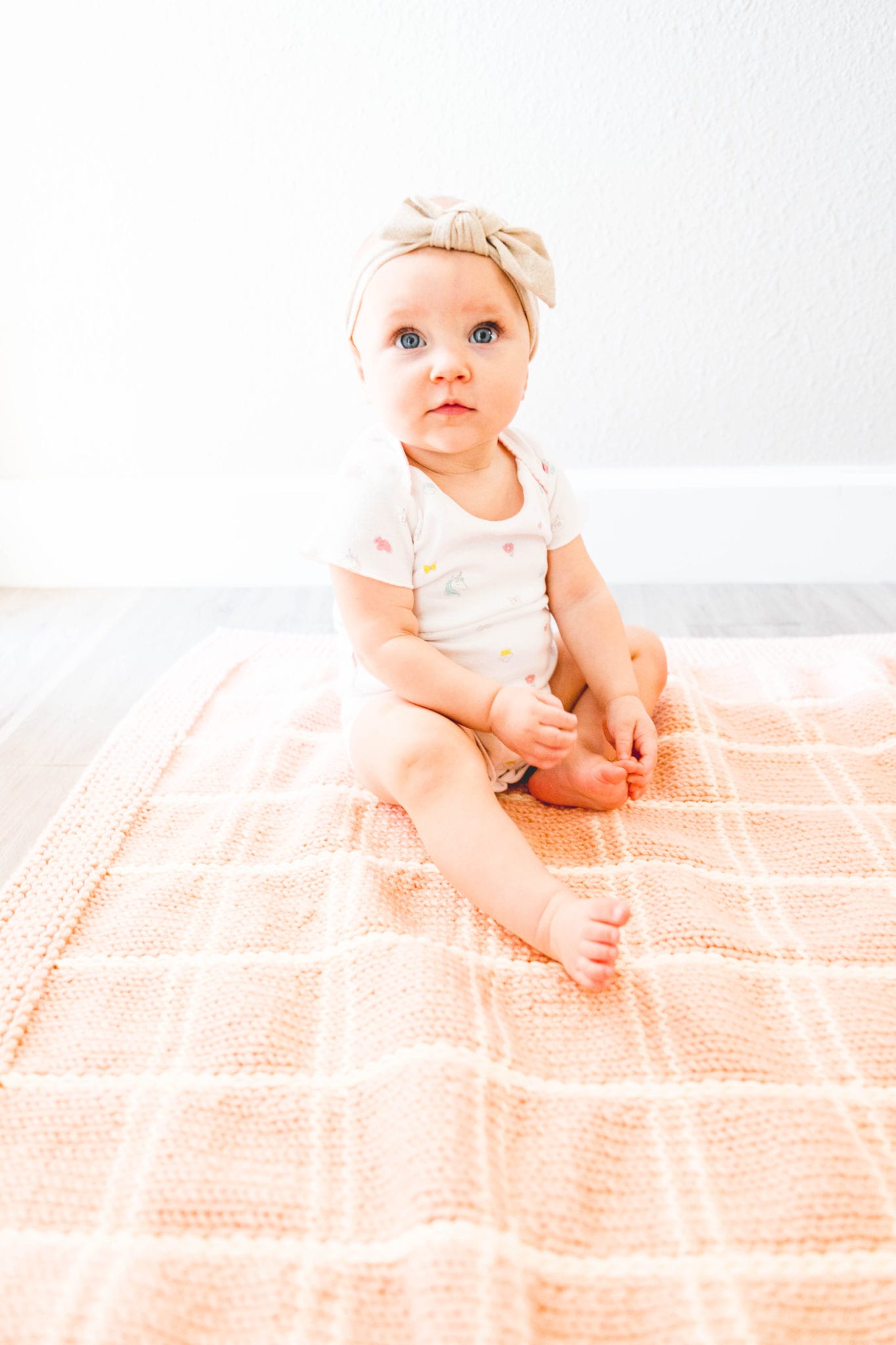 Oh, baby!
Pictured here is my knit plaid blanket made in the baby size. My little gal pal there is Payton and if Parker doesn't grow up and marry her, he's crazy. ("Parker & Payton", are you kidding me?! C'mon!) Payton is the cutie pie that belongs to one of my oldest friends, Cali & she let me make goofy faces at baby P one afternoon and snap a few photos. Ain't she the absolute cutest?!
You can make this blanket for your favorite newborn and it will grow with them through to elementary age. It's a generous size for a baby blanket and little ones are sure to get a lot of use out of it.
Of course you can follow the pattern to make a lapghan/wheelchair size or an adult throw blanket as well. I've also included the stitch repeat multiple in the pattern if you'd like to further customize it. So knit plaid til your heart's content!
OTHER BABY PATTERNS I LOVE (& you should too)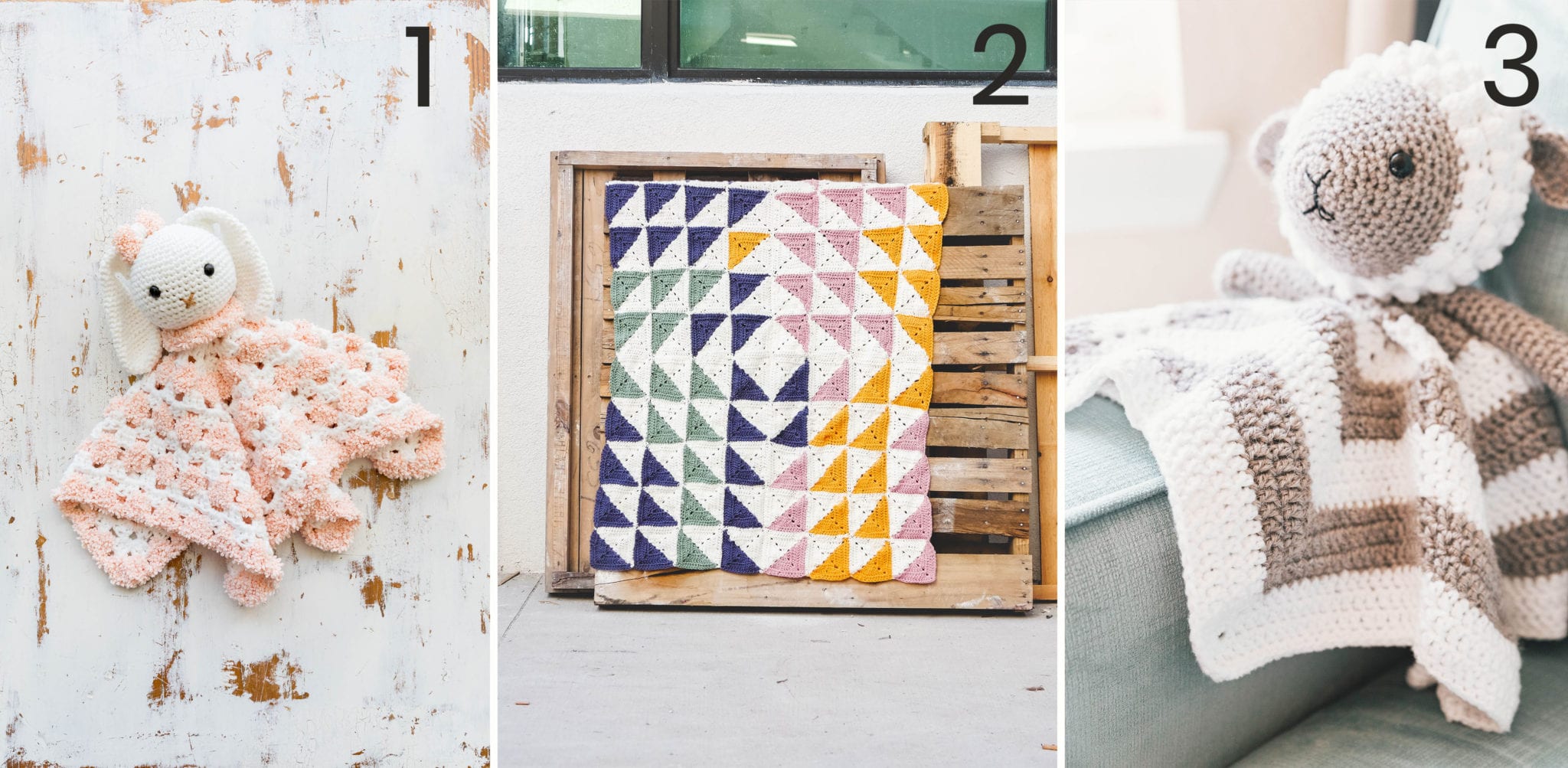 1. Crochet Bunny Baby Lovey / 2. Crochet Kaleidoscope Baby Blanket / 3. Crochet Lamb Baby Lovey
The Design
I've been seeing tons of simple plaid items all over the fashion and homeware spaces, and I originally wanted to knit a plaid wrap (after finding one from Anthropologie I loved, as per usual). In the end, I decided to switch gears to a baby blanket because it's just so chic for little babes. If you do use this tutorial on knitting plaid to make a long rectangular wrap, though, know that you're bringing my original vision to life – and for that, I thank you.
I knew knitting plaid could be a series of painful colorwork headaches – so before I cast on a single stitch I decided to see if I could hack the system. I knew that doing all of the stripes moving in one direction at once (in this case, horizontally) as regular stripes (as if this thing weren't plaid at all) would simplify things. But how to work those vertical stripes in?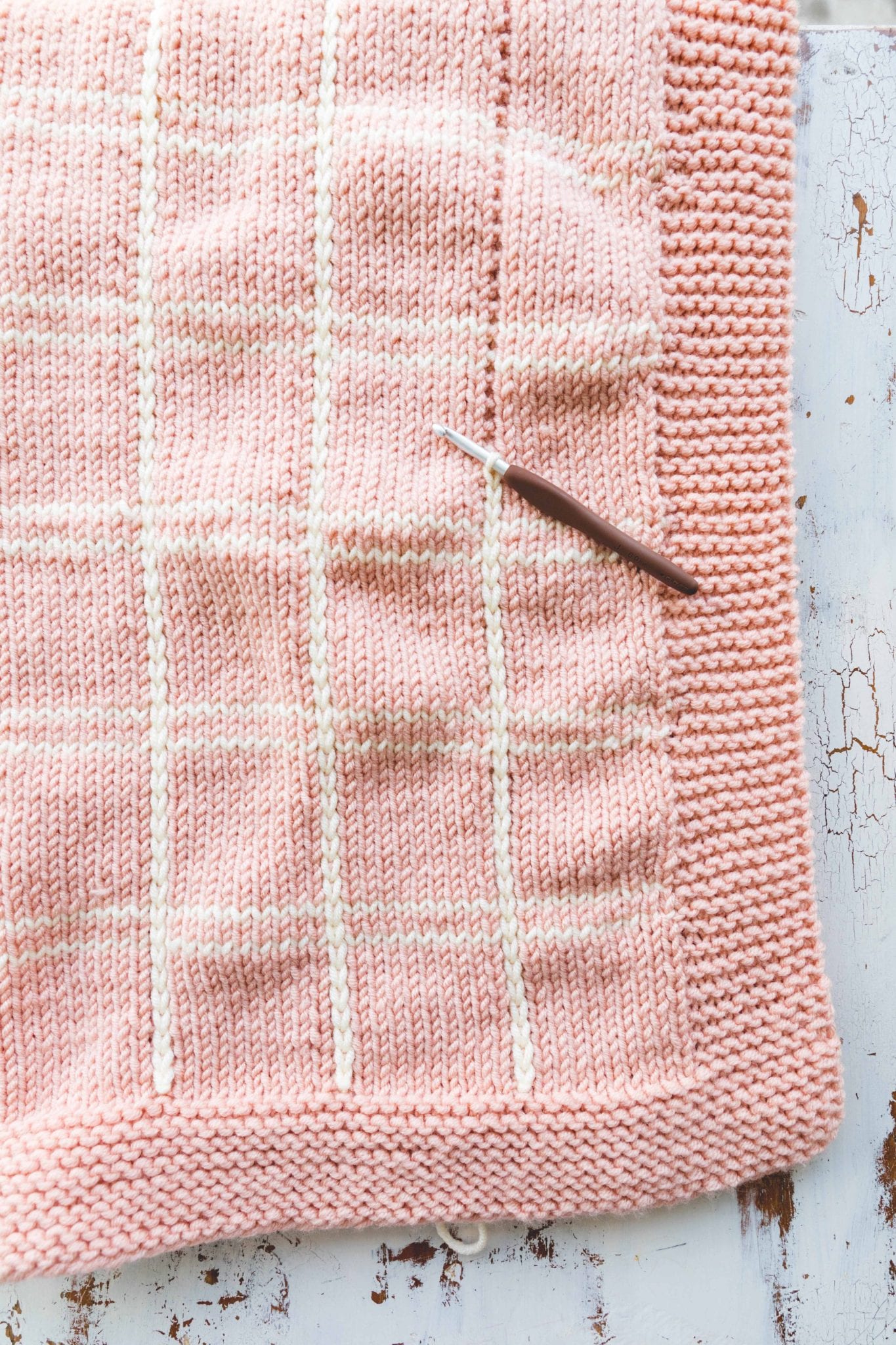 I carved out long vertical divots where I wanted the vertical stripes (every 10 stitches in each row) by basically garter stitching among the sea of stockinette. So the entire blanket is worked, cast off and ends woven with these concave lines that are then surface slip stitched later with a (wait for it)… CROCHET HOOK!!!
When you glance through the step-by-step photos in the pattern, this will all become more clear but let's just say this is about 100x easier than knitting complicated colorwork to get the same effect.

The Yarn
I used Lion Brand's new Color Made Easy yarn for this project – you've already seen this yarn all over the blog since it came out because I kinda love it (I also made the Holiday Knit Sweater and the Crochet Brooklyn Ridge hats in this yarn). Especially for knitting, the bulky category 5 weight yarn works up fast and is oh so squishy.

It drapes beautifully for a snuggly blanket – no stiff stitches here! However my favorite element of this line is the color lineup. I used the Millenial colorway (my favorite peachy pink) with an Alabaster accent. There are lots of gorgeous colors to pair with Alabaster, some of my favorites are Basalt, Kingfisher, Pomegranate, Huckleberry, and Avocado. There are lots of other amazing options for any home decor or nursery style!

Lion Brand even made a kit for this project that includes all the yarn you need in a few color options and a printed copy of the pattern, shipped right to your door!





PATTERN
To sum it up: Learn to knit perfect plaid with my easy, innovative technique that uses a crochet hook to stitch on the final stripes! Make your blanket in any size – baby/child, lapghan/wheelchair, or a full size throw with soft and squishy Color made Easy yarn. This project is loads easier than it looks and is a really simple knit for beginners that want to try something different. Soft plaids are on-trend in fashion and home décor and now it's handmade by you!
Materials:
–Lion Brand Color Made Easy yarn (Weight: 5/Bulky – 7oz, 247 yds)
Main Color: Millenial – (3, 4, 8) skeins
Contrast Color: Alabaster – 1 skein
Grab the kit with everything you need from Lion Brand here!
–Size US 10.5 (6.5mm) circular knitting needles, 36" or longer
Shop all my favorite tools & materials HERE!
Sizes:
Baby/Child, Wheelchair/Lapghan, Adult Throw
Gauge:
12 sts x 19.5 rows in stockinette = 4"
Measurements:
Width: 32 (42, 52)"
Length: 39 (50, 61)"
Abbreviations (US terms):
CO – cast on
K – knit
P – purl
MC – main color
CC – contrast color
Rpt – repeat
RS – right side
WS – wrong side
St(s) – stitch(es)
Skill Level:
Level 2 – Easy
Pattern Notes
-Sizing listed in the pattern will be in Baby with Lapghan and Throw sizes listed in parenthesis such as "95 (125, 155)" whereas CO 95 for Baby, 125 for wheelchair, and 155 for Throw. When only one number is given, it applies to all sizes. To follow pattern more easily, circle/highlight all numbers pertaining to your size before beginning.
-Although this pattern uses circular needles, we will be knitting flat in rows back and forth. I recommend using circulars for this project instead of straight needles because the many stitches have more room on a long circular needle cord. I also find it more comfortable to knit this way personally.
-Color changes are worked mid row so as not to impede on our solid color garter stitch border. I drop my MC yarn and pick up my CC yarn to change color leaving a hole that I'll fix later when weaving the ends. However, use any color change technique you prefer.
-Slipped stitches count as a stitch throughout.

Knit Plaid Blanket
Border:
With MC, CO 95 (125, 155) sts – or any multiple of 10 + 15
Rows 1-16: Slip 1st st, K remaining sts (95, 125, 155)
Working Plaid:
RS Row: Slip 1st st, K remaining sts (95, 125, 155)
WS Row: Slip 1st st, K 7 sts, *P 9 sts, K 1 st; Rpt from * until you have 7 sts remaining, K last 7 sts (95, 125, 155)
Tip: Place stitch markers at every knit stitch within sequence repeat to help keep stitch counts on future rows.
Rpt alternating RS and WS Rows until you've finished 14 Rows of "working plaid."
Colorwork:
*Note: I cut and join my yarn each time I change color for the entirety of this blanket. I'll show you how I weave my ends later.
RS Row: Slip 1st st, K 7 sts, change to CC yarn, K until you have 8 sts remaining, change to MC yarn, K last 8 sts (95, 125, 155)
Rpt "working plaid" WS Row in MC yarn.
Rpt "working plaid" RS Row in MC yarn.
WS: Slip 1st st, K 7 sts, change to CC yarn, *P 9 sts, K 1 st; Rpt from * until you have 7 sts remaining, change to MC yarn K last 7 sts (95, 125, 155)
Rpt "working plaid" and "colorwork" sections (last 18 Rows) until you've finish Row 144 (198, 252) of stockinette plaid sections or 8 (11, 14) repeats.
Rpt "working plaid" section alone once more (14 Rows).

Finishing:
Rows 1-16: Slip 1st st, K remaining sts (95, 125, 155)
Cast off all sts, weave all ends.
I weave dropped yarn ends in opposite directions over each other to close up the hole as pictured.

Crochet finish:
With your crochet hook and CC yarn, surface sl st along the purl bump ridges between blocks of stockinette. Work one sl st for each purl bump you see.



Note: Cut and join new yarn for each stripe.
Weave all ends.
Earning a Living with my Handmade Home
If you love crocheting and knitting, you should think about starting a blog! I'll help you get started to turn your hobby into a money-making career with my free "Start a Blog" guide.
Or you can check out my latest income report to see how this blog earned over $10,000 last month!