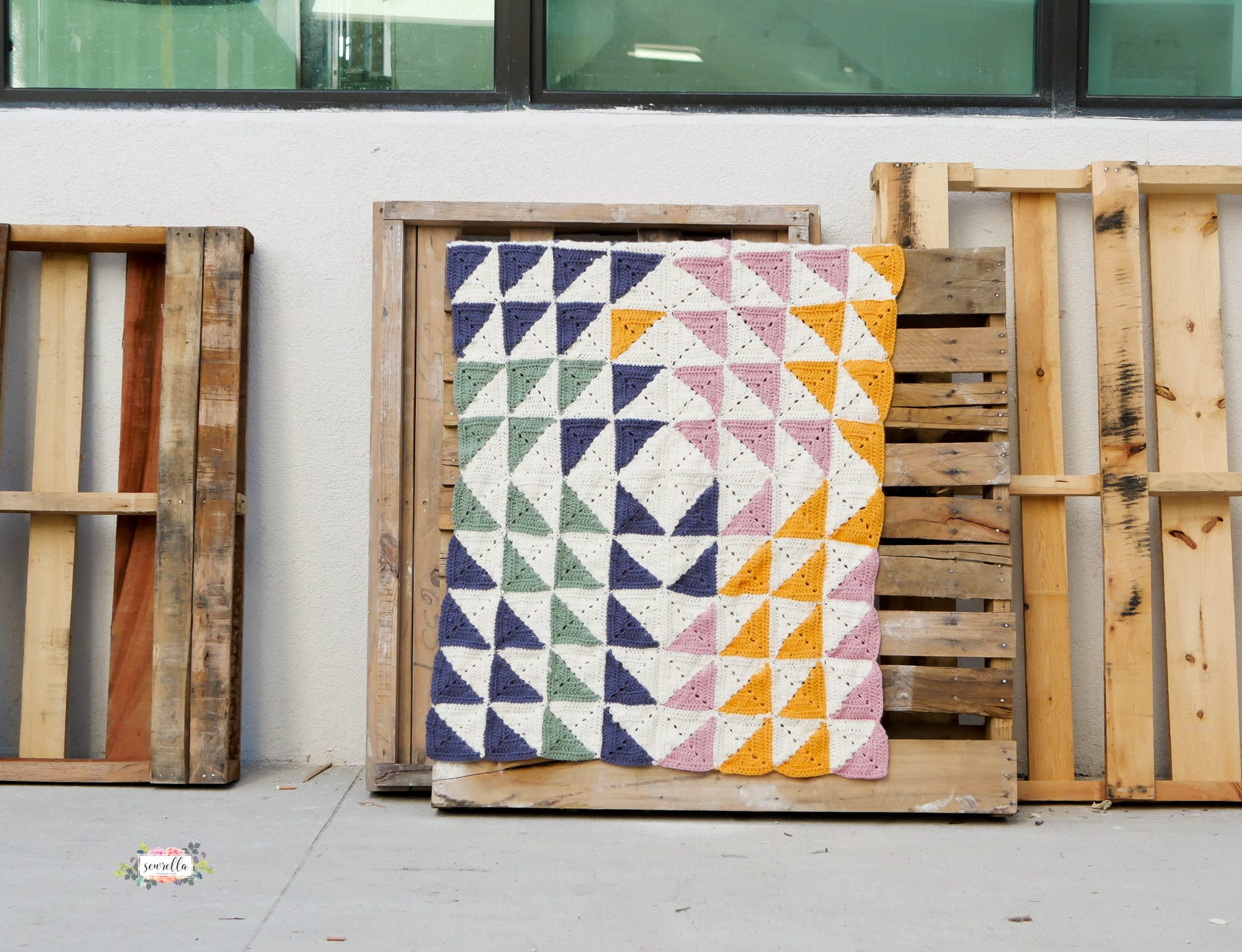 I'm so so happy to finally show you all the finished kaleidoscope baby blanket – this project has been in the works for several months.
I first posted my half square triangle crochet granny square pattern without really knowing if this project would ever come to fruition. I'd dreamed up the finished blanket before ever starting and didn't know if I'd have the patience to finish, quite honestly.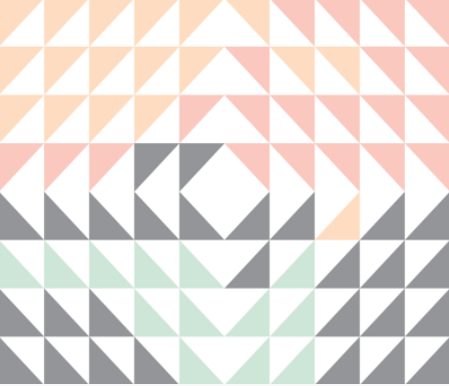 I found this graphic originally meant for quilting and LOVED IT. I haven't quilted in ages and knew I would rather work this image into a crochet blanket – but how to do that? I sketched out several ways of doing it and landed on one easy granny square pattern that would be tiled in a way that mimicked the graphic I'd found.
In order to make your own blanket, I recommend printing out the image above or bookmarking this page (be absolutely sure you don't lose it in the process!). Make the number of squares listed below and sew them up using the video tutorial below following the graphic. It's really a process of piecing together on your own, which gives such a unique level of gratification.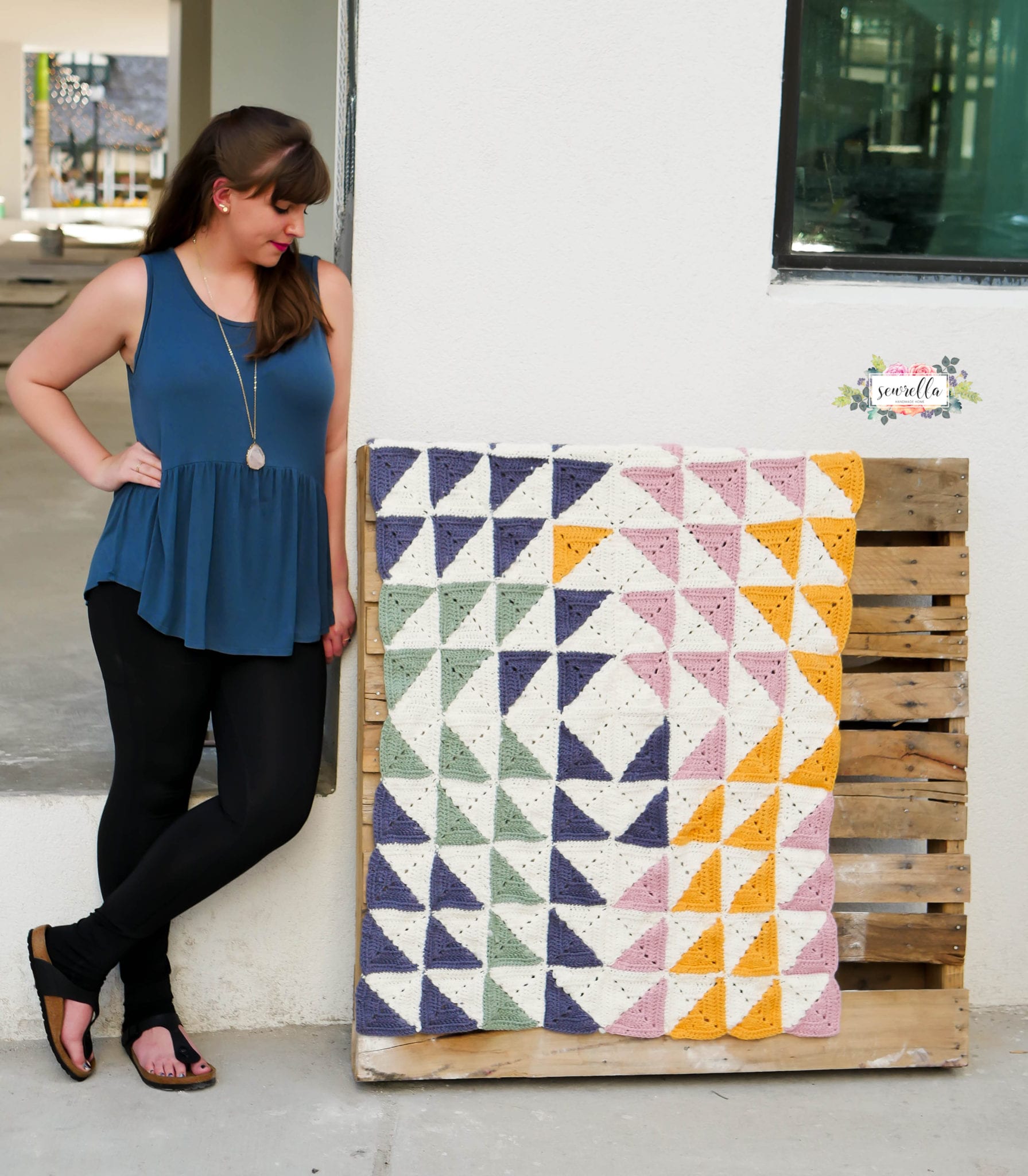 I also want to mention that I did not add a border to my blanket. I may add one later on but at the moment I love the raw edge. I didn't want to take away from the impact of the kaleidoscope by adding a border, and I like the unfinished look.
You could of course add squares to this blanket to make it larger or make each square larger following the same pattern. Using a heavier weight yarn for all of your squares (think a 5 or 6 weight) would also result in a larger, warmer blanket but the size I made is the perfect size for a baby blanket.


I used Lion Brand New Basic 175 yarn for this entire blanket because the softness and color was the perfect thing for a cuddly new baby! This yarn is a bit finicky because it can pull apart if you're too hard on it so be aware of that when working with it. I really do love the finished product using the New Basic yarn, and wouldn't have made it with anything else.
Lion Brand is now offering this pattern as a kit on their website! You'll get all the yarn you need plus a printed hard copy of the pattern to follow shipped right to your door. Being that the New Basic yarn is hard to find in stores, this is such a great option for making a blanket just like mine! Grab your kit HERE.


PATTERN
Grab the ad-free, large print, printable PDF pattern HERE.
Grab the Ultimate Pattern Bundle that includes 150+ patterns just like this one on sale for $20 today

HERE.

PIN this pattern to your Pinterest boards for later HERE.
Add this pattern to your Ravelry queue HERE.
Materials:
–Lion Brand New Basic 175 yarn in Cream (5 balls), Mango (1 ball), Thyme (1 ball), Slate (2 balls), & Peony (1 ball)
-Size H 5mm crochet hook
-Chetnanigans blocking board
-Tapestry needle
(Click HERE to shop all my favorite tools!)
Follow my pattern for the half square triangle granny square HERE. Work all squares with half cream and half another color.
-18 Mango squares
-13 Thyme squares
-28 Slate squares
-21 Peony squares
Follow my tutorial on blocking all of your squares HERE.
Follow my video tutorial on joining all of your squares HERE (and embedded above) following the arrangement of the graphic above.
Weave all ends and enjoy your blanket!
(I wet blocked mine one final time to get all of the lines completely linear but this is optional. If you're unfamiliar with wet blocking, here is a great tutorial)
I hope you LOVE your kaleidoscope blanket!