I'm so excited to show you my latest project – the Crochet Crown Braid Headband – and my Color Made Easy mini collection!
Read on below about all three collection pieces and some exciting yarn news, or scroll on down for the free pattern.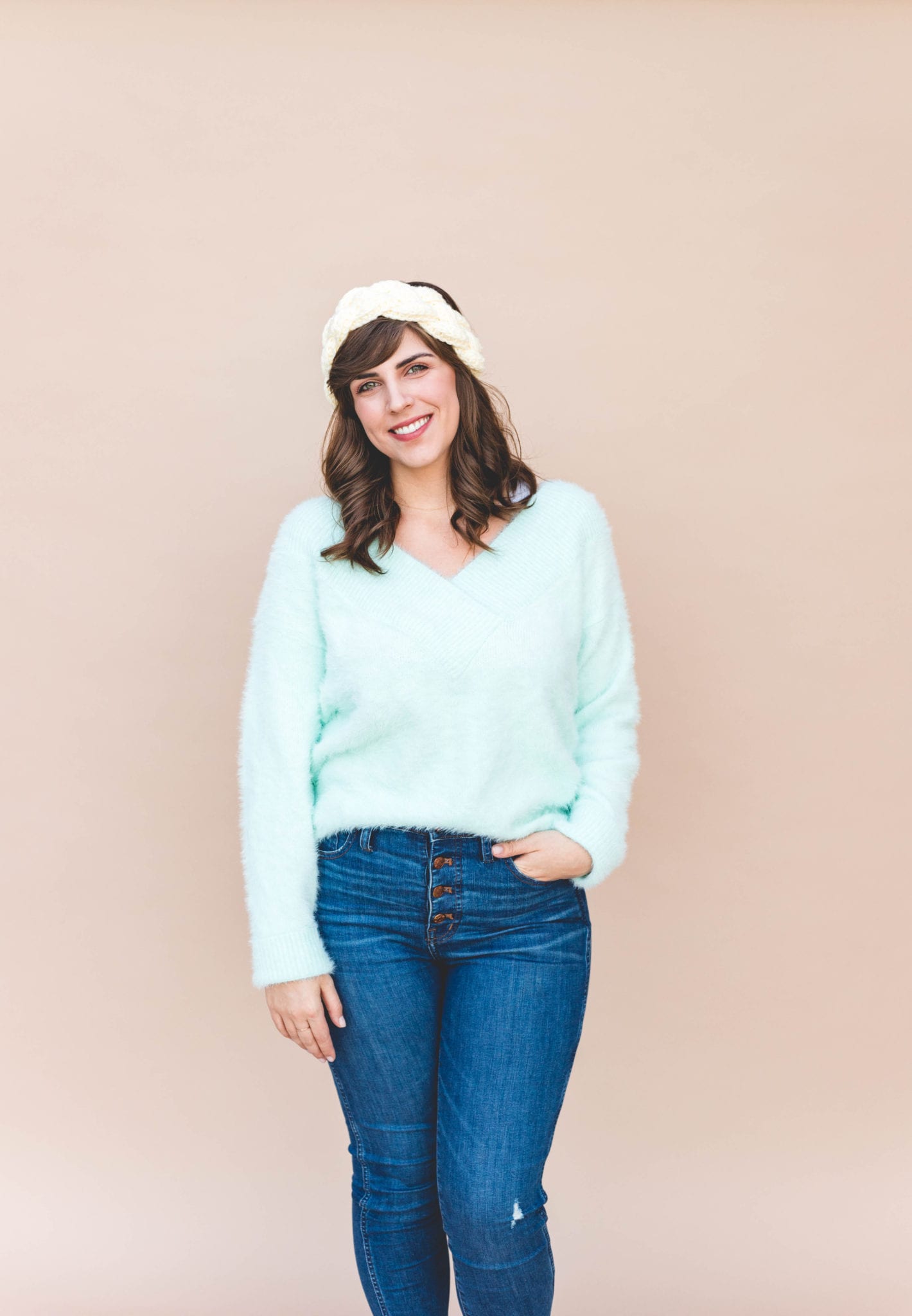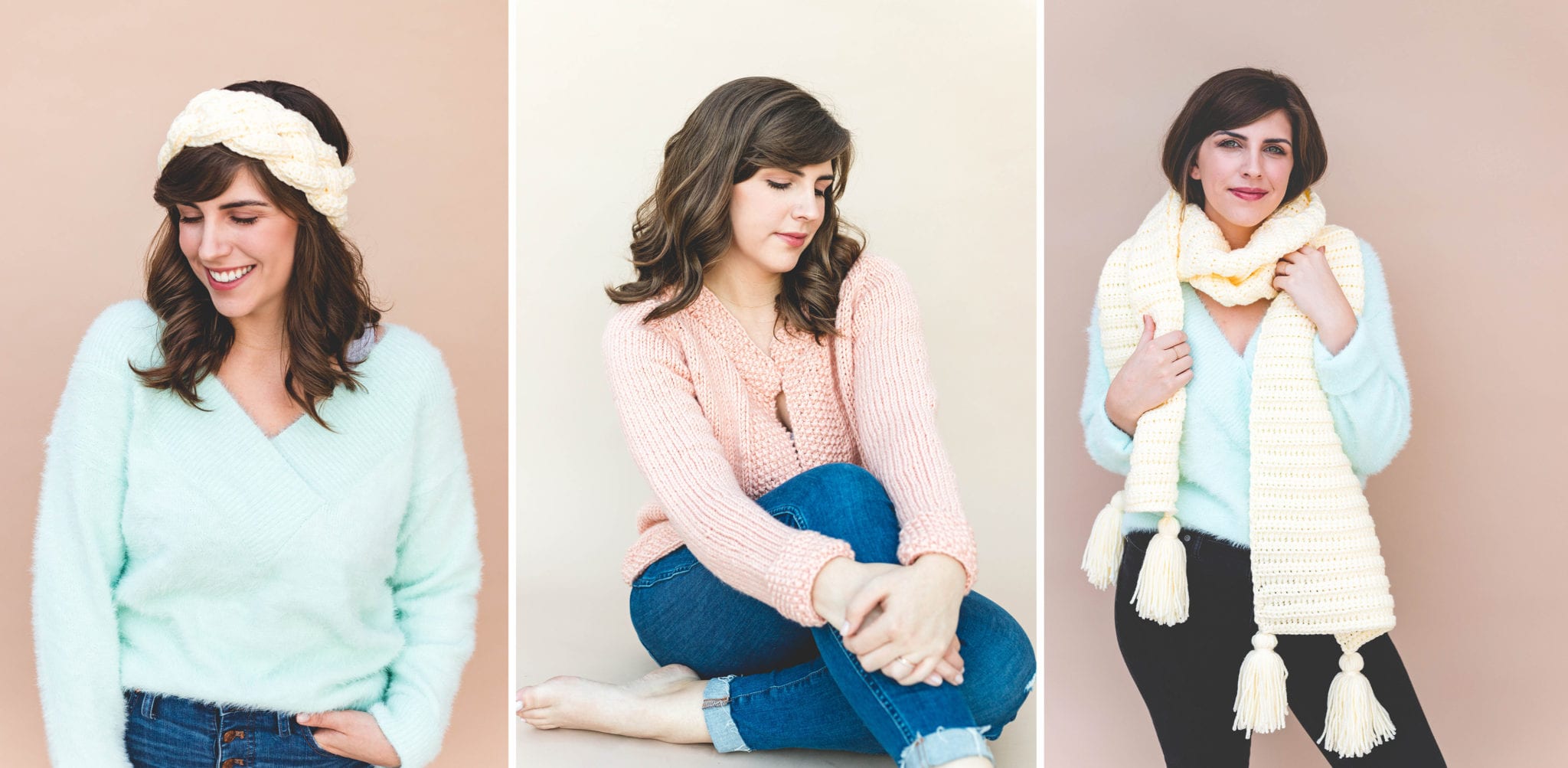 Seriously, pinch me! Three years ago when I started this blog on a pregnancy whim I would have laughed in your face if you told me I'd be participating in a campaign like this. I'm blessed beyond belief and so grateful to every reader here (hi!). Your support is what's gotten me to this point and I am filled to the brim with gratefulness. Now let's talk about this yarn…
Note: Additional pieces pictured above will debut in the coming weeks! But if you're impatient like me, all three kits are ready for you to shop below…
The Yarn
Lion Brand's Color Made Easy yarn is a line that I've loved well over the last season or so. I've created several patterns already with it, including my popular Holiday Sweater Knit-a-Long! I've also made baby blankets and simple crochet hats with this yarn – so it's safe to say I've been smitten for a while. It's a category 5 bulky weight yarn (already hard to find great yarns in this category) in a stunning color lineup. It was so hard to narrow down my color choices for this mini collection because they're all so gorgeous.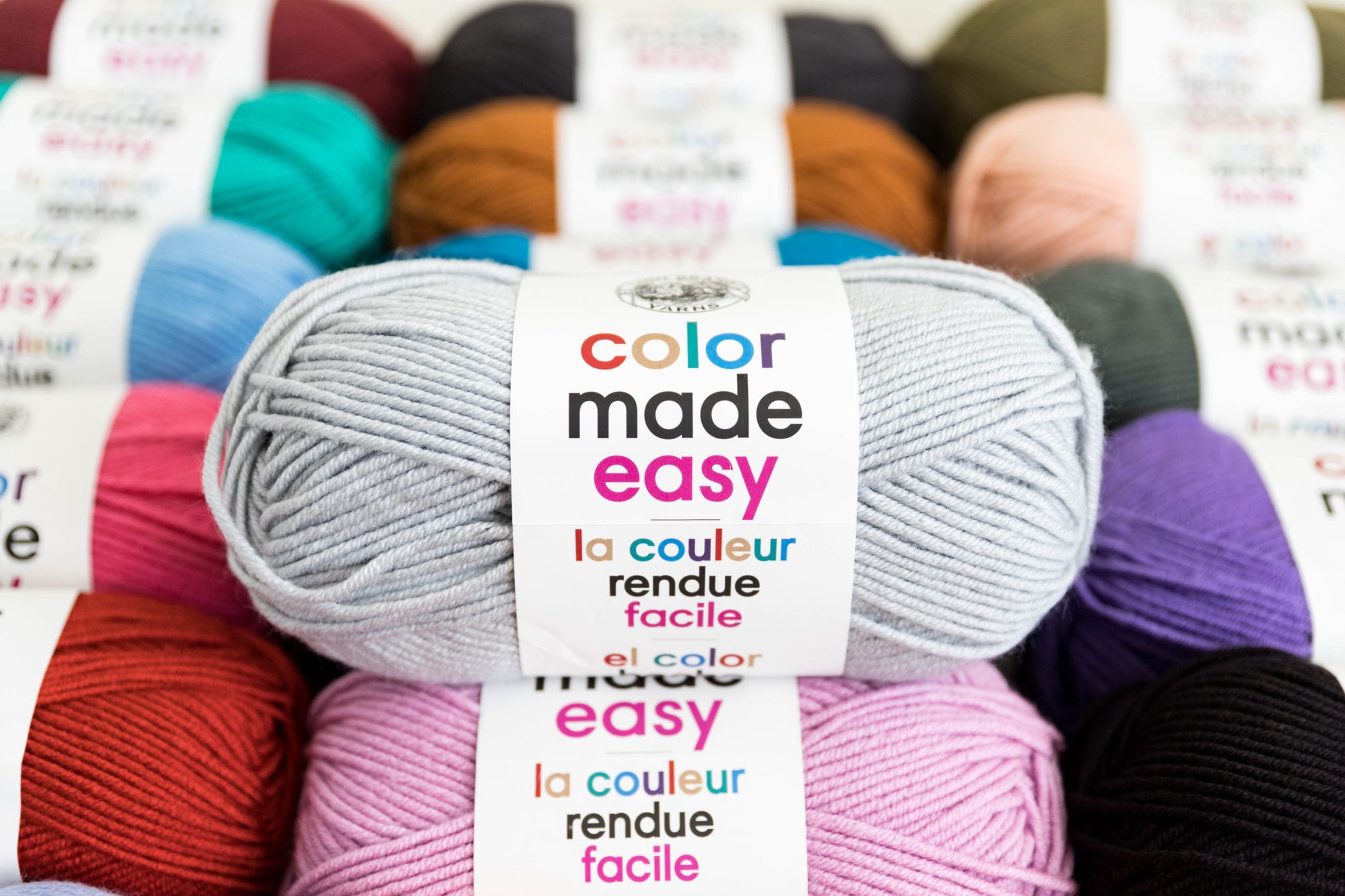 When Lion Brand asked me to collaborate on a campaign for Color Made Easy coming to Michaels Stores and Michaels.com I was elated! One of my favorite yarns of 2018 will now be available (as of January 25, 2019) in store and online at Michaels and I've cooked up some dreamy crochet and knitting projects you're going to want to make.
My mini collection using this yarn consists of 2 crochet accessory projects and 1 knit sweater project and all three are available as kits from Lion Brand Yarn now! The first crochet accessory pattern is free below on the blog and the other two patterns will be making their debut here in a few weeks but if you want to make these projects immediately you need the kits from Lion Brand.

I had so much fun with the Millennial pink and Alabaster cream colorways of this yarn, they're two of my favorites and I hope you love them as much as I do.
Collection Inspiration + Design
I created a three piece mini collection in Color Made Easy that consists of a Crochet Crown Braid Headband (free pattern below), Knit Betty Cardigan, and Crochet Vanilla Scarf. All three projects work up really quickly and are beginner/intermediate skill level friendly. These pieces look great individually or worn together and I can't wait to see what colorways you choose for yours!
My designer friends that also work with Lion Brand (Alexi from Two of Wands, Jessica from Mama in a Stitch and Jess from Make & Do Crew) are all creating individual mini collections that speak to their own style and all their projects are so stunning! I knew that I wanted to stick to my romantically modern style and go with soft textures, feminine silhouettes, and craft patterns that are as easy to wear as they are to make.

I am really proud of this little series and honored to be a part of this campaign with Michaels and Lion Brand!



PATTERN
To sum it up: The Crochet Crown Braid Headband is chic and feminine with a nod to modern hairstyles – no fancy hairdresser required! With easy crochet & braid construction, this crown braid headband works up in about an hour with Lion Brand Color Made Easy yarn. Sizing includes toddler, child, tween and adult – 1 skein makes 2 headbands of any size. Beginners and advanced crochet queens alike will love the crown braid headband!
Materials:
–Lion Brand Color Made Easy yarn (Weight: 5/Bulky – 7oz, 247 yds)
1 skein (Alabaster) – 1 skein makes 2 headbands of any size!
Click here to shop the kit from Lion Brand yarn!
Click here to shop my favorite tools and materials!
Gauge:
12.5 sts x 8 rows in Hdc = 4″
Sizes
Toddler, Child, Tween, Adult
Dimensions:
To fit Head Circumference: 16 (18, 20, 22)"
Width: 5"
Abbreviations (US terms):
ch – chain
hdc – half double crochet
rpt – repeat
sl st – slip stitch
st(s) – stitch(es)
t – turn
Skill Level:
Level 2 – easy
Special Stitches:
3rd loop Hdc (3L Hdc) – yarn over, insert hook into the front-most 3rd loop of the stitch as pictured below, pull up a loop, yarn over, pull through all 3 loops on hook
Pattern Notes
-This pattern is written to fit adult women with slight adjustments for toddler, child, and tween sizing listed additionally where appropriate.
-This headband is made by crocheting 4 long individual strips, weaving their ends and then braiding together and securing with a stretchy band that will lie at the base of the neck.
-Please read through the entire pattern before beginning.

Crochet Crown Braid Headband
Braid pieces
*Make 4
Ch 72
Toddler, Ch 54
Child, Ch 60
Tween Ch 66
Row 1: Hdc in 3rd Ch st from hook and each st across, Ch 2, t (70)
Row 2: 3rd loop Hdc in each st across, Ch 2, t (70)
Finish off, weave ends.

Neck Band
Line up all pieces with right side facing you and foundation chain on the left side.
Join yarn to furthermost right piece's edge.

Row 1: Sl st loosely evenly across edges of all 4 pieces, Ch 2, t

Row 2: Hdc in each st across, t

Row 3: Sl st loosely, in each st across, Ch 2 t

Rpt Rows 2-3 once more
Finish off, weave ends.

Braiding
With right side facing you and Neck Band at the top of the work, braid your strands according to the diagram below.


Once you've finished braiding all the way down, adjust your braid until you're happy with the placement.
Repeat Neck Band portion of this pattern at the end of your Headband, taking care not to undo the braid you've made.

Finish off leaving a long tail for sewing.
Whip stitch last row of each Neck Band section together to secure headband in place. Weave ends.

Pop on your finished accessory and enjoy!



Looking for more COLOR MADE EASY YARN PATTERNS? Check these out!

1. Knit Plaid Blanket (in 3 sizes!) / 2. Crochet Brooklyn Ridge Hat / 3. Knit Cropped Holiday Sweater