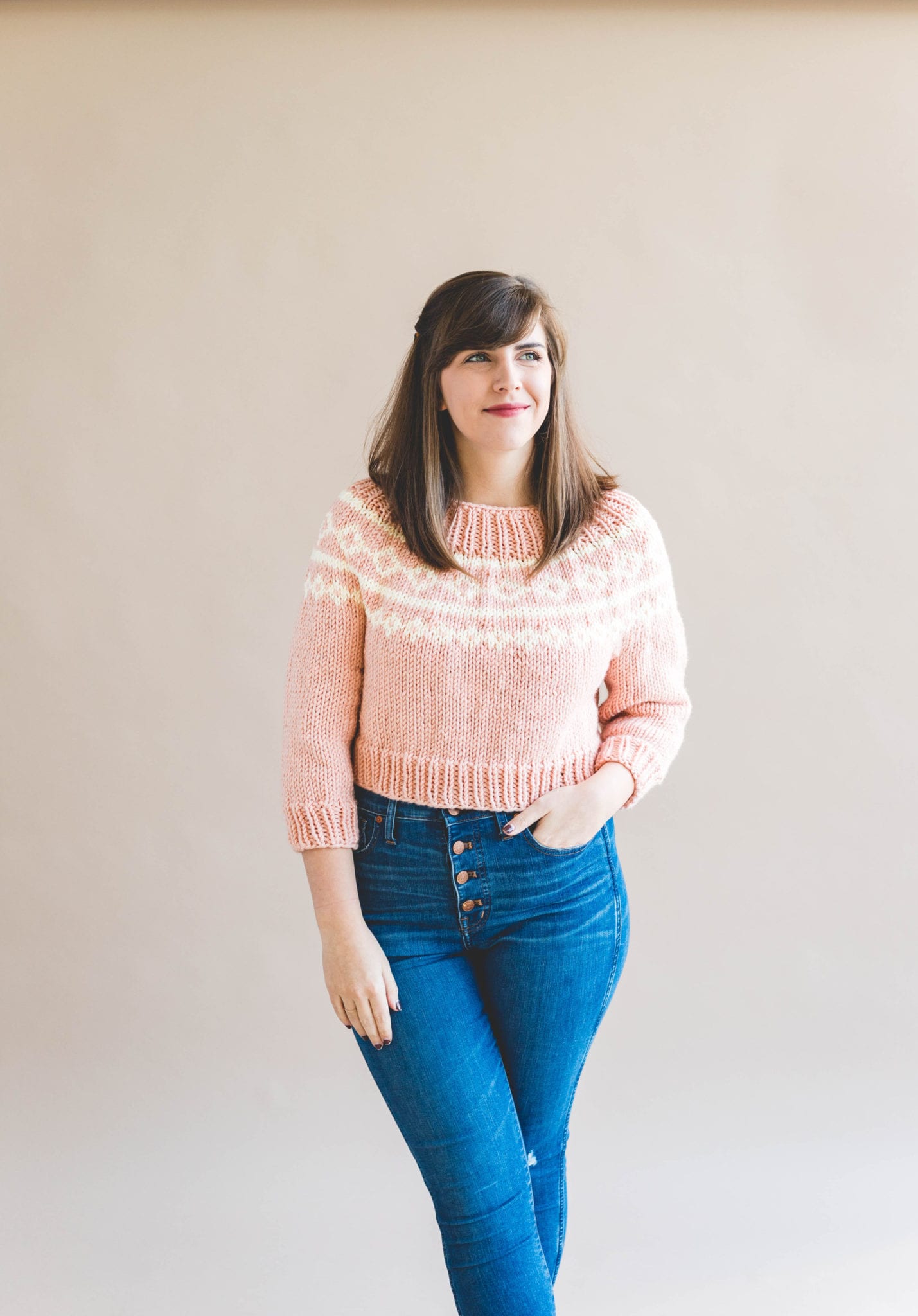 Sewrella's Holiday Knit-a-long has ended and I'm so glad to show you my cropped version of the My First Holiday Knit Sweater!
Scroll on down to read about my pattern adjustments and get the link to the full original pattern that's FREE here on the blog or read on for more details about this cute knitting project.
OTHER SWEATER PATTERNS I LOVE (& you should too)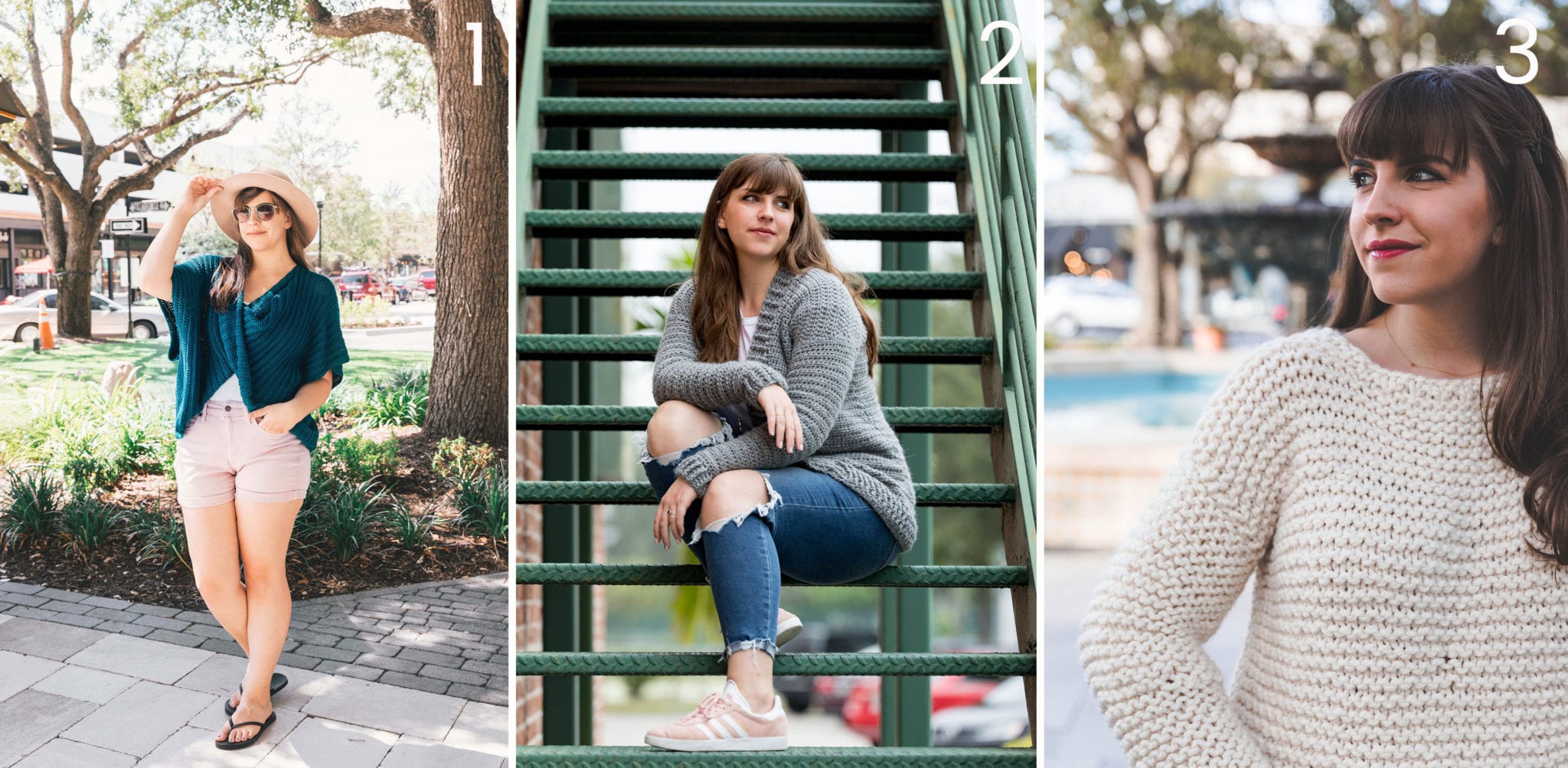 1. Crochet Twist Swancho / 2. Crochet Everyday Cardigan / 3. Simple Knit Sweater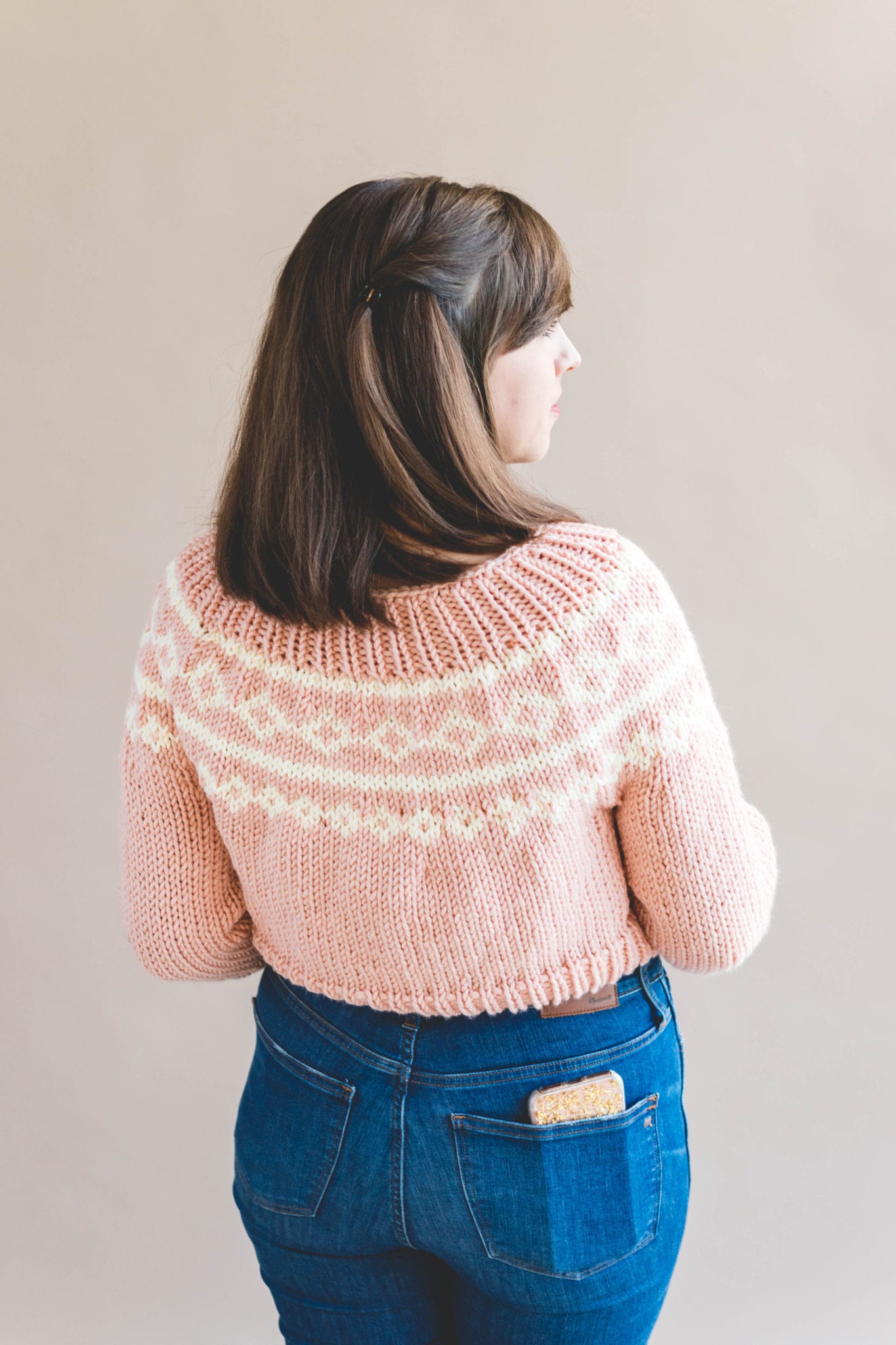 A Tale of Two Sweaters
I designed the original Holiday Knit Sweater with positive ease and a slouchy oversized fit. I loved that comfy, grandpa's-tacky-christmas-sweater fit with more modern colorwork, and I was so excited about the design I turned the pattern into an event!
Over 700 people wound up joining us in the Knit-a-long Facebook Group (you can still join here to see all the threads of questions and video tutorial help, it'll stay up forever!). We knit up a storm, many participants never having knit a stitch before! It was so wonderful to see so many helpful, kind, sweet people in this group and we all knit beautiful sweaters together.

I participated right along with the group by making a modified version of the sweater a second time. I loved the Millenial pink color of the yarn (more on that below) but I really enjoyed playing with the length and fit of the sweater. I've listed my few modifications below – they weren't as dramatic as you'd think! Instead of sizing up from my usual shirt size as I did with the original Cranberry sample, I made my true size (medium) for a more fitted bodice. I added some extra ribbing and omitted several inches of stockinette in the body for a cropped length and in the sleeve for a shorter fit. That's it!

The Yarn
I chose to use Lion Brand's new Color Made Easy Yarn for this project and I'm happy to report – it was just the right choice! You'll need a Category 5 bulky weight yarn for this project and those are a little harder to find than standard worsted weight or bulkier category 6 yarns.
I also love the color lineup in Color Made Easy. Lion Brand put together a kit just for this Knit-a-Long and there are 6 stunning color options available! I made my first sweater in the Pomegranate option and my second cropped sweater (pictured here) in the blushy pink color called Millenial.


Click Here to grab your kit from Lion Brand – it comes with a printed copy of the pattern as well as all the yarn you'll need for your size! You'll have some yarn leftover if you make the cropped adjustments I did, but you can make a couple of my Brooklyn Ridge Crochet Hat pattern with the excess!



PATTERN
Get the AMENDED ad-free, large print, printable PDF pattern HERE.
Grab the Ultimate Pattern Bundle that includes 150+ patterns just like this one on sale for $20 today

HERE.

PIN this pattern to your Pinterest boards for later HERE.
Add this pattern to your Ravelry queue HERE.
Cropped Holiday Knit Sweater

My modifications:
*Note: make all of the following modifications to the original free pattern (linked above) if you like, or pick and choose what you modify. For example, you could crop the length as I have but work the original pattern for long sleeves – it's totally up to you! Isn't making your own clothes neat??
—–
All ribbing (body, sleeves, and neckline): work 10 Rnds (instead of 8 Rnds)
Body: Knit in stockinette for half the number of inches/Rnds original pattern called for (in my case, half the medium measurements would be 6″ or 27 Rnds).
Sleeves: Maintain original pattern until stockinette portion: Reduce final sleeve measurement by 5″ or 23 Rnds (medium: knit until sleeve measures 10.5″ from rib)
Knit yoke and all other steps as written in the original pattern.
—–
Enjoy your stylish, cropped sweater!



Earning a Living with my Handmade Home
If you love crocheting and knitting, you should think about starting a blog! I'll help you get started to turn your hobby into a money-making career with my free "Start a Blog" guide.
Or you can check out my latest income report to see how this blog earned over $10,000 last month!