Presenting the sister to my favorite design of the winter season, my Knit Audrey Tunic – a free knitting pattern here on the blog!
Read through my inspiration, design process, and lots of info on the stunning yarn I chose, or scroll on down for the free pattern.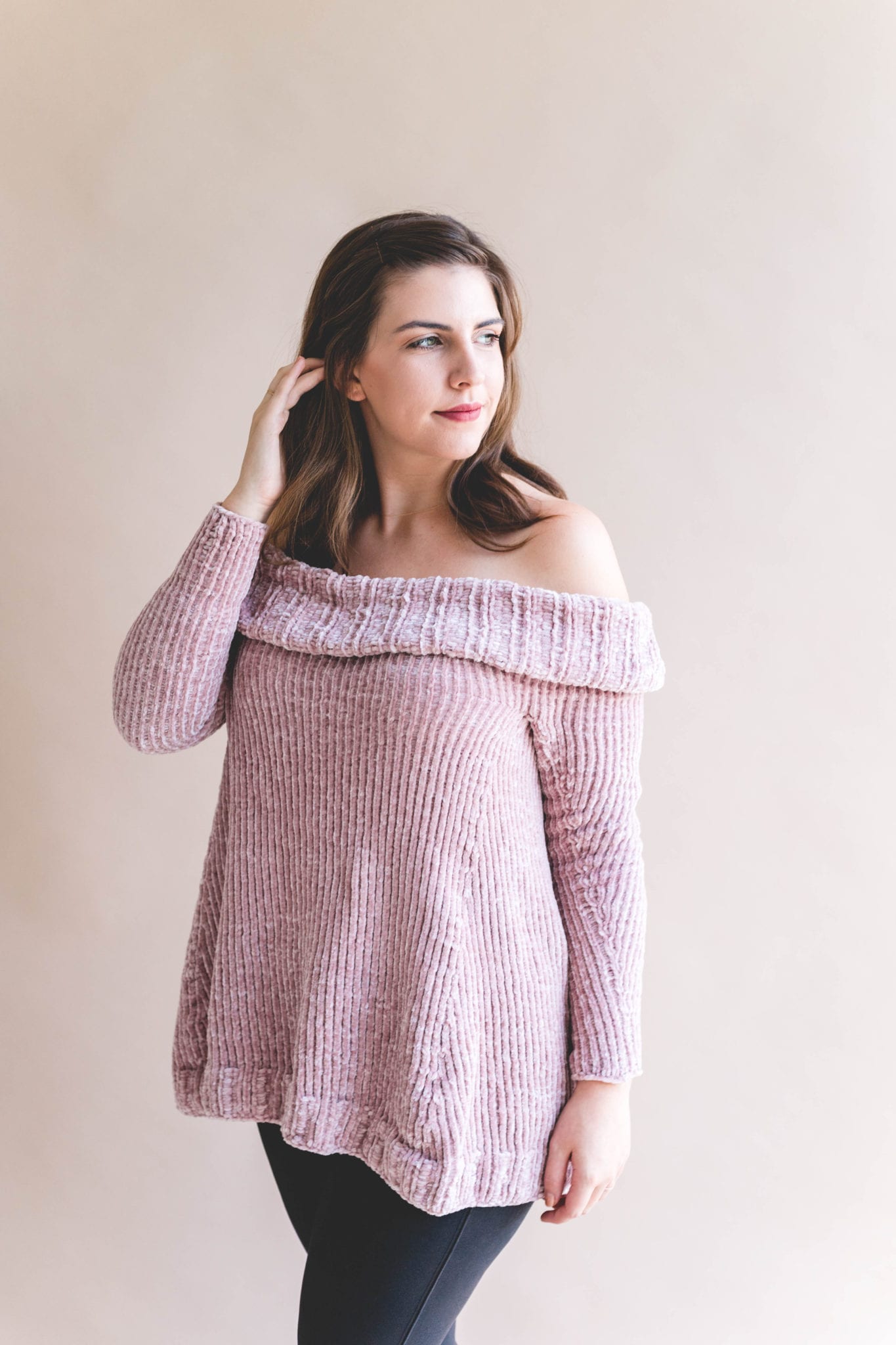 OTHER KNITTING PATTERNS I LOVE (& you should too)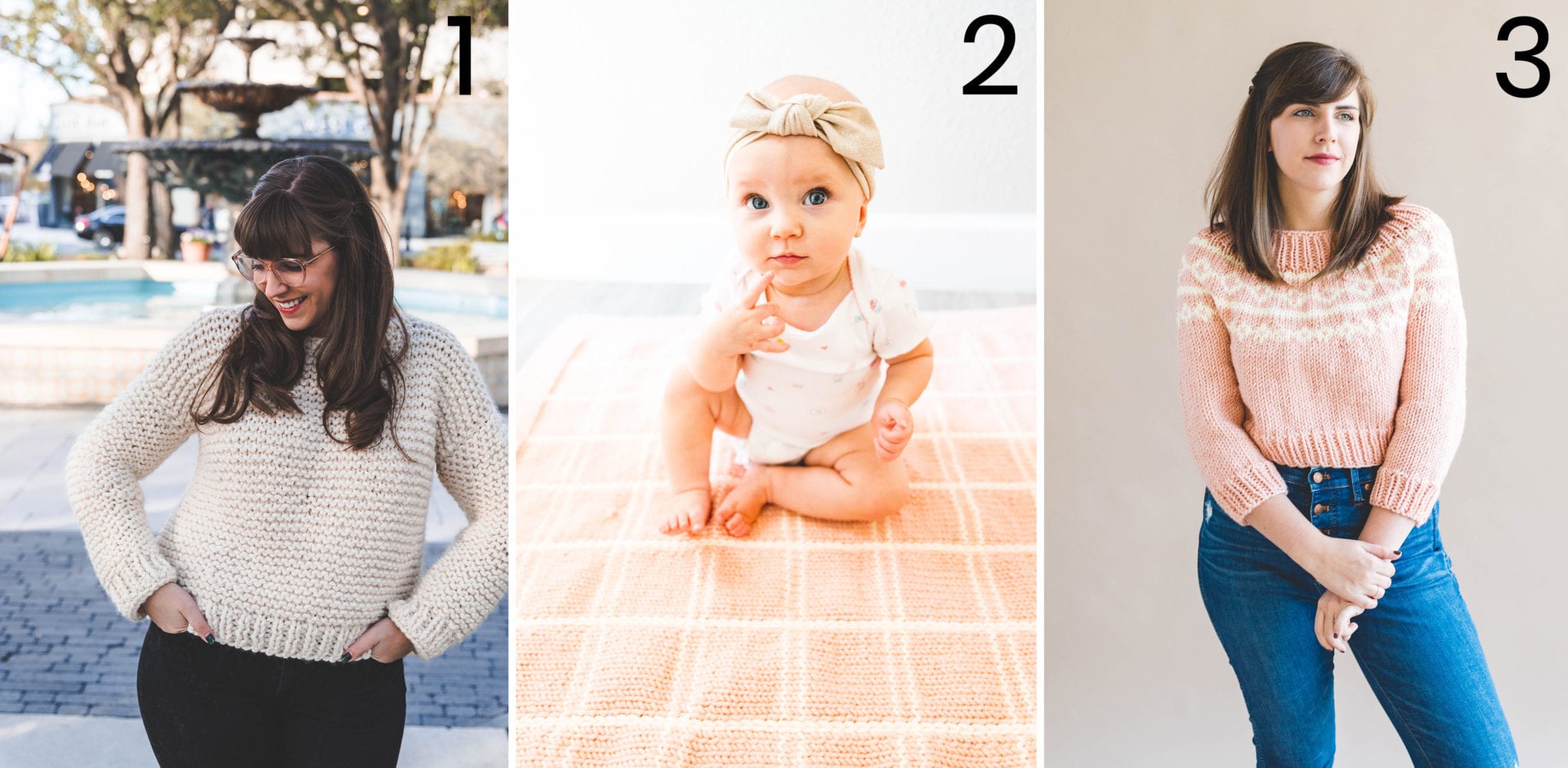 1. Beginner Knit Sweater / 2. How to Knit a Plaid Blanket / 3. Cropped Holiday Knit Sweater
The Inspiration + Design
You may have seen earlier this week on the blog that I released a CROCHET Audrey Tunic in lilac! It's been a big hit already and I'm so glad because I've had a knitting pattern for the same style tunic up my sleeve just waiting for you. I'm tricky like that!
When the Vel-Luxe yarn came in to me from Lion Brand, the first thing I did was swatch in crochet and knitting to decide which craft I'd utilize for this pattern. Each gave a very different look to the yarn and I really liked them both! I noticed that the guage for single crochets and stockinette stitch were almost exactly the same in width (where all the math occurs when pattern designing) and the length was about double in knitting. So it donned on me that it would be fairly easy to translate the crochet pattern to knitting!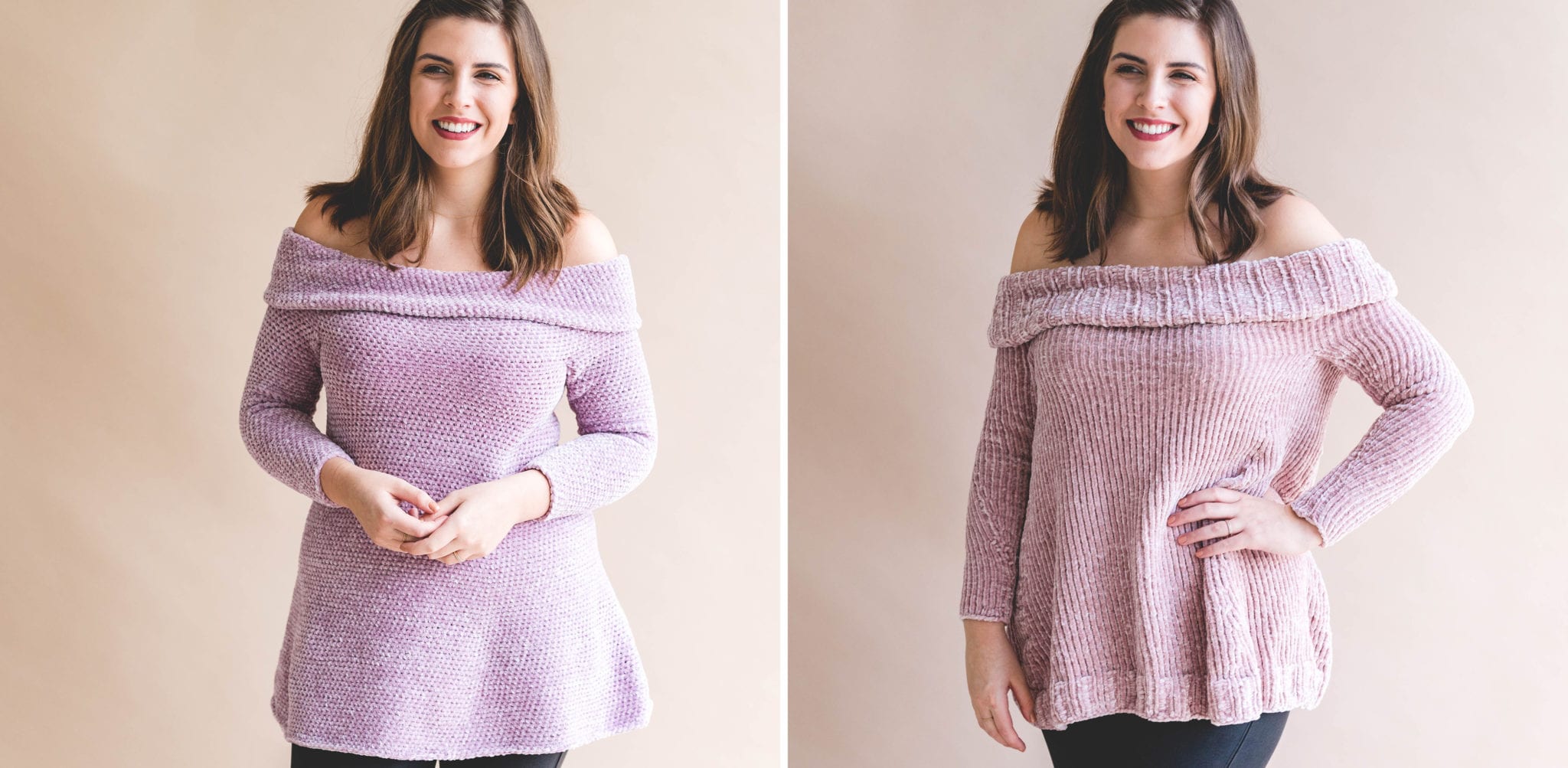 I drafted the crochet version and started work on it to make sure I liked my idea once it was worked up. The crochet version came off the hook like a dream so I drafted up the knit version too and voila! Sister Audrey Tunics in crochet and knitting so that we never have to pick and choose.
The knit version came out a bit more loose and flowy just because knit stitches drape differently than crochet stitches that are a bit stiffer. I love both in their similarity and their differences!
The Yarn
Lion Brand has been releasing stunning yarn after stunning yarn this season and they're not stopping with this new velvet style yarn, Vel-Luxe. It's a worsted weight polyester based yarn that feels like crushed velvet & it really is what the label says – LUXE.

There are several velvet yarns on the market but I love this one because it's a worsted weight (unlike the bulky ones I've seen) and it doesn't shed. Let me say that again –  IT DOES NOT SHED. Hallelujah! Finally a textured yarn with incredible feel and finish without any yarn fuzzies left behind.
The color palette LB chose for this yarn is really wonderful too, it's refined and elevated with neutrals and color that are everything we want to wear. My knit sample is in Dusty Pink, but I'm so in love with every color – it was hard to choose just one! Browse them all here.

Shop the KIT from Lion Brand for this pattern – it includes all the yarn you need and a handy printed version of the full pattern. Just click here!


PATTERN
To sum it up: The Audrey Tunic is a fit and flare off-the-shoulder top that's ultra-feminine and flirty. In true Sewrella fashion, this tunic was inspired by a retro look, that of Audrey Hepburn in Roman Holiday. Taking a dramatic neckline and fitted bodice to modern day with a "just-right" length that covers the tush and flares in a flattering A-line. This design is comprised of simple stitches that work up in Lion Brand's Vel-Luxe yarn to create a truly stunning result – people will wonder how you made it yourself!
Materials:
–Lion Brand Vel-Luxe yarn (Weight: 4/Medium – 5.3oz, 246 yds)
Color: Dusty Pink 4 (5, 5, 6, 7, 8, 9) skeins
Grab the KIT from Lion Brand Yarn here!
–Size US 7 (4.5mm) circular knitting needles, 36" long
–Stitch markers (4)
–Stitch holder (or spare contrast yarn)
Sizes:
XS, S, M, L, XL, 2XL, 3XL
Gauge:
12 sts x 32 rows in stockinette = 4"
Measurements:
Shoulder circumference: 34 (38, 42.5, 46.5, 51, 56, 61)″
Bust circumference: 29.5 (33, 37, 40.5, 44.5, 49, 53)″
Length (shoulder to hem): 26 (29, 31, 33, 36, 39, 42)″
Armhole depth: 11 (12.5, 14, 15.5, 17, 18.5, 20)″
Sleeve Length: 16.5 (17, 17, 17.5, 17.5, 18, 18)″
Abbreviations (US terms):
CO – cast on
K – knit
K2tog – knit 2 together
M1l – make 1 left
M1r – make 1 right
P – purl
Pm – place marker
Rpt – repeat
Rnd – rnd
Sm – slip marker
St(s) – stitch(es)
Skill Level:
Level 3 – intermediate
Pattern Notes
-This pattern is written to fit snuggly to the body. If you're between sizes, please size down. (I am a 36" bust and sized down to a small.)
-Sizing listed in the pattern will be in X-Small with Small, Medium, Large, XL, 2X, and 3X listed in parentheses such as "36 (41, 46, 51, 56, 61, 66)" whereas CO 36 for size XS, 41 for size S, 46 for size M, 51 for size L, 56 for size XL, 61 for size 2X and 66 for size 3X. When only one number is given, it applies to all sizes. To follow pattern more easily, circle/highlight all numbers pertaining to your size before beginning.
-This pattern has no positive ease through the chest and shoulder area. Be sure to carefully measure.
-This tunic is worked from the top down in a seamless construction. Underarm openings will be grafted at the end.
-Counts within <> are final stitch counts for the Rnd.
-We will use the magic loop method for the sleeves, however you may use DPNs as you choose to.
-See the crochet version of this tunic here.
Off the Shoulder Velvet Tunic
Yoke:
CO 112 (124, 140, 152, 168, 184, 200) sts, join to work in the Rnd, pm to mark beginning of Rnd <112 (124, 140, 152, 168, 184, 200 sts)>
Work in K2 P2 rib until you've finished 10" or 80 Rnds <112 (124, 140, 152, 168, 184, 200 sts)>
Work in stockinette (K all sts) until you've finished 2" more or Rnd 96
Sizes XS, M, XL, 3XL ONLY: Last Rnd of stockinette K2tog at beginning of Rnd and again after making 56 (70, 84, 100) sts or about halfway around <110 (138, 166, 198)>
Split for Sleeves:
*Note: Use a different color or style stitch marker for the first of four stitch markers to mark the beginning of your Rnd.
*Place next 21 (24, 27, 30, 33, 36, 39) sts on holder (or spare yarn), pm, CO 14 (16, 18, 20, 22, 24, 26) for underarm, pm, K next 34 (38, 42, 46, 50, 56, 60) sts; Rpt from * once more <68 (108, 120, 132, 144, 160, 172 sts)>

Next Rnd: K all sts, slipping all markers <96 (108, 120, 132, 144, 160, 172 sts)>
Body:
Rnd 1: *Sm, M1r, K to next marker, sm, M1l, K to next marker, sm, M1l, K to next marker, sm, M1r, K to next marker <100 (112, 124, 136, 148, 164, 176 sts)>
Rnds 2-8: K all sts, slipping all markers <100 (112, 124, 136, 148, 164, 176 sts)>
Rpt Rnds 1-8 until you've finished 16 (18, 20, 22, 24, 26, 28)" from underarm or 128 (144, 160, 176, 192, 208, 224) Rnds <160 (180, 200, 220, 240, 264, 284 Sc)>

Ribbing:
*Note: Drop stitch markers when you begin ribbing.
Work in K2 P2 rib for 2" or 16 Rnds <160 (180, 200, 220, 240, 264, 284 sts)>
Cast off with a stretchy bind off technique (I like this one on Youtube from VeryPinkKnits), weave ends.
Sleeves:
Place 21 (24, 27, 30, 33, 36, 39) sts from holder onto needles, rejoin yarn at the beginning of the Rnd.
Rnd 1: CO 14 (16, 18, 20, 22, 24, 26) sts for underarm, K to end of Rnd, pm to mark beginning of Rnd <35 (40, 45, 50, 55, 60, 65 sts)>
Rnd 2: K2tog, K remaining sts, sm <34 (39, 44, 49, 54, 59, 64 sts)>
Rnds 3-9: K all sts, sm <34 (39, 44, 49, 54, 59, 64 sts)>

Rpt Rnds 2-9 until you've finished 16.5 (17, 17, 17.5, 17.5, 18, 18)" of sleeve or 132 (136, 136, 140, 140, 144, 144) Rnds <18 (22, 27, 31, 36, 41, 46 sts)>


Finish off, weave ends.
Graft underarm sts.
Fold over top 10" of yoke to fit off the shoulder. You may sew this in place if you so choose, or leave it unsewn. You're done!



Earning a Living with my Handmade Home
If you love crocheting and knitting, you should think about starting a blog! I'll help you get started to turn your hobby into a money-making career with my free "Start a Blog" guide.
Or you can check out my latest income report to see how this blog earned over $10,000 last month!