A beginner-friendly crochet blanket – my Hand Dyed Crochet Color Block Blanket – is a free pattern here on the blog! Read through my inspiration, design process, and lots of info on the perfect yarn I chose. Or scroll on down for the free pattern.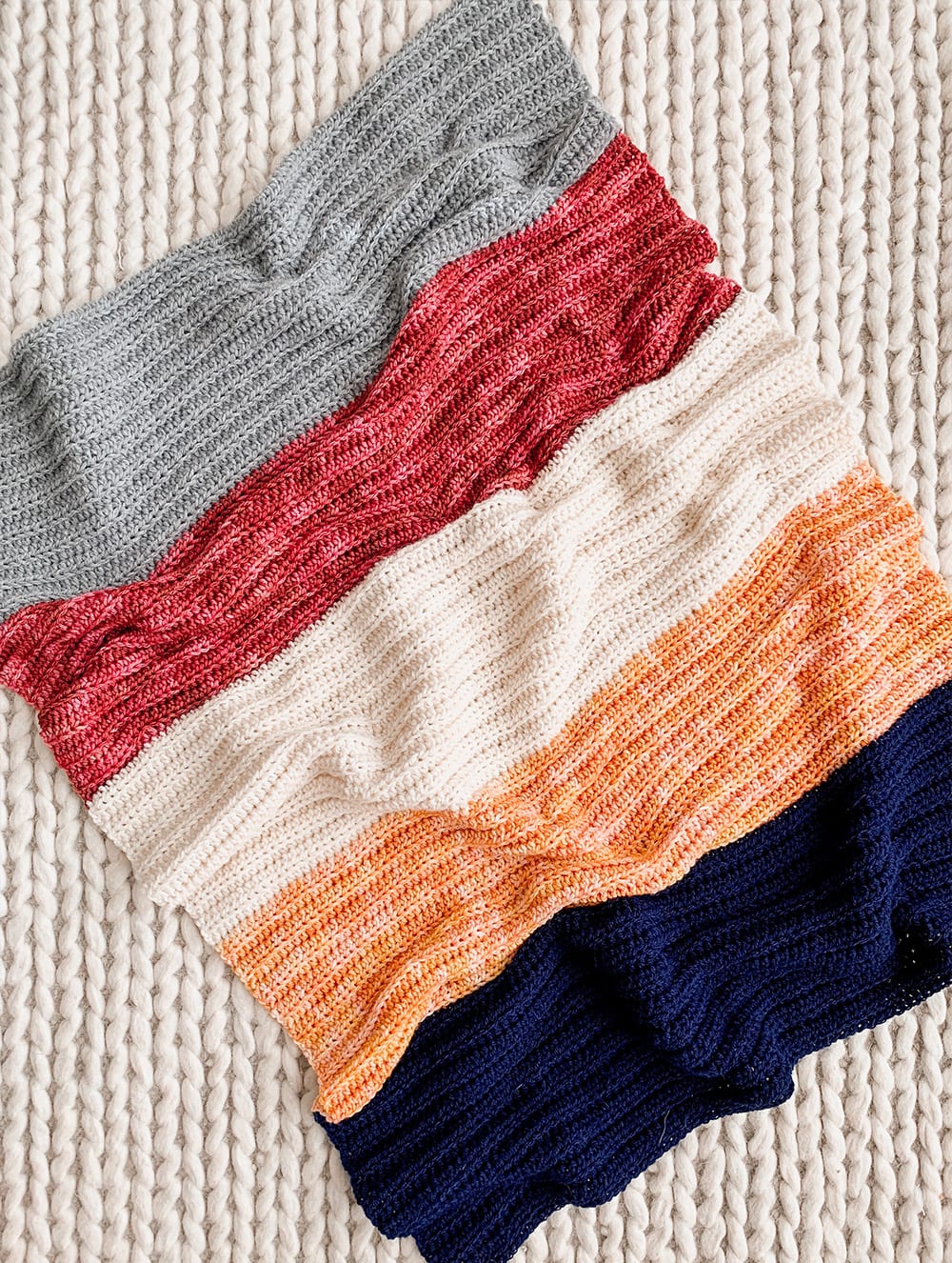 The Inspiration + Design
I started hand dyeing yarn back in 2017 and I fell in love quickly. I started a business selling our hand dyed yarn and called it Sewrella Yarn! We open our store once a month for themed collections on the 15th of every month and it always sells out fast! (Follow us on instagram here to stay caught up). We have so much fun creating themed colorways around different collection ideas like Hocus Pocus at Halloween, Gilmore Girls (the TV show), and Disneyland to name a few.
The two hand dyed colorways I featured here were sitting on my shelf after a batch of test dyeing. The recipes haven't yet been released publicly in any way but I thought they were beautiful for this project. One was originally inspired by a golden peach and the other was a rosy clay style colorway.
Books & Blankets – a monthly series!
Crochet is obviously a big passion of mine (it's why I have a whole blog about it, ha!) but another big passion of mine is children's books. After a big pattern sale last fall, we actually took half of our proceeds and used it to buy children's books for our local hospital. That sparked an idea – a collection of crochet patterns inspired by some favorite children's books.
I'm so excited to bring these two passions of mine together in this series this year, the second of which is this crochet color block blanket! Check out the first one of the series here!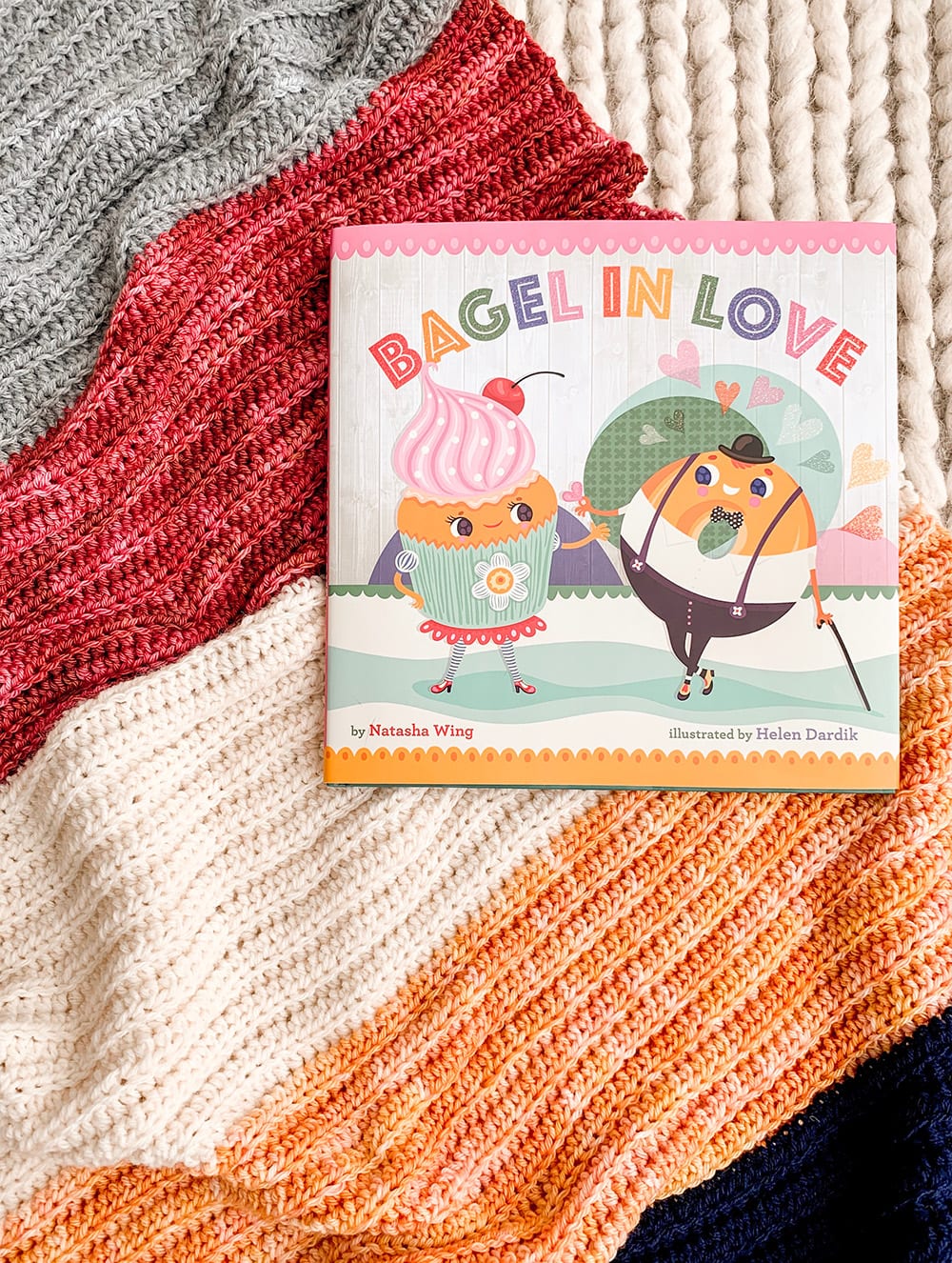 Creating a blanket from a children's story
These two just so happen to perfectly coordinate with our featured book, Bagel in Love! I picked up this book recently as a little Valentine's Day book for Parker's collection and was actually kind of shocked by how much I loved it! It's about a sweet bagel who want's to enter a dance contest but can't find a partner. By the end he falls in love with a cupcake and wins the Cherry Jubilee dance contest. The illustrations are vibrant and the story is full of happiness.
Creating a color palette to match children's book art is so fun – when you find the perfect yarn for the blanket it feels like such a fun victory. Making this blanket in the baby size and gifting it for a baby shower with the matching children's book is a perfect thoughtful gift that's easy to customize to the baby's nursery theme or other details.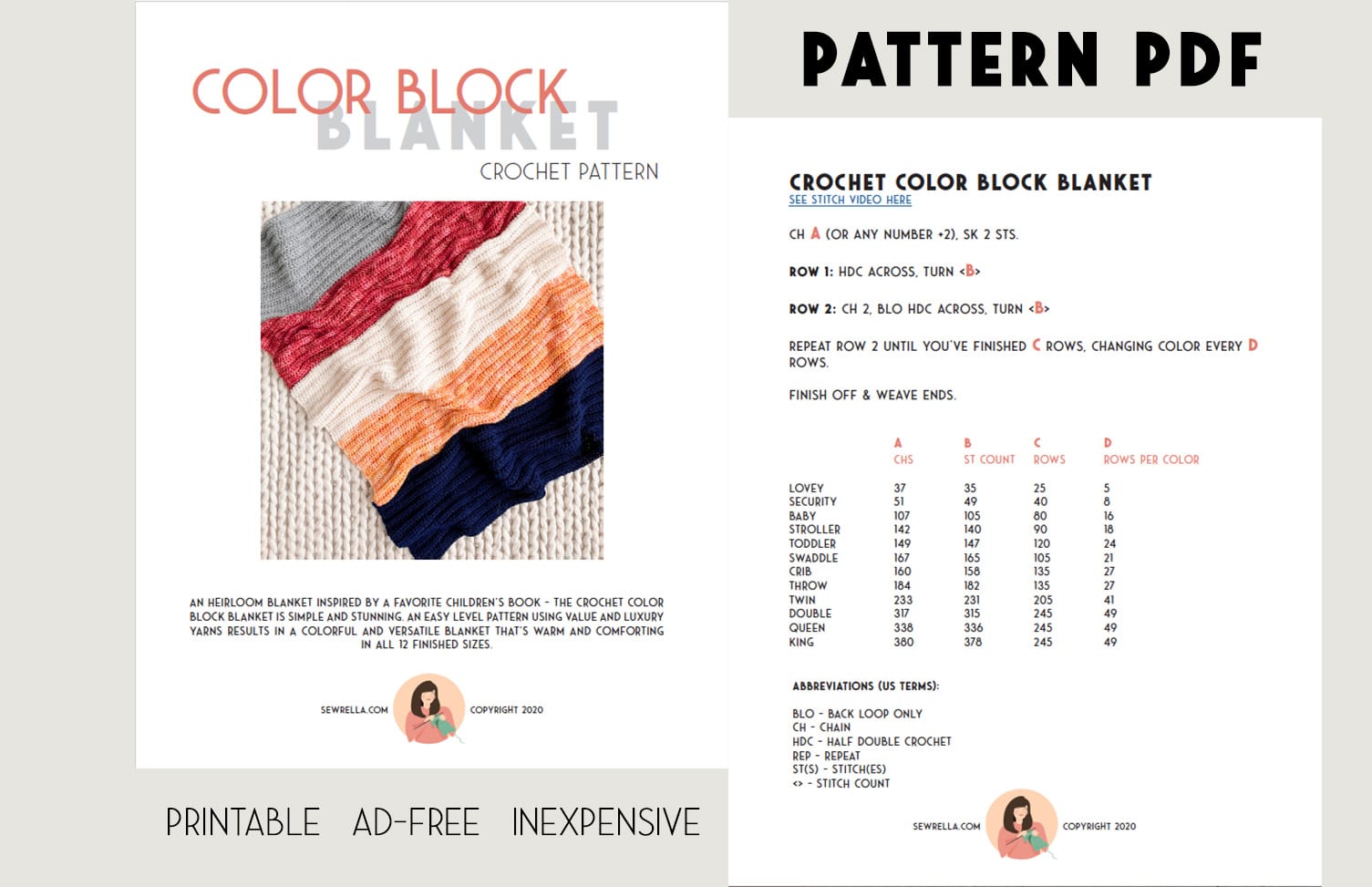 High end + Affordable
I loved curating a color palette blending high end hand dyed yarn with more affordable yarn from Lion Brand. The end result is a wool blend, super soft blanket that didn't cost a fortune to make. One could certainly make an entire blanket of this style in high end yarn and it would be gorgeous. However, this yarn is expensive when you're making a large project like a blanket – those skeins add up.
When you make your blanket, use the tips below on looking at yardage to determine what yarns will blend well together in this way. Get creative and use up some of your stash and if you're able, think about supporting an artisanal hand dyer (even if you only purchase one or two skeins for an accent in your blanket).

One blanket, so many sizes
Although I am in love with this crochet color block blanket in a baby size gifted to a new mom along with the Bagel in Love story that matches it so well, I have written this pattern to work for blankets of just about any size!
Within the pattern below you'll find a table of blanket sizes that are included in the pattern as well as their measurements and the yardage required to make them (provided you're using the yarn I used or a similar worsted weight yarn).
Another fun aspect of this blanket is that you can sort of create your own color block blanket! Using yarn of any weight, you can just follow the pattern making the foundation chain as wide as you'd like your blanket to be and continuing with row repeats until it's long enough.
You could even make it in a solid color, different sizes of color block stripes, more or fewer stripes, a two-tone stripe effect, anything goes. The crochet color block blanket is totally customizable and my favorite kind of project!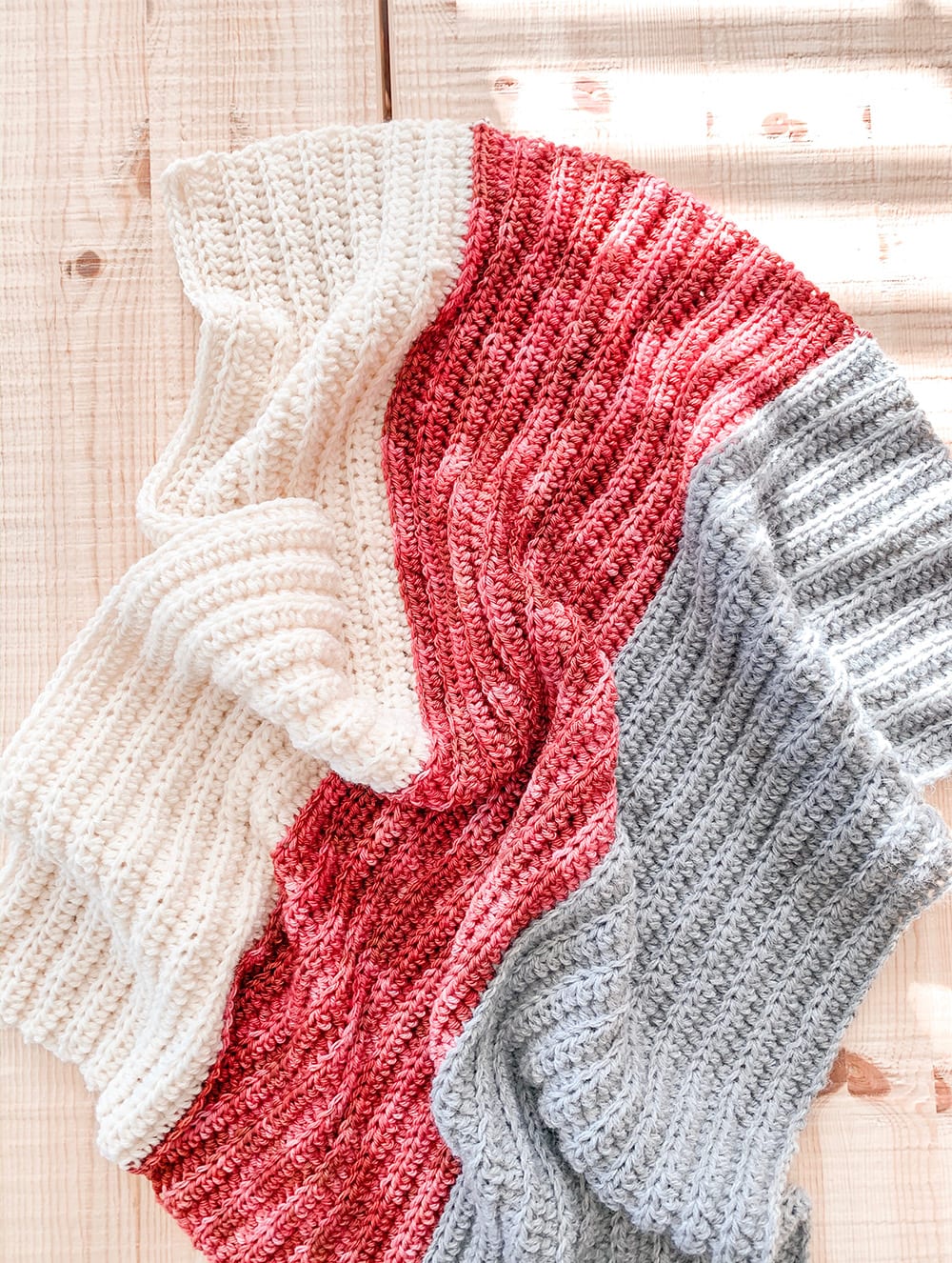 Easy level & totally beginner friendly
This blanket is one of the easiest I've ever made. If you know how to half double crochet, you can complete this blanket. With the video tutorial embedded in the pattern, you'll see the basic techniques I use to create this stunningly simple color block blanket.
Once you get past the first two rows you'll be able to complete the blanket without counting or thinking much about it at all – just tune in to your favorite show or podcast and zoom along through the project!
Yarn + Substitution
I used a blend of Lion Brand's Wool Ease in grey heather, fisherman, and navy and some of my own hand dyed yarn from Sewrella Yarn in a few colorways I created back in 2019. All are worsted weight and of comparable gauge. I just chose colors that worked well together to match my theme of Bagel in Love.
A note on substituting yarns and blending yarns for this project: there is a lot of variation in the yarn industry within the world of worsted weight category 4 weight yarn. The best way I know to compare yarns of different origins, fiber contents, and brand are to look at the yardage per gram. On the yarn label for any yarn (from a big box store or from an independent dyer) the yardage for the ball or skein is listed.
The Wool Ease yarn I used from Lion Brand is an 85 gram ball with 197 yards. 197/85=2.318 yards per gram.
The Handmade Home Fibers hand dyed yarn is a 100 gram skein with 218 yards. 218/100=2.18 yards per gram.
2.318-2.18=0.138 yards per gram difference
I try to make sure any yarns I'm blending within one project like this are absolutely no more than 0.5 yards per gram difference from each other. The lower this number is, the closer these comparative yarns will be in gauge, resulting in a seamless finished project!





PATTERN
Get the ad-free, large print, printable PDF pattern HERE.
Grab the Ultimate Pattern Bundle that includes 150+ patterns just like this one on sale for $20 today

HERE.

PIN this pattern to your Pinterest boards for later HERE.
Description
An heirloom blanket inspired by a favorite children's book – the crochet color block blanket is simple and stunning. An easy level pattern using value and luxury yarns results in a colorful and versatile blanket that's warm and comforting in all 12 finished sizes.
Yarn
–Lion Brand – Wool Ease
(weight 4 / medium, 3oz/85g, 197yds/180m)
Colorways: GREY HEATHER, FISHERMAN, NAVY
See yardage via table below
–Handmade Home Fibers – Classic Worsted
(weight 4 / medium, 3.5oz/100g, 218yds/200m)
Colorways: ROSY CLAY, GOLDEN PEACH
See yardage via table below

Notions
Gauge
14 sts x 9 rows = 4" in pattern (blo hdc)
Finished Size
| | | |
| --- | --- | --- |
| | Width " | Length " |
| Lovey | 10 | 10 |
| Security | 14 | 17 |
| Baby | 30 | 35 |
| Stroller | 40 | 40 |
| Toddler | 42 | 52 |
| Swaddle | 47 | 47 |
| Crib | 45 | 60 |
| Throw | 52 | 60 |
| Twin | 66 | 90 |
| Double | 90 | 108 |
| Queen | 96 | 108 |
| King | 108 | 108 |
Notes
–See chart above to choose the size blanket you'd like to make!
-See chart within pattern below to determine your number of foundation chains (A), row stitch count (B), number of total row repeats (C), and number of row repeats per color block (D).
-Ch 2 at beginning of each row does not count as a stitch.
-Substitute other yarns of any weight by using it's recommended hook size and following the same stitch pattern with a foundation chain that's the width of your desired blanket size and working row repeats per color block until you've reached the length you desire. Alterations may affect yardage.
-Use worsted weight yarns following the yardage chart below. See "Yarn & Substitution" section above for additional guidance.
| | | |
| --- | --- | --- |
| | Yardage | Yardage per color |
| Lovey | 80 | 16 |
| Security | 195 | 39 |
| Baby | 810 | 162 |
| Stroller | 1235 | 247 |
| Toddler | 1675 | 335 |
| Swaddle | 1695 | 339 |
| Crib | 2065 | 413 |
| Throw | 2390 | 478 |
| Twin | 4550 | 910 |
| Double | 7445 | 1489 |
| Queen | 7940 | 1588 |
| King | 8925 | 1785 |

HAND DYED CROCHET COLOR BLOCK BLANKET
Ch A (or any number +2), sk 2 sts.
Row 1: Hdc across, turn <B>
Row 2: Ch 2, blo hdc across, turn <B>
Repeat row 2 until you've finished C rows, changing color every D rows.
Finish off & weave ends.
| | | | | |
| --- | --- | --- | --- | --- |
| | A (ch sts) | B (st count) | C (total row repeats) | D (row repeats per color block) |
| Lovey | 37 | 35 | 25 | 5 |
| Security | 51 | 49 | 40 | 8 |
| Baby | 107 | 105 | 80 | 16 |
| Stroller | 142 | 140 | 90 | 18 |
| Toddler | 149 | 147 | 120 | 24 |
| Swaddle | 167 | 165 | 105 | 21 |
| Crib | 160 | 158 | 135 | 27 |
| Throw | 184 | 182 | 135 | 27 |
| Twin | 233 | 231 | 205 | 41 |
| Double | 317 | 315 | 245 | 49 |
| Queen | 338 | 336 | 245 | 49 |
| King | 380 | 378 | 245 | 49 |
Abbreviations (US terms):
blo – back loop only
ch – chain
hdc – half double crochet
rep – repeat
st(s) – stitch(es)
<> – stitch count
OTHER FREE CROCHET BLANKET PATTERNS