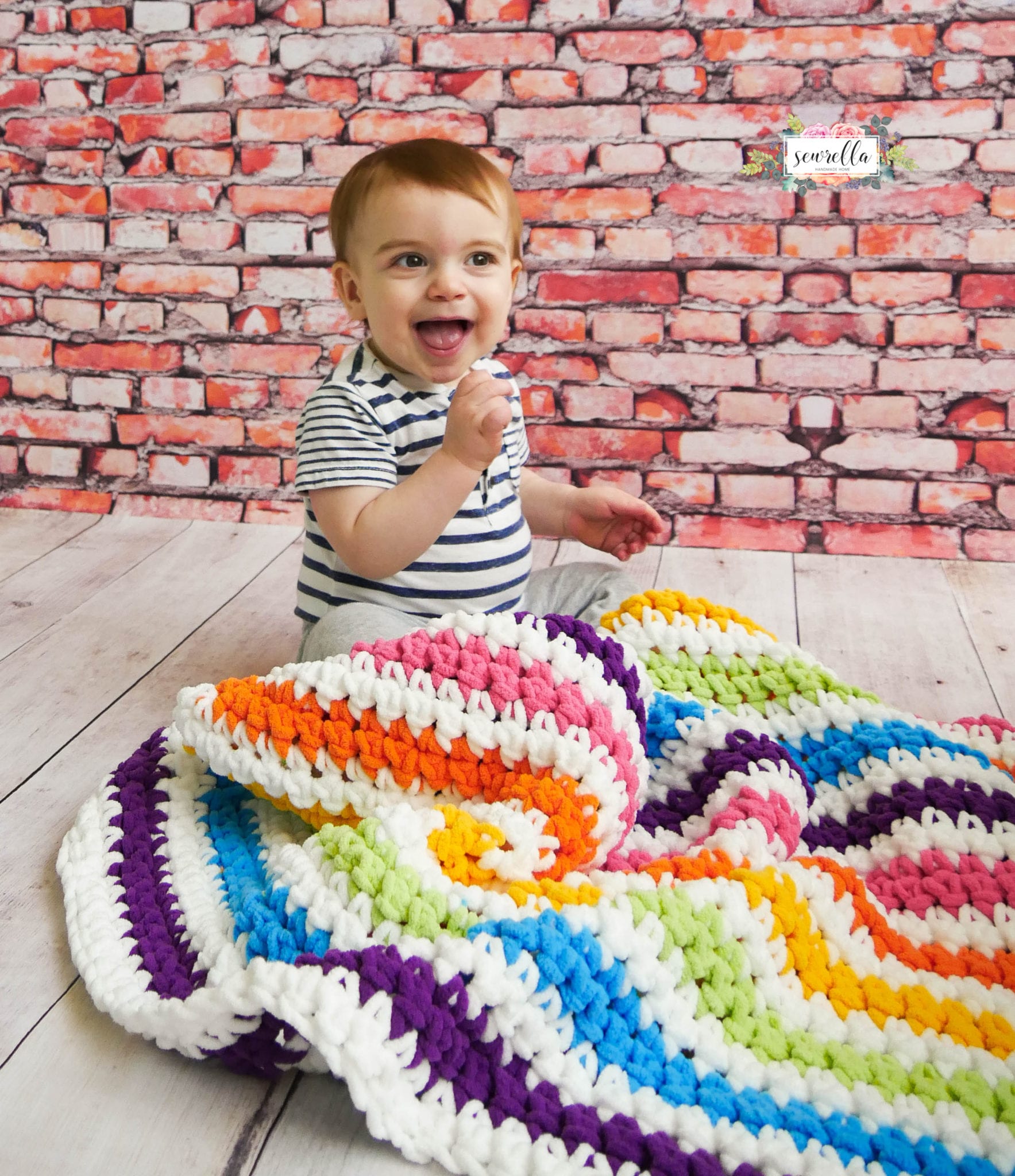 I've got the most fun, beginner friendly tutorial for you today, and it's the perfect thing for every baby!
I'm loving that the trend right now is everything rainbow – it makes the unicorn fairy princess 5 year old inside me SO happy.
My son may be almost 1 already (where did that time go?) but he's already loving his blanket – just look at the smile on that face. Heart. Melted.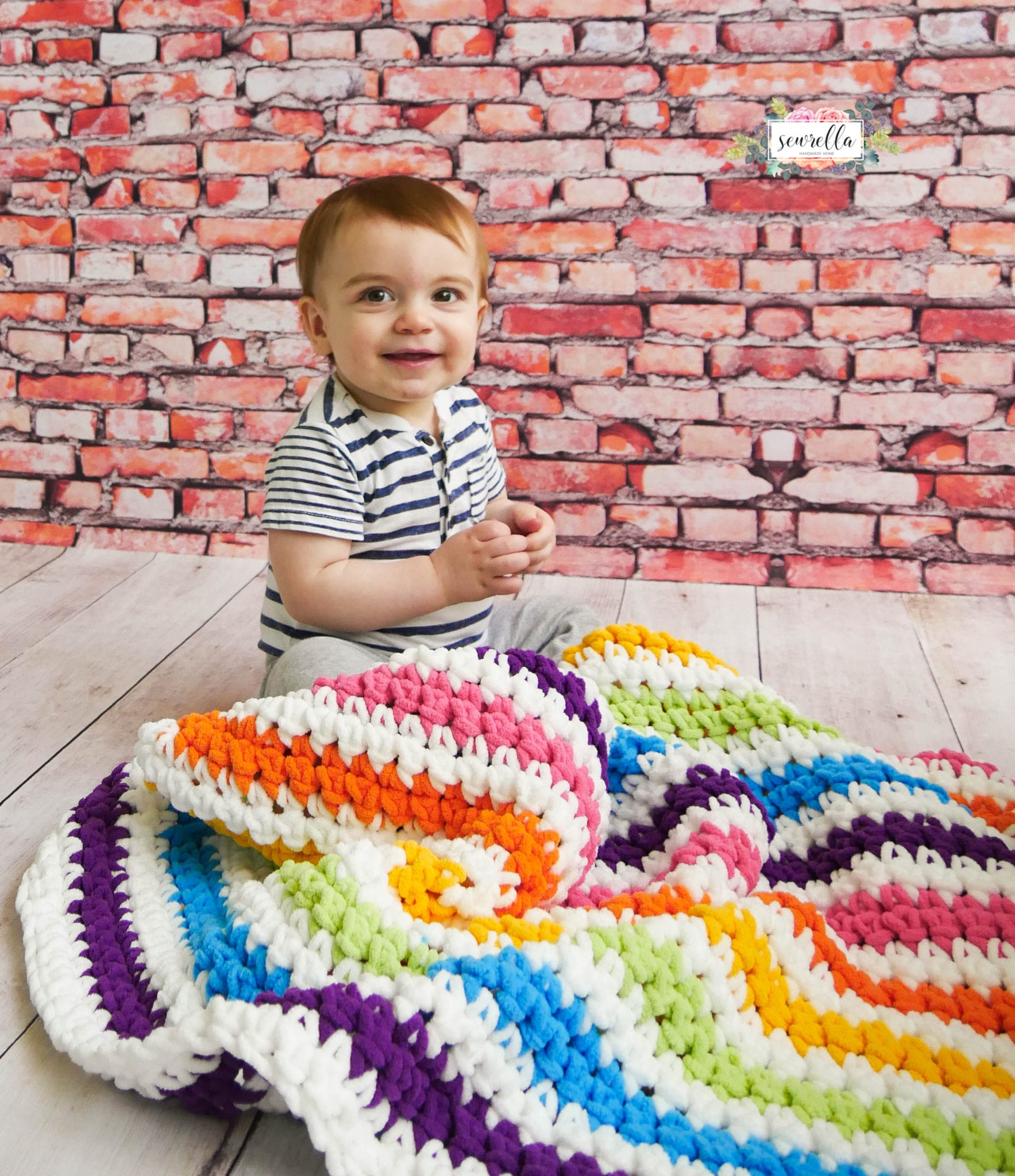 PATTERNS I LOVE (& you should too)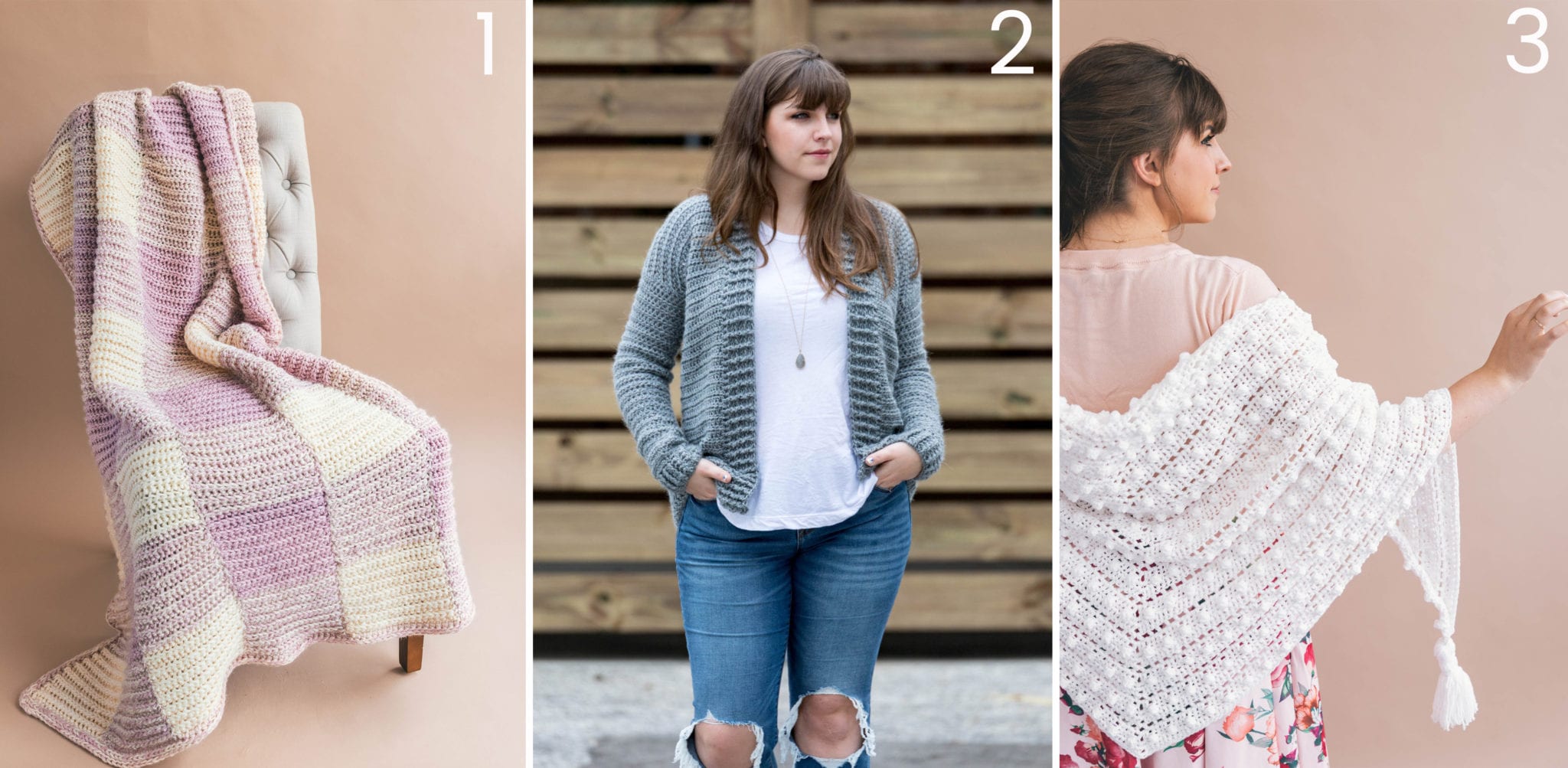 1. Crochet Homemaker Gingham Throw / 2. Crochet Everyday Cardigan / 3. Crochet Le Nuage Wrap/Triangle Scarf

If you're a brand new beginner to crochet, make sure you check out the video tutorial below, it'll help ya lots.
And if you crochet already, you'll whiz through this blanket like  a pro – you won't believe how simple it is.
Let's get going!


PATTERN
Materials:
-Bernat Blanket Yarn in white and lemon lime (the baby blanket line), purple, blue, yellow, orange, and pink (the bernat blanket brights line) – you can also use just 1 full ball each of white and another color!
-P/Q 15mm crochet hook
-Large eye tapestry needle
(Click HERE to see all my favorite tools at amazing prices!)
My color sequence:
-Hot pink
-White
-Orange
-White
-Yellow
-White
-Lemon Lime (green)
-White
-Blue
White
-Purple
-White
With your first color Ch 47, Sc in 2nd and across, Ch 1, turn (46)
Row 2: Sc across, Ch 1, turn (46)
*-Color change
Row 3-4: Sc across, Ch 1, turn (46)
Repeat from * until you've repeated the sequence above or have 48 rows (Basically make 2 rows of Sc in each color above & work the sequence twice!)
*Note: I carry my white yarn up the side of my blanket so that I don't have as many ends to weave. I don't carry my colors to avoid tangling because I'm using so many!
-Weave all colored ends
Row 49: Sc in each st around the perimeter of the blanket, work 3 Sc in each corner, sl st to join, finish off and weave ends
I hope you love your new baby blanket! What colors are you using? Comment below!
Earning a Living with my Handmade Home
If you love crocheting and knitting, you should think about starting a blog! I'll help you get started to turn your hobby into a money-making career with my free "Start a Blog" guide.
Or you can check out my latest income report to see how this blog earned over $10,000 last month!