My Crochet Cake Stripe Blanket – a free pattern here on the blog – is a unique and stunning piece of home decor your home needs!
Read through my inspiration, design process, and lots of info on the perfect yarn I chose, or scroll on down for the free pattern.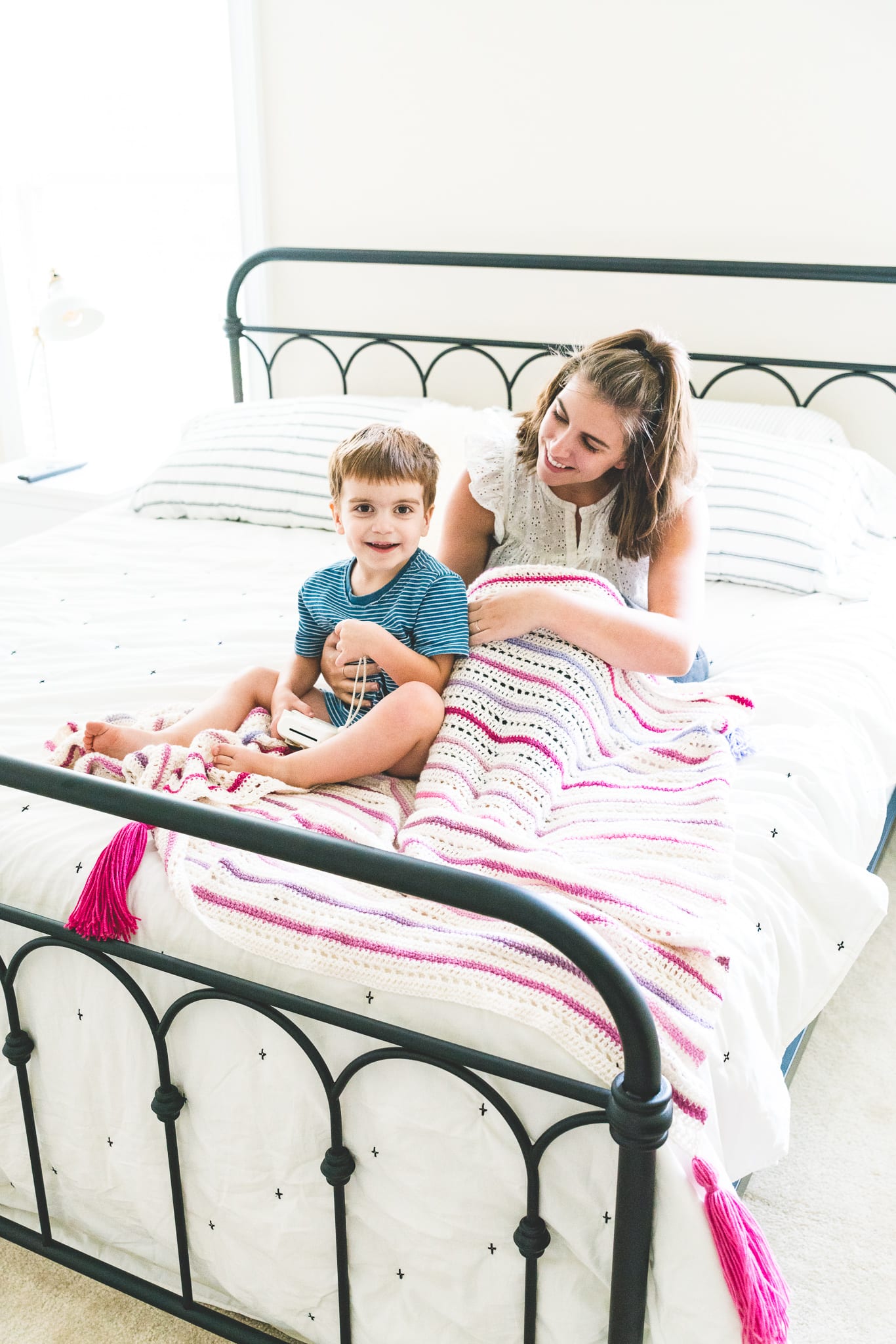 The Inspiration + Design
Since my birthday was last week, what better time to publish a crochet pattern all about CAKE?!
I'll admit – I never gravitate toward the cake yarn trend. I think it's because I love combining color so much that the cakes take a bit of that fun out of it for me. HOWEVER I've been trying to embrace the things outside my comfort zone and figuring out a way to convert these cakes into a stylish, on-trend piece for my home was at the top of the list!
I loved working up the lacy stitch pattern for my Double Scoop Shawl earlier this summer and I wanted to turn it into a lightweight blanket. I adjusted a couple of rows and threw in those cake colors for more interest and I love the result. Such a fresh take on a simple stripe throw!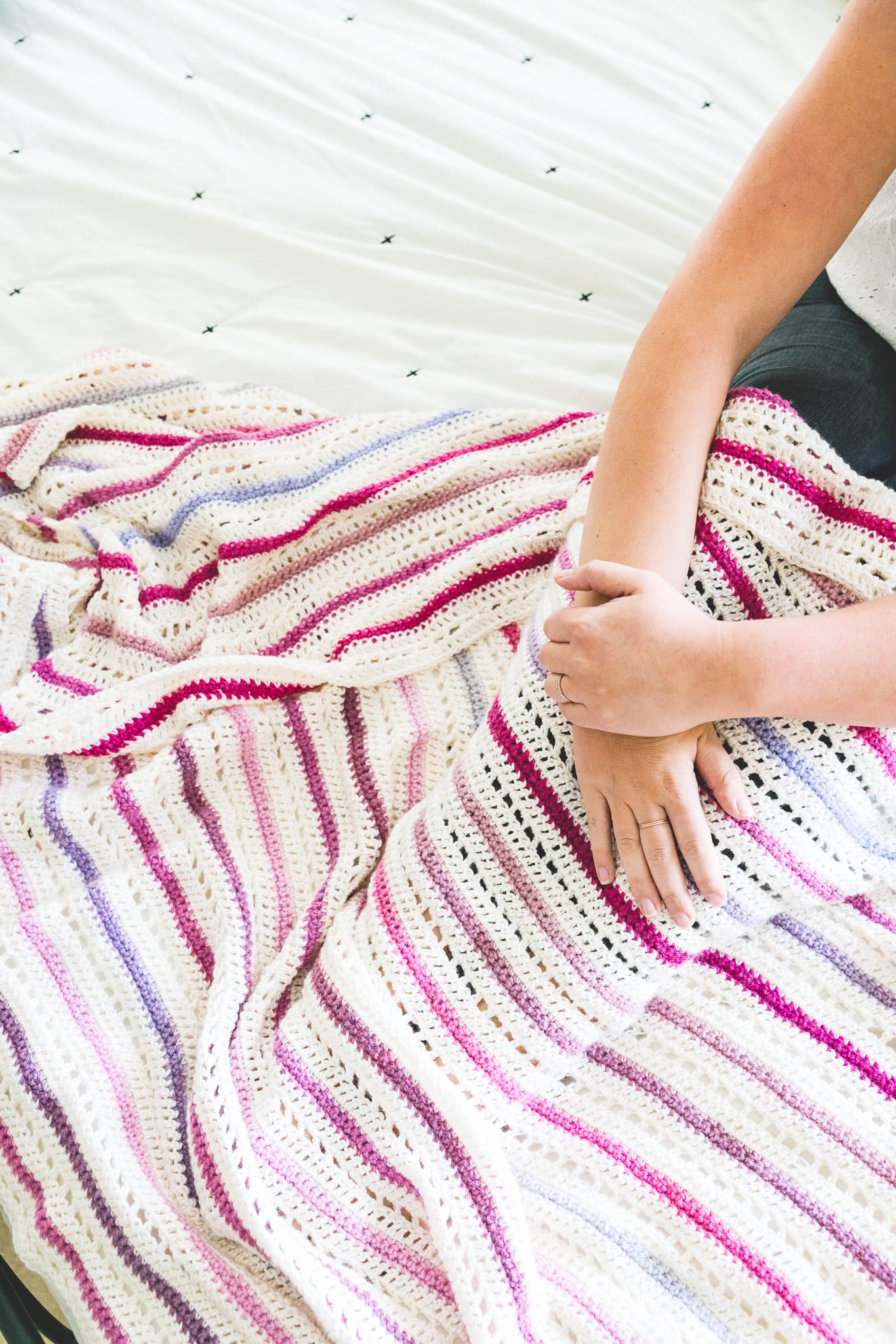 The Yarn + Kit
We had some Lion Brand Touch of Merino laying around in white so we used that one for the base yarn. It's soft and silky and not too heavy (also it washes great because it's mostly acrylic!). Then we picked up 2 mismatched Lion Brand Mandala cakes (Wood Nymph and Cupid) and cut them up to make individual little balls of each color.
These cake yarns often have a lot of yardage of one solid color and then an abrupt color change. We wound the start of the yarn into a little ball on our fingers until the color changed, cut the yarn and started another little ball with the next.
As we worked the colored stripes, we just kind of went with the flow, making sure no two colors were matching next to each other and playing with all the colors between the two cakes (even though they're different!). I do recommend picking 2 cakes from the same family of yarns (i.e. all Lion Brand Mandala, not mixing brands) so that the weight of yarn and the gauge is exactly the same.
This pattern is also a great stash buster – you could use up leftover yarn bits from other projects for the stripes and create a scrappy version. You could also just get two balls of a solid color yarn and use that for the stripes. The options are endless!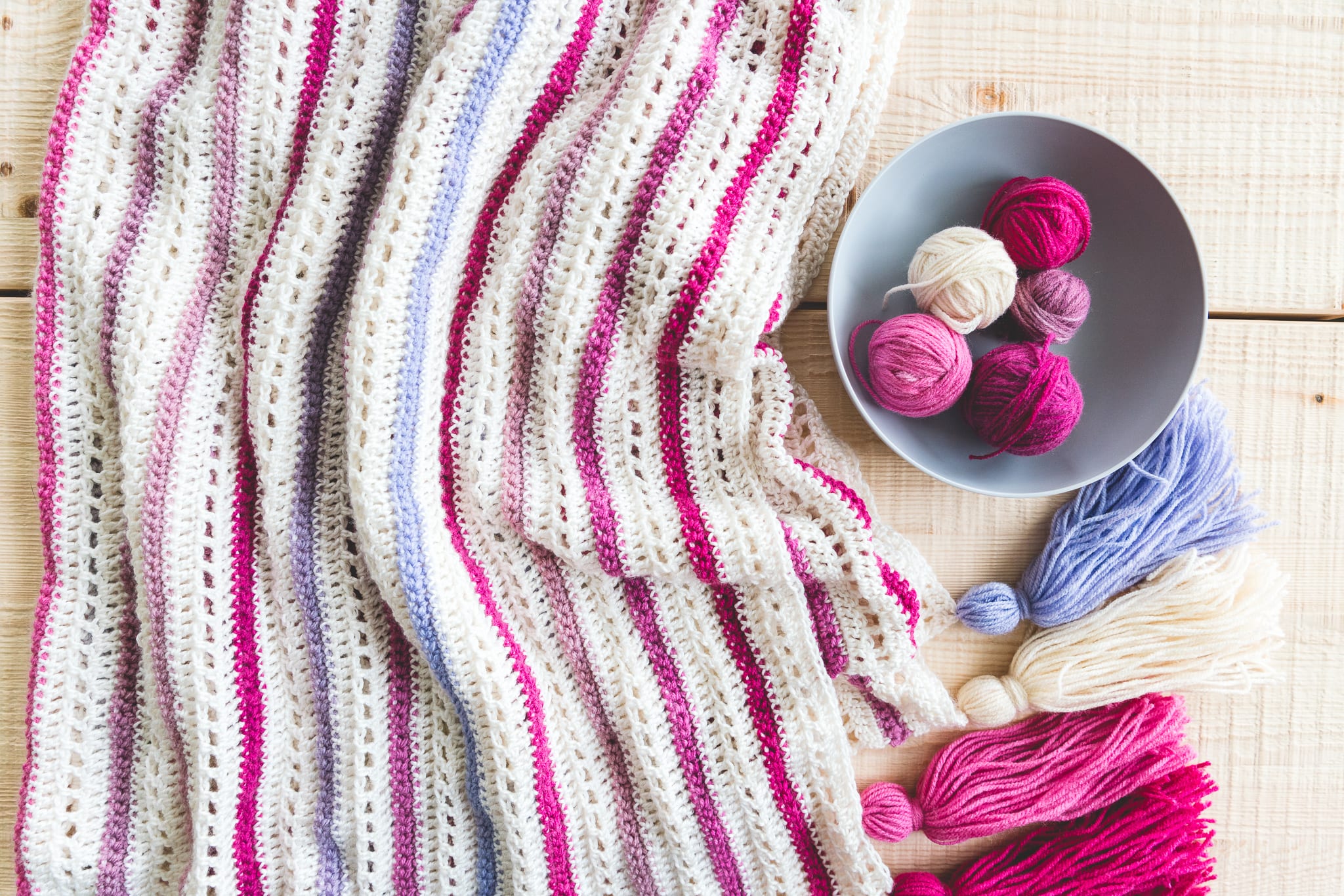 PATTERN
Description: Crochet this simple lacy blanket with self-striping contrast stripes made from cake yarn! Easy eyelet stitches and decorative tassels give this blanket the luxe look without complicated instructions.

Materials:
–Lion Brand Touch of Merino yarn (3/Light, 3.5 oz, 100g, 257 yds/237 m)
6 skeins White (MC)
–Lion Brand Mandala Cake yarn (3/Light, 5.3 oz, 150g, 590 yds/540 m)
2 skeins any color – I used Wood Nymph and Cupid (CC)
Shop all of my favorite tools & materials HERE!
Sizes:
1 size throw (with easy additional repeat)
Gauge:
16 sts x 9 rows in Dc = 4″
Finished Measurements:
50 x 65″
Pattern Notes:
-Pattern is worked as one large striped panel with tassels attached at the end.
-Pattern is throw size but may be easily lengthened by adding sequential repeats. This may, however, affect yardage.
-Carry MC yarn up the side of the piece but do not carry CC yarn (the floats will be too obvious).
-All sts in < > are final st counts for the Row. These counts include ch spaces.

Crochet Cake Stripe Blanket
With MC yarn, Ch 202 (or any multiple of 3+1), sk 1st st
Row 1: Sc across, t <201>
Row 2: Ch 2 (does not count as a st throughout), dc across, t <201>
Row 3: Ch 2, dc, *ch 1, sk 1, dc; rep from * to end <201>
Row 4: Ch 2, Dc across, t <201>
Change to CC yarn
Rows 5-6: Ch 1, sc across, t <201>
Change to MC yarn
Rep Rows 1-6 until you run out of MC yarn or until you finish 22 total repeats (or 132 rows).

Rep Rows 1-4 once more.
Finish off, weave ends.
Tassels
With CC yarn, make 4 super chunky tassels (use 50 strands of yarn per tassel) about 8" long when finished. Leave a large tie on the top to attach to blanket.

Tie one tassel onto each corner of the blanket. Weave ends.

Abbreviations (US Terms):
BLO – back loop only
CC – contrast color
ch – chain
dc – double crochet
MC – main color
rep – repeat
sc – single crochet
sk – skip
st(s) – stitch(es)
t – turn
OTHER FREE CROCHET HOME DECOR PATTERNS YOU MIGHT LOVE