My latest fuzzy project for your home is here – the Crochet Fluffy Fur Pillows, a free pattern for any size!
This project is very beginner friendly with a totally stunning result. Read on below about the inspiration and yarn details, or scroll on down for the free pattern.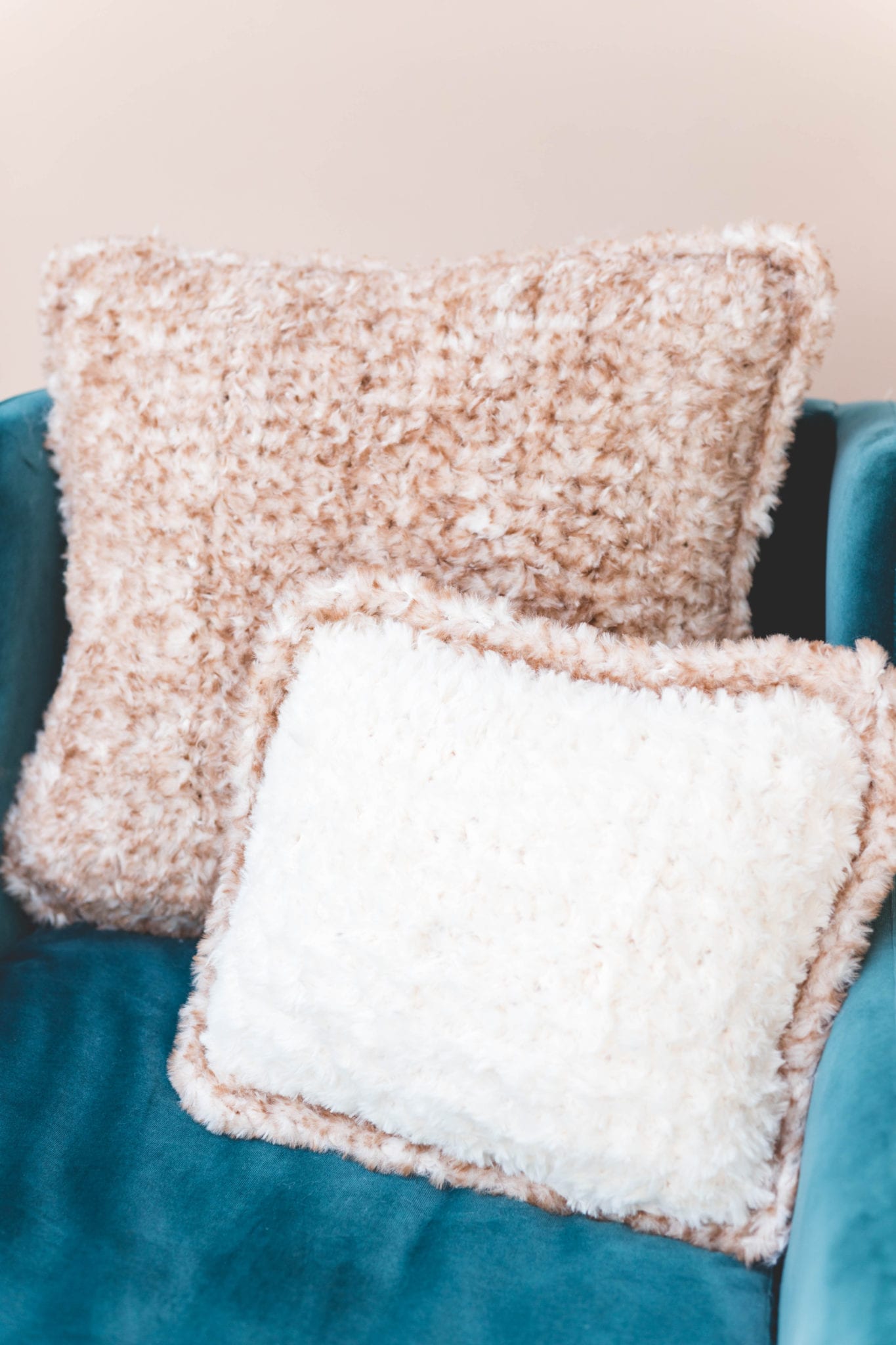 The Inspiration + Design
When I recently bought a new sofa, I also bought a fluffy white fur pillow – it's so soft and stylish looking! So when Lion Brand Yarn released a fur look-alike yarn I knew I wanted to try to recreate the pillow I bought in crochet.
I chose to stick with natural looking colors and design this pattern to be as simple as could be – no fussy counting or fancy stitches here! Easy single crochets that produce a stunning "where did you get that?!" result.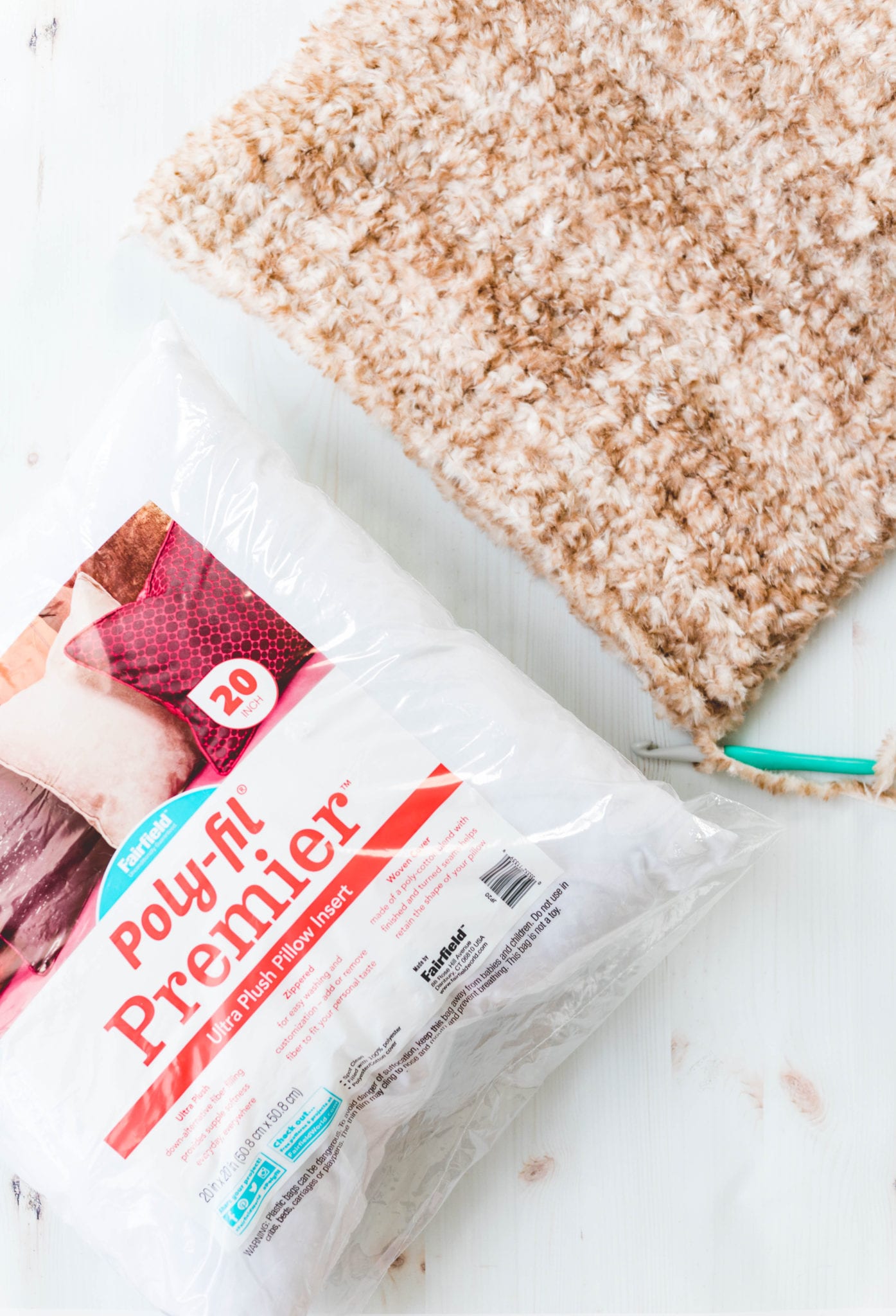 The Yarn
When Lion Brand yarn gave me a super secret preview of a new yarn of theirs I squealed with excitement. The yarn I used is called Go For Faux and this look-alike fur yarn is the most inventive thing to come out of the yarn industry in a long time. It's super fluffy, comes in great natural and pastel color options – I just want to cover my whole house in it!
I will tell you, Go For Faux does have a couple of drawbacks (that's right I said it!). Namely, it's hard to see your stitches because of all the fluff. Also depending on what colorway you're working with, the shedding is pretty heavy while you're working. I've heard from a trusted Lion Brand source that running your finished project through the dryer on a low heat setting will help shake off excess fluff so that it doesn't keep shedding while in use!
I love the innovative concept and modern look of this yarn enough to weather the shedding storm and feel for my stitches instead of look for them. Everyone is different and some may not love this different type of yarn but I urge you to try it and see how you feel!
Click HERE to check out this gorgeous new yarn (you won't believe all the color options!)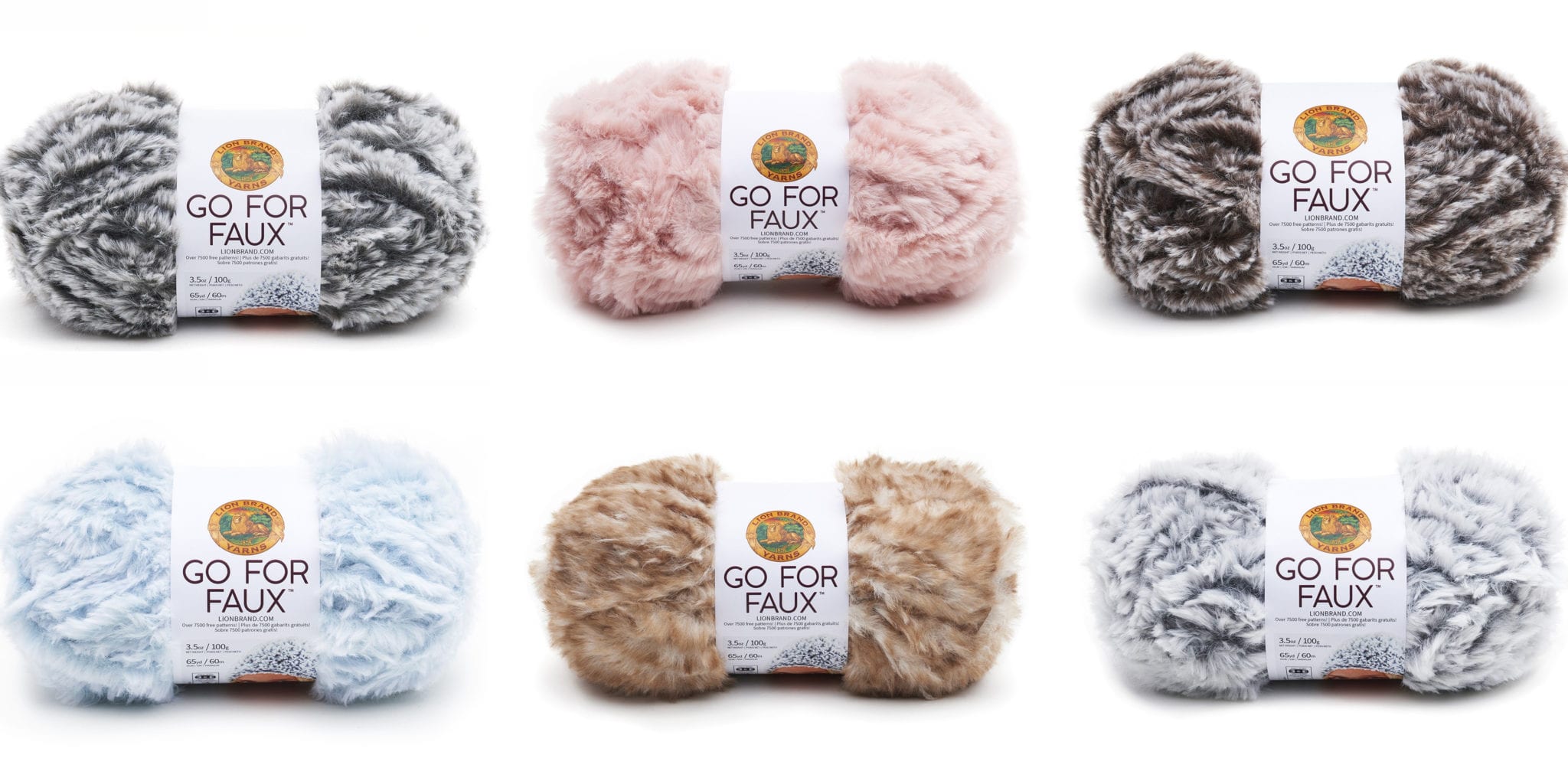 PATTERN
To sum it up: Pillows have never been so fluffy! With Lion Brand's new Go For Faux yarn you can make simple pillows that have friends asking "where'd you get those pillows?!" Make yours in any size with my simple tutorial + free pattern.
Materials:
–Lion Brand Go For Faux yarn (Weight: 6/Super Bulky – 3.5oz, 64 yds)
Color: Pomeranian 4 skeins
–Large locking stitch markers (optional)
Shop all my favorite tools & materials HERE!
Gauge:
6 sts x 6.5 rows in sc = 4"
Abbreviations (US terms):
ch – chain
sc – single crochet
sl st – slip stitch
st(s) – stitch(es)
rpt – repeat
t – turn
Skill Level:
Level 1 – Beginner
Pattern Notes
-Pictured are two pillows. The written pattern below instructs you to make the larger Pomeranian colored 20″ pillow. My smaller pillow is 14″ x 12″ and used 2 balls of Go For Faux yarn in Baked Alaska with extra Pomeranian yarn scraps for the trim. (See notes below on adjusting this pattern to fit any pillow.)
-Sizing is adjustable to fit any square or rectangular pillow form, calculate gauge to fit your pillow form.
-Adjust number of chains to fit width of pillow form, adjust number of rows to fit length of pillow form.
1.5 sts per 1" width, 1 row per 1" length
-Working with Go For Faux yarn can be difficult, so keep count of your stitches and feel for the tops of your stitches when they're hard to visualize. Working stitches loosely will help you find the next stitch. You may also consider placing large stitch markers in the 1st, 15th, and last stitches of the row to help you keep track.

Fluffy Fur Pillows
Panels:
Ch 31, Sc in 2nd ch st and in each st across, Ch 1, t (30)
Rows 2-34: Sc in each st across, Ch 1, t (30)
Finish off, weave ends.
Make second panel following above. Do not finish off.
Seaming:
Holding two panels together with right sides facing out, Sl st loosely evenly around perimeter of pillow. Take care to match up panels' sts and rows when stitching together.

After you've stitched around 3 sides, insert pillow form and stitch up 4th side.

Looking for more SIMPLE STITCH PATTERNS? Check these out!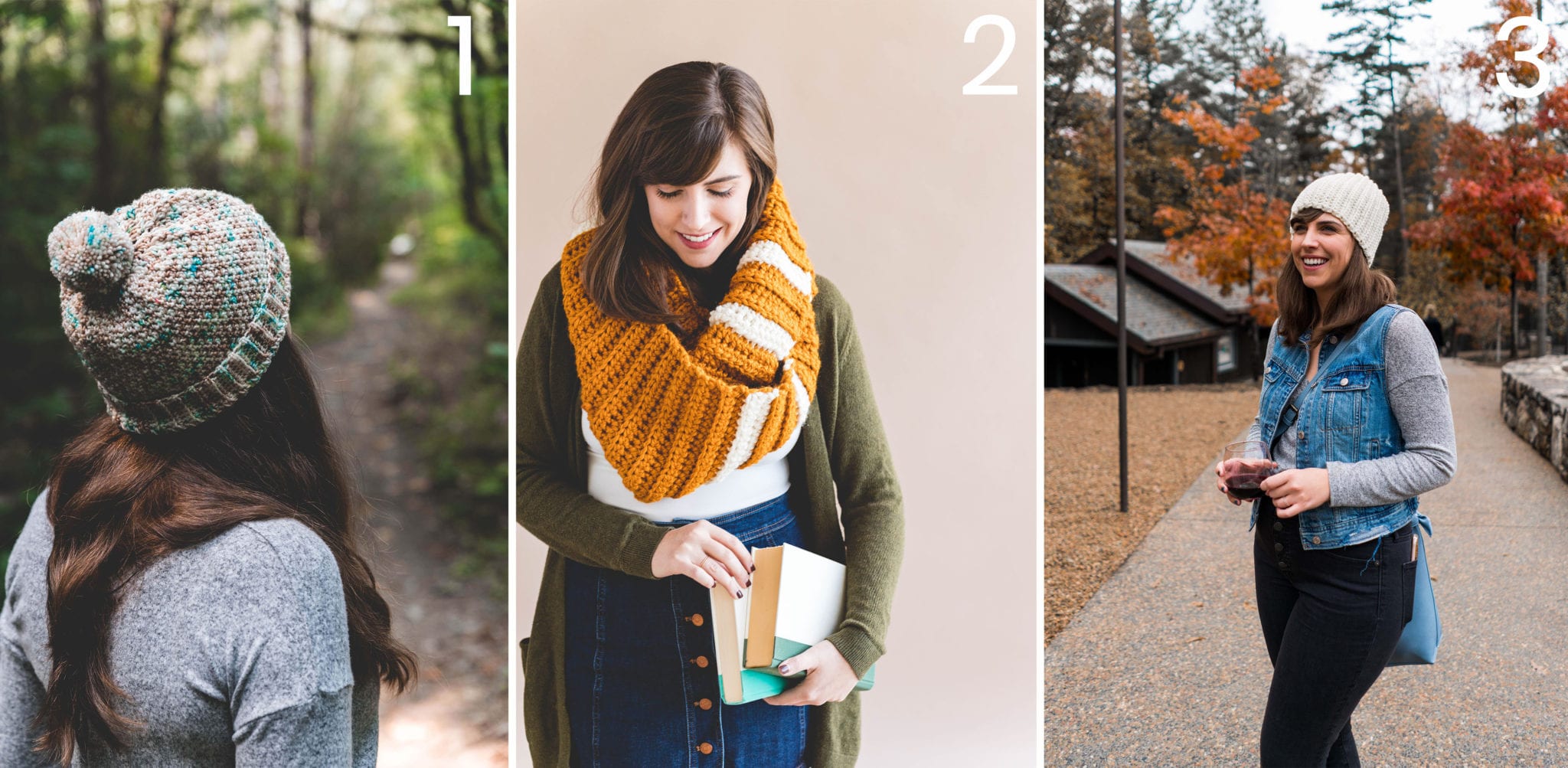 1. Crochet Avery Hat / 2. Crochet University Scarf / 3. Crochet Brooklyn Ridge Hat