An easy crochet blanket – my Crochet Seedling Blanket – is a free pattern here on the blog! Read through my inspiration, design process, and lots of info on the perfect yarn I chose. Or scroll on down for the free pattern.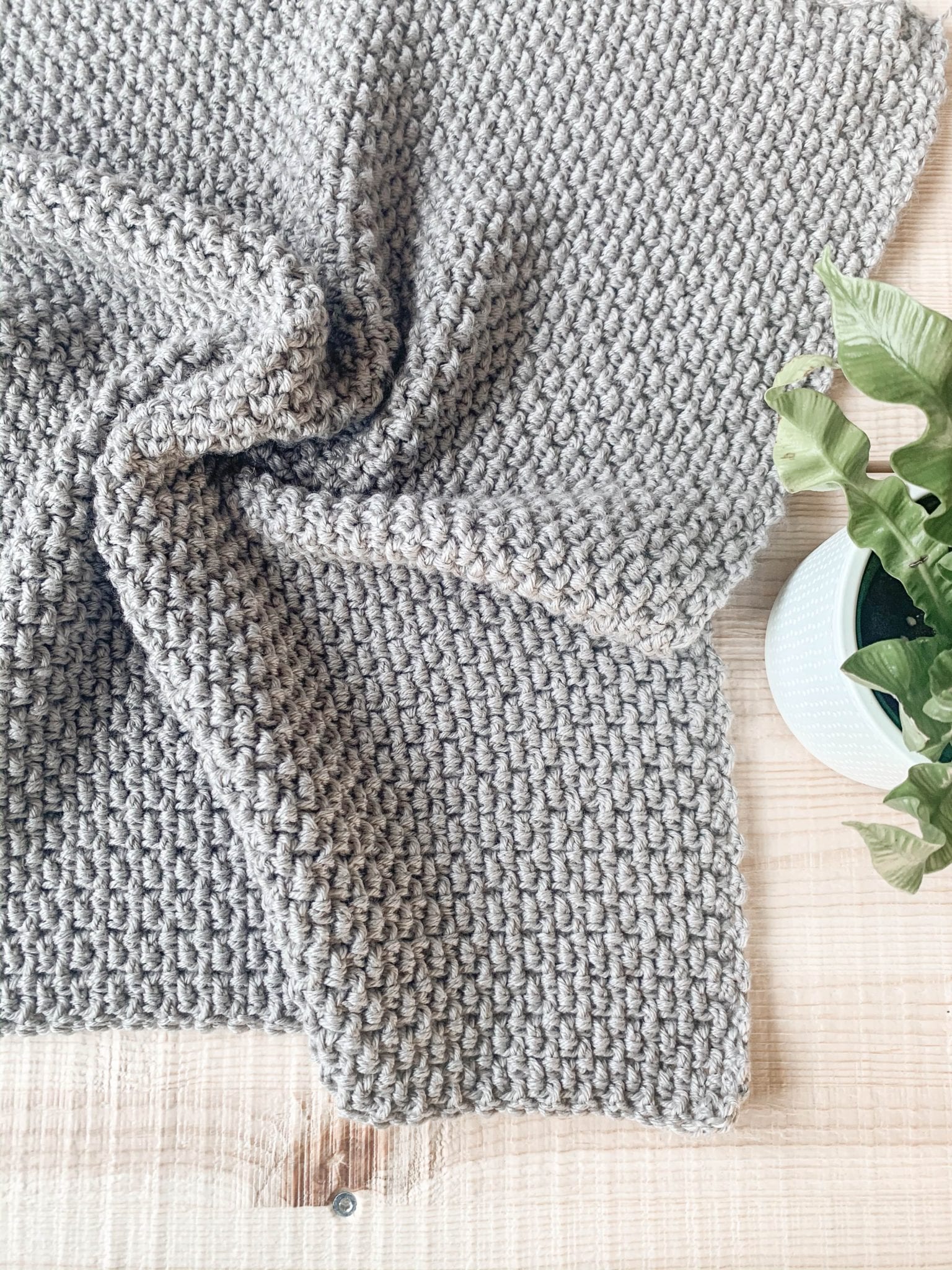 Books & Blankets – a new monthly series!
Crochet is obviously a big passion of mine (it's why I have a whole blog about it, ha!) but another big passion of mine is children's books. After a big pattern sale last fall, we actually took half of our proceeds and used it to buy children's books for our local hospital. That sparked an idea – a collection of crochet patterns inspired by children's books.
I'm so excited to bring these two passions of mine together in this series this year, the first of which is this crochet seedling blanket!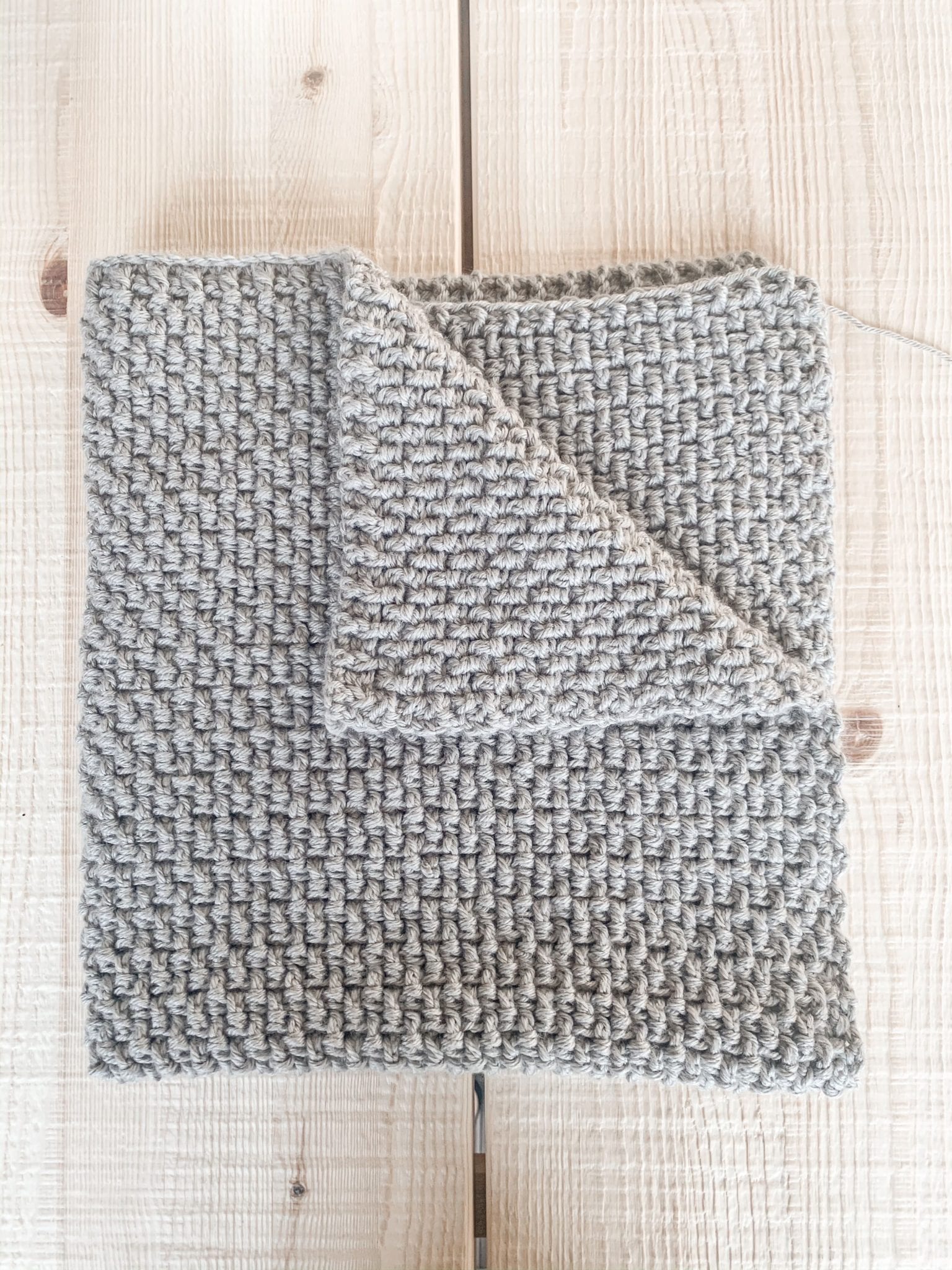 The Inspiration + Design
Way back in the first year of designing, I made a huge chunky blanket called the mini basketweave blanket using a new-to-me stitch. I've been wanting to revise it with a much lighter weight yarn for a more delicate, heirloom style crochet baby blanket project.
Once I started working up the stitch I realized it looks a lot like the knitted seed stitch. I've been calling this blanket the seedling blanket ever since!
On a trip to our local library, I noticed a bunch of books on the table of featured titles that were made for newborns. Thinking back to when my own son was a newborn, I never knew what to read to him. I usually read my old favorites but I would have loved to have these books when he was that little – and what a lovely baby shower gift!
One of these titles was called "I Have a Little Seedling" and the illustrations and message of the story matched my budding crochet seedling blanket so well – it felt meant to be!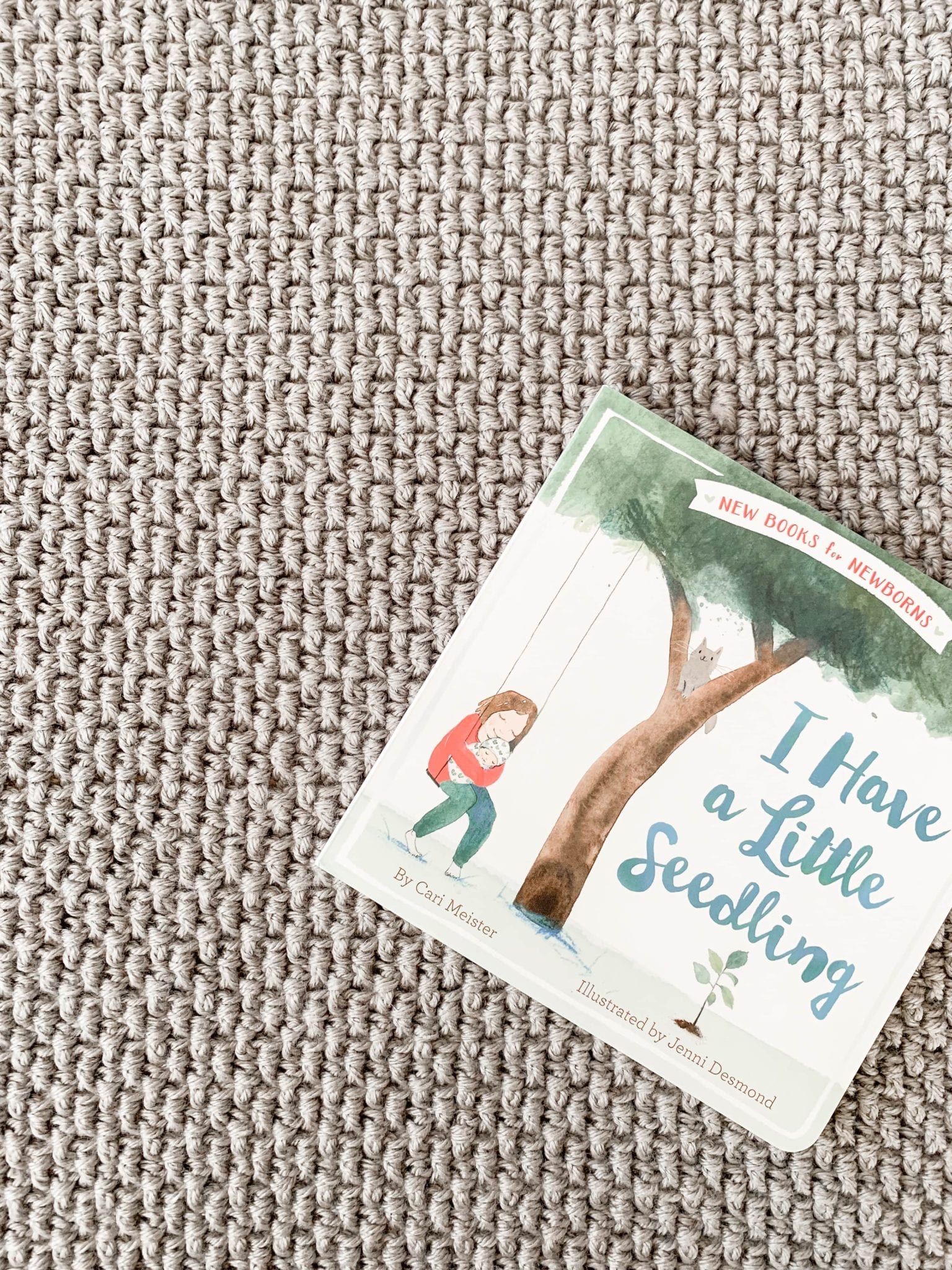 One blanket, so many sizes
Although I am in love with this crochet seedling blanket in a baby size gifted to a new mom along with the seedling story that matches it so well, I have written this pattern to work for blankets of just about any size!
Within the pattern below you'll find a table of blanket sizes that are included in the pattern as well as their measurements and the yardage required to make them (provided you're using the yarn I used or a similar worsted weight yarn).
Another fun aspect of this blanket is that you can sort of create your own seedling blanket! Using yarn of any weight, you can just follow the pattern making the foundation chain as wide as you'd like your blanket to be and continuing with row repeats until it's long enough.
The crochet seedling blanket is totally customizable and my favorite kind of project!

Easy level & advanced beginner friendly
This blanket isn't as easy as crochet possibly gets, but it's pretty close. If you know how to double crochet, you can complete this blanket. With the video tutorial embedded in the pattern, you'll see the basic techniques I use to create this stunningly simple stitch.
Once you get past the first two rows you'll be able to complete the blanket without counting or thinking much about it at all – just tune in to your favorite show or podcast and zoom along through the project!
The Yarn
I chose to use Lion Brand's new Touch of Cashmere yarn in this gorgeous Portobello color for my crochet seedling blanket. Once I felt this yarn I knew it was perfect for a handmade heirloom quality blanket to be loved for years to come – it's got the soft luster of cashmere without the crazy high price-point. Blended with acrylic, this yarn is much more affordable than other cashmere yarns and comes in some gorgeous colors.
I love the greyish taupe hue of the portobello color but some other favorites are brandy, winter white, willow, and cameo (I actually have another project planned using that cameo pink color soon!).
This pattern is now available as a kit from Lion Brand – see that here!
Substituting another even more affordable yarn for this blanket, especially if you're making one of the larger sizes, is an option too – yarns of similar weight I would suggest are:





PATTERN
Description
An heirloom blanket inspired by a favorite children's book – the crochet seedling blanket is simple and stunning. An easy level pattern results in a textured and versatile blanket that's warm and comforting in all 12 finish sizes.
Yarn
–Lion Brand Touch of Cashmere
(weight 4 / medium, 3.5oz/100g, 219yds/200m)
Colorway: PORTOBELLO
See yardage via table below
This pattern is available as a kit from Lion Brand here!
Notions
Gauge
14 sts x 12 rows = 4" in pattern (seedling stitch)
Notes
–See chart below to choose the size blanket you'd like to make! Additionally, use this chart to determine your number of foundation chains (A), row stitch count (B), and number of row repeats (C).
-Ch 1 at beginning of each row does not count as a stitch.
-Substitute other yarns of any weight by using it's recommended hook size and following the same stitch pattern with a foundation chain that's the width of your desired blanket size and working row repeats until you've reached the length you desire.
-Use a worsted weight yarn following the size options chart below.
Width "
Length "
Yardage
A

(chains)

B

(st count)

C

(row reps)

Lovey
10
10
155
37
35
28
Security
14
17
365
52
50
50
Baby
30
35
1,610
108
106
104
Stroller
40
40
2,440
142
140
118
Toddler
42
52
3,330
150
148
154
Swaddle
47
47
3,370
166
164
140
Crib
45
60
4,120
160
158
178
Throw
52
60
4,760
184
182
178
Twin
66
90
9,050
234
232
268
Double
90
108
14,810
272
270
322
Queen
96
108
15,800
338
336
322
King
108
108
17,770
380
378
322

CROCHET SEEDLING BLANKET
Ch A (or any multiple of 2 +2), sk 2 sts.
Row 1 : Dc in each st across, turn <B>
Row 2  (ws): Ch 1, sc in first stitch, *fpdc, bpdc; rep from * across until one stitch remains, sc, turn  <B>
Row 3 (rs): Ch 1, sc in first stitch, *bpdc, fpdc; rep from * across until one stitch remains, sc, turn <B>
Repeat rows 2-3 until you've finished C rows.
Finish off & weave ends.
Abbreviations (US terms):
bpdc – back post double crochet
ch – chain
dc – double crochet
fpdc – front post double crochet
rep – repeat
rs – right side
st(s) – stitch(es)
ws – wrong side
<> – stitch count
OTHER FREE CROCHET BLANKET PATTERNS