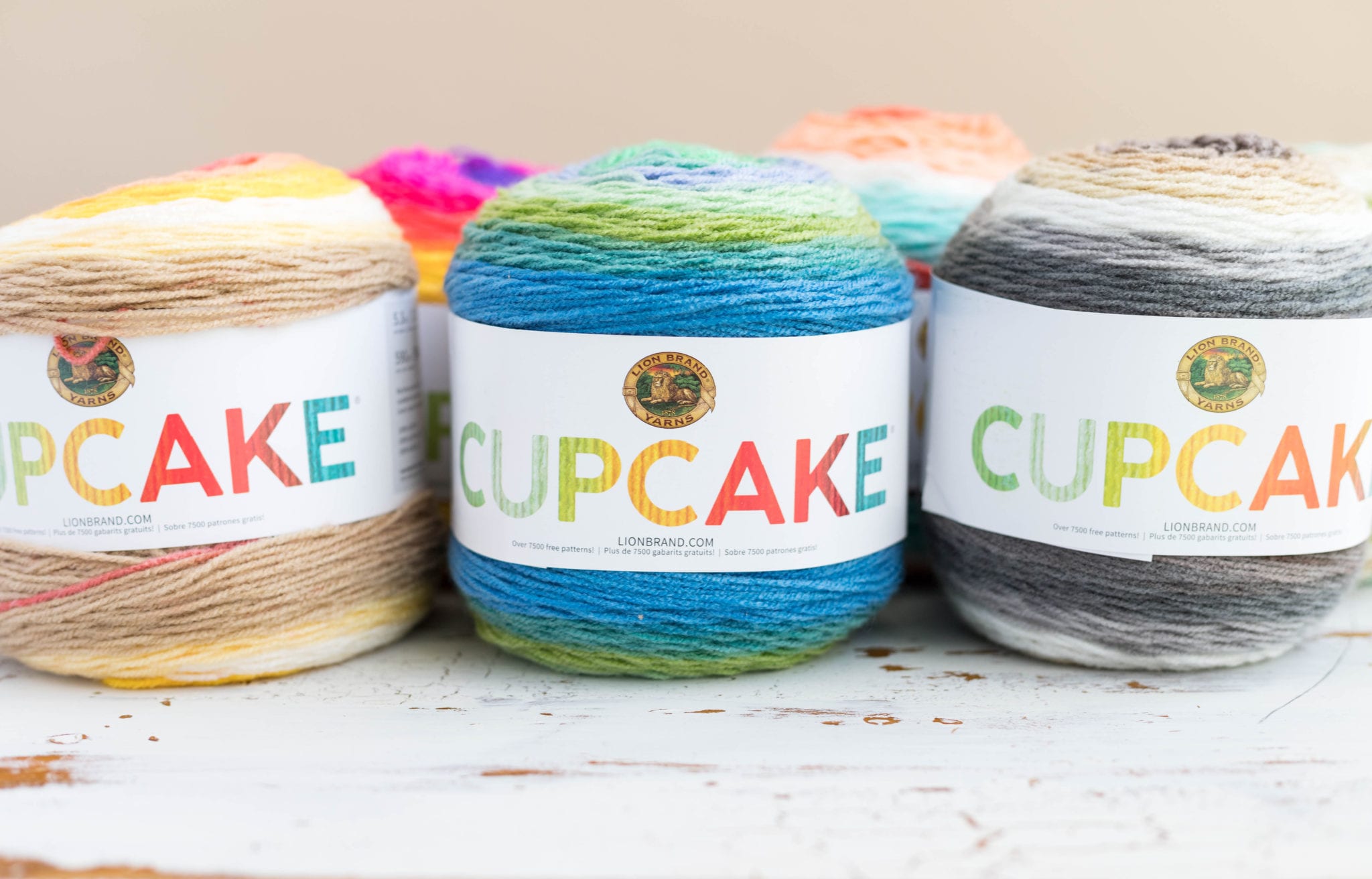 These cake yarns from Lion Brand are just amazing – and let me tell ya why. I'm going to take you through three different collections that are made up of the same acrylic fibers, weight, and yardage. The only thing that sets them apart are the colorways within each collection. How cool is that?! So no matter what project you have, you could probably find the yarn you need somewhere within these cake yarns.
COLORS, COLORS, COLORS!
One of my favorite things about this yarn is that the colors are spaced so well within the cake. A lot of striping happens on its own with little to no color changing for you! I don't know about you, but I am all about making my projects as easy as they can be. (thanks LB!)
So let's get down to business here with the three different collections… We've got, Cupcake, Mandala, and Mandala Baby. (don't worry, I'll let you know which patterns are using which yarns below)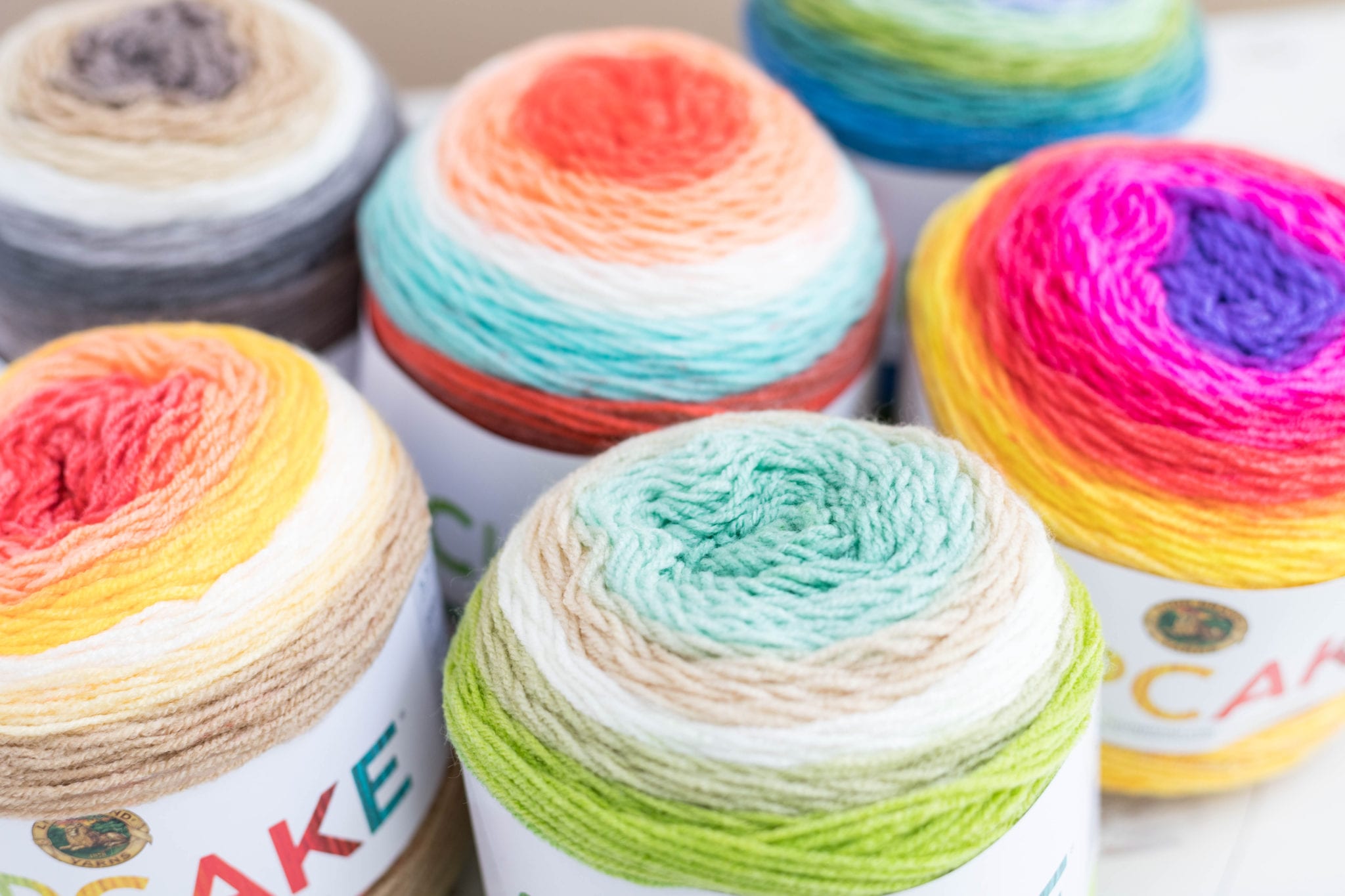 First up, Cupcake! I mean, don't cupcakes always come first?? As expected, I think these colorways are the cutest of all, and there's plenty of them to go around. Let's just get right into it:
Gelato – pastels have stolen my heart! You have mint green, a pale periwinkle, and all the pinky coral shades. Italian gelato in a cone anyone? (Anybody else getting hungry?)
Apple Picking – this one would make such a fun, bright fall pattern with its earthtones, reds, and oranges.
Moody Blue – I'm also a sucker for beautiful, rich shades of blue and this is it – with a touch of taupe and granny smith apple green.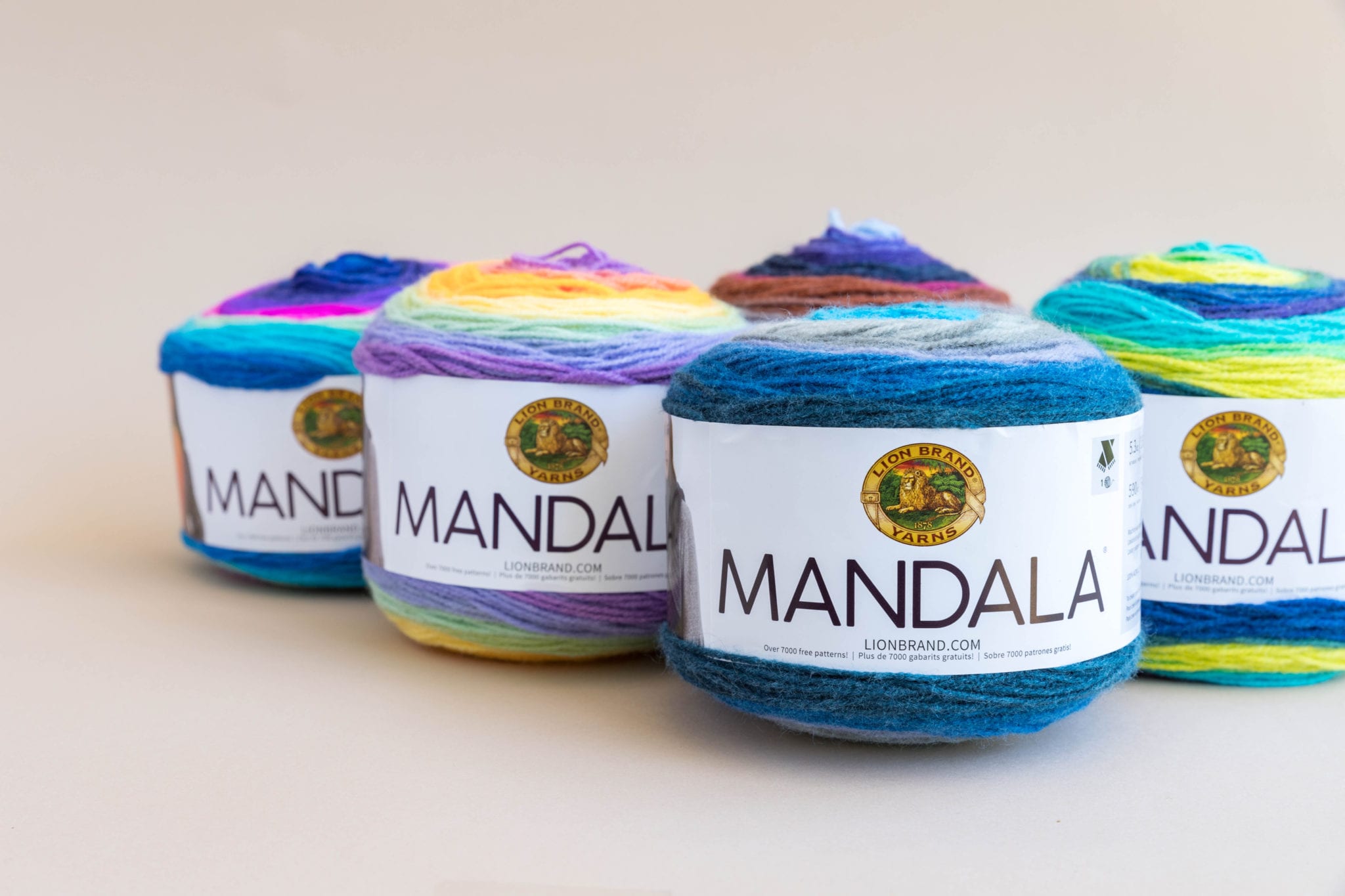 With Mandala, you'll have the widest variety of colors – there's a little of everything! Muted and neutral colorways for unisex patterns, bright and fun colors for kids (or just a little something different for you!), and some really nice and rich jewel tones. There's even a new selection of metallic colors named Mandala Sparkle! *squeals with joy* I've listed my favorites below:
Griffin – a muted, deep and dark mix of navy and grey, with a couple splashes of color
Pegasus – a bright display of peach and lavender pastels, with cream and grey
Wizard – turn the brightness down a notch on rainbow colors, and that's what you've got here!

Mandala Baby! This is where you'll find pastels and bright hues. If you're looking to make a baby blanket, or to just branch out and make a fun, colorful statement piece to liven up your wardrobe, this is the collection for you. Here are some suggestions:
Dreamworld – reminds me of Neapolitan ice cream, with pinks, mauve greys, and white
Honey Dukes – this one shouts summertime with bold aquas, yellows, and peachy pinks
Magic Moon – a more muted colorway made of speckled purples, taupe, and white
OTHER PATTERNS TO MAKE FOR FALL

1.Crochet Wishing Well Wrap  / 2. Crochet Penelope Dress  / 3. Crochet Ruffle Sleeve Cardigan
MY EXPERIENCE WITH THIS YARN
My Wishing Well Wrap was made with the Mandala Baby yarn. And yes, the colorway name is also wishing well. I just loved it so much, I had to use that name for my project too! Just as you would suspect, this yarn was made with your little babes in mind – so it's super soft and touchable.






PATTERNS
Click the photo or link below to check out the patterns and kits! Don't forget to shop my favorite tools and materials HERE!
I hope you found a pattern you'd love to make using one of the Lion Brand cake yarns! Thanks so much for checking out these kits and patterns using my affiliate links to make your purchases – the proceeds help support this blog and its free content!
ENTER THE GIVEAWAY FOR 10 SKEINS OF CAKE YARN!
Ashleigh Kiser:
a Rafflecopter giveaway

Earning a Living with my Handmade Home
If you love crocheting and knitting, you should think about starting a blog! I'll help you get started to turn your hobby into a money-making career with my free "Start a Blog" guide.
Or you can check out my latest income report to see how this blog earned over $10,000 last month!