Learn how to crochet a flat circle with my free pattern and video tutorial!
Scroll down for the free written instructions and video tutorial or read more below about how to crochet flat circles.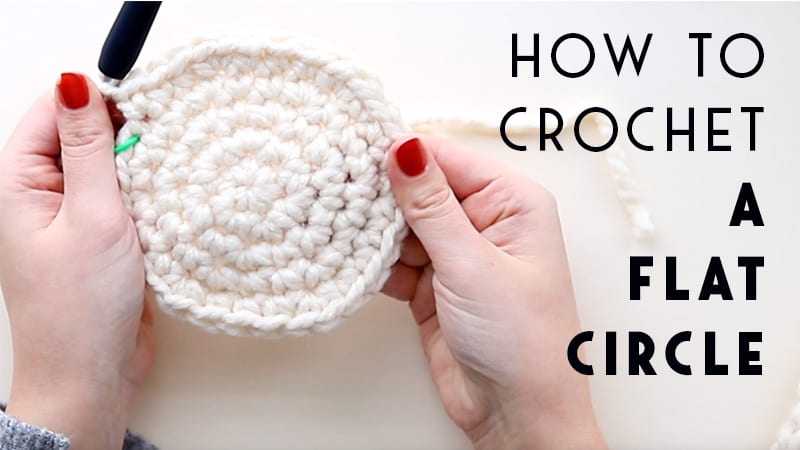 You got skills!
Skills, they're the building blocks of knowledge. Right? Learning how to crochet a flat circle is one tool that every crocheter should have in their toolbox.
Crocheting a flat circle can come in handy when crocheting just about anything – often you'll need to know how to crochet a flat circle to begin a crochet hat, to crochet amigurumi toys, to make baskets and other items. This technique is a very useful one to know as a beginner crocheter or for perfecting your skills to work on designing your own pieces.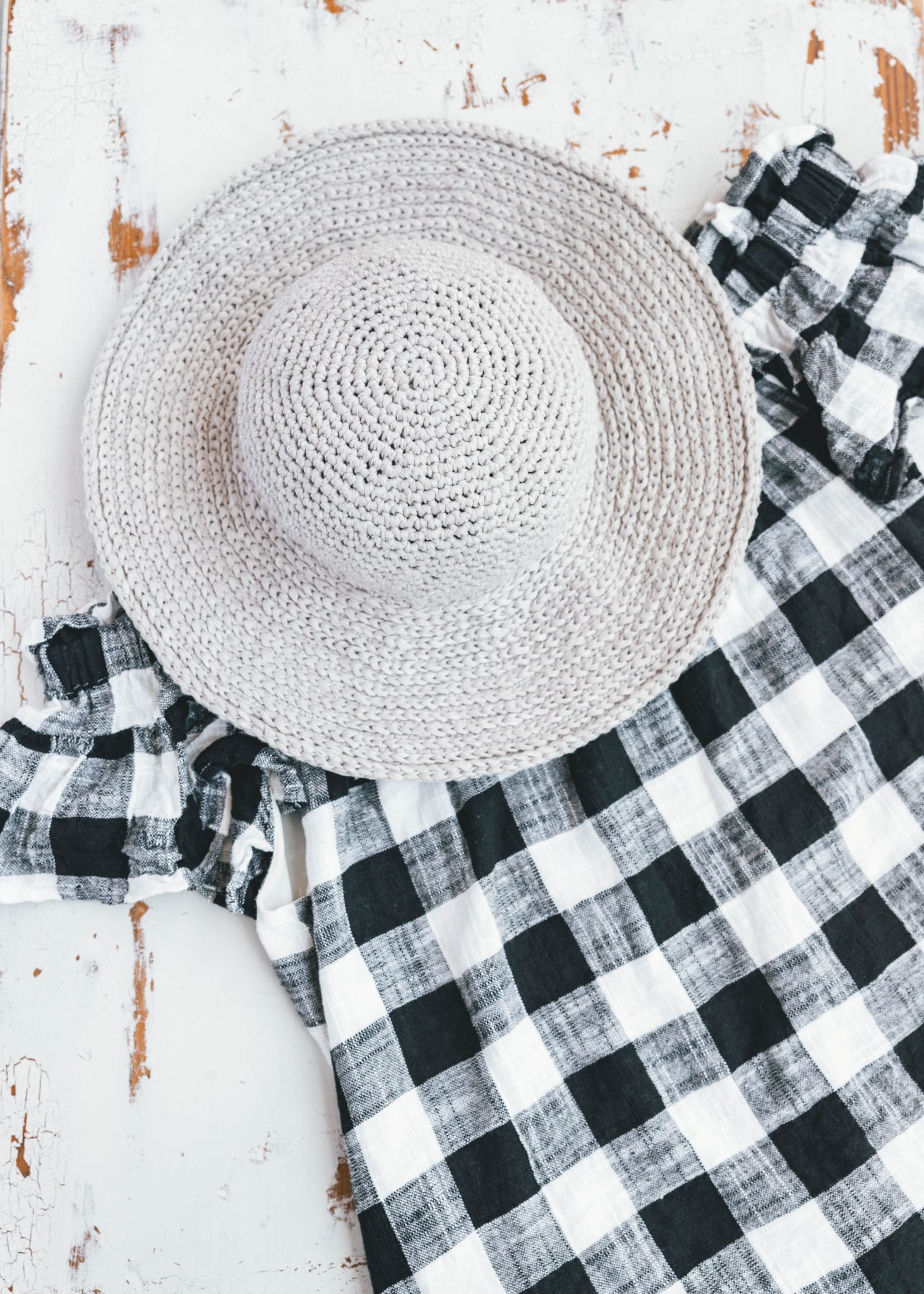 Increasing the number of techniques you can utilize when crocheting makes following creative patterns more fun! Sometimes when reading a pattern or watching a video tutorial, the teacher may rush through how to crochet a flat circle as part of the project. So it's really helpful to be able to understand how that shape is made and do it on your own!
Learning how to crochet a flat circle is just one of many techniques every crocheter should know, others include how to keep straight edges in crochet and how to change color in crochet.
What to make with flat circles
Once you've mastered how to crochet a flat circle you can put those skills to good use to make all sorts of projects.
I've rounded up some of my own favorite patterns using flat circles in the construction for you to peruse. Some of these projects have very obvious flat circle components but others are more hidden!
Just click the links to see the free patterns.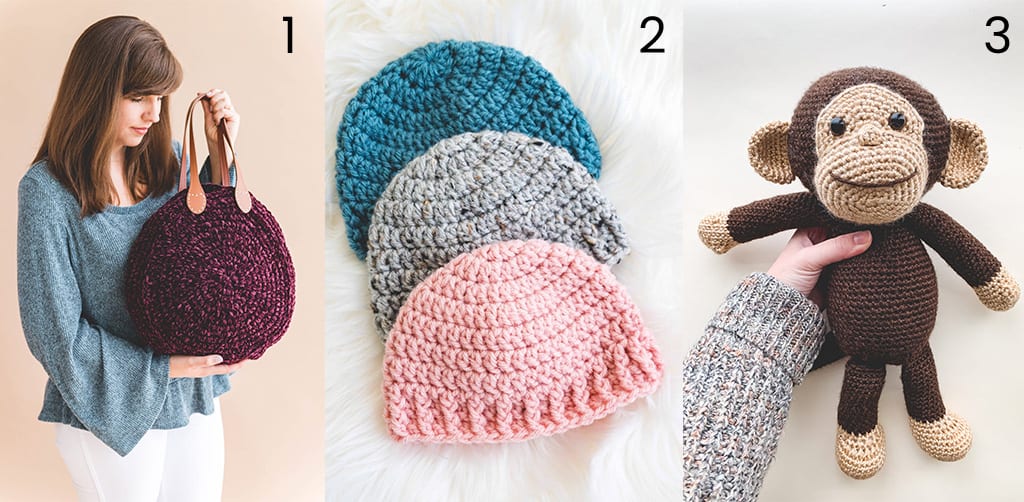 4. Crochet Bunny Lovey / 5. Crochet June Sun Hat / 6. Crochet Rover Circle Bag
The Yarn
In this video tutorial I use Lion Brand Wool Ease Thick & Quick – one of my all-time favorite yarns! It's great for myriad projects but also for learning new stitches and techniques, like how to crochet a flat circle!
Wool Ease Thick & Quick comes in a ton of beautiful colors and my favorite is the color I used called Fisherman. It's a stunning off-white that's not too yellow. It's a beautiful cream color that fits just about everyone's taste!
Shop the Wool Ease Thick & Quick yarn here.




How to Crochet a Flat Circle PATTERN
MATERIALS
-Any yarn and corresponding hook size
I used Lion Brand Wool Ease Thick & Quick yarn in the color Fisherman and a K 6.5mm crochet hook
-Stitch marker (a bobbi pin or spare piece of yarn in another color works fine for this)
NOTES
-See abbreviations below the written instructions.
-Place a stitch marker in the first stitch of each round. Be sure to move it up when you begin each round.
-Numbers within < > indicate the number of final stitches in that round. Be sure to double check your stitch counts so that you make sure you are on track to make a perfect flat circle.
-This pattern creates a circle working in continuous rounds without a seam. If you wish to join your rounds simply slip stitch at the end of each round and chain 1 stitch.
-When the pattern reads "inc, sec 2; rep around" that means: increase (two single crochets in the same stitch) once, single crochet in each of the following two stitches, repeat this entire sequence over and over until you've finished the round.
-Save this page to your Pinterest board if you need to watch it often to remember how to make a flat circle.
Video Tutorial:
Written instructions:
Make a magic ring
Round 1: Ch 1, 6 sc into magic ring <6>
Round 2: Inc around <12>
Round 3: Inc, sc; rep around <18>
Round 4: Inc, sc 2; rep around <24>
Round 5: Inc, sc 3; rep around <30>
Continue on in this method by adding one extra sc after the increases and make the flat circle as large as you like – it could keep going forever! I'll take you through Round 10 here in the written instructions so you can get the hang of it.
Round 6: Inc, sc 4; rep around <36>
Round 7: Inc, sc 5; rep around <42>
Round 8: Inc, sc 6; rep around <48>
Round 9: Inc, sc 7; rep around <54>
Round 10: Inc, sc 8; rep around <60>
Continue.
Abbreviations (US Terms):
ch – chain
inc – increase (2 single crochets in the same stitch)
rep – repeat
sc – single crochet
st(s) – stitch(es)