The crochet baby hat you've been looking for – my Parker Crochet Baby Hat – a free pattern here on the blog! Read through my inspiration, design process, and lots of info on the perfect yarn I chose, or scroll on down for the free pattern.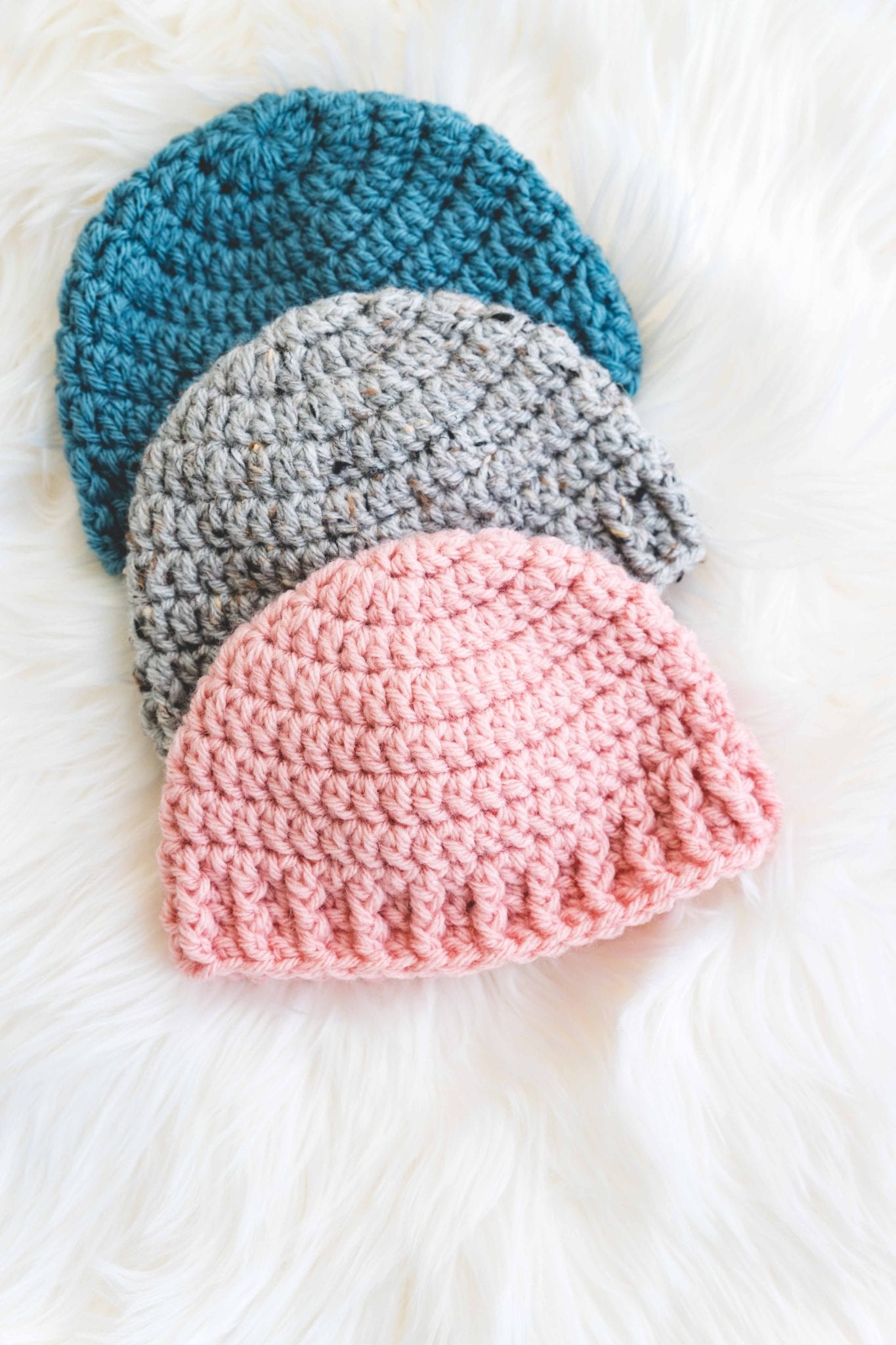 A truly beginner friendly pattern
A crochet baby hat might be the sweetest thing to make – and some of the easiest! For those of you that might be brand new to crochet, don't worry! I'll walk you through this pattern with written instructions as well as a full video tutorial. I chose really simple stitches for this pattern so you can follow along without expert-level ability. Just be patient with yourself and have fun!
The Inspiration + Design
When I was pregnant with my son Parker, I wanted to make a cute newborn set for him! I had trouble finding a boyish set that I loved so I set out to design my own. This was one of the very first patterns I posted on my blog and I'm so glad you've loved it as much as I have over the years. I made only a newborn hat in the original post but I've scaled the pattern to include hats for all baby sizes, preschoolers and children! Yay!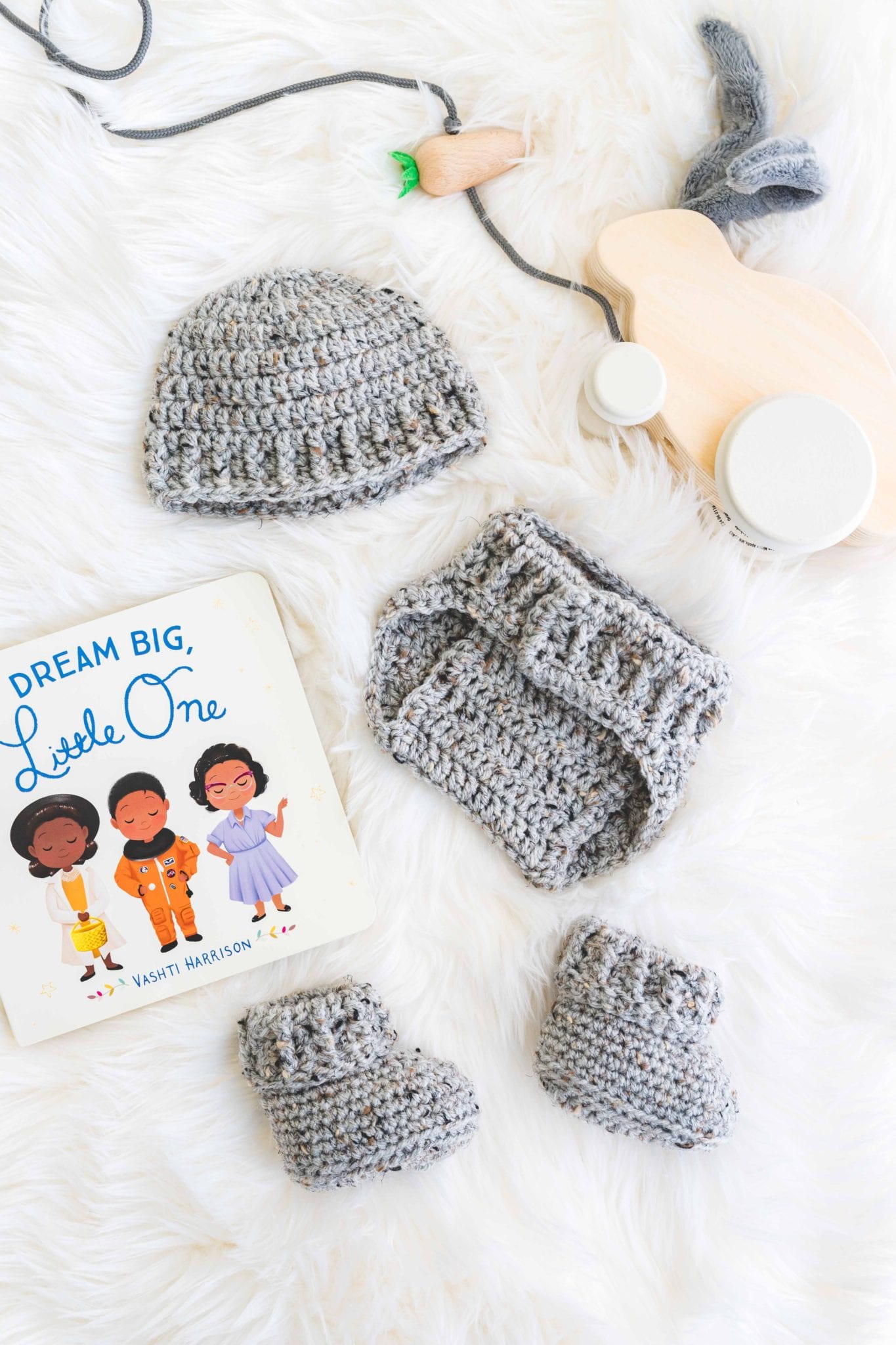 This set is a great gift for baby showers or new additions to family and friends' families, and it's a very gender neutral pattern. I've got it pictured here in the classic blue and pink as well as a gorgeous grey marble. I love modern baby items that are simplistic in design and can work for any mom's style! Click here to check out all my kids crochet patterns.
I wish I'd been able to get some photos of Parker in this set when he was born, but he weighed in at a whoppin' 10 lb. 2 oz and was too chunky to fit into them! Lol!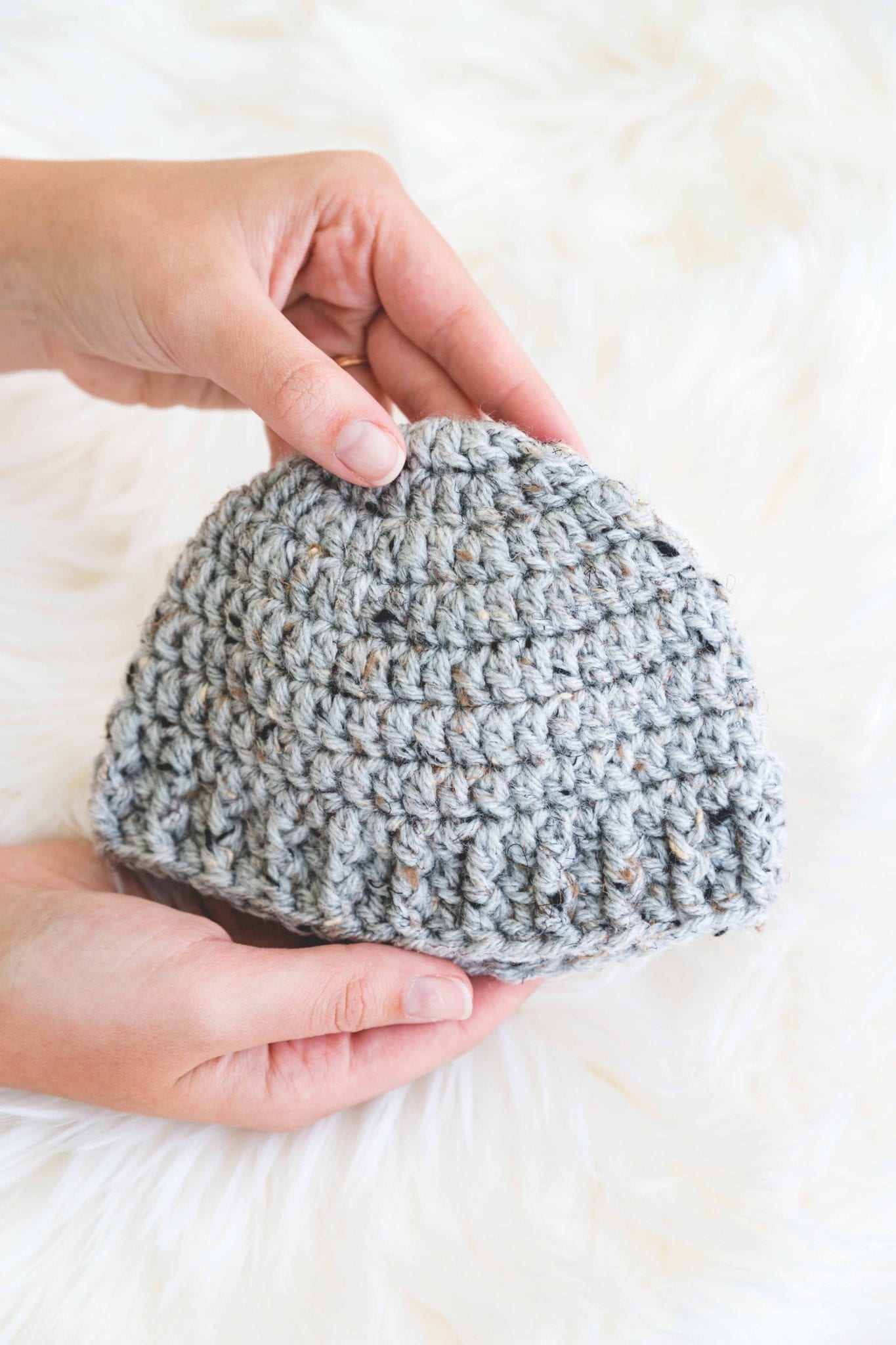 The Yarn
I decided to use Lion Brand Vanna's Choice yarn for this pattern as it's a very versatile worsted weight yarn with a stunning color range. There are colors to match any baby shower or nursery theme, as well as any individual style.
However you can use any worsted weight yarn for this project! There are wonderful wool based worsted weight yarns to use for this project as well as other natural and synthetic fibers. Really, anything goes as long as you can meet the gauge listed in the pattern below.
I do have a video tutorial for the newborn size of this hat for all my visual learners below – enjoy! 😉





PATTERN:
To sum it up: The perfect basic baby hat that's simple to make and easily customizable – in all kids sizes!
Materials:
(You will use less than half a skein for any size of this pattern)
Sizes:
0-3 months, 3-6 months, 6-9 months, 9-12 months, toddler/preschooler, child
Gauge:
14 sts x 8 rows in dc = 4″
Skill Level:
Level 1/Beginner
Notes:
-Make sure you check your gauge via the measurements above to be sure your hat fits the child you're making it for perfectly.
-View the video tutorial
here
.
0-3 Months
Crochet Baby Hat
Magic ring, 11 DC in magic ring, join to first DC, chain 2
Round 2: 2 DC around, join, chain 2 (22)
Round 3: 2 DC in first, DC in next; repeat around, join, chain 2 (33)
Round 4: 2 DC in first, DC in next 2, repeat around, join, chain 2 (44)
Rounds 5-7: DC around, join, chain 2 (44)
Rounds 8-10: DC in first, FpDc in next, repeat around, join, chain 2 (44)
Round 11: Sc around, join, finish off (44)
3-6 Months
Crochet Baby Hat
Magic ring, 11 DC in magic ring, join to first DC, chain 2
Round 2: 2 DC around, join, chain 2 (22)
Round 3: 2 DC in first, DC in next, repeat around, join, chain 2 (33)
Round 4: 2 DC in first, DC in next 2, repeat around, join, chain 2 (44)
Round 5: 2 DC in first, DC in next 10, repeat around, join, chain 2 (48)
Rounds 6-8: DC around, join, chain 2 (48)
Rounds 9-11: DC in first, FpDc in next, repeat around, join, chain 2 (48)
Round 12: Sc around, join, finish off (48)
6-9 Months
Crochet Baby Hat
Magic ring, 11 DC in magic ring, join to first DC, chain 2
Round 2: 2 DC around, join, chain 2 (22)
Round 3: 2 DC in first, DC in next, repeat around, join, chain 2 (33)
Round 4: 2 DC in first, DC in next 2, repeat around, join, chain 2 (44)
Round 5: 2 DC in first, DC in next 10, repeat around, join, chain 2 (48)
Round 6: 2 DC in first, DC in next 11, join, chain 2 (52)
Rounds 7-9: DC around, join, chain 2 (52)
Rounds 10-12: DC in first, FpDc in next, repeat around, join, chain 2 (52)
Round 13: Sc around, join, finish off (52)
9-12 Months
Crochet Baby Hat
Magic ring, 11 DC in magic ring, join to first DC, chain 2
Round 2: 2 DC around, join, chain 2 (22)
Round 3: 2 DC in first, DC in next, repeat around, join, chain 2 (33)
Round 4: 2 DC in first, DC in next 2, repeat around, join, chain 2 (44)
Round 5: 2 DC in first, DC in next 10, repeat around, join, chain 2 (48)
Round 6: 2 DC in first, DC in next 11, join, chain 2 (52)
Round 7: 2 DC in first, DC in next 12, join, chain 2 (56)
Rounds 8-10: DC around, join, chain 2 (56)
Rounds 10-13: DC in first, FpDc in next, repeat around, join, chain 2 (56)
Round 14: Sc around, join, finish off (56)
Toddler / Preschooler
Crochet Hat
Magic ring, 11 DC in magic ring, join to first DC, chain 2
Round 2: 2 DC around, join, chain 2 (22)
Round 3: 2 DC in first, DC in next, repeat around, join, chain 2 (33)
Round 4: 2 DC in first, DC in next 2, repeat around, join, chain 2 (44)
Round 5: 2 DC in first, DC in next 10, repeat around, join, chain 2 (48)
Round 6: 2 DC in first, DC in next 11, join, chain 2 (52)
Round 7: 2 DC in first, DC in next 12, join, chain 2 (56)
Round 8: 2 DC in first, DC in next 13, join, chain 2 (60)
Rounds 9-11: DC around, join, chain 2 (60)
Rounds 12-14: DC in first, FpDc in next, repeat around, join, chain 2 (60)
Round 15: Sc around, join, finish off (60)
Child
Crochet Hat
Magic ring, 11 DC in magic ring, join to first DC, chain 2
Round 2: 2 DC around, join, chain 2 (22)
Round 3: 2 DC in first, DC in next, repeat around, join, chain 2 (33)
Round 4: 2 DC in first, DC in next 2, repeat around, join, chain 2 (44)
Round 5: 2 DC in first, DC in next 10, repeat around, join, chain 2 (48)
Round 6: 2 DC in first, DC in next 11, join, chain 2 (52)
Round 7: 2 DC in first, DC in next 12, join, chain 2 (56)
Round 8: 2 DC in first, DC in next 13, join, chain 2 (60)
Round 9: 2 DC in first, DC in next 14, join, chain 2 (64)
Rounds 10-12: DC around, join, chain 2 (64)
Rounds 12-15: DC in first, FpDc in next, repeat around, join, chain 2 (64)
Round 16: Sc around, join, finish off (64)
Abbreviations (US Terms):
ch – chain
dc – double crochet
sc – single crochet