An easy crochet blanket with a fun, new stitch – my Cruise Crochet Blanket – is a free pattern here on the blog! Read through my inspiration, design process, and lots of info on the perfect yarn I chose. Or scroll on down for the free pattern.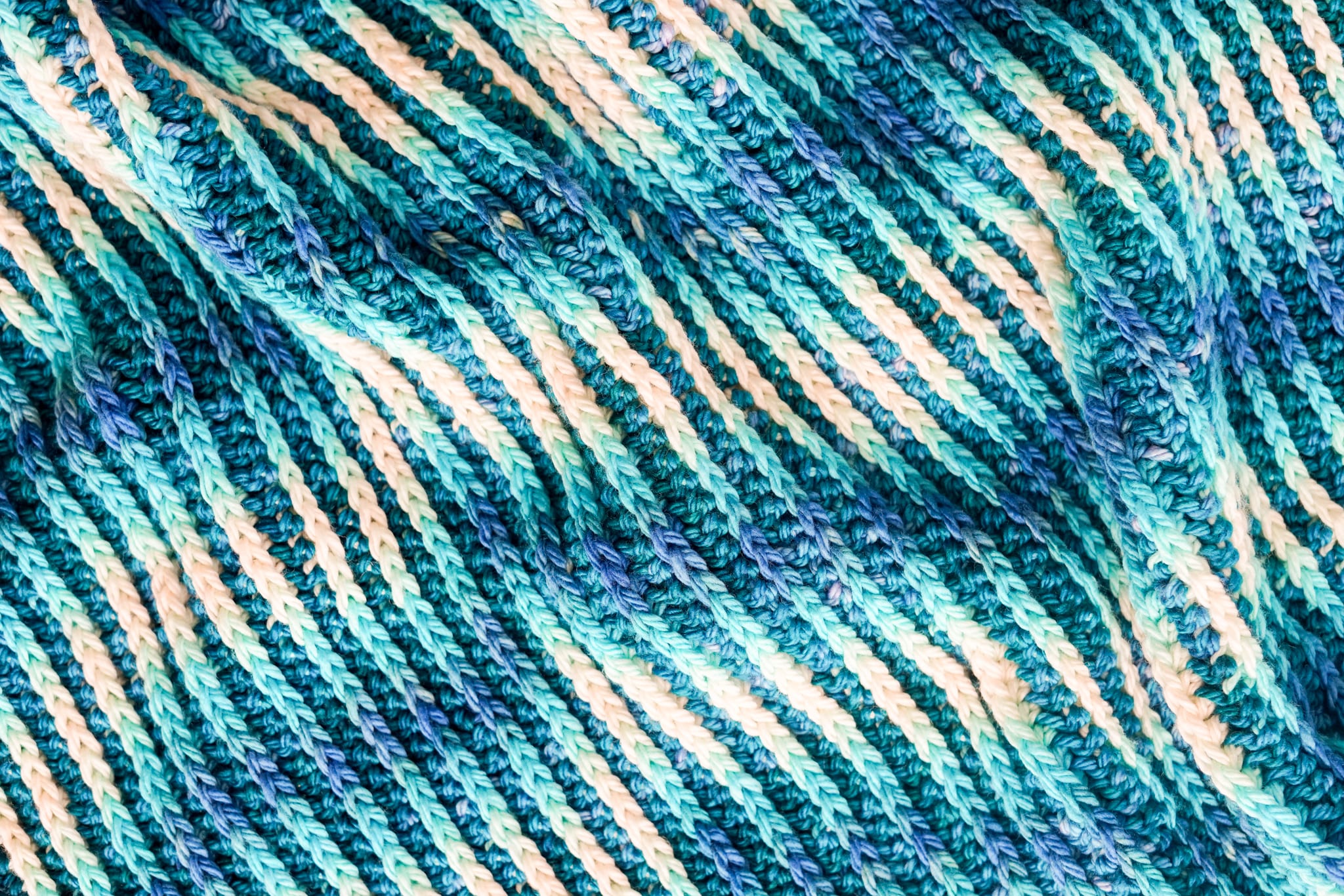 The Inspiration + Design
I dyed some yarn for my most recent Sewrella Yarn hand dyed collection in the gorgeous colors Cruise and Lido Deck, they were just sitting on my shelf, begging to be used for something as stunning as they are. I loved dyeing these colors and I knew a two-sided, simple stitch blanket would be the perfect thing for them. Worked up on our Classic Bulky base yarn made the blanket squishy and luxurious with unbelievable drape.
This cruise crochet blanket is the epitome of luxe. It's an heirloom piece for sure! I'll just say this: if there's a blanket you should splurge on and invest time in making, it's this one.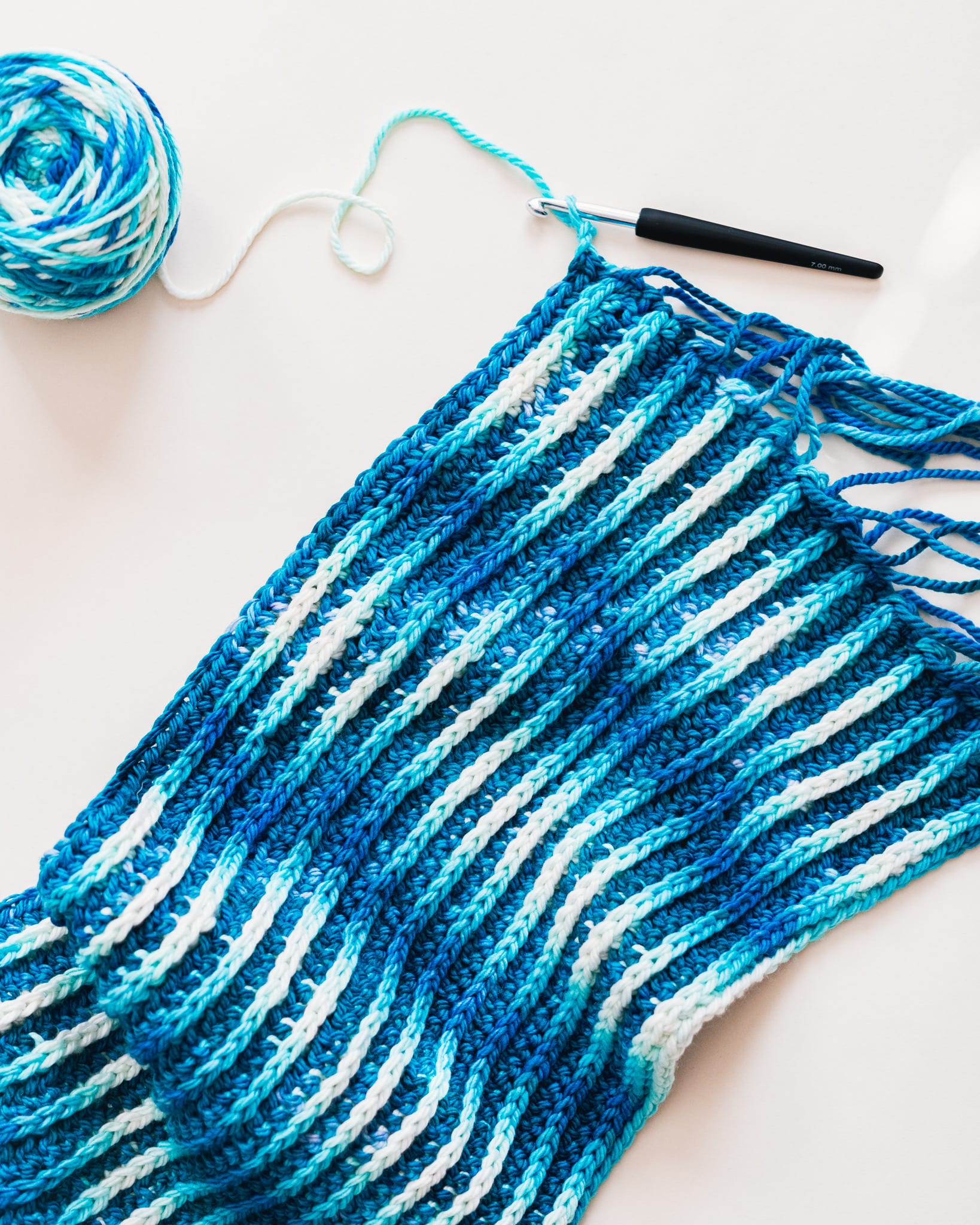 Color Pooling made easy
You'll notice in the photos of this crochet blanket pattern that the variegated yarn pools in a way that looks like waves or really soft, flowing striping. That's not due to any fancy counting or technique, that's just how our yarn works up when crocheted.
We work the right side of the blanket in one color and the wrong side in another color to get a two-toned effect and this helps the color to pool in the wavy look that you see here. You could get a similar effect using any of our pour dyed hand dyed yarn colorways.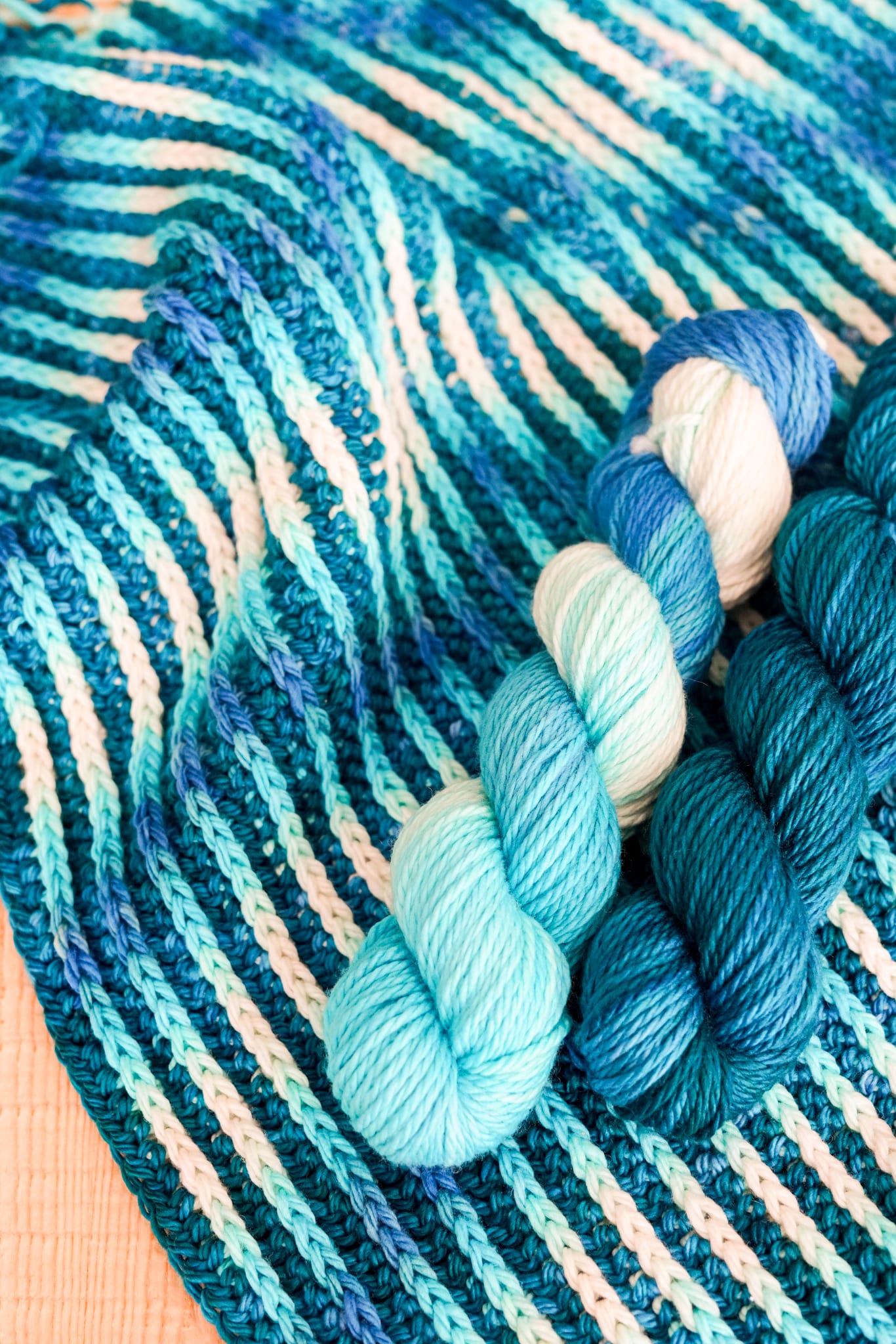 I started hand dyeing my own yarn over two years ago and it's now a flourishing business that I absolutely love working on! We host monthly collections, each one focused on a theme complete with variegated and solid colored yarns, speckled yarns and all different base yarns including the bulky yarn you see pictured here.
We also incorporate teas and house-made wool wash that are specific to each collection. Special edition teas that connect to the theme like key lime margarita in the summer and pumpkin chai in the fall to taste while scented wool wash connects a sense of smell to the collection like coconut grove or warm amber staycation.
Follow Sewrella Yarn on Instagram or get on our email list on the Sewrella Yarn Website to stay up-to-date when new collections launch!
One blanket, so many sizes
Although I am in love with this crochet blanket in the baby size, I have written this pattern to work for blankets of just about any size!
Within the pattern below you'll find a table of blanket sizes that are included in the pattern as well as their measurements and the yardage required to make them (provided you're using the yarn I used or a similar worsted weight yarn)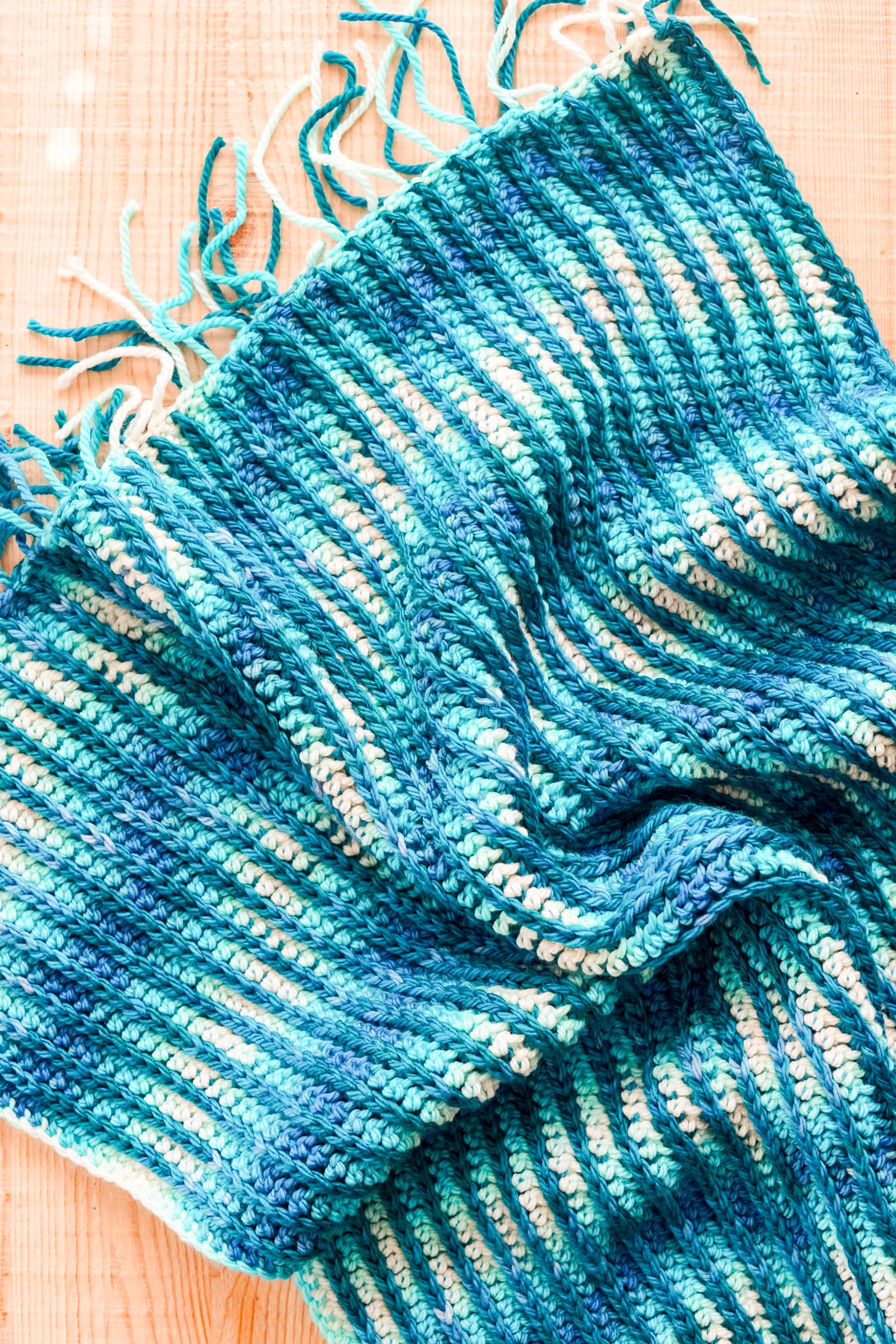 Yarn + Substitution
It's easy to make this blanket in another chunky yarn – like Lion Brand Color Made Easy. This yarn is really widely available for a great price in a really pretty color palette. Any other category 5 bulky blanket could also be substituted fairly easily – even hand dyed yarn from other independent dyers too!



PATTERN
Description
This cruise crochet blanket includes an easy free pattern using all my own gorgeous hand dyed yarn, written in 12 sizes!
Yarn
–Sewrella Yarn – Classic Bulky
(weight 5 / bulky, 3.5oz/100g, 219yds/200m)
Colorways: CRUISE, LIDO DECK
See yardage via table below
Notions
Gauge
7 sts x 12.5 rows = 4″ in hdc
Finished Size
| | | |
| --- | --- | --- |
| | Width " | Length " |
| Lovey | 10 | 10 |
| Security | 14 | 17 |
| Baby | 30 | 35 |
| Stroller | 40 | 40 |
| Toddler | 42 | 52 |
| Swaddle | 47 | 47 |
| Crib | 45 | 60 |
| Throw | 52 | 60 |
| Twin | 66 | 90 |
| Double | 90 | 108 |
| Queen | 96 | 108 |
| King | 108 | 108 |
Notes
–See chart above to choose the size blanket you'd like to make!
-See chart within pattern below to determine your number of foundation chains (A), row stitch count (B), and number of total row repeats (C).
-Chain stitches throughout the pattern do no count as a stitch, nor are they included in total stitch counts.
-Throughout this pattern you change color every row working all RS rows in Cruise and all WS rows in Lido Deck. This gives a two-tone, reversible effect!
-Substitute other yarns of any weight by using it's recommended hook size and following the same stitch pattern with a foundation chain that's the width of your desired blanket size and working row repeats until you've reached the length you desire. Alterations may affect yardage.
-Use worsted weight yarns following the yardage chart below. See "Yarn & Substitution" section above for additional guidance.
| | |
| --- | --- |
| | Yardage |
| Lovey | 140 |
| Security | 310 |
| Baby | 1320 |
| Stroller | 2190 |
| Toddler | 2740 |
| Swaddle | 2780 |
| Crib | 3400 |
| Throw | 4000 |
| Twin | 7450 |
| Double | 12180 |
| Queen | 12990 |
| King | 14610 |
Special stitches
-Front Loop Only Hdc: make a half double crochet stitch working into the front loop only.

CROCHET OLD FASHIONED THROW BLANKET
With Cruise, Ch A (or any number +2), sk 2 sts.
Row 1 (RS): Hdc across, turn <B>
Change color to Lido Deck leaving 6″ tails from both yarns.
Row 2 (WS): Ch 1, FLO hdc, turn <B>
Change color to Cruise leaving 6″ tails from both yarns.
Rep row 2 until you've finished C rows, changing color every row as indicated.
Finish off & weave ends.
| | | | |
| --- | --- | --- | --- |
| | A (ch sts) | B(st count) | C (total row repeats) |
| Lovey | 38 | 18 | |
| Security | 50 | 24 | 54 |
| Baby | 106 | 52 | 110 |
| Stroller | 142 | 70 | 125 |
| Toddler | 150 | 74 | 163 |
| Swaddle | 166 | 82 | 147 |
| Crib | 158 | 78 | 188 |
| Throw | 184 | 91 | 188 |
| Twin | 234 | 116 | 282 |
| Double | 318 | 158 | 338 |
| Queen | 338 | 168 | 338 |
| King | 382 | 190 | 338 |
Abbreviations (US terms):
ch – chain
flo – front loop only
hdc – half double crochet
rep – repeat
rs – right side
sk – skip
st(s) – stitch(es)
ws – wrong side
<> – stitch count
OTHER FREE CROCHET BLANKET PATTERNS