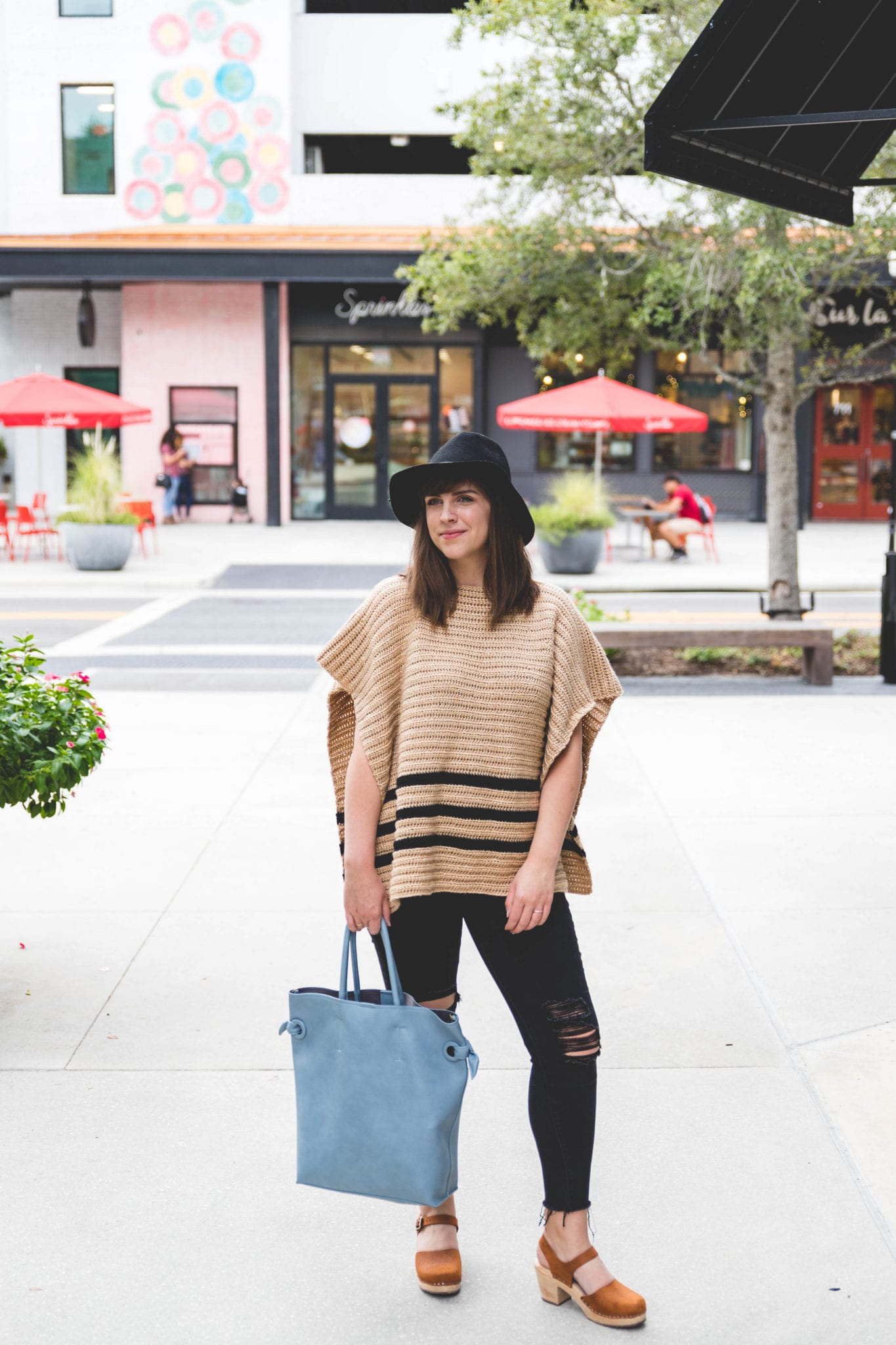 Crochet can be chic, and I'm here to prove that to you with the Rancher Poncho , a free pattern here on the blog!
I've got loads of information on the inspiration, yarn choice, and other details below OR you can scroll on down to the beginner friendly pattern.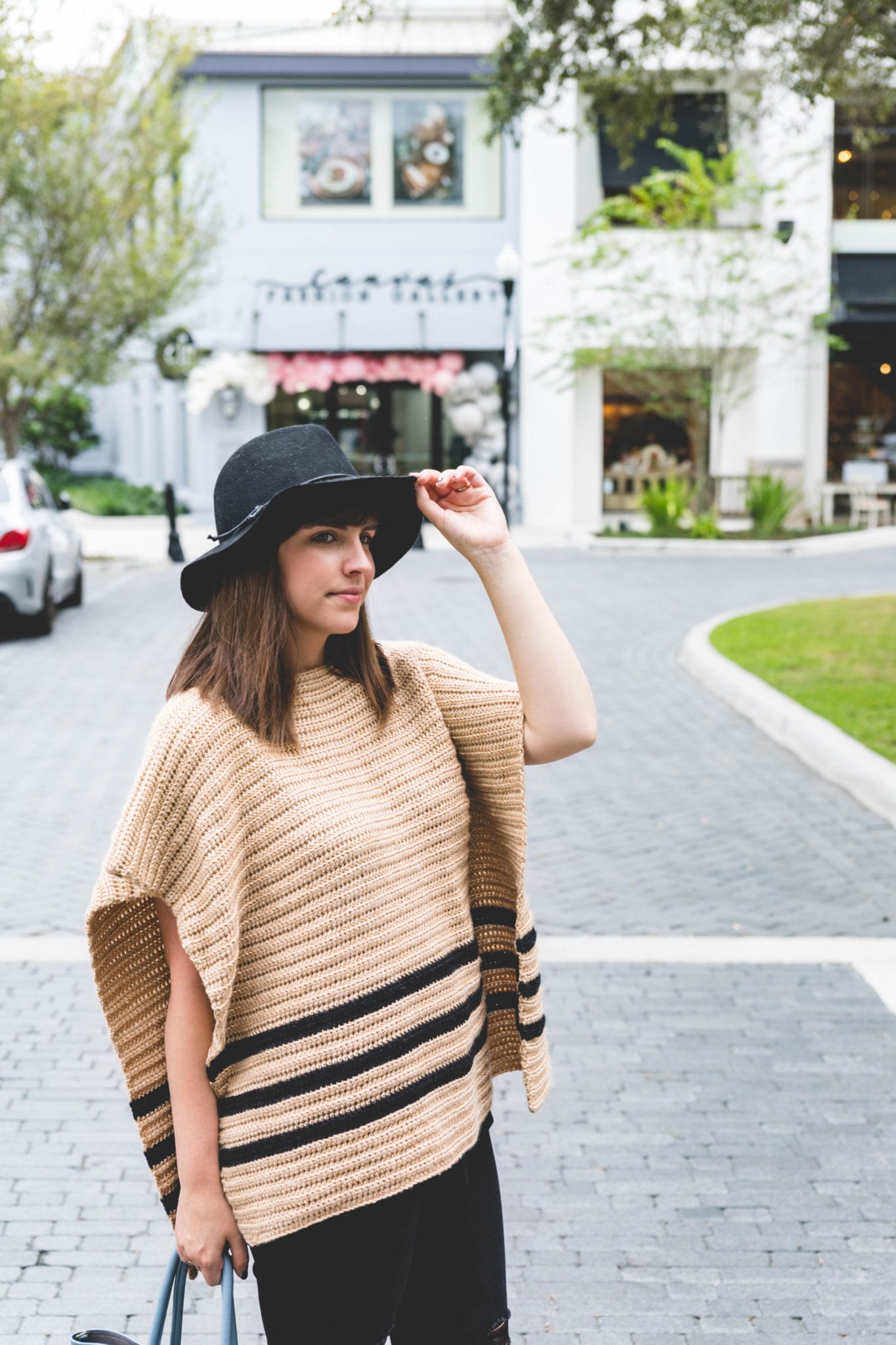 The Design
If you're familiar at all with my blog you may have noticed the last few patterns I've designed have been fairly complex – like the Holiday Knit Sweater and the Rainier Sweater. It was about time for a really simple, beginner friendly garment tutorial and here she is!
The Rancher Poncho is basically one gigantic rectangle with a hole in the middle for your head to pop through. We use ridged stitches that are decievingly simple – just work regular half double crochets in the back loop only. It's the perfect project to make while you binge watch your favorite Netflix special – no counting or fancy stitches required!
OTHER SWEATER PATTERNS I LOVE (& you should too)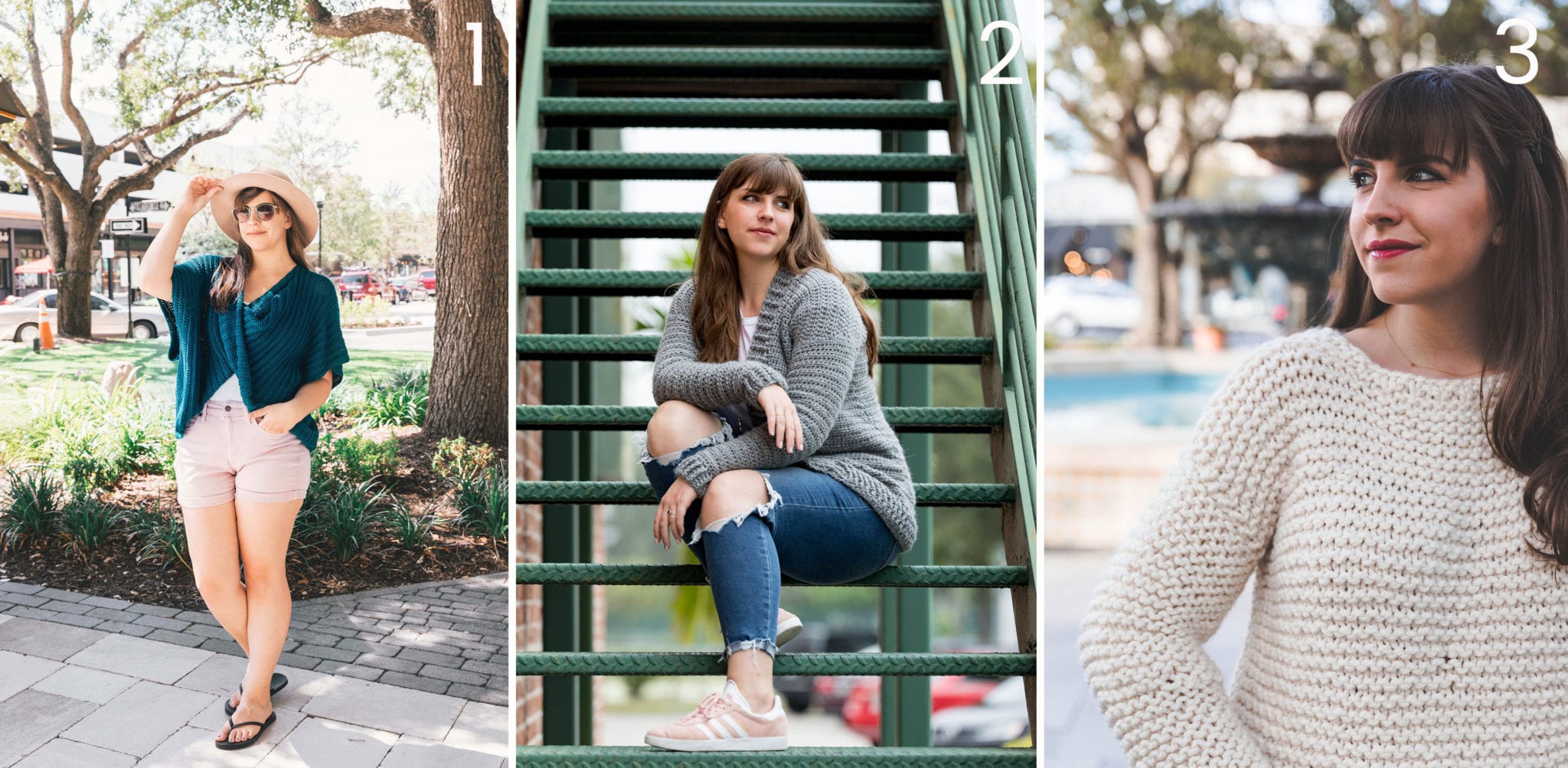 1. Crochet Twist Swancho / 2. Crochet Everyday Cardigan / 3. Simple Knit Sweater
The Fit
The Rancher Poncho is almost as oversized as it gets. Honestly, it feels like you're draped in your favorite blanket while it looks like you're ready to walk at New York Fashion Week – seriously I turned so many heads in this piece! …but that might be because I was in full autumn chill gear in south florida's 80 degree weather, ha!
This pattern is easily customizable to make it shorter, longer, wider or thinner. Feel free to adjust as you see fit – but know that the dimensions given were hand picked to fit most ladies from petit to plus beautifully.

The Yarn
I chose to use Lion Brand Heartland yarn for this sweater for a couple of reasons – I needed a drapey worsted weight yarn in the right earth-inspired colors.
I knew I wanted to go with a Taupe-y yarn for the majority of my poncho with a few black accent stripes along the bottom third of the piece. Finding the right taupe for me was a bit of trial and error – I wound up narrowing it down to a couple of options within the Heartland line, Grand Canyon and Great Sand Dunes. The former is a cool tone taupe and the later is a warm tone taupe. I like to stay in a warmer color palette (I find they're more flattering on my skin tone) so I went with Great Sand Dunes!
There are endless color combinations and I can't wait to see what you guys put together for your own Rancher Ponchos! Check out the entire line of Heartland yarn here.






PATTERN
To sum it up: The Rancher Poncho is simple to make and a timeless piece to layer. It's made of just one beginner level stitch that looks sophisticated and polished. Easy stripes and a neutral color palette lend themselves to effortless styling, even on busy days.
Materials:
–Lion Brand Heartland yarn (Weight: 4/Medium – 5oz, 251 yds)
Main color: Great Sand Dunes (4 skeins)
Contrast color: Black Canyon (1 skein)
Gauge:
17 sts x 11 rows in hdc = 4"
Finished Measurements (lying flat):
Width: 29"
Length: 23"
Abbreviations (US terms):
ch – chain
hdc – half double crochet
blo – back loop only
mc – main color
cc – contrast color
rpt – repeat
st(s) – stitch(es)
t – turn
Skill Level:
Level 1 – Beginner
Pattern Notes
-This pattern is one size fits most; model is 5'5" tall with a 38" bust.
-The Rancher Poncho is easy to customize:
You can increase or decrease the number of chains you begin with to alter the width of your finished poncho.
You can increase or decrease the number of rows you crochet before the neckline shaping to alter the length of your finished poncho (note: if you are adjusting length, make sure you mirror your adjustments on the backside of your poncho.
-Be sure to hand wash and block your poncho after finishing and weaving ends. Otherwise your garment will remain fairly stiff.
The Rancher Poncho
With MC yarn, Ch 126
Row 1: Hdc in 3rd ch st from hook and in each st across, Ch 2, t (124 hdc)
Row 2: BLO Hdc in each st across, Ch 2, t (124 hdc)
Rpt Row 2 until you've finished Row 64 or 23"
Stripes: Rows 11-12, 17-18, & 23-24 are worked in CC yarn.
Neckline Shaping:
Row 1: Blo Hdc in first 46 sts, Ch 32, sk 32, Blo Hdc in next 46 sts, Ch 2, t (92 hdc)

Row 2: Blo Hdc in each st across (including each of 32 Ch sts), Ch 2, t (124 hdc)
Rpt Row 2 until you've finished Row 64 or 23"
Stripes: Rows 41-42, 47-48, & 53-54 are worked in CC yarn.
Finish off, weave all ends, and block your Rancher Poncho.

Earning a Living with my Handmade Home
If you love crocheting and knitting, you should think about starting a blog! I'll help you get started to turn your hobby into a money-making career with my free "Start a Blog" guide.
Or you can check out my latest income report to see how this blog earned over $10,000 last month!