Announcing Sewrella's very first annual Holiday Knit-a-Long!
This year we'll be knitting My First Holiday Knit Sweater – a design I made with crocheters and newbie knitters in mind.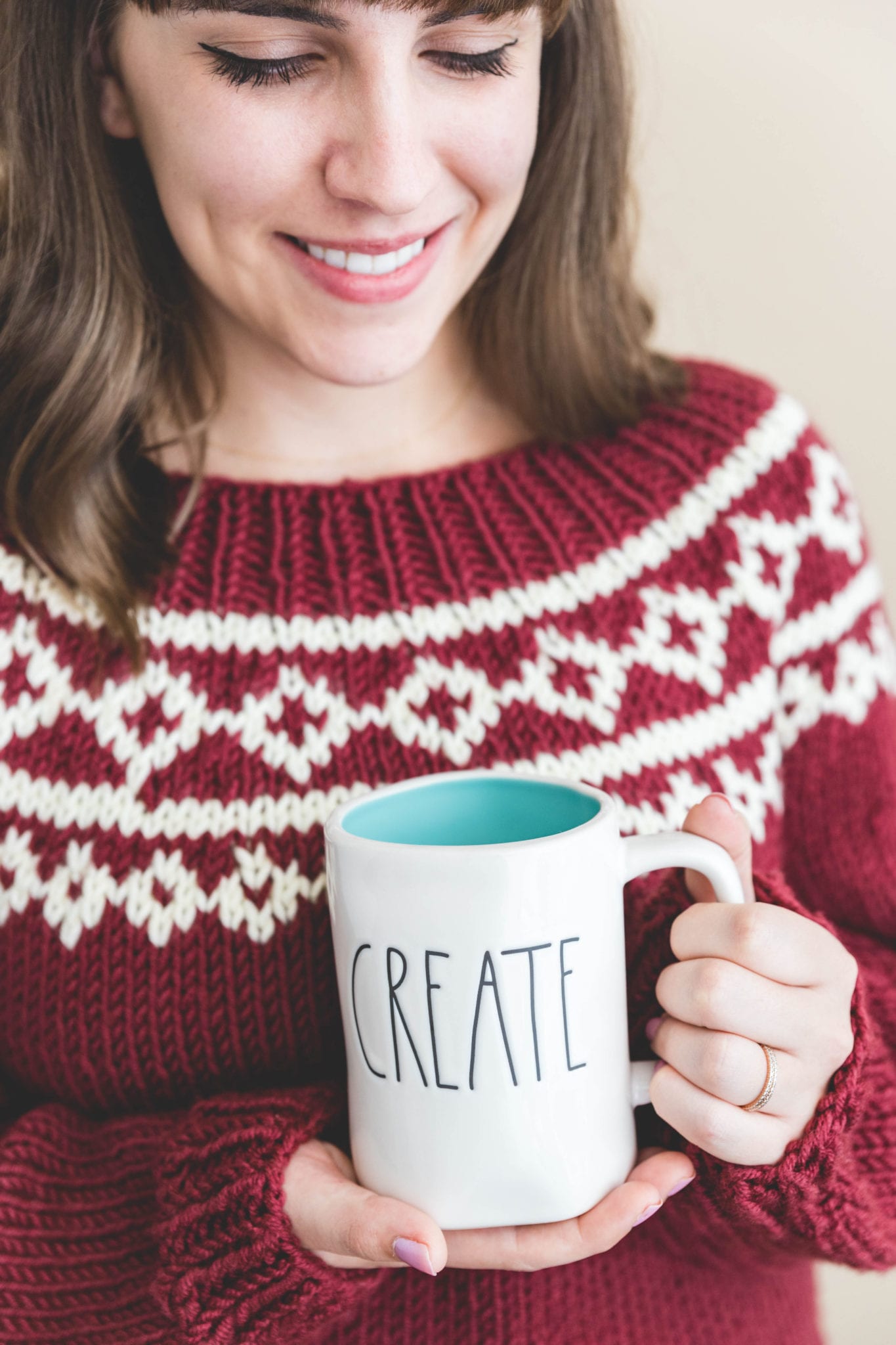 This design has simple colorwork, easy stockinette stitch and lots of links to tutorials to help you make a sweater successfully.
I'll be knitting along through the month of November and I hope you'll join me for this fun project!
The Knit-a-Long will begin Monday, October 29 and we will end with our finished sweaters just after Thanksgiving, November 26.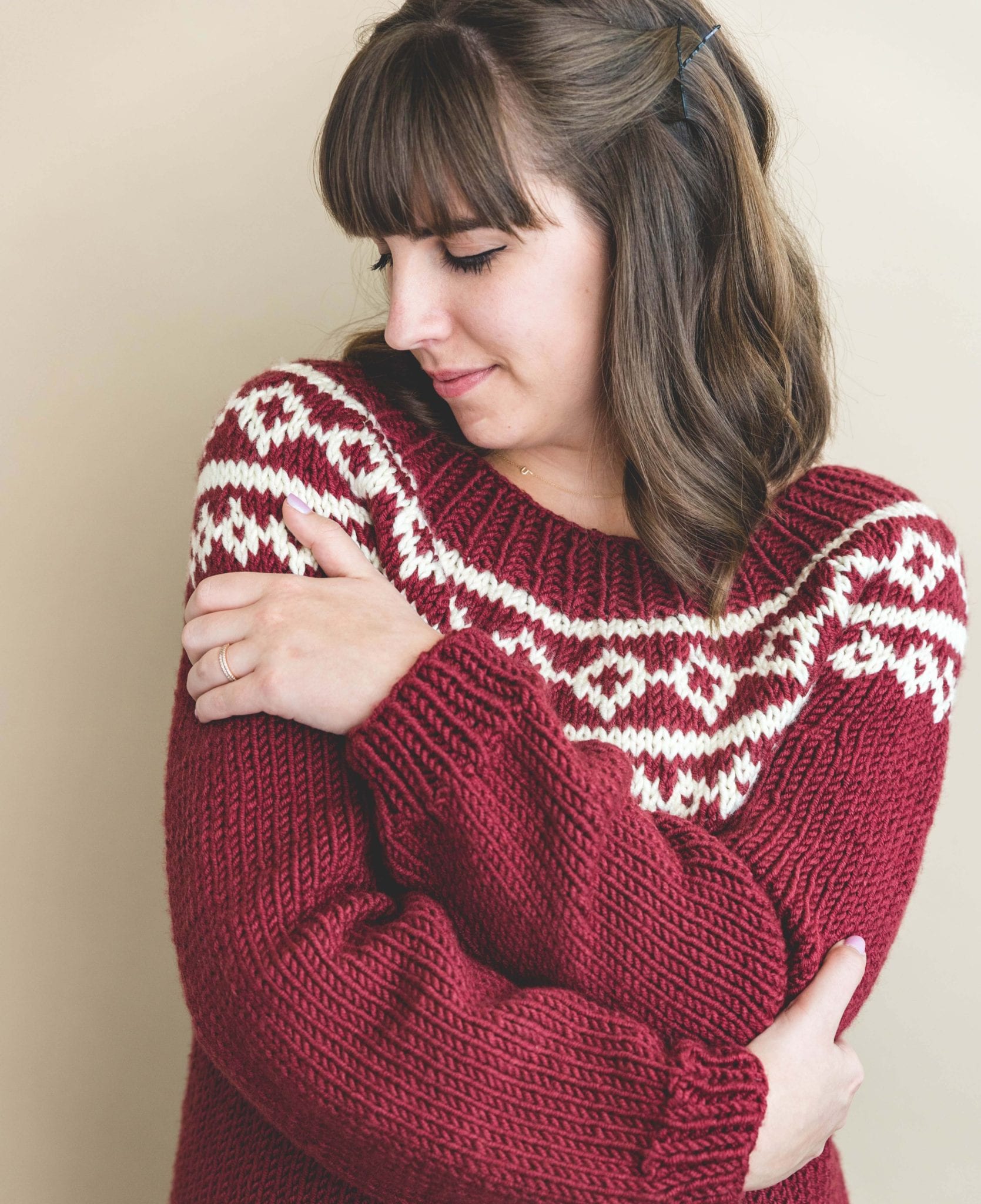 Materials + Choosing your Size
I've gotten some questions about sizing as well as materials you'll need apart from the kit so I'll address those here!
When you order the Kit from Lion Brand (more on that below) you'll receive all the yarn you need plus a printed copy of the full pattern. You will also need the following (click the links for my supply recommendations for beginners!):
I've listed below the finished measurements of the sweater. Hopefully this will help you choose your size! Sizing listed in the pattern will be in Small, Medium, Large, XL, 2XL, and 3XL listed in parenthesis. I am wearing the Large size in the photos, and my true bust measurement is 38″. I designed this pattern with positive ease for a classic holiday sweater fit – oversized and comfy! I'll be sizing down to a medium (notice that size matches my true bust) for a snug fit when I make my second sample along with you all.
Sweater Finished Measurements:
Bust: 34 (38, 42, 46, 50, 53)"
Length: 21 (22, 23, 24, 25, 26)"
Armhole: 6 (7, 8, 9, 10, 11)"
Sleeve Length: 17 (17.5, 18.5, 19, 20, 20.5)"
*note: the sleeve length and sweater length are adjustable, the bust and armhole measurements are not.
The Yarn
I chose to use Lion Brand Yarn's brand new Color Made Easy yarn for this project for a couple of reasons – I needed a thicker weight yarn to make this pattern super beginner friendly and quick enough for newbie knitters to feel accomplished. This CYC 5 bulky weight yarn is a really rare find. You'll notice a lot of yarns in big stores are either worsted weight or a category 6 bulky weight yarn – it's really hard to find a great category 5 bulky weight yarn.
Important note: for this pattern, I strongly recommend you use the Color Made Easy yarn (available only on the Lion Brand website) – substituting a CYC4 or CYC6 yarn for this project will not work without major sizing adjustments.
Side bar – when I visited Lion Brand in NYC earlier this year for the LBY Blogger Bash, all the bloggers talked a lot about some of the things we'd like to see come available and a great CYC 5 yarn offered in a refined color palette was at the top of our list, and LB delivered! I couldn't be happier with this yarn and the way my project came out.
Lion Brand has put together a kit just for this Knit-a-Long and there are 6 stunning color options available! I made my first sample (pictured) in the Pomegranate option, but I'll be making my second sample along with you in the blushy pink color called Millenial.

You can grab your kit by clicking here – it comes with a printed copy of the pattern so you'll be ready to go when we begin on October 29!
I do recommend grabbing your kit this week while it is 20% off, it will go back up to regular full price next week and you may not receive your kit in time to begin the KAL with the group.

The Community
I've put together a Facebook group just for Holiday Knit-a-Long participants! CLICK HERE to access the group, just click the blue "join" button and you'll be added.
(Or search "My First Holiday KNIT Sweater KAL w/ Sewrella" on Facebook and the group will come right up)
In the group, we'll be sharing the colorway we chose for our kit, work-in-progress (also known as WIP) photos as we knit together, asking questions, and even hosting some giveaways! There will be lots of fun in the group, so join up as soon as you grab your kit!
We also have a cute illustration to share on social media for participants of the KAL! You can save it here by right clicking on the image and clicking "save as" to your computer. Or visit my Instagram post here and screen shot to save on any mobile device.

Share with the hashtag #SewrellasHolidayKAL and get excited for the event! Maybe you'll even find a friend to invite to the KAL too 🙂
And if you've read all this thinking "I can't knit, I'm a crocheter!""then fear not – listed below are a bunch of links to beginner knitting videos that I've found super helpful as a crocheter! Additionally, throughout the pattern there will be links to helpful technique videos every step of the way. You can do this!
Let's have a great Knit-a-Long!
(Free version of the pattern will be posted here on the blog on our KAL start date)