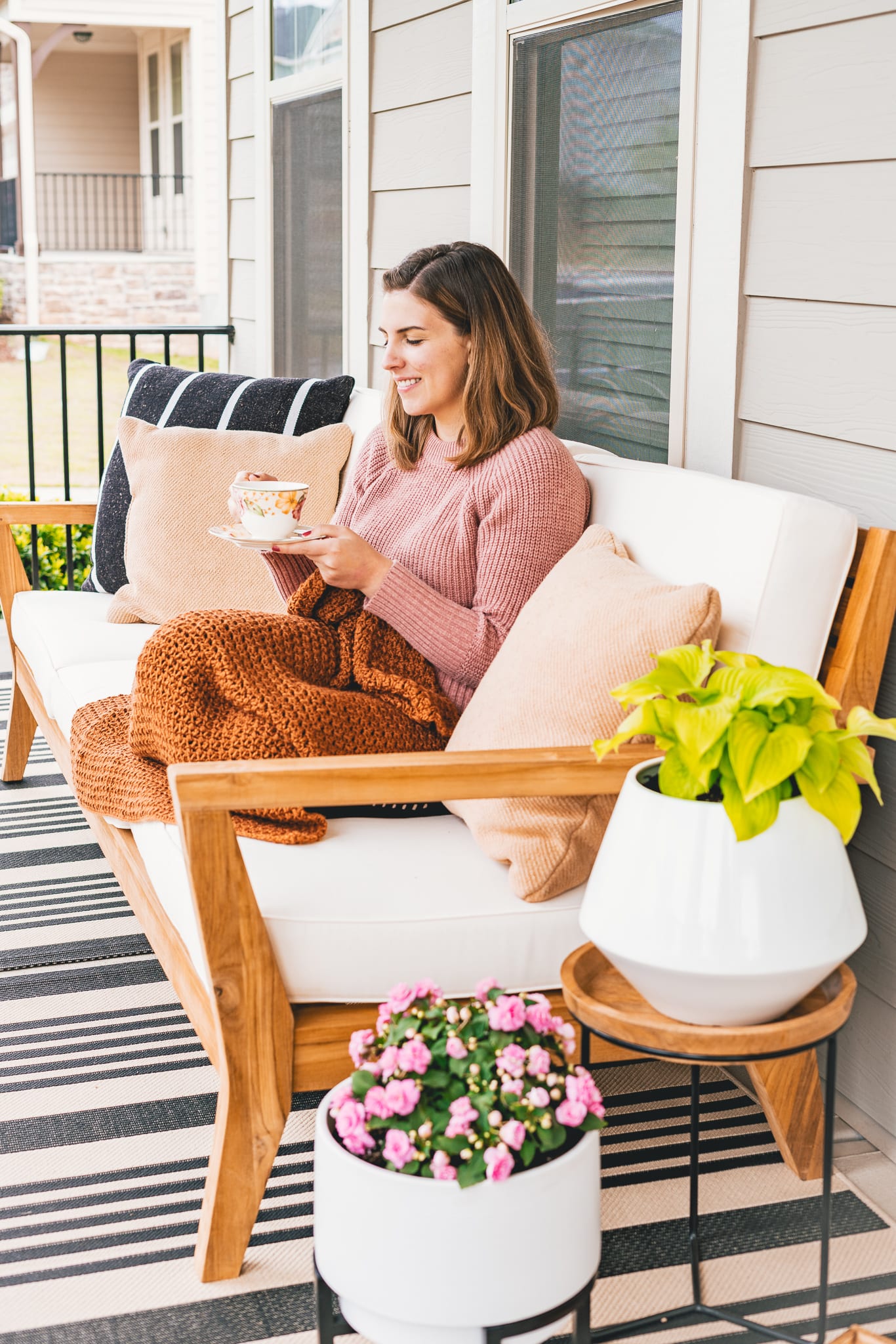 An easy crochet blanket with a fun, new stitch – my Crochet Old Fashioned Throw Blanket – is a free pattern here on the blog! Read through my inspiration, design process, and lots of info on the perfect yarn I chose. Or scroll on down for the free pattern.
The Inspiration + Design
I had a stash of Lion Brand's Touch of Cashmere yarn in the gorgeous color Brandy, just sitting on my shelf, begging to be used for something as stunning as she is. When I came across this mini bean stitch, I knew this yarn would be the perfect thing for it. This stitch worked up in any yarn will create a squishy fabric and a drape like you've never seen. But then combine it with this also very squishy, soft, dreamy yarn – and you've got a match truly made in the crochet heavens.
This crochet old fashioned throw blanket is just warm and cozy enough, as well as light enough to use year round. I'll just say this: if there's a blanket you should splurge on and invest time in making, it's this one.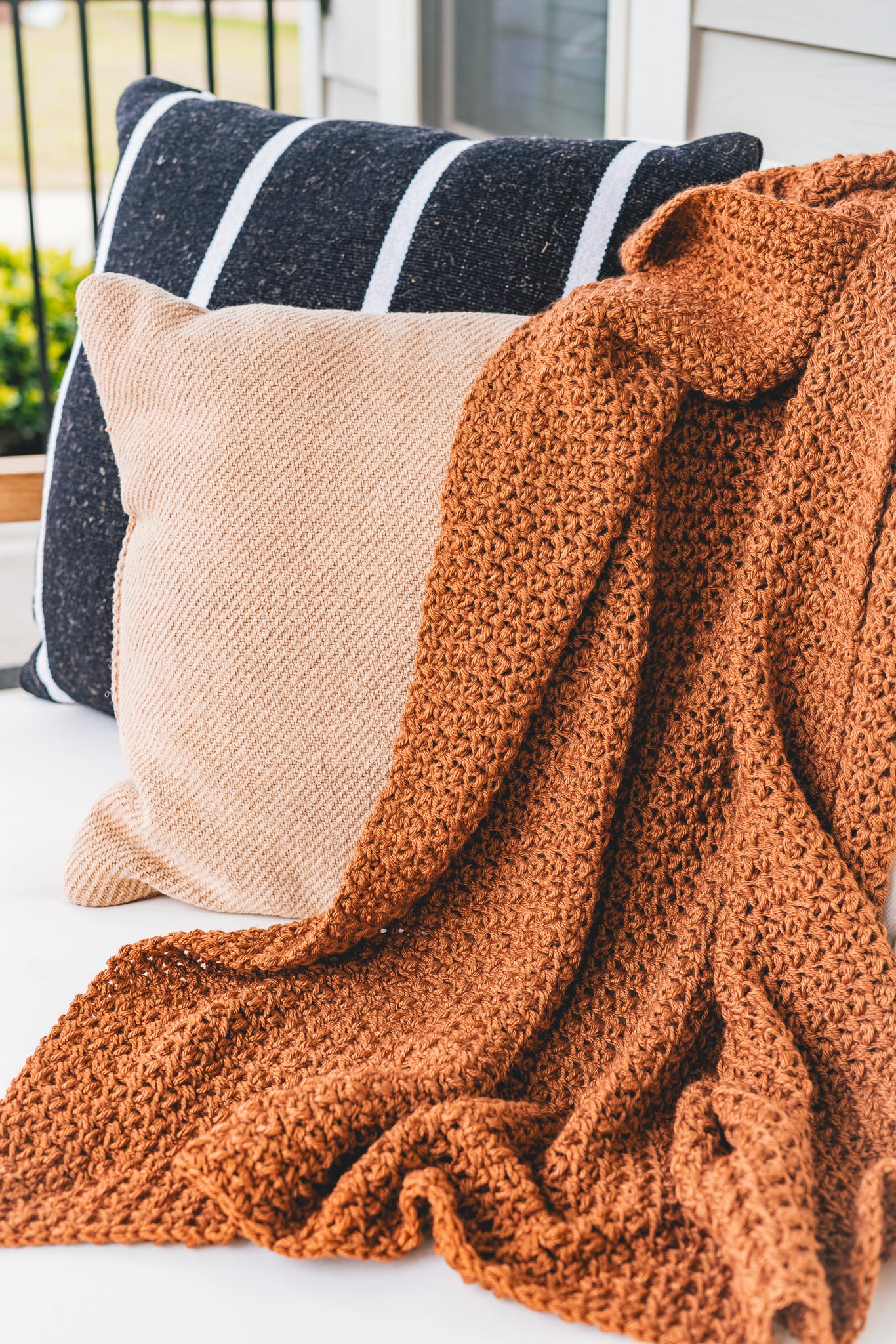 One blanket, so many sizes
Although I am in love with this crochet old fashioned throw blanket in the throw size, I have written this pattern to work for blankets of just about any size!
Within the pattern below you'll find a table of blanket sizes that are included in the pattern as well as their measurements and the yardage required to make them (provided you're using the yarn I used or a similar worsted weight yarn).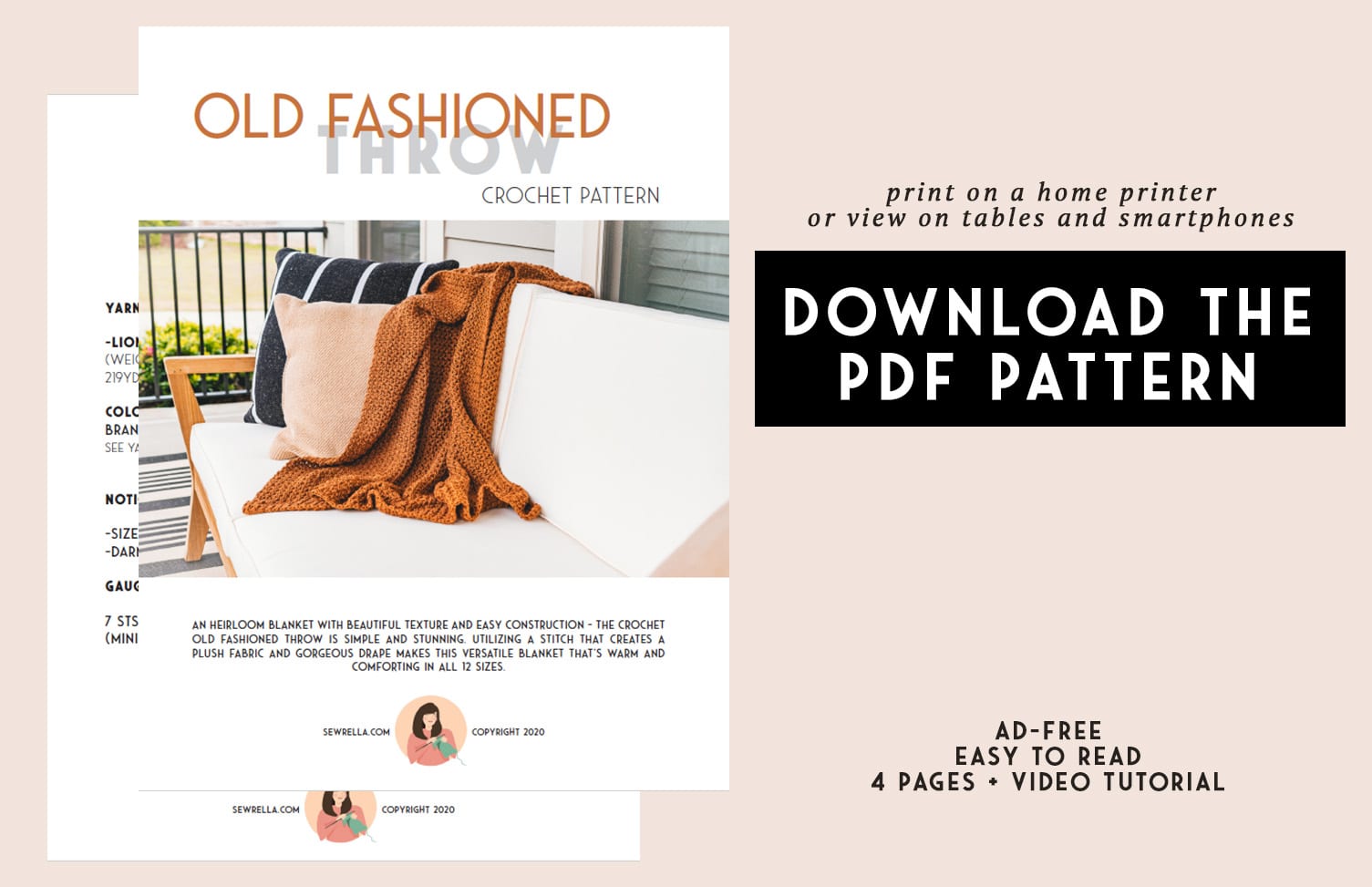 Another fun aspect of this blanket is that you can sort of create your own crochet old fashioned throw blanket! Using yarn of any weight, you can just follow the pattern making the foundation chain as wide as you'd like your blanket to be and continuing with row repeats until it's long enough.
You could make it in a solid color like I did here, or create a striped pattern, a two-tone stripe effect – anything goes. The crochet old fashioned throw blanket is totally customizable and my favorite kind of project!

The Mini Bean Stitch
This fun stitch creates a beautiful, drapey finished piece that I am just in love with. It's really simple and easy to learn – then you just repeat it for the whole blanket! So once you get the hang of the stitch, this crochet old fashioned throw blanket is the perfect Netflix-able project. Watch my video tutorial below to make the pattern, or apply it to your own unique project!

Yarn + Substitution
I used a blend of Lion Brand's Touch of Cashmere in Brandy, which is a worsted weight yarn.
A note on substituting yarns for this project: there is a lot of variation in the yarn industry within the world of worsted weight category 4 weight yarn. The best way I know to compare yarns of different origins, fiber contents, and brand are to look at the yardage per gram. On the yarn label for any yarn (from a big box store or from an independent dyer), the yardage for the ball or skein is listed.
The Touch of Cashmere yarn I used from Lion Brand is an 100 gram ball with 219 yards. 219/100=2.19 yards per gram.
I try to make sure any yarns I'm substituting are absolutely no more than 0.5 yards per gram difference from the yarn originally used in the pattern. The lower this number is, the closer these comparative yarns will be in gauge, resulting in a seamless finished project!




PATTERN
Get the ad-free, large print, printable PDF pattern HERE.

Grab the Ultimate Pattern Bundle that includes 150+ patterns just like this one on sale for $20 today HERE.

PIN this pattern to your Pinterest boards for later HERE.

Save to your Ravelry queue HERE.
Description
This crochet old fashioned throw blanket includes an easy free pattern and video tutorial featuring the mini bean stitch in 12 sizes!
Yarn
–Lion Brand – Touch of Cashmere
(weight 4 / medium, 3.5oz/100g, 219yds/200m)
Color: BRANDY
See yardage via table below
Notions
Gauge
7 sts x 12.5 rows = 4″ in pattern (mini bean stitch, see below)
Finished Size
| | | |
| --- | --- | --- |
| | Width " | Length " |
| Lovey | 10 | 10 |
| Security | 14 | 17 |
| Baby | 30 | 35 |
| Stroller | 40 | 40 |
| Toddler | 42 | 52 |
| Swaddle | 47 | 47 |
| Crib | 45 | 60 |
| Throw | 52 | 60 |
| Twin | 66 | 90 |
| Double | 90 | 108 |
| Queen | 96 | 108 |
| King | 108 | 108 |
Notes
–See chart above to choose the size blanket you'd like to make!
-See chart within pattern below to determine your number of foundation chains (A), row stitch count (B), and number of total row repeats (C).
-Chain stitches throughout the pattern do no count as a stitch, nor are they included in total stitch counts.
-Substitute other yarns of any weight by using it's recommended hook size and following the same stitch pattern with a foundation chain that's the width of your desired blanket size and working row repeats until you've reached the length you desire. Alterations may affect yardage.
-Use worsted weight yarns following the yardage chart below. See "Yarn & Substitution" section above for additional guidance.
| | |
| --- | --- |
| | Yardage |
| Lovey | 140 |
| Security | 310 |
| Baby | 1320 |
| Stroller | 2190 |
| Toddler | 2740 |
| Swaddle | 2780 |
| Crib | 3400 |
| Throw | 4000 |
| Twin | 7450 |
| Double | 12180 |
| Queen | 12990 |
| King | 14610 |
Special stitches
-Mini Bean Stitch: insert hook in next stitch, pull up a loop, yarn over, insert hook back into the same stitch, pull up a loop (4 loops on hook), yarn over, pull through all loops, ch 1, skip one stitch, and repeat sequence.
CROCHET OLD FASHIONED THROW BLANKET
Ch A (or any number +2), sk 2 sts.
Row 1: Mini bean st across, turn <B>
Row 2: Ch 1, mini bean st across, turn <B>
Rep row 2 until you've finished C rows.
Finish off & weave ends.
| | | | |
| --- | --- | --- | --- |
| | A (ch sts) | B(st count) | C (total row repeats) |
| Lovey | 38 | 18 | |
| Security | 50 | 24 | 54 |
| Baby | 106 | 52 | 110 |
| Stroller | 142 | 70 | 125 |
| Toddler | 150 | 74 | 163 |
| Swaddle | 166 | 82 | 147 |
| Crib | 158 | 78 | 188 |
| Throw | 184 | 91 | 188 |
| Twin | 234 | 116 | 282 |
| Double | 318 | 158 | 338 |
| Queen | 338 | 168 | 338 |
| King | 382 | 190 | 338 |
Abbreviations (US terms):
ch – chain
rep – repeat
sk – skip
st(s) – stitch(es)
<> – stitch count
OTHER FREE CROCHET BLANKET PATTERNS