An easy crochet shawl – my Sparkle Cake Crochet Triangle Shawl – is a free pattern here on the blog! Read through my inspiration, design process, and lots of info on the perfect yarn I chose. Or scroll on down for the free pattern.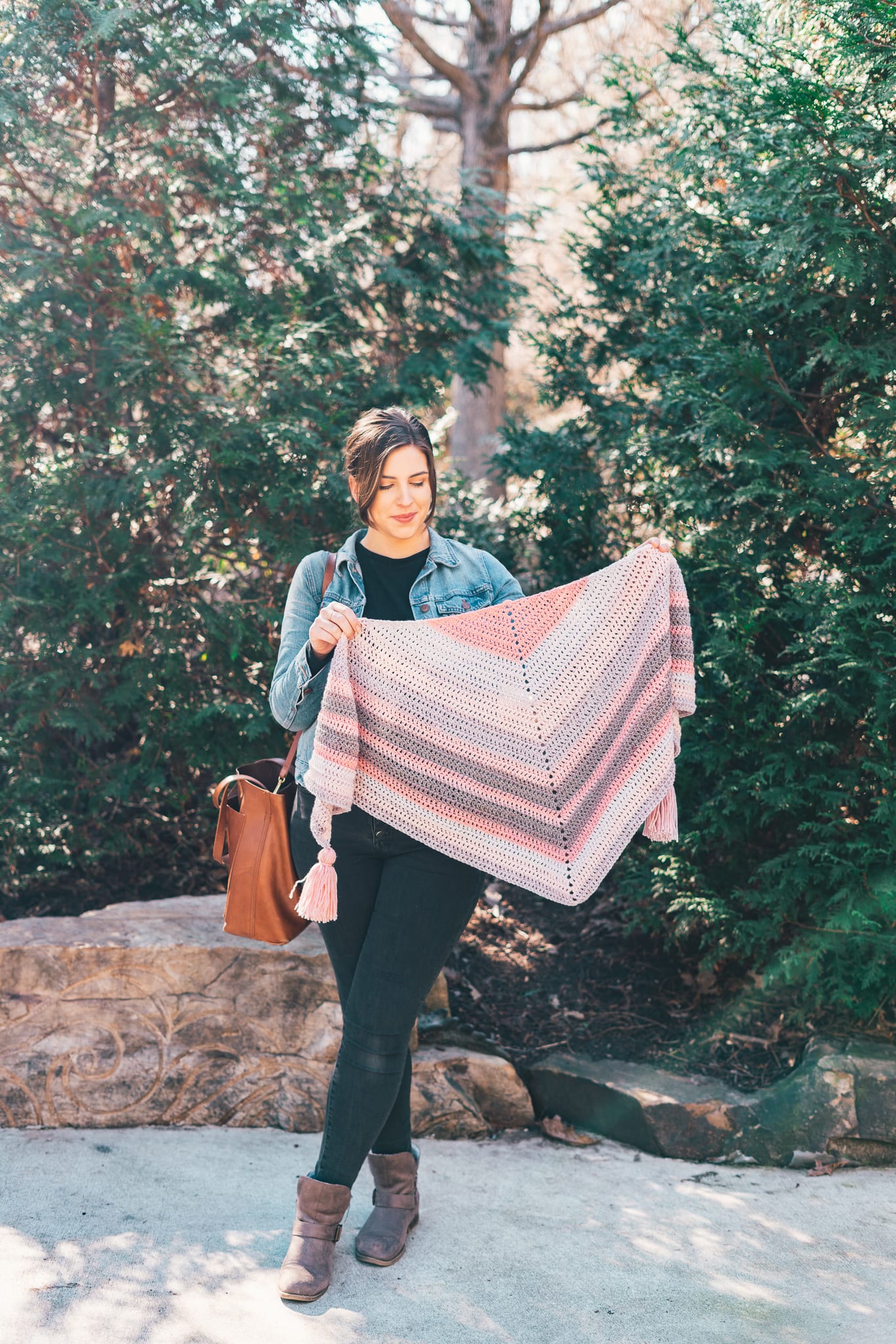 Easy is an understatement!
This crochet triangle shawl/scarf/wrap does NOT get any easier. It's a series of double crochet stitches with a few chain stitches to create that pointed triangle shape, and that's it!
I love the simplicity of this design. Once I got past row 2 I had the pattern memorized – I turned on a good movie and zoomed through the project. It's totally Netflix-able and easy to pick up and put down without having to refer back to the pattern.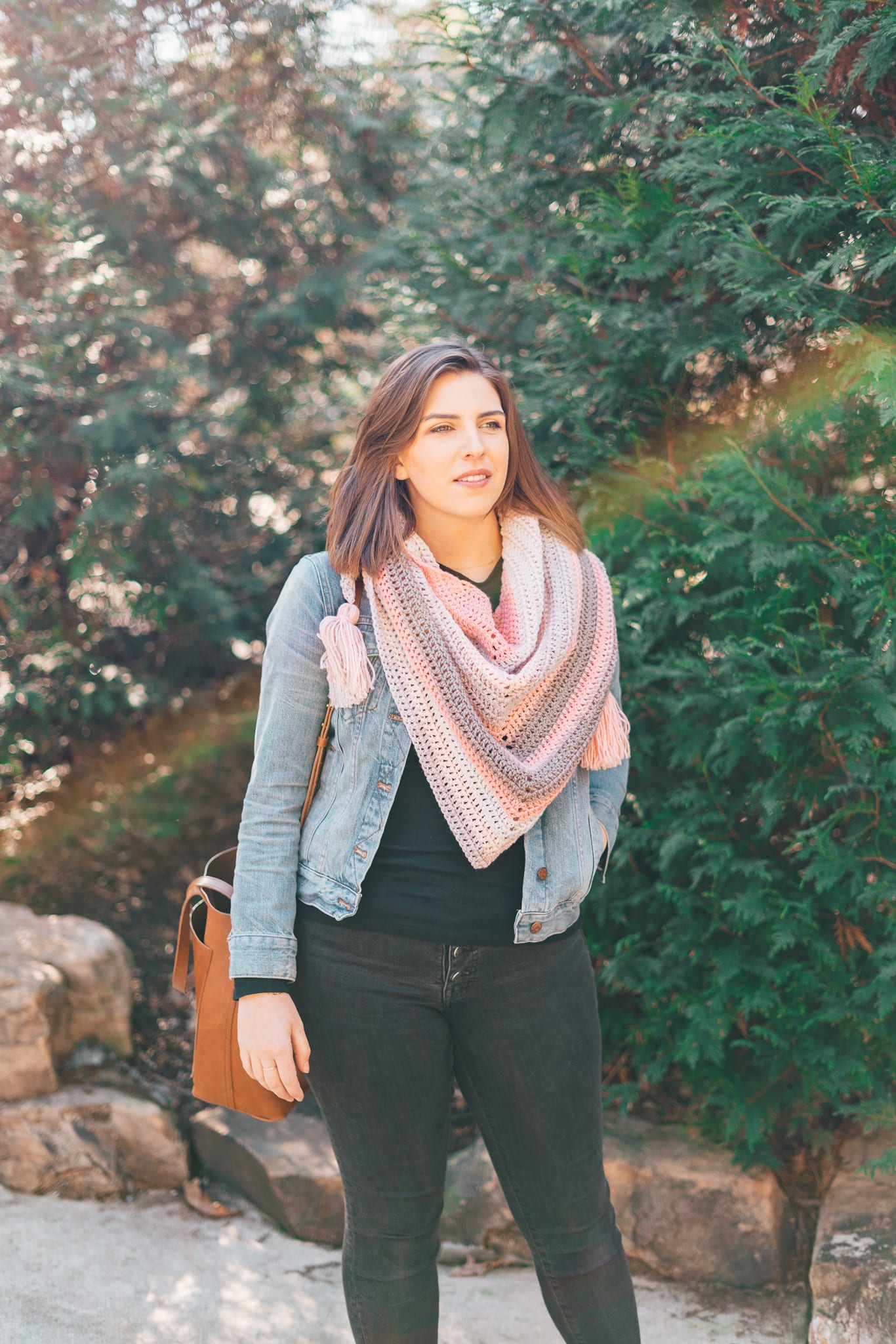 The Inspiration + Design
I loved creating my ever popular Wishing Well Wrap crochet triangle shawl back in 2017 using Lion Brand Mandala Baby yarn. It's been a crowd favorite ever since so I knew I needed to bring back a sister design.
That first crochet triangle shawl was a tad more intricate with alternating double crochets and rows of eyelet stitches. While beautiful, I wanted to create a simpler, more beginner friendly version.
I've created other crochet triangle shawl projects over the years like the Le Nuage Wrap and the Elle Convertible Shawl but this one might be my favorite!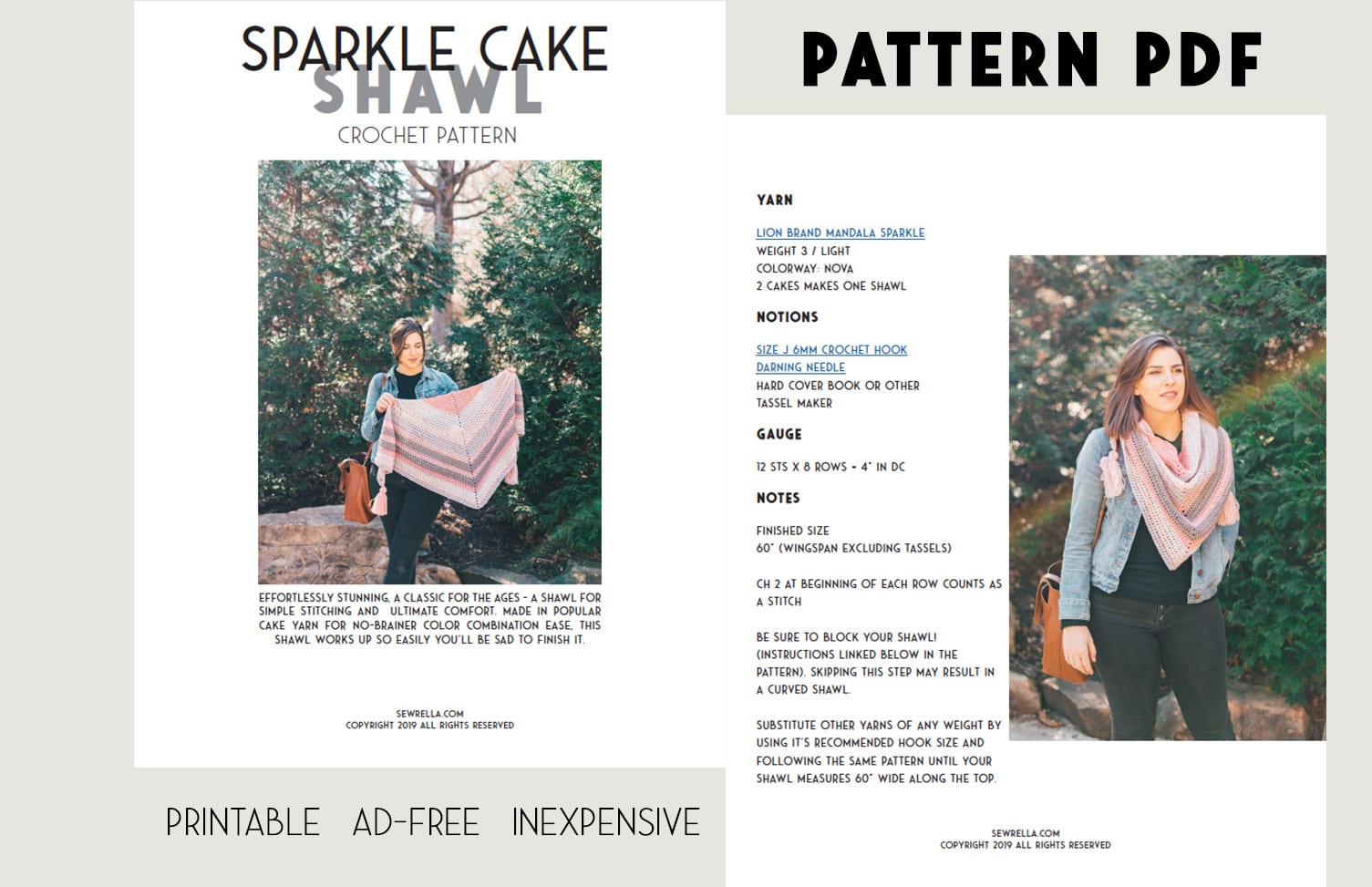 A beginner friendly shape
A crochet triangle shawl seems intricate but it's really not. This project is great for a beginner that's worked simple scarves that are plain rectangles.
A triangle is just a step beyond that shape as it requires basic increases, but don't let that scare you! The pattern itself is two lines of instruction and I even have a video tutorial to help you.
You got this!

The Yarn
I chose to return to the wide world of self-striping cake yarns for this pattern. These yarns have taken the craft world by storm over the last several years and can be found in stores and online nearly everywhere yarn is sold.
The great thing about these yarns is that they take all the color mixing guesswork out of making a multi-colored project. The cake yarns usually hold several shades of colors that are supposed to go together.
I think some colorways do a better job of this than others and my all-time favorite is the Mandala Sparkle in Nova that I used for this crochet triangle shawl. I love blush (seriously, I think my car would be blush if Subaru would answer my incessant requests for it) and this blend of blush, peach, light and smoky greys with lavender is just perfect.
Mandala Sparkle got that name from the thin strand of shimmering metallic thread running through the cake. It blends harmoniously with the yarn and you don't notice it until the light hits your project just the right way. It's subtle and gorgeous!
Other favorite cake yarn lines are the original Mandala, Mandala Baby, and the new Mandala Ombre all available from Lion Brand Yarn.






PATTERN
Get the ad-free, large print, printable PDF pattern HERE.
Grab the Ultimate Pattern Bundle that includes 150+ patterns just like this one on sale for $20 today

HERE.

PIN this pattern to your Pinterest boards for later HERE.
Description
Effortlessly stunning, A classic for the ages – a shawl for simple stitching and  ultimate comfort. Made in popular cake yarn for no-brainer color combination ease, this shawl works up so easily you'll be sad to finish it.
Yarn
–Lion Brand Mandala Sparkle
(weight 3 / Light, 3.5oz/100g, 328yds/300m)
Colorway: NOVA
2 cakes or 656yds/600m
Notions
-Hard cover book or other tassel maker
Gauge
12 sts x 8 rows = 4" in DC
Notes
–Finished Size:
60" (wingspan excluding tassels)
-Ch 2 at beginning of each row counts as a stitch.
-Be sure to block your shawl! Skipping this step may result in a curved shawl.
-Substitute other yarns of any weight by using it's recommended hook size and following the same pattern until your crochet triangle shawl measures 60" wide along the top.

SPARKLE CAKE CROCHET TRIANGLE SHAWL
Ch 4, sl st to first st to form a ring.
Row 1 : Ch 2, (working into center of ring) 2 dc, ch 2, 3 dc, turn <6>
Row 2 : Ch 2, 2 dc, dc to ch space, (dc, ch 2, dc) into ch space, dc to last st, 3 dc <12>
Repeat row 2 until you've finished 40 rows.
*note: each row increases by 6 dc sts total
Finish off & weave ends.
Blocking
*Choose from the following blocking options.
Wet block your shawl.
(recommended for animal fiber yarns – wool, alpaca)
Steam block your shawl.
(recommended for synthetic fiber yarns – acrylic, polyester)
Tassels
Make 2 tassels using a small hard cover book, tassel maker, or small piece of cardboard.
Using top tie, affix tassels to either end of your shawl after it's completely dry post-blocking. Tie a knot to secure and weave both ends through the tassel head and the shawl repeatedly before weaving end finally along the shawl's stitches.
Abbreviations (US terms):
ch – chain
dc – double crochet
sl st – slip stitch
st(s) – stitch(es)
<> – stitch count