My best selling crochet wrap pattern ever – the Wishing Well Wrap!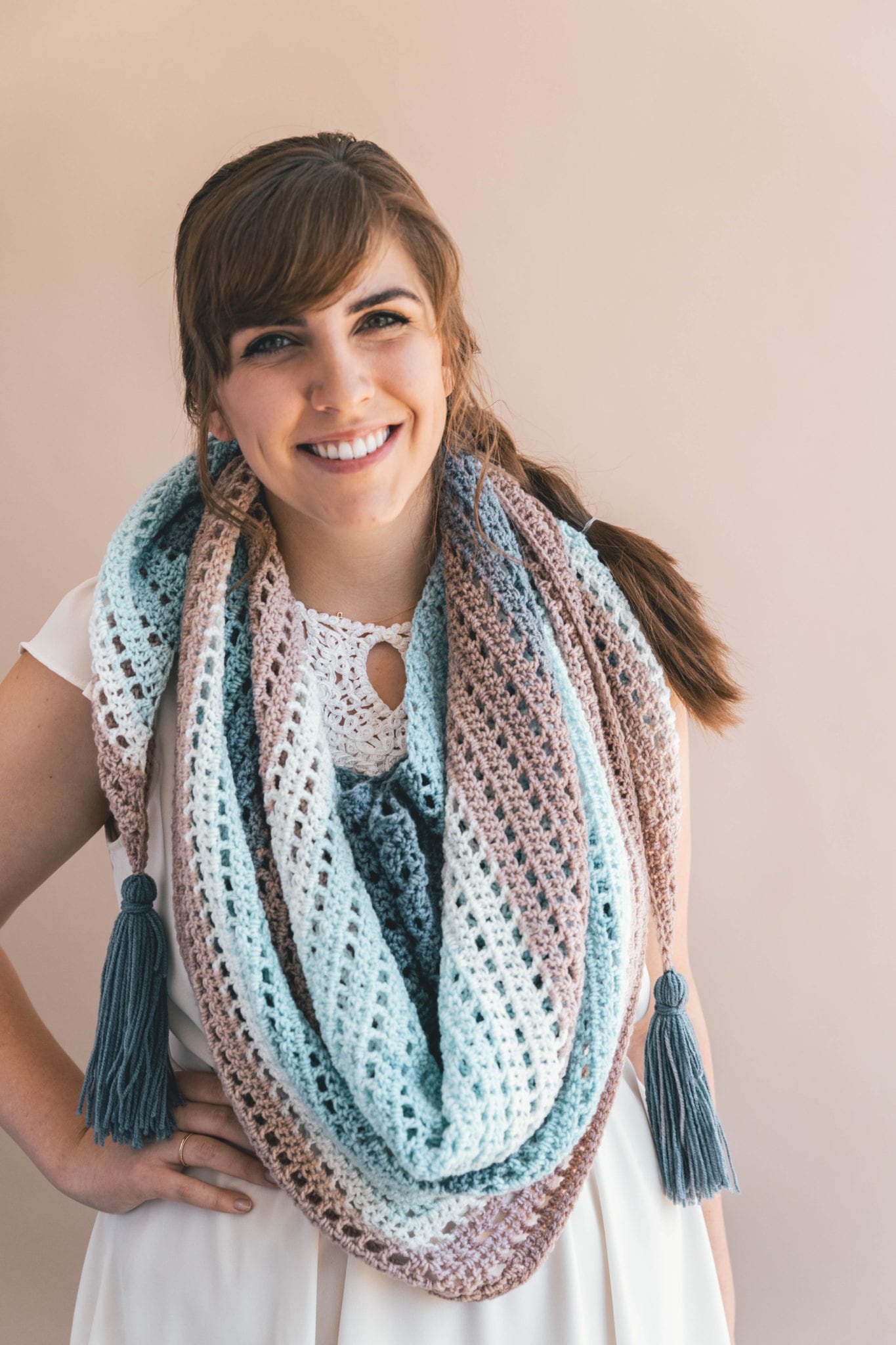 This crochet wrap has everything!
It's got color, it's got neutrals, it's got easy-peasy stitches, it's a free pattern. It's the Wishing Well Wrap crochet wrap pattern!
This versatile crochet wrap accessory is one of those projects that takes a little getting used to at first. Then after about the 5th row you're zooming along watching the latest season of New Girl and your hands are on autopilot. Isn't that the BEST kind of pattern?
I love this crochet wrap because it's SO customizable. Make it smaller, make it bigger, watch the color changes, let it go, make it solid. Add tassels, no tassels, multi-colored tassels, fringe, anything goes.
Basically the world (and this wrap) are your oyster. So go for it!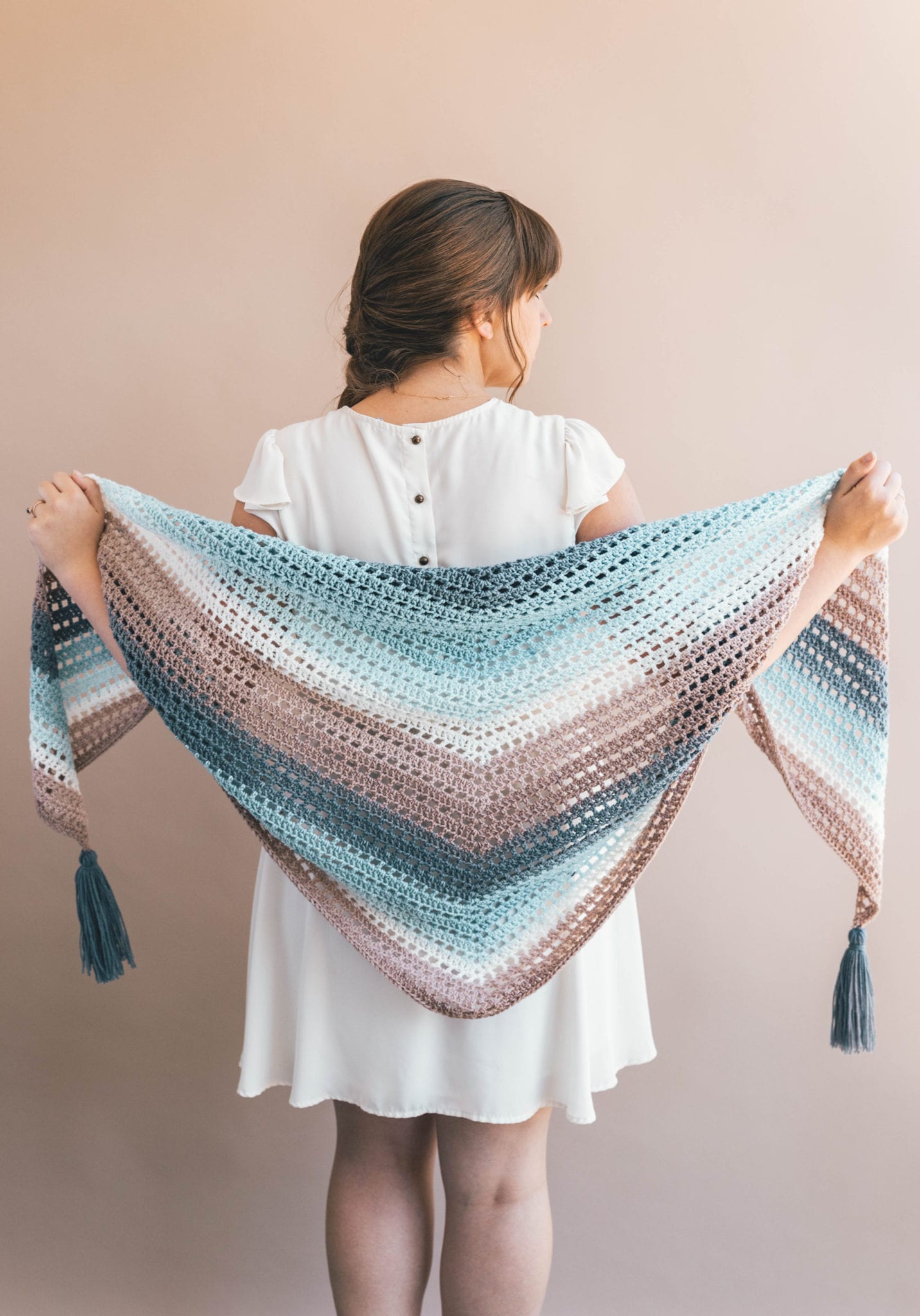 Beginner friendly and netflix-able.
Both beginner crocheters and experienced makers, rejoice! This crochet wrap is simple. Once you get the hang of the repeats (it should start to make sense fairly quickly as we basically repeat the same two rows dozens of times) you'll be ready to put on a movie and relax into a mindless project.
The result will not look quick or easy, even though it was both! It looks lacy and intricate and the color changing yarn just adds to the effortless simplicity of this project. The initial impression is that this wrap took an expert level crafter. It's really just a series of double crochets and chain stitches to create little eyelets. You'll be amazed at how simply this crochet wrap comes together!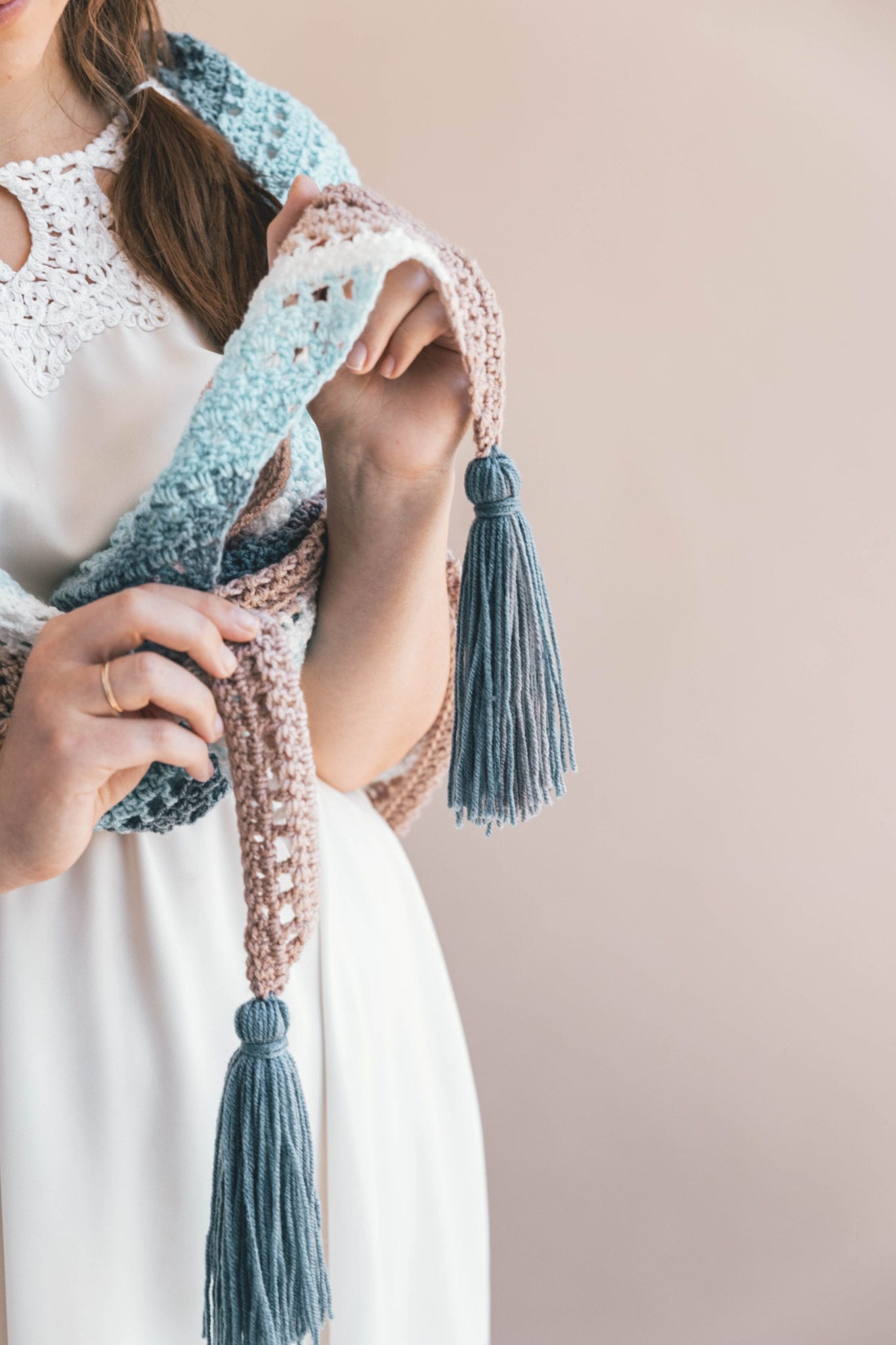 However, let me tell ya a bit about this awesome yarn and other cake options first –
I like eating, I mean crocheting, CAKE!
I chose to use Lion Brand Yarn's Mandala Baby yarn for this crochet wrap! I first saw this colorway in New York City during the Lion Brand Yarn Blogger's Bash and as soon as I saw it, I turned it over to see the colorway name. Anybody else do that? The name of the color pretty much decides if I'll use it or not, ha! It was called Wishing Well! As if I couldn't love it any more.
All of the new Mandala Baby line are available only at Walmart Stores and LionBrand.com & they were created with little ones in mind. Soft colors and neutrals perfect for tiny babes with the cutest colorway names you guys! Some include Neverland, Echo Caves, Pixie Hollow, and Unicorn Cloud – how cute is that?! Browse them all here.

This wrap would be stunning in any of the Mandala Baby yarns or even the original Mandala line of yarns. Those have some deeper hues and equally fun colorway names – like Wizard, Harpy, Pegasus, and Brownie. Check those out here (so many more options online than in stores!)

Lion Brand even come out with a third extension of the self striping yarn cake extravaganza called Cupcake. Theses are the brightest of the family and they really pack a punch! There are tons of Cupcake colorways and they might have the cutest names of all – Apple Picking, Sand Castle, Jelly Bean, and my favorite Coffee Break – are you kidding me?! Can it get any cuter?! See those cuties here.


Why Cake?
Before picking up this Mandala Baby project, I'd never used a cake yarn before. And when I say "cake yarn" I mean one of the many variations of self striping yarns that have been flying off the shelves of craft stores in the last few years. They have big chunks of color that suddenly change to the next color and usually have several different hues in one cake.
I love this concept because it takes a lot of the guesswork out of picking out colors that work nicely together. The yarn companies do it for us! (Thanks, LB). So even though the Wishing Well Wrap has stunning tones of blue and tan with just the right amount of white thrown in. I am not completely responsible for creating that magic, a lot of it was done for me by the yarn!
Cutting the Cake
I will tell ya that I cut and spliced the yarn a tiny bit to make the stripes in my wrap lay how I wanted. I only did this in 3 places. I saw a color change coming up and decided it was too abrupt to change in the middle of a row of stitches. So I opted to go ahead and snip that yarn before beginning my next row, set aside the few yards of that last color to get to the next color, join the yarn with my new color, and keep on stitching.
Most of the color transitions worked out just fine for me and my wrap, the color changed either right when I started a new row or right around that area,. And since I wasn't too worried about the stripes being absolutely perfect, I rolled with it. I'm pretty happy with the result!
And for those of you thinking "Sewrella! You wasted all that yarn cutting and splicing!" Fear not friends, each time I skipped a few yards of yarn I set it aside and made tassels for another project (more on that to come) from the leftover bits! Which was really just my frugal attempt to use anything I could from those cuttings set aside. Clever, no?

Clover ate all the Cake!
(Get it? My hook is a Clover brand hook and I used all the yarn cake? Heh heh. Don't worry, I won't go into stand up comedy anytime soon)
I wound up with only a tiny bit of my 2 cakes leftover after making this wrap. So although you can continue on with the pattern repeat to make the wrap as large as you want, beware that you'll definitely need a 3rd cake if you plan to make this wrap more than a couple of rows larger than mine!
On that same note, you may only need one cake if you make this crochet wrap for a child. To do that just follow the same pattern below for adults, and stop repeating the rows when you've got a wrap just larger than the child's wingspan! Done and done.
There is even a
kit
available from Lion Brand with all the yarn you need and a printed copy of the crochet wrap pattern, shipped right to you!
Grab that by clicking this link. (Shopping through my link earns me a little commission on every purchase, thank you for supporting the Sewrella blog and all of its free content!)





WISHING WELL WRAP CROCHET WRAP PATTERN
To sum it up:
The Wishing Well Wrap is the softly striped, simply made, triangle scarf + wrap that summer nights were made for. It's perfect company around the campfire with a s'more in hand or layered over easy basics for a warm day of shopping. Designed with the beginner in mind, this pattern consists of easy double crochets and skipped stitches to create beautiful drape and a mindless bingewatch-friendly pattern. 
Materials:
–Lion Brand Yarn Mandala Baby in Wishing Well – 2 cakes
Click HERE to grab the kit from Lion Brand with everything you need!
(Click HERE to shop all my favorite tools & materials!)
Gauge:
14 sts x 9 rows in Double Crochet = 4″
Dimensions:
75″ x 33″
Abbreviations:
ch – chain
dc – double crochet
sl st – slip stitch
sk – skip
st(s) – stitch(es)
rep – repeat
t – turn
Difficulty Level:
Level 2 – Easy
Pattern Notes:
UPDATED 4/30 — After many questions from you guys, I reworked this pattern and added a chart to make it easy as pie. Enjoy!
-For reference, model is 5'5" tall with a 39″ bust.
-Ch 2 sts DO count as a st throughout the pattern.
-Pattern is worked beginning in the center of the wrap and worked in turned rows to expand the size. Close attention paid to increases at the beginning and end of each row are imperative.
-Each long side of the triangle (and each row) should always have the same number of stitches.
-Whether pulling from the center or outside of the cake, be sure you pull from the same place when you join a new cake to your project.
-I pull from the center and used up a good chunk of that dark blue yarn for my accent tassels. If you want tassels a different color than what you'll end your wrap with, make tassels before beginning wrap.
-I cut the yarn to skip to the next color whenever I was beginning a new row and didn't have enough of that color left to finish the next row. Cut yarn, set aside the rest of that color for tassels, and join new yarn where color abruptly changes in your cake before beginning another row. This will create more even striping without color changes in the middle of your rows. To conserve yarn or get a more randomly striped look, don't splice yarn – just crochet as normal.
-To alter sizing, simply omit or add on repeats of the 2 Row stitch pattern to desired size. In general, this wrap is best sized as a few inches longer than your wingspan (middle fingers tip to tip when held out straight from your sides). 1 cake may be sufficient for toddlers and small kids, 2 cakes are enough for teens and most adults, plus sizes or any larger than my sample (70″ wide) may need a 3rd cake.
Wishing Well Wrap Crochet Wrap
Ch 4, sl st to 1st Ch (next to slip knot) to form a ring
Row 1: Working into center of the ring made from your Ch 4, Ch 2, 2 Dc, Ch 2, 3 Dc into ring (6)
Row 2: Ch 2, t, 2 Dc in 1st st, Dc, Dc, (Dc, Ch 2, Dc) into Ch 2 space, Dc, Dc, 3 Dc in last st (12)
Row 3: Ch 2, t, 2 Dc in 1st st, Ch 1, sk 1, Dc, Ch 1, sk 1, Dc, Ch 1, sk 1, (Dc, Ch 2, Dc) into Ch 2 space, Ch 1, sk 1, Dc, Ch 1, sk 1, Dc, Ch 1, Sk 1, 3 Dc in last st (18)
Row 4: Ch 2, t, 2 Dc in 1st st, Dc in each st to Ch 2 space (including Ch 1 sts), (Dc, Ch 2, Dc) into Ch 2 space, Dc in each st to last, 3 Dc in last st (24)
Row 5: Ch 2, t, 2 Dc in 1st st, Ch 1, sk 1, *Dc, Ch 1, sk 1, repeat from * to Ch 2 space (end with a Ch 1, sk 1), (Dc, Ch 2, Dc) into Ch 2 space, Ch 1, skip 1, *Dc, Ch 1, sk 1, repeat from * to last st (end with a Ch 1, sk 1), 3 Dc into last st (30)
Repeat Rows 4-5 until you've finished Row 60
Last Row: Ch 1, t, sl st loosely in each st across (including 1 sl st in Ch 2 space) to end, finish off, weave ends.

Tassels
*make 2

Use a hardcover book to help you here.
Wrap the yarn around the width of your book about 50 times (not too tight!)

Slide yarn loop off of book without dismantling your loop shape.

Cut your yarn loop through all the strands of yarn as pictured.
You should have about 50 pieces of yarn all the same length now.

Cut 2 pieces of yarn about 12″ long each.
Tie one piece of yarn around center of your yarn strands to secure.

Gather up into more of a tassel shape. Your first yarn tie should be at the top and all loose strands going in the opposite direction.
Lay your other cut piece of yarn under your tassel widthwise about 1″ below your first tie.
Straighten all loose strands and tie tightly to secure, You should have a much more recognizable tassel shape.


Wrap tails of second tie around the cinched spot until you run out of tail and use your hook to slip the remaining tail under the loop. Trim ends.



I like to straighten my tassels by steaming them! This is optional but will give your tassel a more polished look.
Attach 1 tassel to each end of your wrap and weave ends.