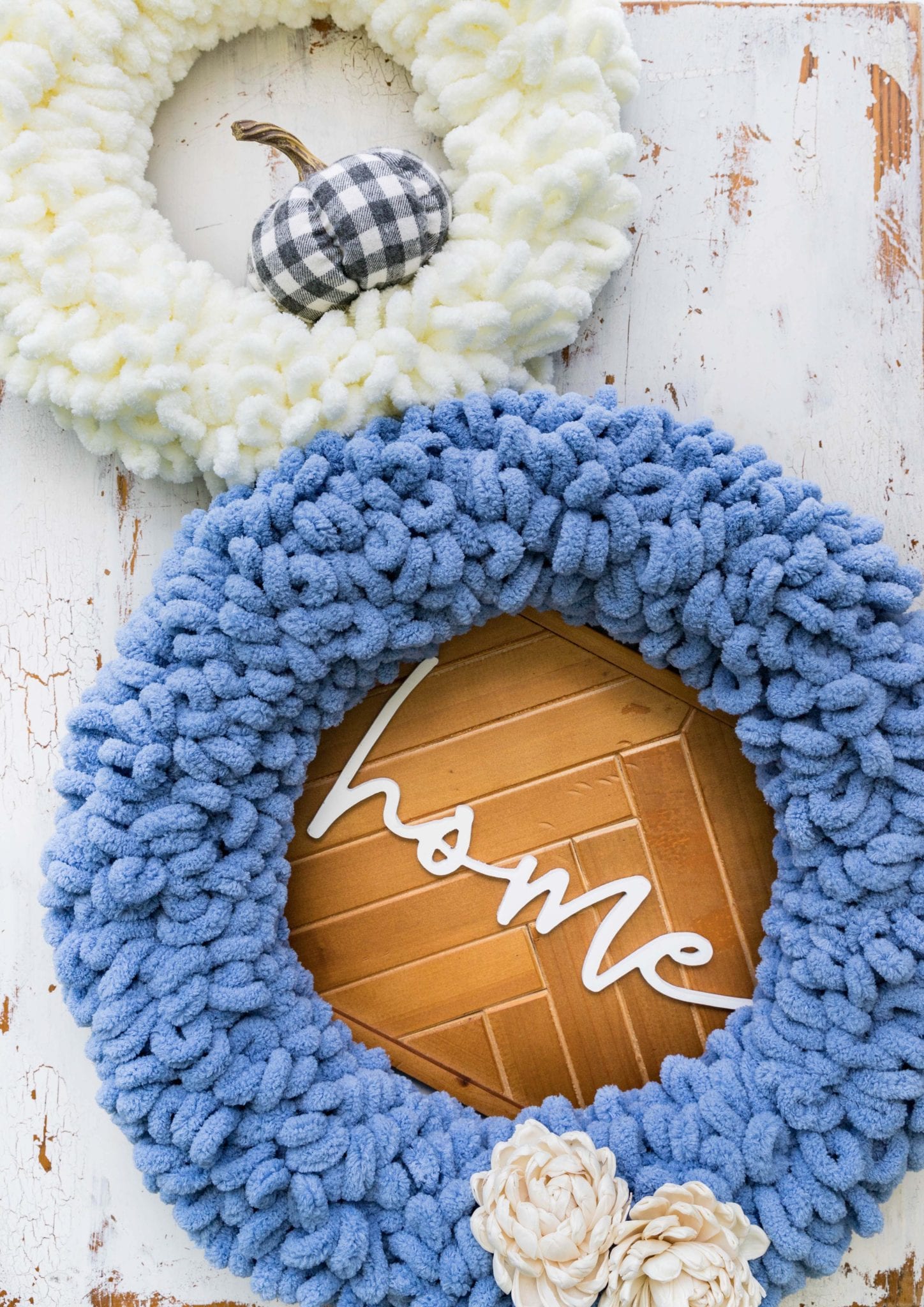 I'm so excited to share with you my favorite yarn DIY to date, this pretty Yarn Loop Wreath with Bernat Blanket EZ yarn from JOANN!
There's a new yarn on the block and I have a feeling you'll be seeing lots of DIYs and patterns using it over the coming season – its a new needle-less knitting yarn that's so versatile. I'll tell you more about it below!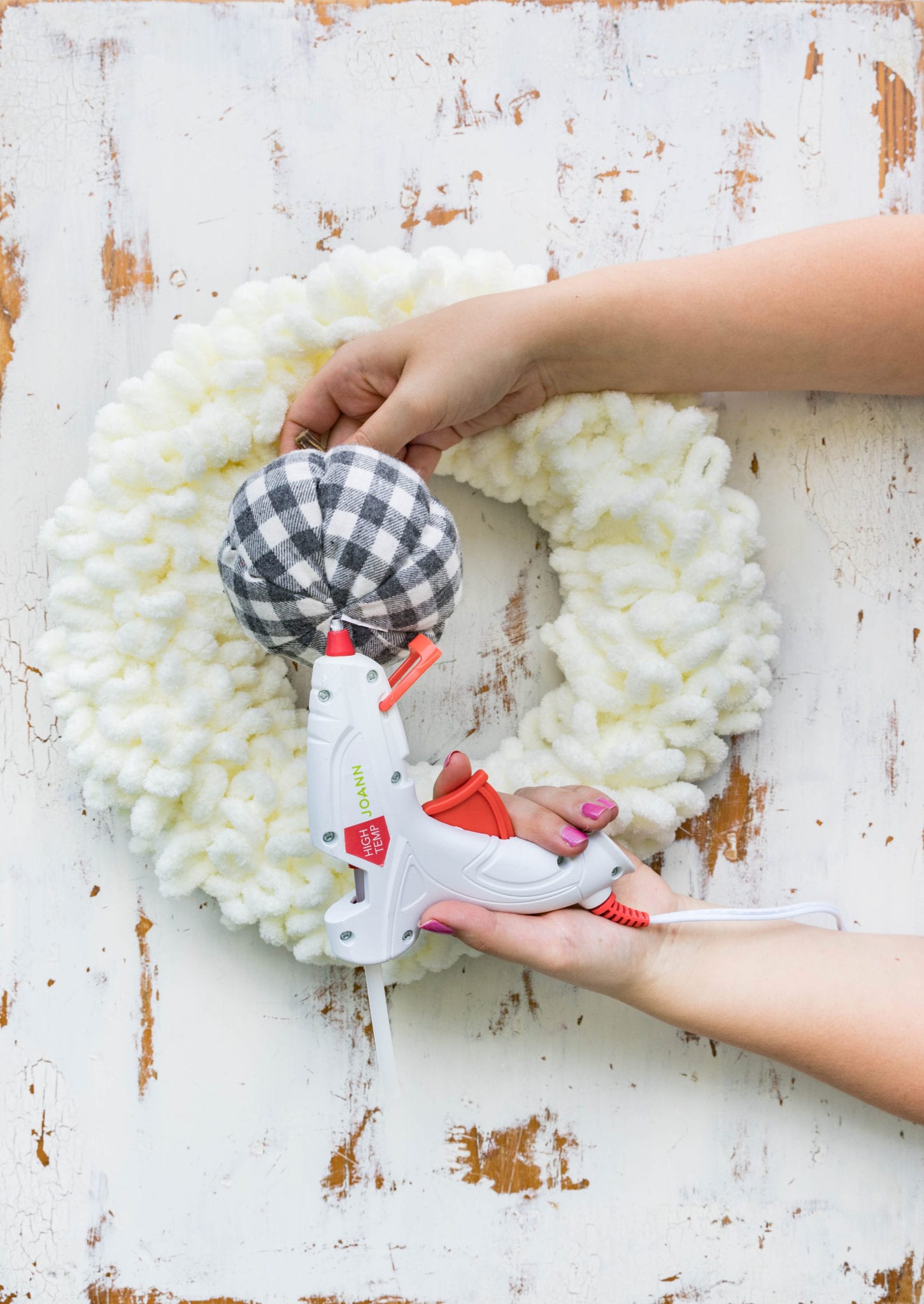 The DIY
Let's talk home decor. I haven't crocheted much for my home this year but when autumn is approaching, I want to cover the house in yarn! That's why when I saw this new loop style yarn I knew I had to make something for the home.
Instead of knitting with this needle-less yarn as intended (which is SO much fun, let me tell ya!) I wanted to use the texture of the yarn itself to create a no-skills DIY. If you're crafty enough to wield a hot glue gun and avoid burning yourself, you can make this wreath.
I always think of my sister when I DIY this way. She loves to craft but doesn't have the time or energy to devote years perfecting a skill like crochet or knitting. She needs her makes to be done in a flash and look great, so this is the perfect project for her!
I love projects like this one. It's inexpensive, looks great forever, and is a fun mindless project that takes about half an hour start to finish. What could be better than that?!
JOANN COLLAB PROJECTS I LOVE (& you should too)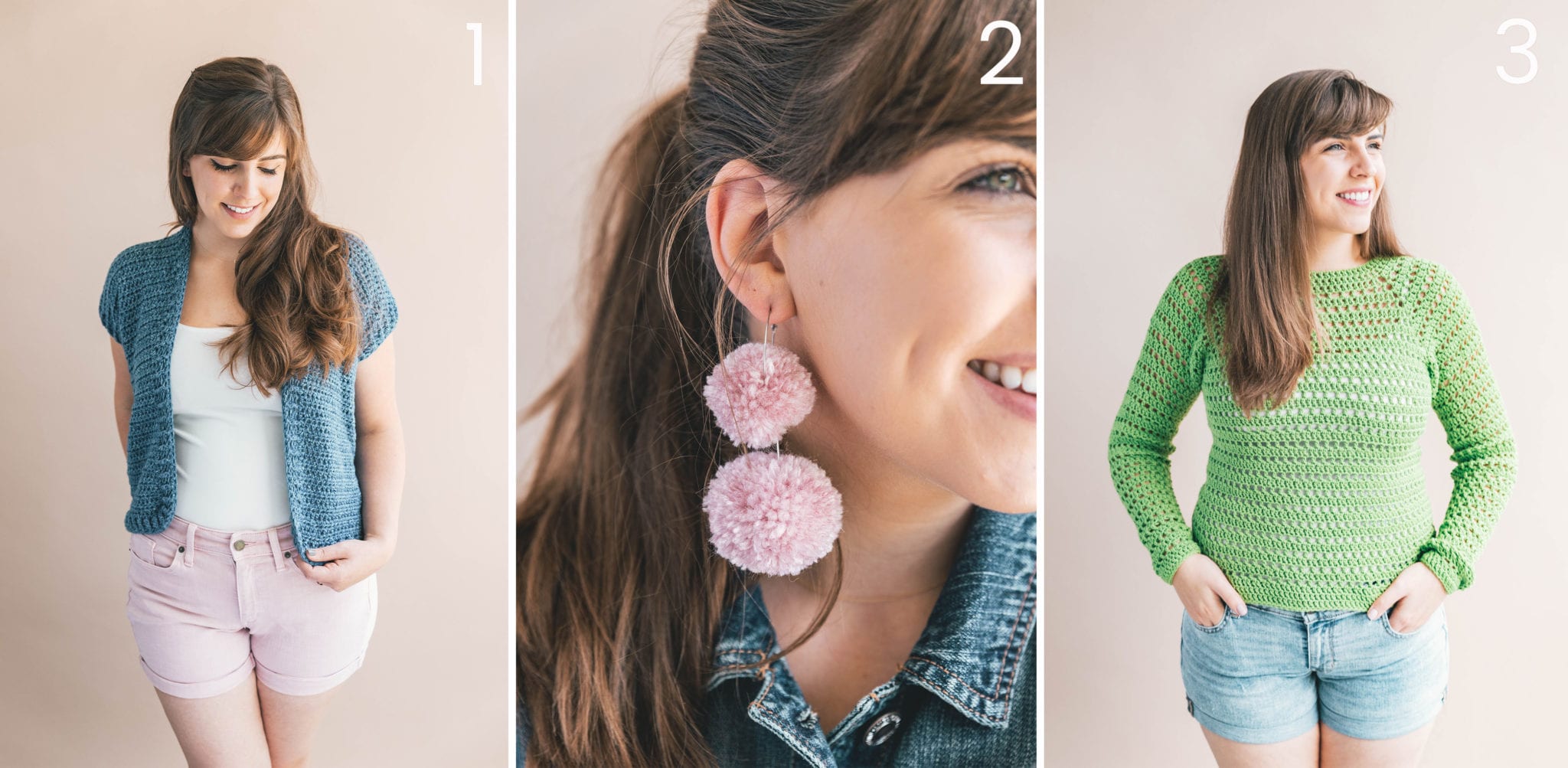 1. Crochet Lil Denim Cardi / 2. DIY Pom Pom Earrings / 3. Crochet Pucker Pullover Sweater

The Yarn
Bernat Blanket EZ yarn is a totally new innovation – it's a yarn that comes with pre-made loops that make knitting (or learning to knit) faster and easier than its ever been before! I do know how to knit, and enjoy it, but using this loop style yarn skips the needles and gets right down to business.
I think this yarn would be great for teaching kids or new crafters to knit! It's a wonderful stepping stone between basic crafting and intricate knitting. Folks can learn how the loops and stitches come together to make classic knits and purls without also learning to hold needles, cast on and off at the same time. A lot of first time yarnies get overwhelmed in the beginning and this is a wonderful product to combat that!
Bernat Blanket EZ is also super soft and squishy. It has the same feel as the classic Bernat Blanket Yarn that we all know and love. It's soft, chenille-like, and has great texture – which is why I love this yarn for a simple DIY like our loop wreath here! Using this yarn as intended is also super fun and you can learn more about knitting with this yarn here.
All the texture this wreath needs is built right into the yarn – all you have to do is wrap and glue. So easy! Watch out here on the blog for some more fun tutorials using this yarn and others like it coming to the marketplace soon!



TUTORIAL
I've got loads of photos to help you though this tutorial below, don't forget to PIN this project for later HERE!
Materials:
–Bernat Alize Blanket EZ Yarn (Weight: 7/Jumbo – 6.4oz, 18 yds)
Colors pictured: Country Blue, Cream, and Denim
–12″ styrofoam wreath form (16″ will require 2 skeins of yarn)
–Home Decor Accents from JOANN (try small signs, fabric pumpkins, dried florals, and other small lightweight accents)

Instructions:
Heat up your glue gun and find the end of your skein of Blanket EZ yarn.

Apply a dime sized dab of hot glue to the styrofoam wreath and push yarn end into place.

Wrap yarn around wreath form by bringing the skein through the wreath and around to the outside. Try to keep loops fluffed out and string style base against the wreath form.

Continue wrapping yarn around and around entire wreath form. Keep wraps close together and add a dab of hot glue every 5 wraps. You may also wait to hot glue until the end if you'd like to adjust how close together your wraps are.


Accessorize your loop wreath with home decor accents from JOANN! I grabbed some dried floral elements and a wooden "home" sign from the home decor section at my local JOANN store to accent my country blue colored wreath.
Dab on a blob of hot glue on the back of your dried florals and place on wreath. Plush and hold for about a minute to set.

Hang wooden sign behind your wreath on a wreath hanger and love your DIY decor all year long!

I repeated this same process with cream Blanket-EZ yarn and hot glued on a cute gingham pumpkin, also from the home decor section of JOANN!





Earning a Living with my Handmade Home
If you love crocheting and knitting, you should think about starting a blog! I'll help you get started to turn your hobby into a money-making career with my free "Start a Blog" guide.
Or you can check out my latest income report to see how this blog earned over $10,000 last month!