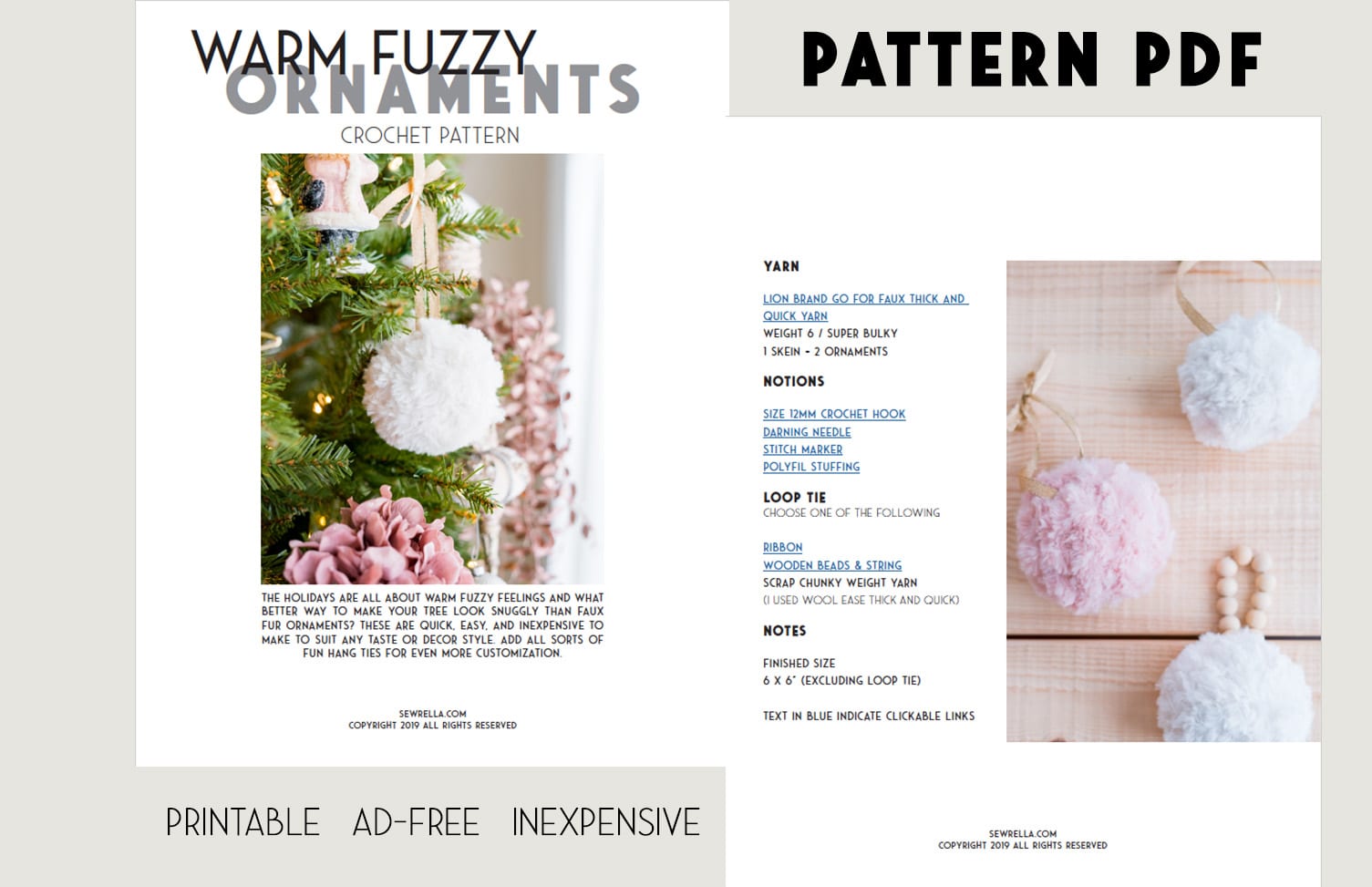 The latest free pattern here on the blog – Crochet Warm Fuzzy Christmas Ornaments!
Read below about the inspiration, the perfect yarn I chose, and this beautiful stitch or scroll on down for the free pattern & video tutorial.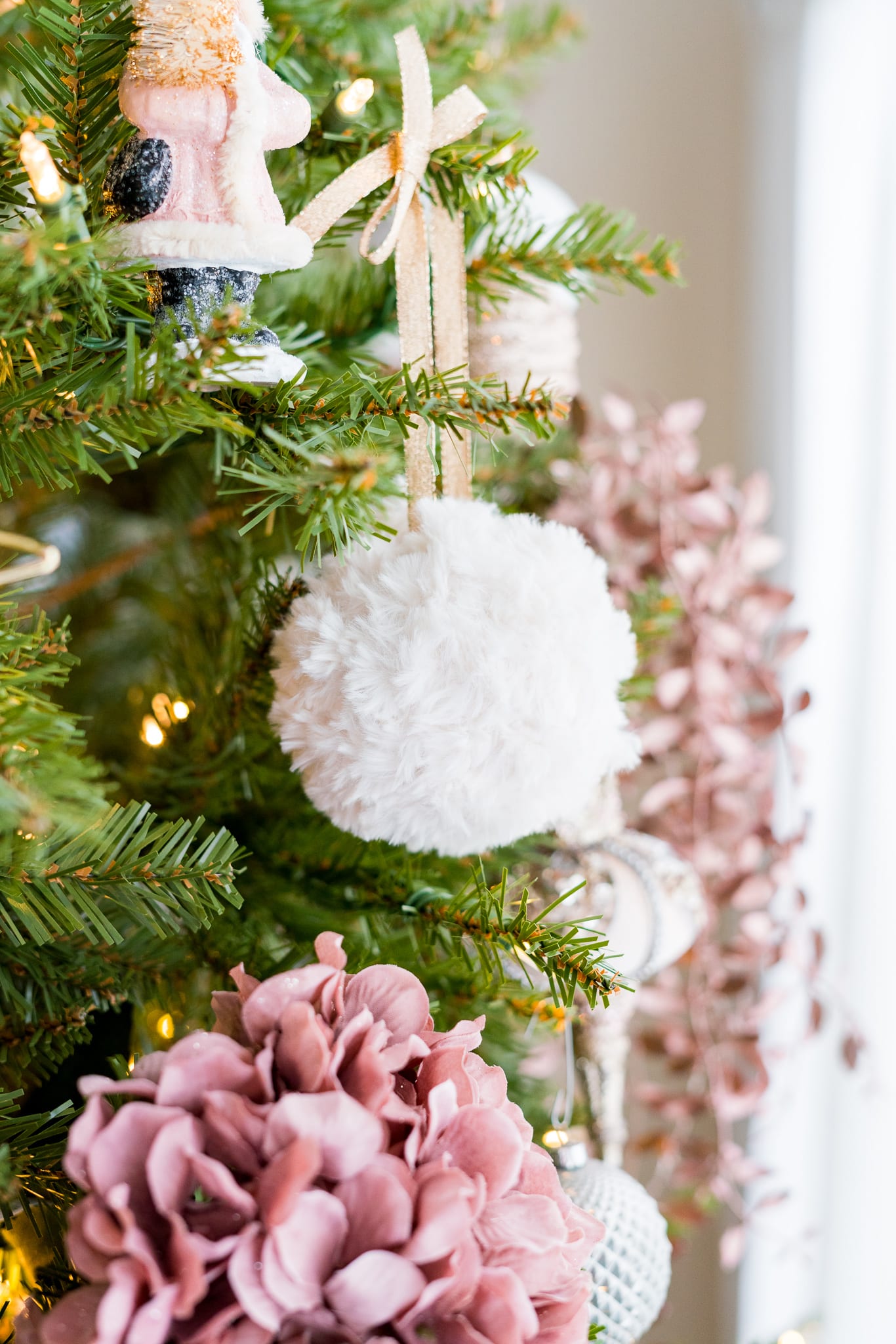 The Inspiration + Design
Since we moved into our new house earlier this year we pitched our old artificial Christmas tree and ordered a new gorgeous one on amazon! The reviews didn't lie and it's huge, stunning, pre-lit, and fills out the room perfectly. (Shop it here if ya like!)
I had some ornaments for our tree from years past but not nearly enough to fill our 9 ft. holiday dazzler, so I knew I'd be refreshing the decor. With all the new trends and non-traditional styles in stores these days I really wanted to do something different with our tree.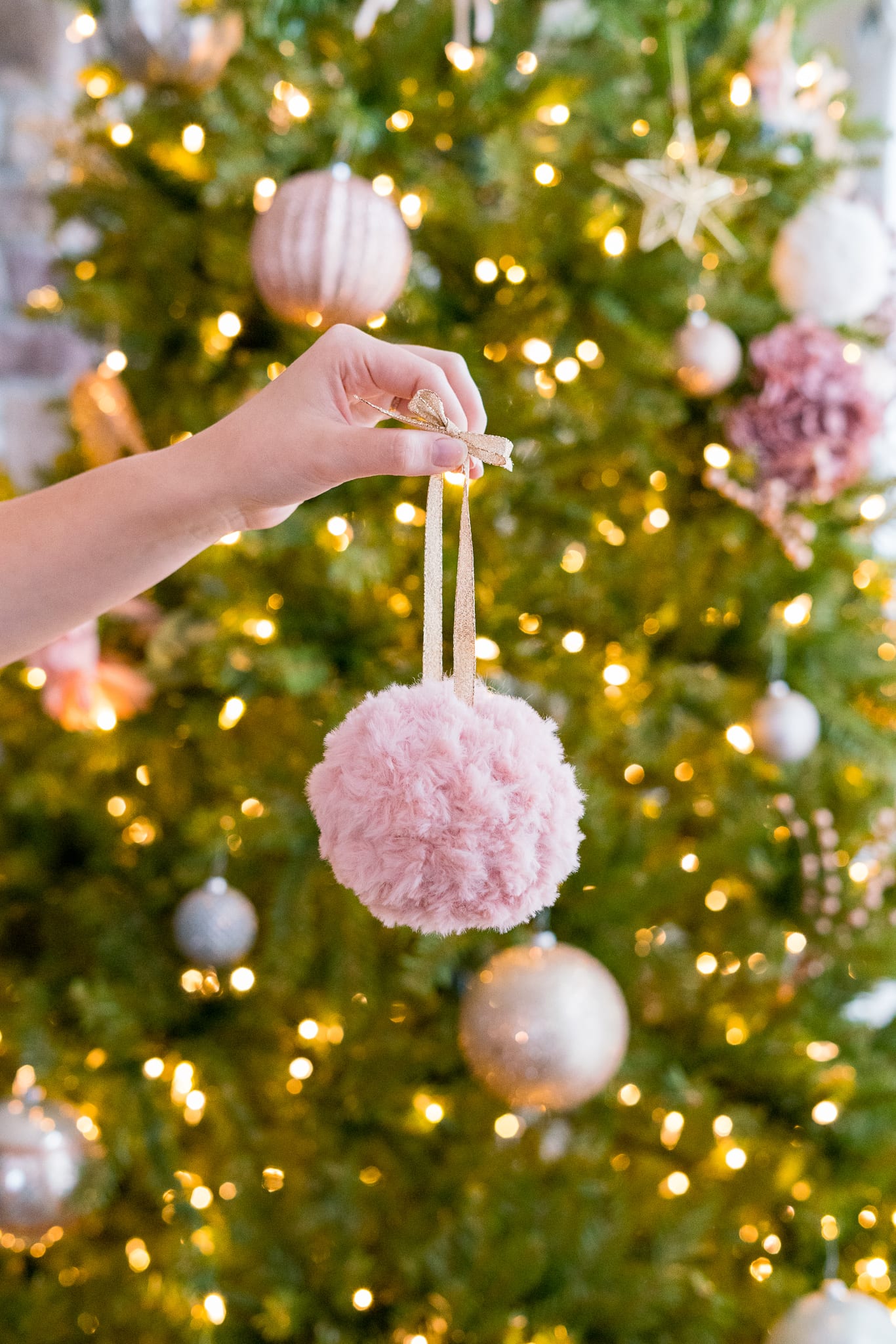 I am going with a blush, mauve, romantic theme and there is lots of sparkle, mixed metals (like silver, gold and copper) with plenty of pink. Frosted florals from the craft store soften and surprise, while glittery greenery picks add life and movement to the look. I'm in love with how it's coming together!
I wanted to design a crochet pattern to fit with this theme and compliment the direction I was taking. It seemed like a no-brainer to crochet a simple ball ornament out of faux fur yarn for a soft, warm-fuzzies kind of look!

The Yarn
Lion Brand's Go For Faux Thick and Quick is the textural star of the show in this pattern. I love this yarn for all sorts of wintery projects because it has such a soft, cuddly nature about it.
For those of you concerned about shedding – I used the colors "Baked Alaska" and "Pink Poodle" and neither color shed on me AT ALL. Some colorways shed a lot and others don't shed at all so just be careful choosing colors! (I've also heard from good sources that "Blonde Elk" "Chinchilla" and "Mink" don't shed either but I haven't worked with these myself to confirm).
One ball of Go For Faux Thick & Quick makes two ornaments and that's a bargain compared to what store-bought fur ornaments go for! These would make great gifts, "snowballs" for kiddos who live in warm climates to play with, or even to top hats in place of a traditional fur pom pom!



PATTERN
DESCRIPTION
The holidays are all about warm & fuzzy feelings, and what better way to make your tree look snuggly than faux fur ornaments? These are quick, easy, and inexpensive to make to suit any taste or decor style. Add all sorts of fun hang ties for even more customization.
YARN
Lion Brand Go For Faux thick and Quick Yarn
Weight 7 / jumbo
1 skein = 2 ornaments
NOTIONS
Darning needle
Stitch marker
Shop all my favorite tools & materials HERE!
LOOP TIE
Choose one of the following:
Ribbon
Wooden beads & string
Scrap chunky weight yarn
(I used Wool-Ease Thick & Quick)
NOTES
Finished size:
6 x 6" (excluding loop tie)
View the video tutorial here or scroll down.
CROCHET SNOWBALL HOLIDAY ORNAMENTS
Make a magic ring
Row 1: 6 sc in ring <6>
Row 2: inc around <12>
Rows 3-4: sc around <12>
Stuff with polyfil stuffing until firm.
Row 5: dec around <6>
Finish off, weave end through stitches from row 5 and tighten.
Pull end from magic ring through the ornament to knot with woven end.
Attach loop tie by knotting tie to knotted ends.
Double knot all strands together and trim to blend with the ornament. Tuck ends.

ABBREVIATIONS

dec – decrease
inc – increase
sc – single crochet
st(s) – stitch(es)
<> – stitch count
OTHER FREE HOME ACCESSORIES PATTERNS YOU MIGHT LOVE