I'm so excited to show you my latest project – the Crochet Storybook Hood + Pocket Scarf!
This project is very beginner friendly with simple afterthought hood + pockets. Read on below about the inspiration and yarn details, or scroll on down for the free pattern.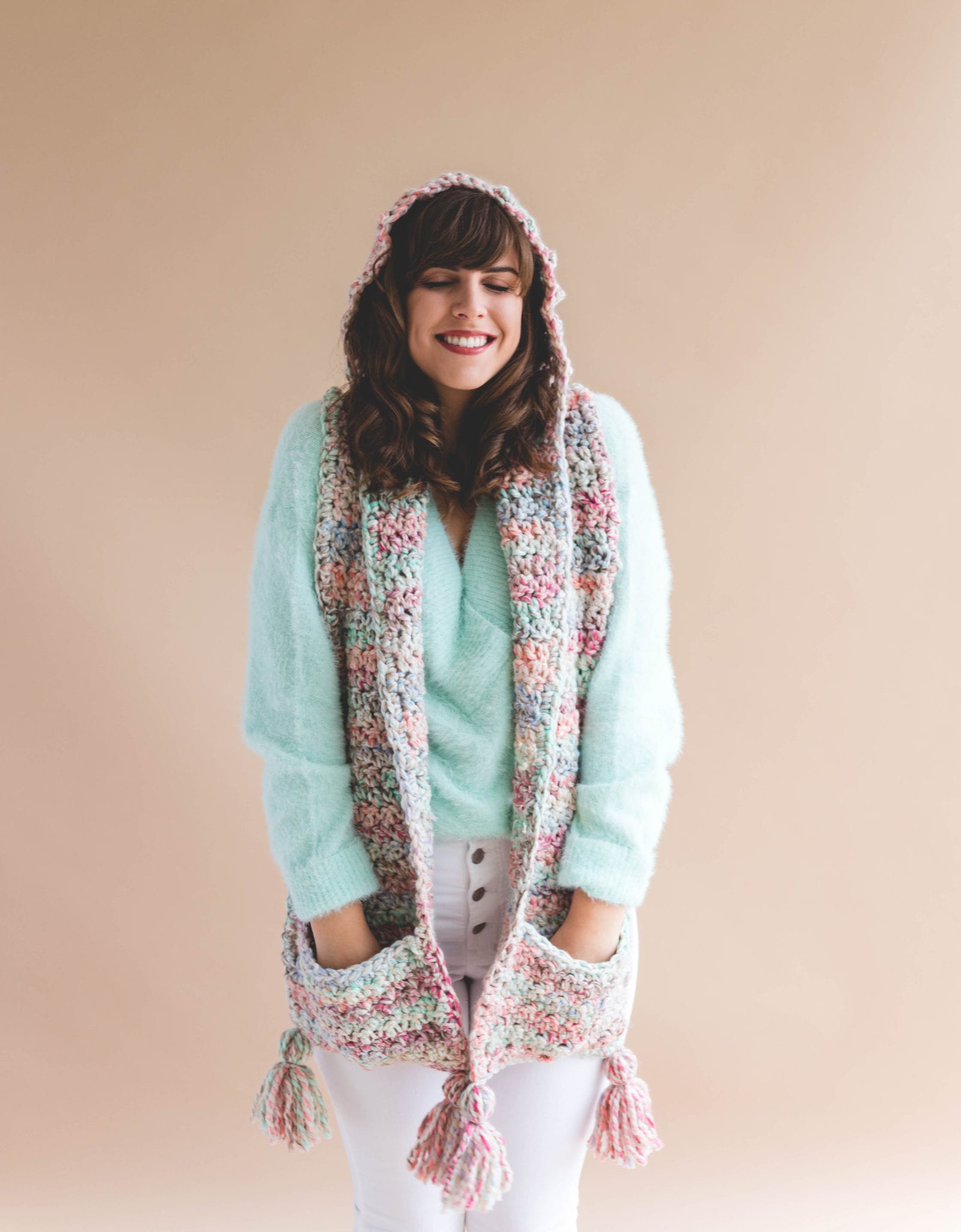 The Inspiration + Design
I've never been one to accessorize much, so when I do I like my pieces to be functional! This toddler mama doesn't have the time or energy for accessorizing beyond utility.
So when I saw the new Carousel color of WET&Q, I knew I wanted to make a quick beginner friendly scarf that functioned on more than just the usual "keep my neck warm" level. This scarf comes with a hood and deep pockets (deep enough to hold a yarn cake or cell phone in each one!) that are stitched on at the end. So you can add one additional element or both depending on your preference.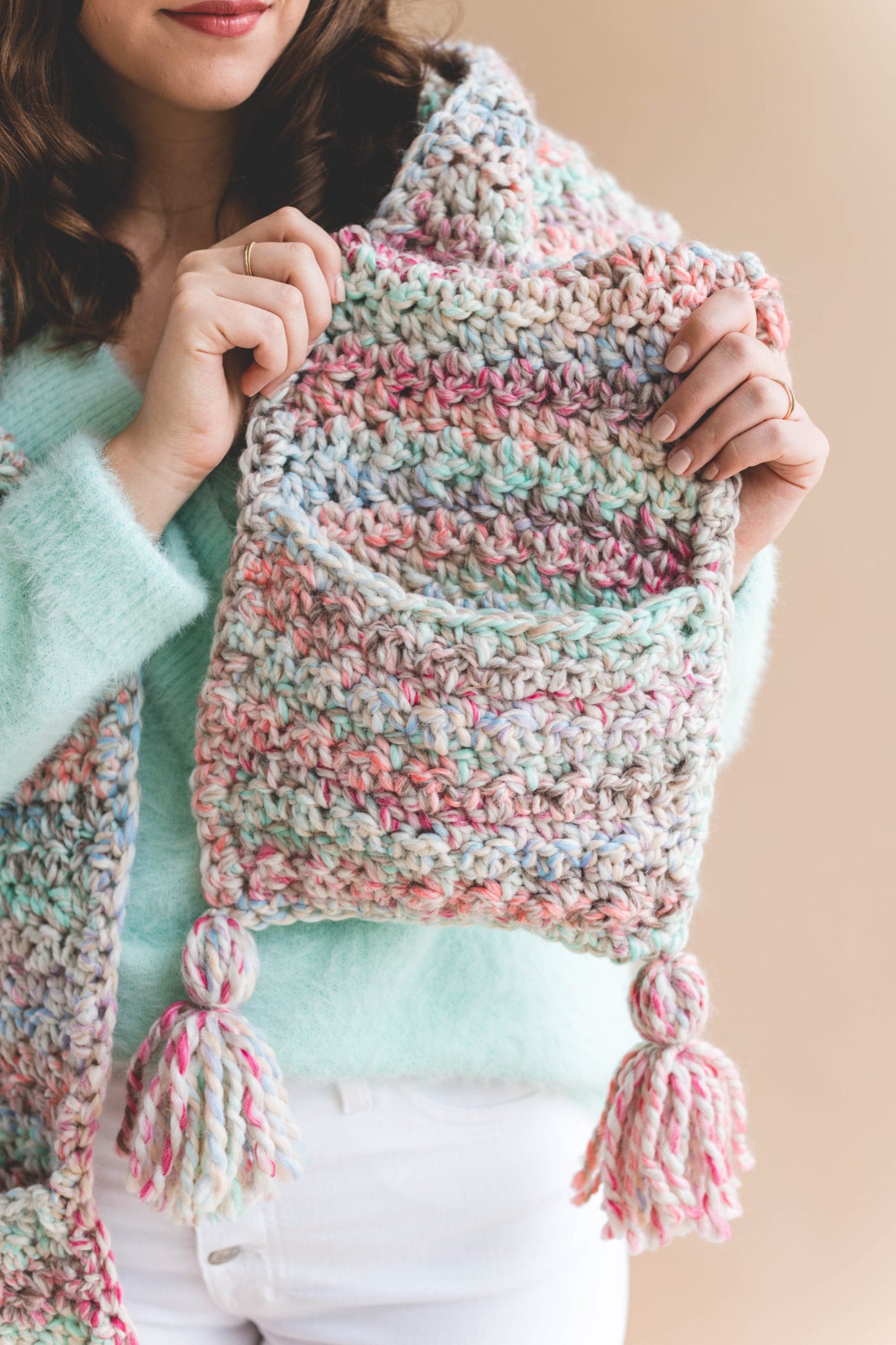 I used the griddle stitch to give the scarf a little extra texture and I'm so happy with the result. It highlights all the colors in the Carousel inspired yarn and makes for a fun piece to add to any outfit.
The Yarn
Lion Brand's old classic Wool Ease Thick & Quick has some new colors! I had to get my hands on this whimsical colorway called Carousel as soon as I saw it! Doesn't it remind you of storybook lands and cotton candy?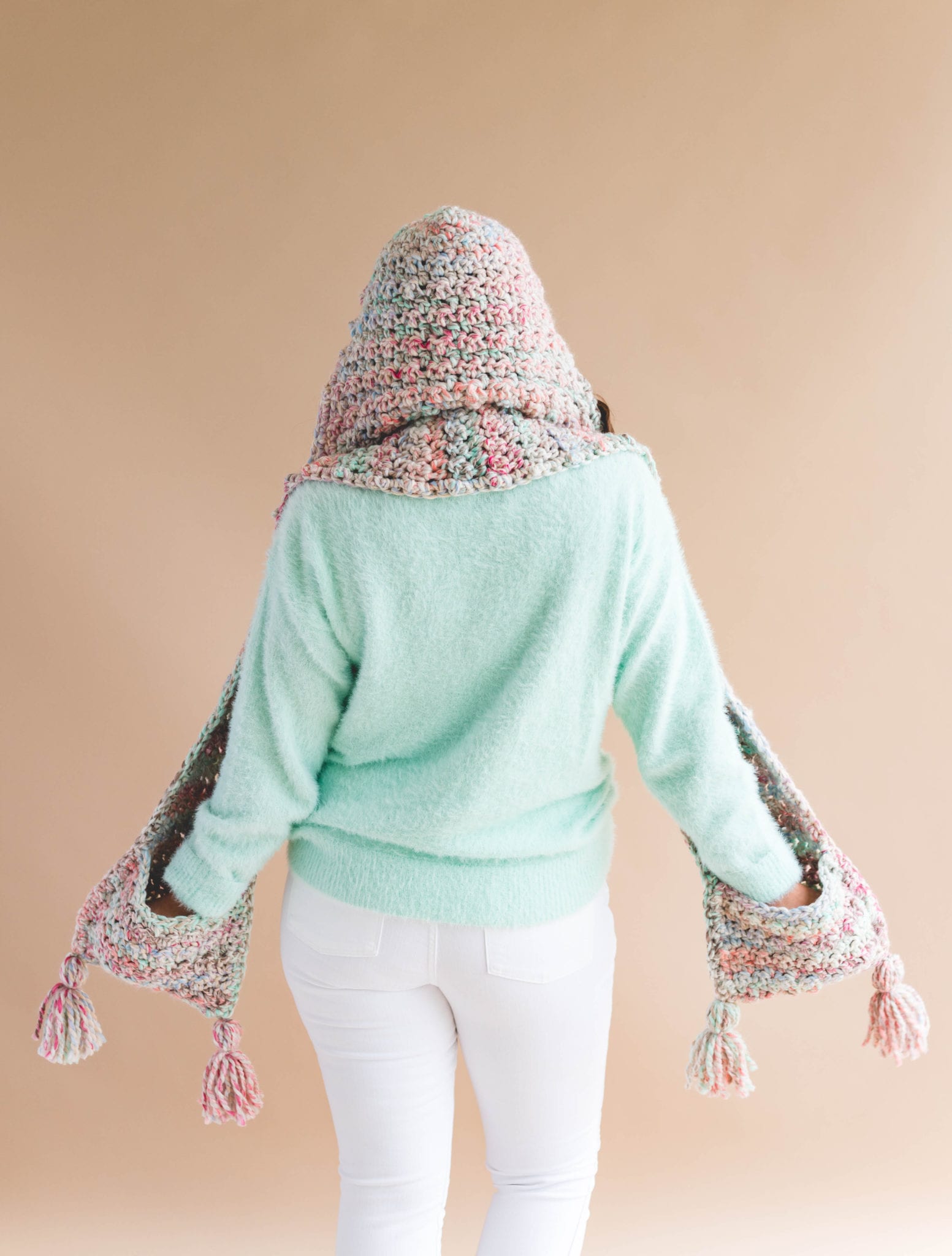 Soft pink, minty green, natural cream, lilac and bubblegum blend together in soft pastel variegation that somehow doesn't come off busy – it's just feminine and pretty.
I haven't seen the Carousel colorway in stores yet so it may be best to order this particular colorway online! There are lots of other gorgeous colorways to browse too – check them all out here.



PATTERN
To sum it up: Crochet the Storybook Scarf with easy stitches and a photo tutorial! The hood and pockets are added on at the end or can be left off, chunky tassels finish off this whimsical accessory that's perfect for layering. Made with Wool Ease Thick & Quick in Carousel, this fun & feminine scarf is sure to bring smiles.
Materials:
–Lion Brand Wool Ease Thick & Quick yarn (CYC Weight: 6/Super Bulky – 6oz/170g, 106 yds)
Color: Carousel – 5 skeins
Shop all my favorite tools & materials here!
Gauge:
6.5 sts x 8 rows in Sc = 4″
Dimensions:
10" x 60" finished without tassels
Abbreviations (US terms):
ch – chain
dc – double crochet
sc – single crochet
sk – skip
sl st – slip stitch
st(s) – stitch(es)
t – turn
Skill Level:
Level 1 – beginner
Pattern Notes
-This scarf pattern as written is made to fit average adult women and has a lot of stretch. You can follow the same pattern and adjust the width and length to fit kids and adults of different sizes.
-This pattern can be altered to use worsted weight yarn or bulky weight yarn as long as you meet the rectangle measurements listed above.

Crochet Storybook Hood + Pocket Scarf
Ch 17 (or any odd number)
Row 1: Sc in 2nd Ch st from hook, *Dc next st, Sc; rpt from * across, Dc in last st, Ch 2, t (16)

Row 2: *Sc, Dc; rpt from * across, Ch 2, t (16)

Rpt Row 2 until you've finished 120 Rows or 60″

Finish off, weave ends.
Pockets:
*make 2
Ch 17
Row 1: Sc in 2nd Ch st from hook, *Dc next st, Sc; rpt from * across, Dc in last st, Ch 2, t (16)
Row 2: *Sc, Dc; rpt from * across, Ch 2, t (16)
Rpt Row 2 until you've finished 10 Rows or 5″
Finish off, weave ends.
With spare yarn, affix pocket to one end of the scarf by sewing around 3 sides of the pocket square (left, bottom, and right sides).

Weave ends and repeat pocket on other side.
Hood:
Fold scarf in half to find center, place stitch markers 8" from center on either side (16" total).
Row 1: Join yarn at first marker and Sc into the rough edge of the scarf to second marker. You should have about 26 stitches (it is most important that you don't have too many stitches creating a ruffle or too few stitches creating gaps), Ch 1, t (26)

Row 2: *Sc, Dc; rpt from * across, Ch 2, t (26)
Rpt Row 2 until your hood piece measures about 9" (or 18 rows)

Finish off leaving a long tail for sewing.
Fold the hood piece in half lengthwise (hot dog style) to seam the last row of stitches together.

You should be stitching the 1st st to the last st, the 2nd st to the next to last, and so on along the last row of the hood piece.

Finish off, weave ends.
Edging:
Join yarn to any corner of the scarf piece.
Ch 1, Sc evenly around perimeter of the scarf (working 2 Sc in each of 4 scarf corners) and hood to make a cohesive, polished looking accessory.
Sl st to join, finish off, weave ends.

Tassels:
Make 4 large tassels using your favorite hard cover book as a guide. I like to use a book about 5" x 8" but always err on the side of larger. You can trim the tassel down if its too long for your liking.
Tie tassels securely to each of 4 corners of your scarf.

Pop on your finished accessory and enjoy!



Looking for more CROCHET ACCESSORY PATTERNS? Check these out!

1. Crochet Vanilla Wrap Scarf / 2.Crochet Avery Hat / 3. Crochet Collar Topper