My Crochet Glimmer Shawl – a free pattern here on the blog – is a pretty wrap that has just the right amount of sparkle (who doesn't love sparkles?!).
Read through my inspiration, design process, and lots of info on the perfect yarn I chose, or scroll on down for the free pattern.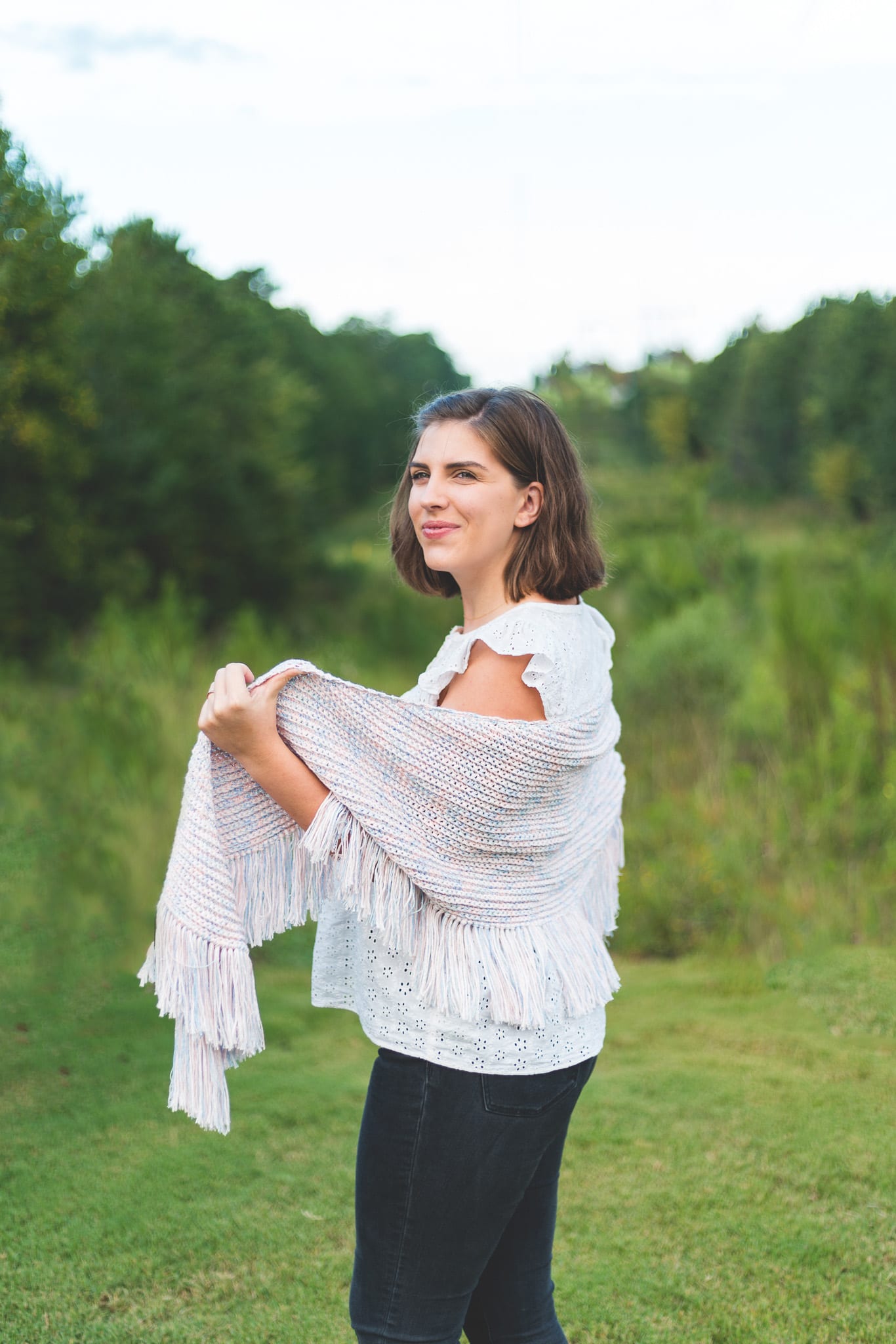 The Inspiration + Design
Crochet accessories are what the transition from summer to fall is for! I'm having trouble letting go of the light, breezy shapes and colors of summer so I'm not putting them away just yet.
I've never designed a crescent shaped shawl before and I don't think this one will be my last. It's such a fun, delicate shape that is light and warm all at once.
I added heavy fringe to this shawl for added drama and style. It looks a little bare without the fringe and I love the statement it adds!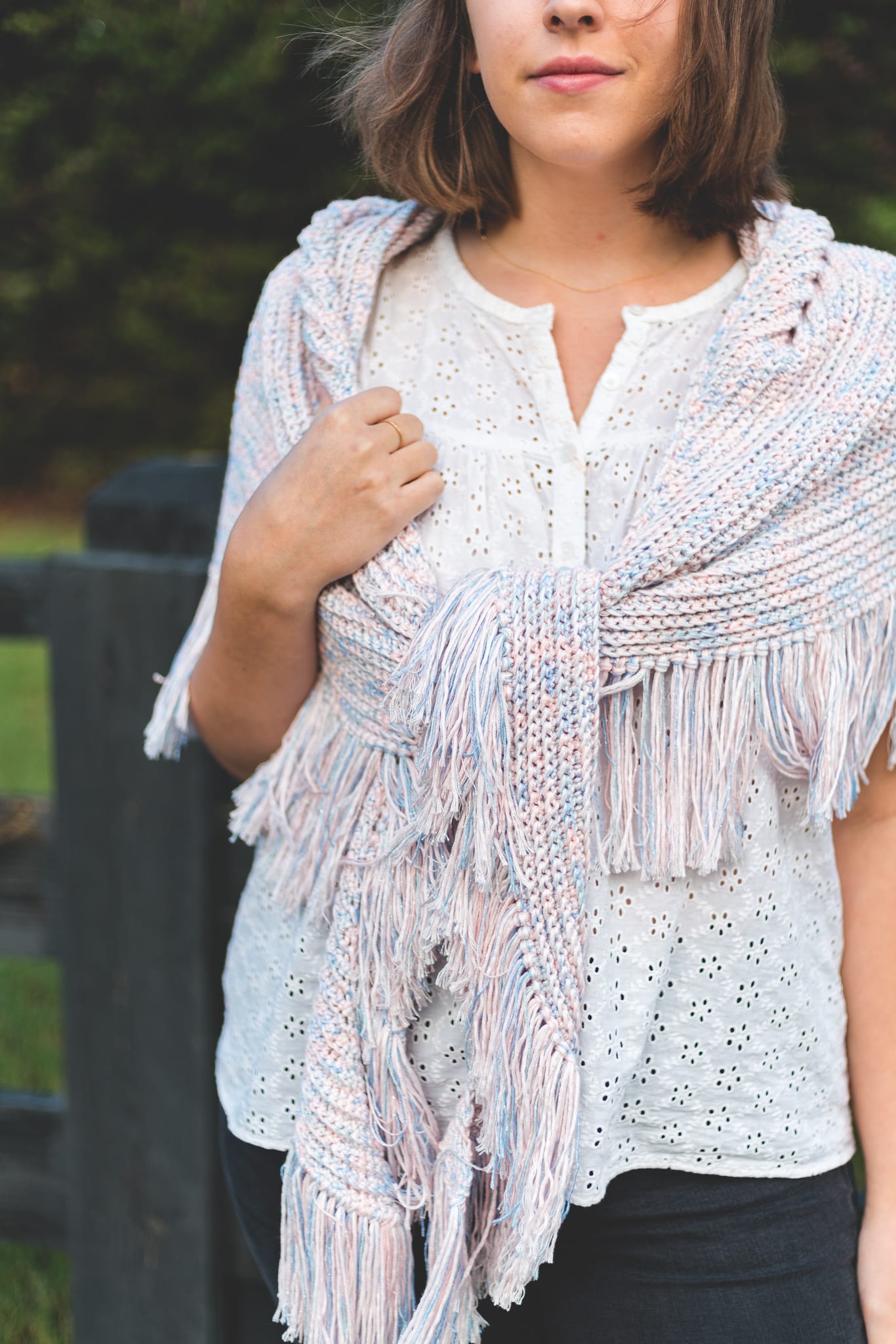 The Yarn + Kit
I blended two yarns together to make this piece and I love the way they mix and mingle. I held together a strand of Lion Brand Coboo in Pale Pink (a gorgeous, soft, drapey cotton bamboo blend yarn) and a strand of Lion Brand Summer Nights in Blue Lagoon (a lace weight sparkly variegated yarn with subtle blue and pink tones).
These two yarns played so nicely together and they create a really interesting, feminine look without any fuss – seriously, this entire pattern is just a one row repeat!!
Check out both of these yarns and get creative with all the mix and match color options – you can create so many styles just with these two palettes!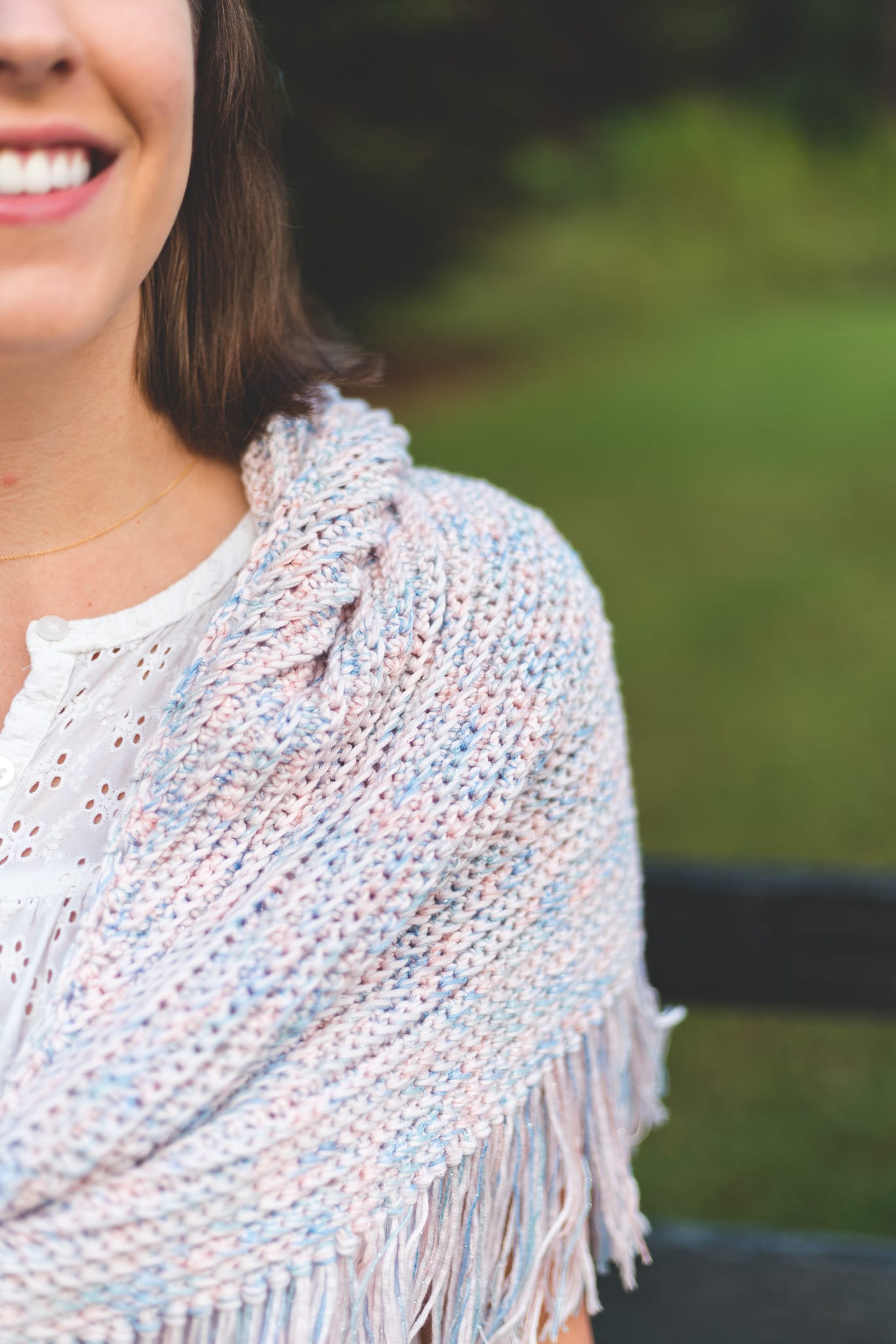 PATTERN
DESCRIPTION
Crochet this brushed fringe shawl with light cotton bamboo blend yarn and a thin strand of glimmering variegated yarn held together at once. Brushed fringe finishes this simple shawl with a chic statement.
MATERIALS
(Weight 3/Light, 3.5 oz/100 g, 232 yds/212 m)
4 skeins in Pale Pink
–Lion Brand Summer Nights Bonus Bundle Yarn
(Weight 1/Superfine, 7 oz/200 g, 875 yds/800 m)
1 skein in Blue Lagoon
Or grab the kit with all the yarn you need plus a printed copy of the pattern here!
–Blocking mats & pins (or a dry towel and rustproof sewing pins)
–Clothing steamer (or iron on steam setting)
–Clean hairbrush (love this for brushing my actual hair too!)
Shop all my favorite tools & materials HERE!
GAUGE (after blocking)
16 sts x 16 rows = 4″ in blo sc
MEASUREMENTS
80 x 18"
PATTERN NOTES
-This shawl is worked in one piece from the top down beginning with the top center. Simple 1 row repeat in turned rows until the desired length is achieved.
-Both yarns are held together throughout.

Crochet Glimmer Shawl
Hold 1 strand of each yarn together throughout.
Ch 33, sk 1 st
Row 1: 2 sc, 2 sc, sc until 2 sts remain, 2 sc, 2 sc, t <36>
Row 2: Ch 2, 2 Sc, 2 sc, blo sc until 2 sts remain, 2 sc, 2 sc, t <40>
Rep row 2 until you've finished 72 rows or until the deepest part of your shawl measures 18" from row 1 to last row and about 80" wide <320>
Finish off, weave ends.
BLOCKING
Blocking is necessary to get this shawl looking it's best. Please complete this step before moving onto fringe!
Set up foam blocking mats or a couple of dry towels (that you won't need for the next day or so) on a table, ironing board, or the floor.
Lay your dry shawl out on the blocking surface right side up.
With blocking pins or rustproof sewing pins, stretch and pin the shawl to make a soft crescent shape. Stretch and manipulate the shawl until you love the look.
With a clothing steamer or an iron on the steam setting, saturate the shawl with steam. It should feel damp to the touch.
Let dry overnight before removing pins and moving on to the fringe step.
BRUSHED FRINGE
Holding 1 strand of each yarn together-
Cut 2 pieces about 10 in. long <totaling 4 strands>
*Tip: speed up the process by setting up pins to wrap around and cut on your blocking mat!

Attach to the first stitch of the last row as follows. Fold all pieces in half together. Use your crochet hook to pull the fold of the yarn partially through the stitch. Pull tails of the fringe through the loop created. Tighten.
Rep fringe in every stitch across. This is tedious but imperative to the thick brushed fringe look.
Trim all fringe to be as even as possible, following the curve of your shawl. Go slow and always trim as little as possible.

Abbreviations (US Terms):
blo – back loop only
ch – chain
rep – repeat
sc – single crochet
sk – skip
st(s) – stitch(es)
t – turn
OTHER FREE CROCHET ACCESSORY PATTERNS YOU MIGHT LOVE