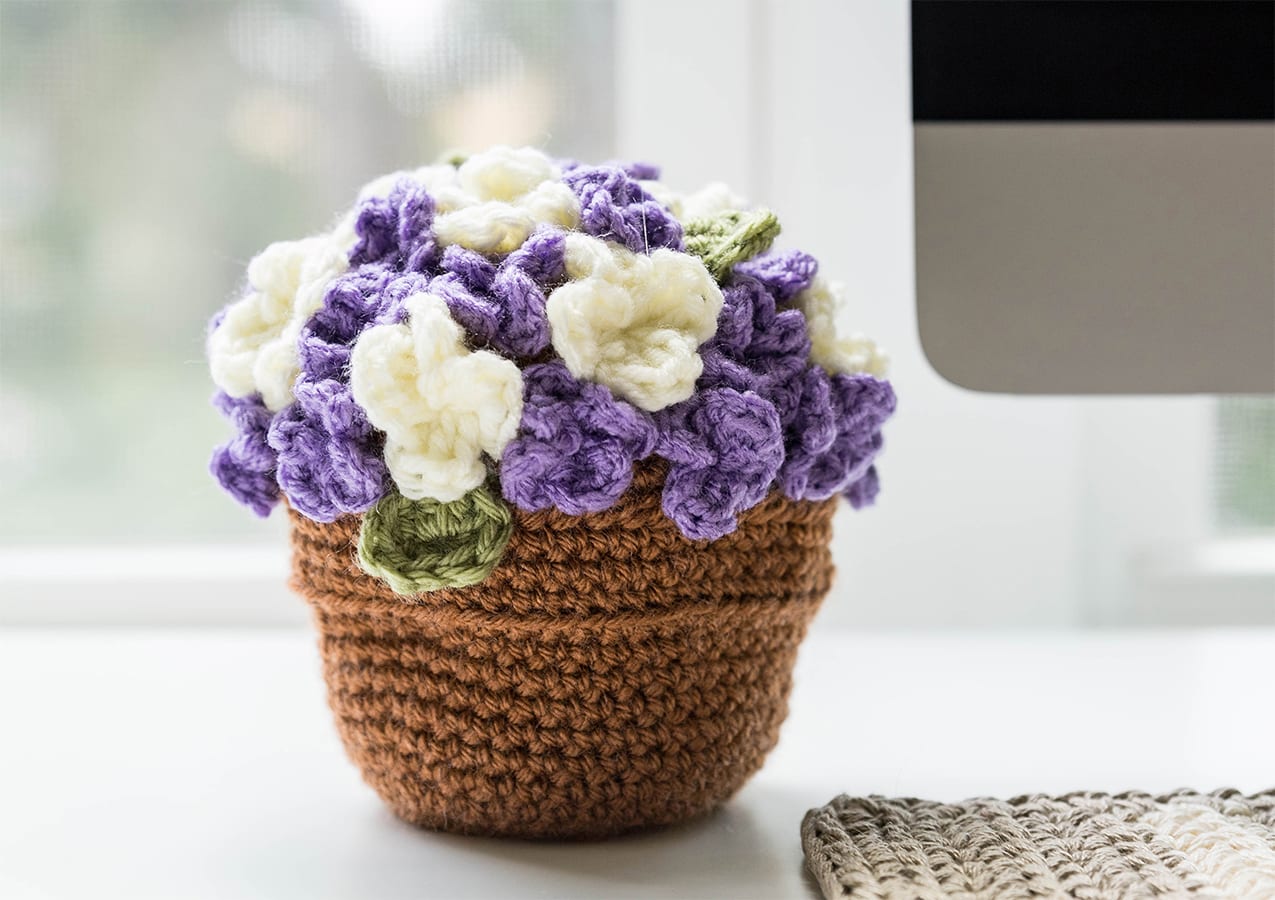 This flower pot is the cutest! Just looking at the photos makes me wanna squish it! I originally made these little hydrangeas for Mother's Day because they're mine and my mom's favorite flowers. But flowers are appreciated year round, am I right? This would make a great, easy gift for birthdays, anniversaries, just because (!!!), holidays – you name it!
Speaking of holidays… Let's take a moment to imagine these in a bright red and white to mimic poinsettias… *gasps at my own thought and proceeds to order more yarn*
Read below to find out a bit more about this pattern!
Other Amigurumi patterns I LOVE! (and you should too!)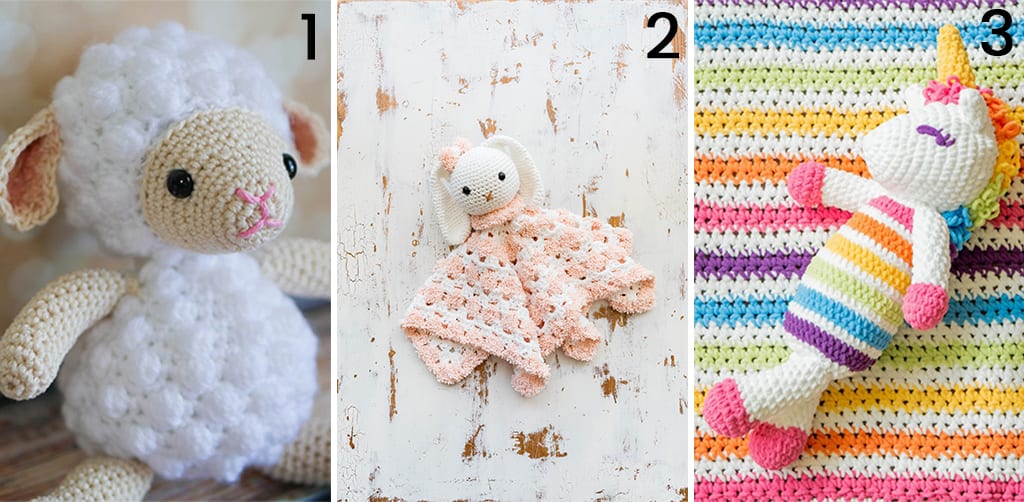 1. Little Crochet Lamb / 2. Crochet Snuggle Bunny Baby Lovey / 3. Lola the Crochet Plushy Unicorn
The Design
Amigurumi crochet is a simple method we use to create 3D objects out of yarn. Wild, right? At first, I thought amigurumi was super complicated and intricate – while it can be a little time consuming, it's no more complicated than crocheting any other project beyond a super beginner level.
I knew I wanted to make a flower pot that wasn't too large (I don't have all year to make this thing, after all) but not too small. Just the right size – very close to a real pot of african violets you'd place on your bookshelf or desk! I loved using pastel colors for a feminine looking flower, and I'm so pleased with how this little amigurumi project came together.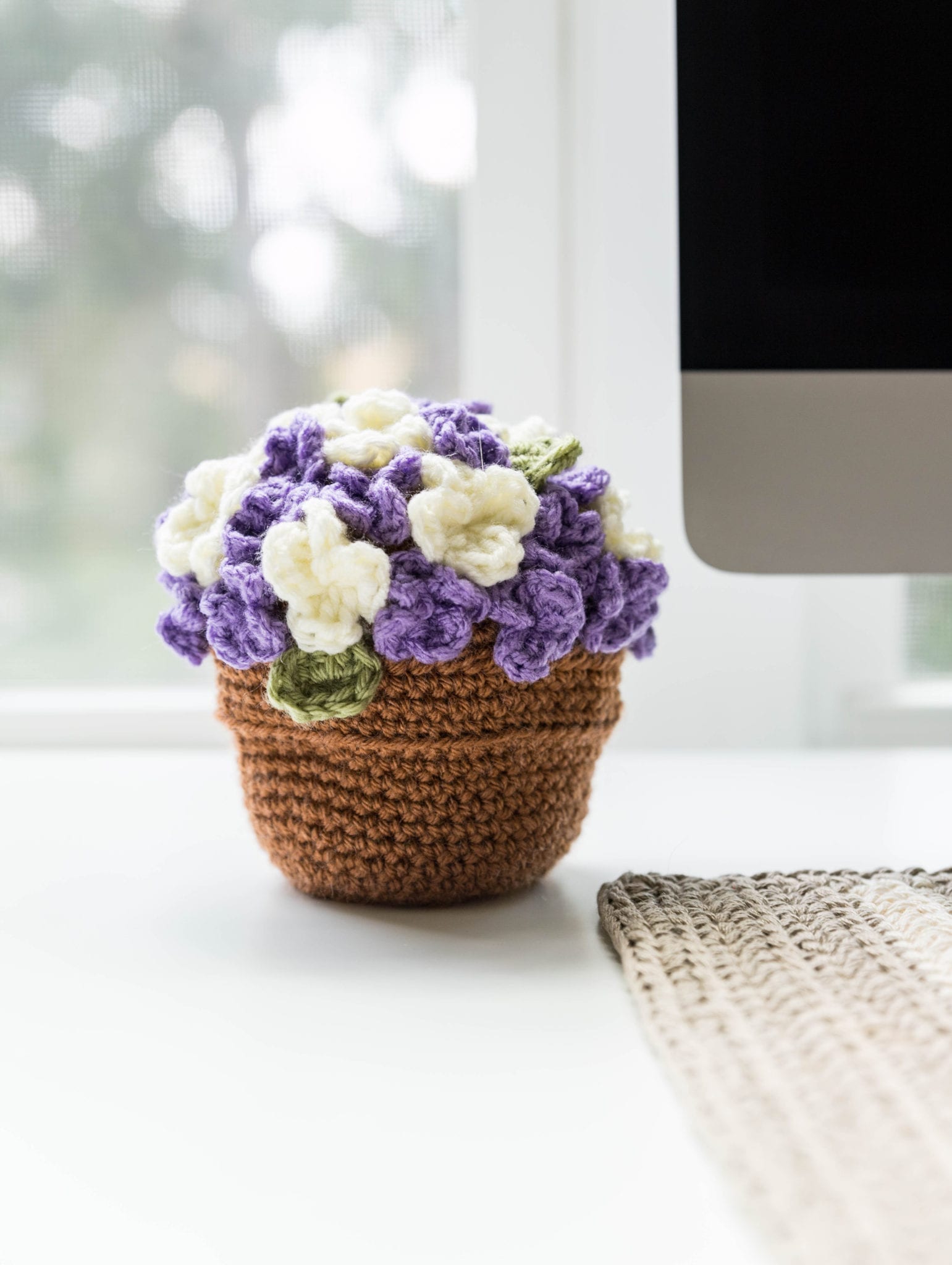 The Yarn
I chose to use Lion Brand Vanna's Choice for the "flower pot" portion of the project, the color called Toffee is the perfect warm tone brown. I used Lion Brand's mini skeins of acrylic yarn similar to Vanna called DIYarn for the flowers and leaves. This yarn is perfect for this project because you don't need nearly as much yardage for these elements, but the weight of the yarn and the color scheme offered matches really well with Vanna's Choice.
It's like these yarns were made for this project!


PATTERN
Materials:
–1 skein Lion Brand Vanna's Choce in Toffee (Weight: 4/Medium, 3.5 oz, 170 yds)
–1 mini skein each of DIYarn in Purple, Cream, & Grass (Weight: 4/Medium, 1.05 oz, 65 yds)
(Click HERE to shop all my favorite tools!)
Abbreviations (US terms):
ch – chain
sl st – slip stitch
sc – single crochet
hdc – half double crochet
dc – double crochet
rpt – repeat
Skill Level: 2 Easy
Pattern Notes
-Flower pot will be made wit 4 parts – pot, top soil, flowers, and leaves.
-Do not join rounds throughout the pattern.
CROCHET FLOWER POT
Flower Pot:
With brown yarn, make a magic ring, ch 1, sc 6
Row 1: 2 sc in each around (12)
Row 2: 2 sc, sc, rpt around (18)
Row 3: 2 sc, sc 2, rpt around (24)
Row 4: 2 sc, sc 3, rpt around (30)
Row 5: back loop only sc around (30)
Row 6: 2 sc, sc 9, rpt around (33)
Row 7: sc around (33)
Row 8: 2 sc, sc 10, rpt around (36)
Row 9: sc around (36)
Row 10: 2 sc, sc 11, rpt around (39)
Row 11: sc around (39)
Row 12: 2 sc, sc 12, rpt around (42)
Row 13: sc around (42)
Row 14: front loop only around- 2 sc, sc 6, rpt around (48)
Row 15: back loop only sc around (48)
Row 16-17: sc around (48)
Top Soil:
With brown yarn, repeat flower pot Rows 1-4
Row 5: 2 sc, sc 4, rpt around (36)
Row 6: 2 sc, sc in next 5, rpt around (42)
Row 7: 2 sc, sc in next 6, rpt around (48)
Row 8-13: sc in each around (48)
Finish off leaving a long tail.
Flower:
*make 30
With either purple or cream yarn, make a magic ring.
Row 1: *(ch 2, 2 dc, ch 2, sl st) into ring, repeat from * 3 more times.
Tighten magic ring and finish off leaving long tails.
Sew or knot onto top piece.
Leaves:
*make 10
With green yarn, ch 4
2 dc in 2nd ch from hook, hdc in next ch, 3 sc in last ch, turn to work down other side of chain
Hdc in next ch, 2 dc in next ch, sl st into last ch, finish off
Sew or knot onto flower pot top after flowers are attached.



Earning a Living with my Handmade Home
If you love crocheting and knitting, you should think about starting a blog! I'll help you get started to turn your hobby into a money-making career with my free "Start a Blog" guide.
Or you can check out my latest income report to see how this blog earned over $10,000 last month!