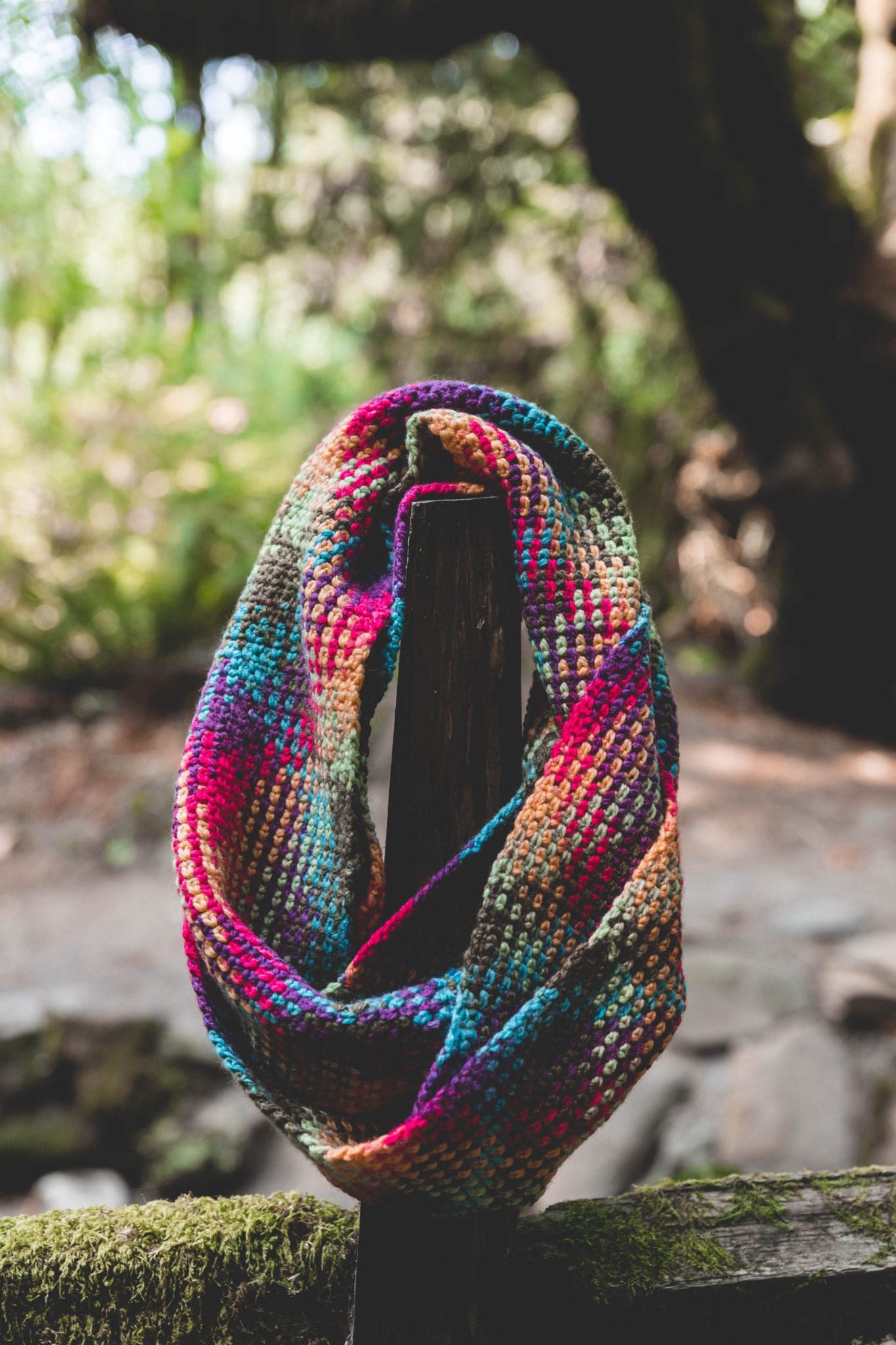 The Crochet Color Pooling Scarf is a pattern I designed way back during my first autumnal blogging season. I'm bringing it back in a new fall feature this year!
You might remember this pattern from when I first posted it here on the blog a couple of years ago. This post holds the same pattern, with a bit of an elevated presentation!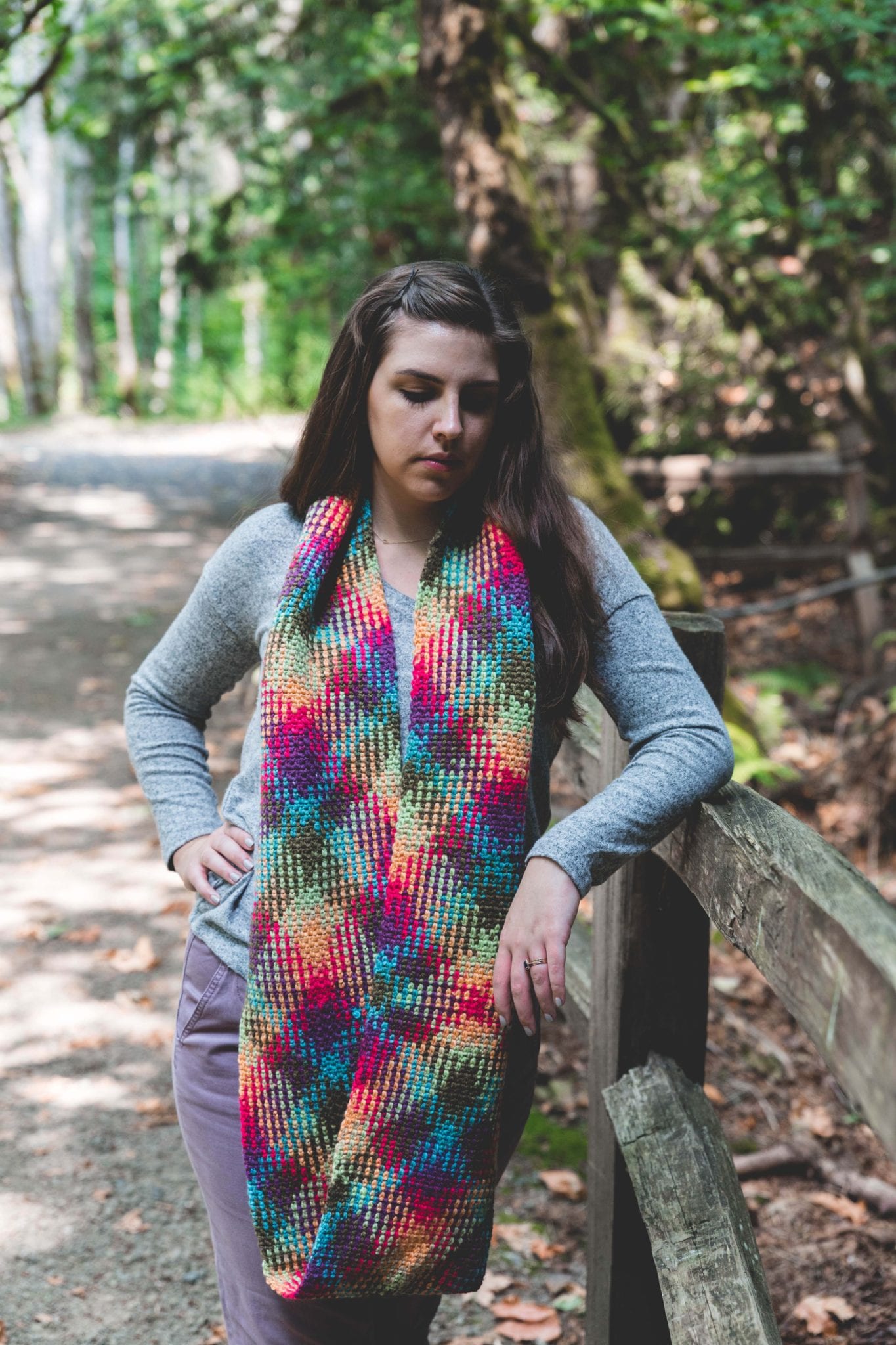 Back in the old color pooling scarf post, you may remember that it was a straight scarf pattern with multicolored pom poms on the ends. I've simplified the scarf to be more wearable by removing the poms and sewing the ends together to form an infinity style loop.
You can wear the loop draped long and lengthy or you can wrap it around twice for a thicker, warmer accessory.
SWEATER PATTERNS I LOVE (& you should too)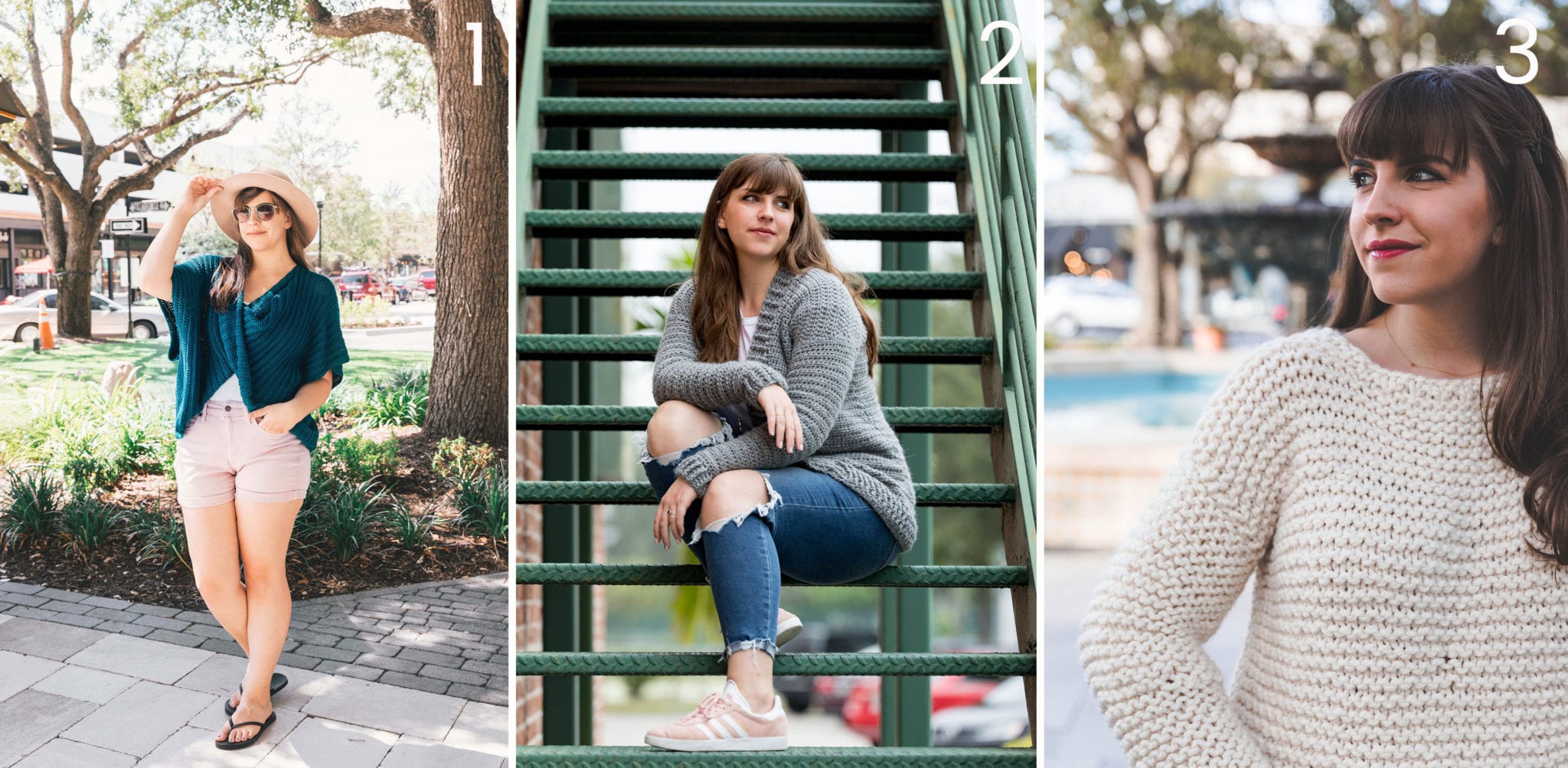 1. Crochet Twist Swancho / 2. Crochet Everyday Cardigan / 3. Simple Knit Sweater
Color Pooling Heaven
I chose to use Lion Brand Yarn's Color Waves yarn – after the color pooling craze went wild online a couple of years ago, I noticed no one was trying to pool color with LB yarn. (If you have no idea what I'm talking about when I say color pooling, don't be afraid. It's just a fancy term for intentionally working with the color changes in a variegated yarn to create this plaid-like pattern. Don't worry, I'll teach ya!).
With color pooling, the yarn does all the work for you. I've got a lot more details in my original post on this written out for you, but the video below will explain everything in great detail!
I did notice that it looks like LB is phasing out the awesome Color Waves yarn and it's no longer available in the Playground colorway I used for my scarf (or find it HERE on Amazon!). They do however still have some Rainbow left which I also tested and pools nicely! You can substitute with many other yarns and still get them to pool – you just need a variegated yarn with fairly abrupt color changes and 10-12″ lengths of each color. Try out the method with yarns in your stash for fun and see where it takes you!



PATTERN
Grab the Ultimate Pattern Bundle that includes 150+ patterns just like this one on sale for $20 today

HERE.

PIN this pattern to your Pinterest boards for later HERE.
Add this pattern to your Ravelry queue HERE.
Materials:
–Lion Brand Color Waves yarn (or another variegated yarn with even color changes about 10-12″ in length)
–Size H 5mm crochet hook (or the hook size your yarn label recommends)
(Click HERE to shop all my favorite tools!)
Notes:
-I use the Moss Stitch (also called the Linen Stitch) for this pattern, which is just a series of single crochets and chain stitches. I'll show you everything you need to know in the video!

Follow the video tutorial below to learn how to make the color pooling scarf!



Earning a Living with my Handmade Home
If you love crocheting and knitting, you should think about starting a blog! I'll help you get started to turn your hobby into a money-making career with my free "Start a Blog" guide.
Or you can check out my latest income report to see how this blog earned over $10,000 last month!