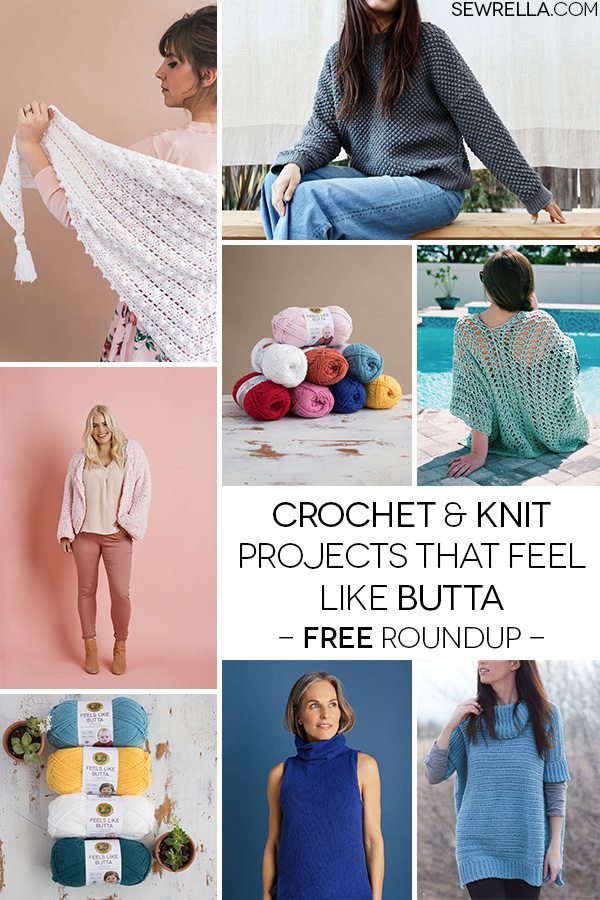 I've got a really fun free pattern roundup and giveaway (stay tuned til the end!) for you guys today featuring my new favorite yarn, Feels Like Butta from Lion Brand Yarn!
Yarn that Feels Like Butta?!
Yep, it really does folks. I first squeezed these skeins during my trip to New York City for the #LBYBloggerBash and couldn't believe the softness. I just kept stroking it and dreaming about what to make (more on that in a moment).
So what type of fiber is so soft? Polyester. (I know, I was surprised too!) When I think of polyester I think of something plasticky and, well, cheap. I was so surprised to learn that Butta is 100% polyester and has the smoothest, softest hand I've felt.
This yarn feels sort of like chenille and sort of like suede. A lot of polyester chenille-style yarns shred and lose their fuzziness as you work with it and it's kept me away from yarns like this in the past, but Feels Like Butta does none of that!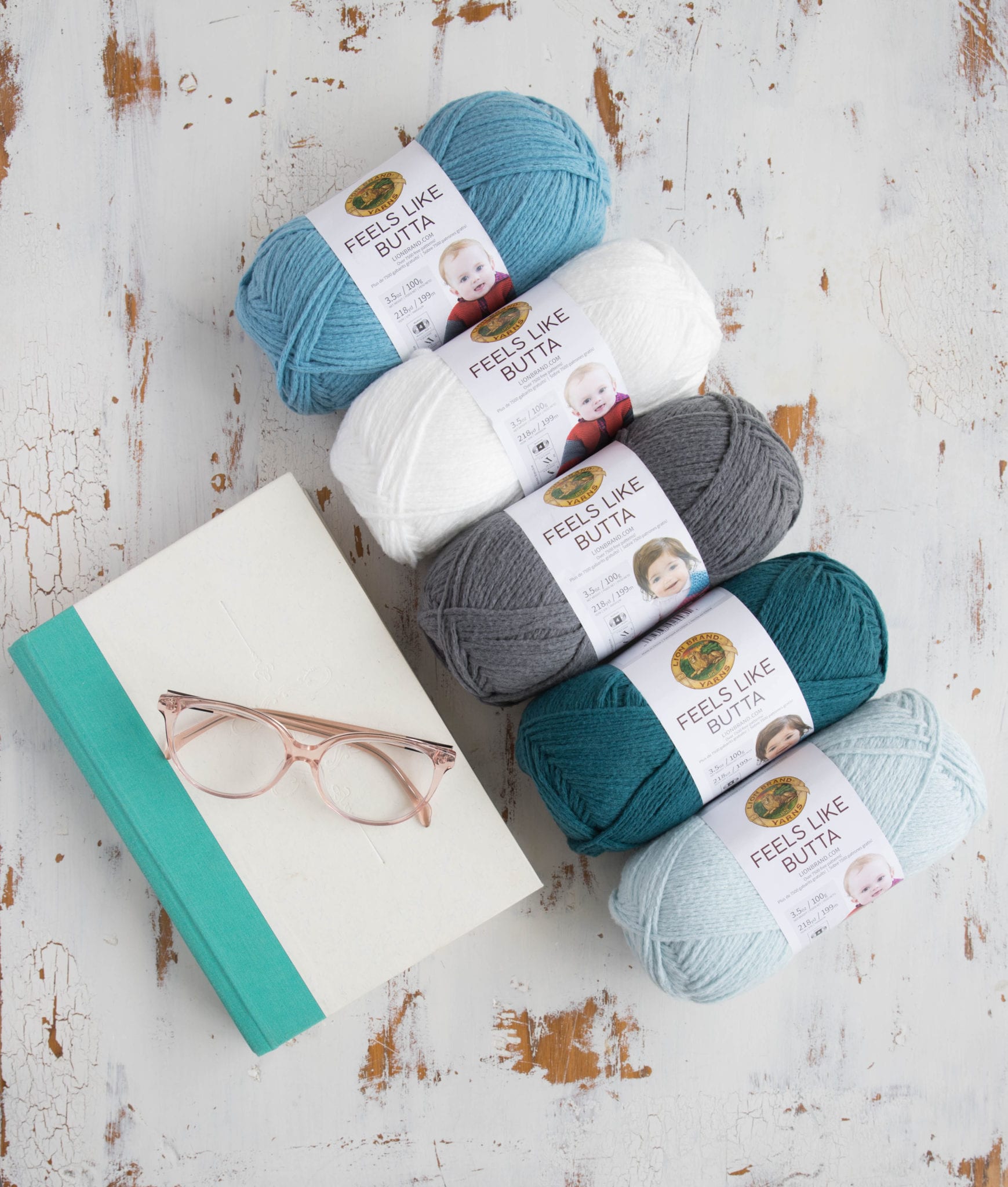 The genius structure
Feels Like Butta yarn isn't spun in the normal 2 or 4 ply twist that we see with most commercially made yarns, its structure is more like a cord structure. After some online digging, it looks like this type of spinning is called "cable plied" yarn, and is spun to create a strand that is virtually un-split-able (that's definitely not a word).
Due to this unique structure, the stitch definition is just out of this world – which is amazing considering the softness of this yarn! You know how a lot of super soft yarns are also super fuzzy and hard to work with & nearly no stitch definition?
Feels Like Butta is really the best of both worlds.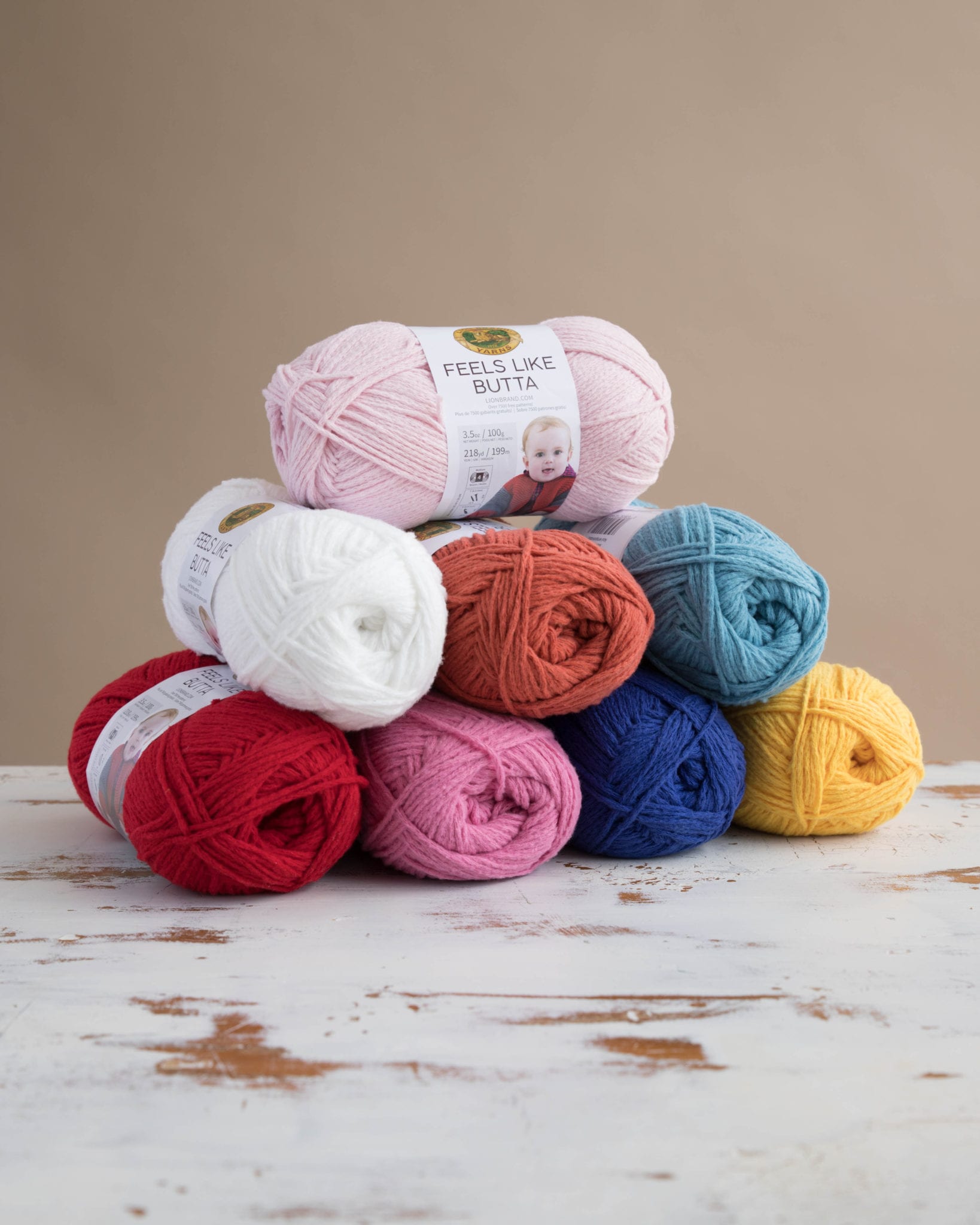 Colored Butta
Lion Brand really thought ahead with this line of yarn – not only did they present a handful of beautiful pastels for perfect baby projects (let's just assume you're covering your whole house in Butta and the nursery is no exception), but they also thought about adults who love Butta (me!).
They put together some stunning colors for fashion-forward crocheting and knitting. Neutrals like Charcoal and pure White are offset with stunning deep Teal and Dusty Rose. I could go on and on about every single one of these options, but I'll let you just browse for yourself here.

Below are some crochet and knit patterns using Feels Like Butta Yarn – they're free, enjoy!
Just click the bolded link or the photo to be taken right to the free patterns.









Due to the nature of Butta being brand new, there aren't tons of patterns using it yet. I've gathered some patterns of mine that would work really well with Butta!
So grab a few skeins from LionBrand.com and make one of these perfect patterns.



When I hosted a little giveaway for my followers over on Instagram for some Feels Like Butta yarn, you guys went nuts! So I've decided that there needs to be more FREE Butta happening in the world.
Just enter the proper information in the Rafflecopter widget below to enter.
Giveaway will close at 11:59 PM EST on March 11, 2018. Giveaway is only open to the US and Canada.
a Rafflecopter giveaway
Earning a Living with my Handmade Home
If you love crocheting and knitting, you should think about starting a blog! I'll help you get started to turn your hobby into a money-making career with my free "Start a Blog" guide.
Or you can check out my latest income report to see how this blog earned over $10,000 last month!