How to KNIT a Scarf – no experience needed! – is a free tutorial here on my knitting and crochet blog.
Scroll down for the free pattern and video!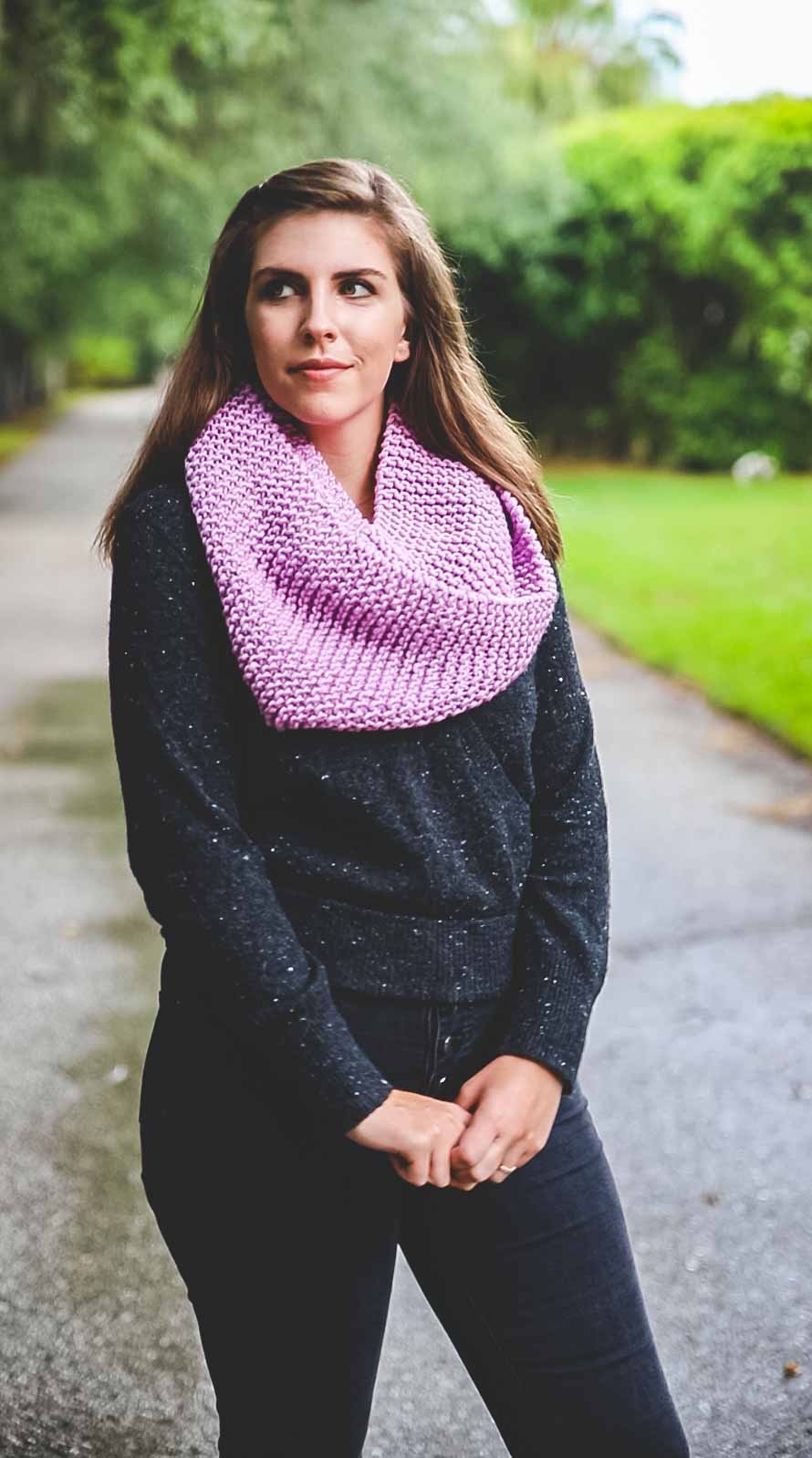 The Inspiration + Design
This tutorial is for those folks that have always wanted to learn to knit and are ready to learn the basics! Instead of sitting down and teaching a few stitches (where all you walk away with is a weird little square of messy stitches) I decided to teach you how to make a whole scarf start to finish, even if you've never knit before!
This design is as simple as it gets, it's a fun way to get acquainted with the craft and decide if it's for you!
Make sure to check out the video below – it's a great way to see exactly how I make this project even if you're a complete beginner.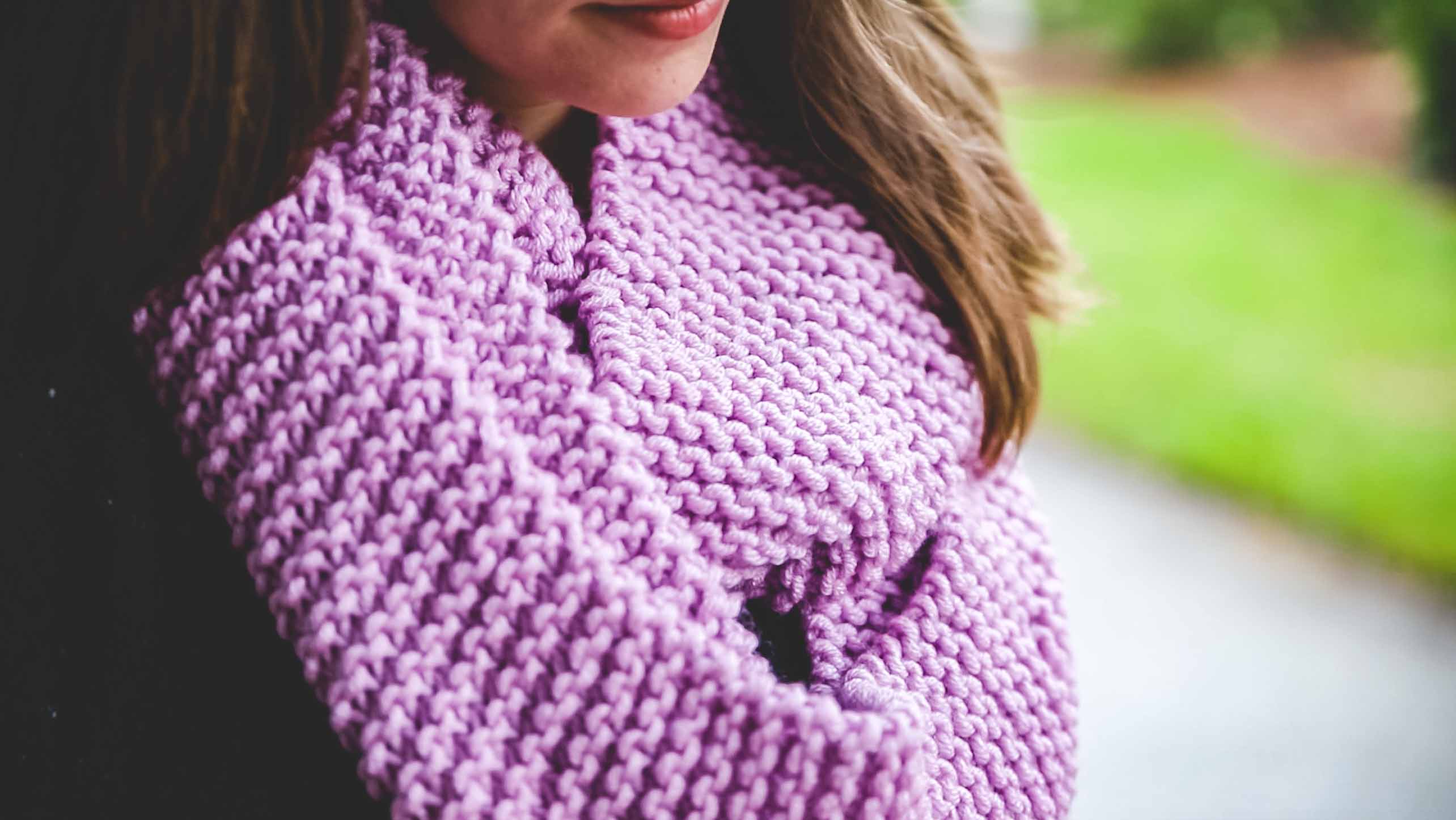 The Yarn + Kit
I collaborated with my favorite yarn brand for the materials for this project. Lion Brand Yarn is a name you'll find all over my blog and for good reason! Their yarns are high quality and affordable (which is awesome, you'll usually only find one attribute or the other!).
I decided on their Color Made Easy yarn for this project. It's bulky weight which means the strand of yarn is thicker than a lot of other yarns on the shelf. Bigger yarn means bigger stitches which are easier to see when you're just getting the hang of things. A lot of beginners find thicker yarn easier to hold in your hands at first while you figure out how to work yarn and two needles in tandem to make a scarf.
Lion Brand has graciously created a kit for this project on their website! You can find it HERE. The kit includes all the yarn you need to make the entire scarf, the exact knitting needles I used in the video, and a yarn needle (for sewing your scarf into an infinity loop if you so choose). There are great color options in this yarn to suit all tastes so check out the kit before you get started!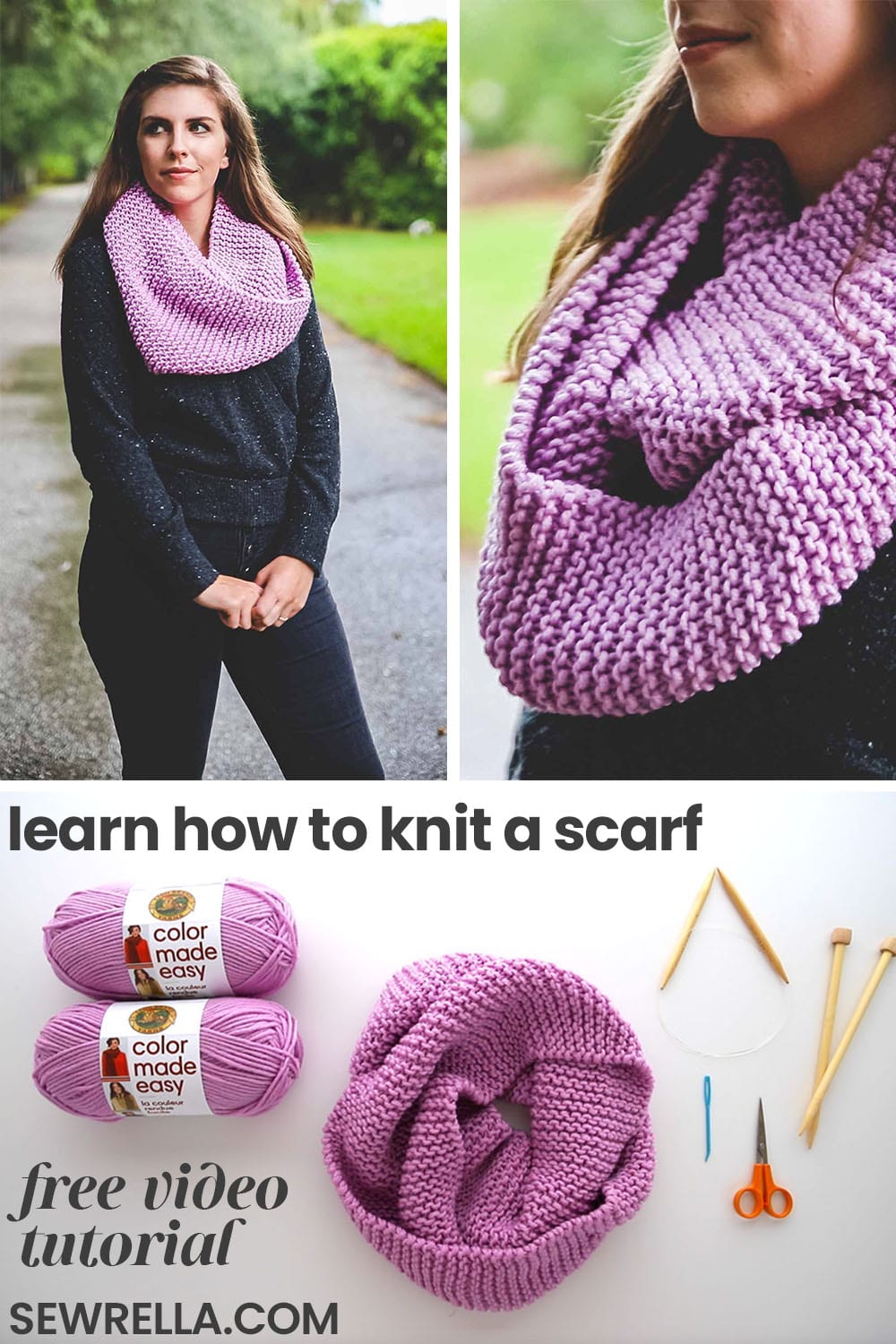 PATTERN
Get the ad-free, large print, printable PDF pattern HERE.
Grab the Ultimate Pattern Bundle that includes 100+ patterns just like this one for under $30 HERE.
PIN this pattern to your Pinterest boards for later HERE.
Description: Knit this scarf even if you've never knit before! I'll walk you through the pattern in my video tutorial – I'll go slow and show ya everything you need to know. Let's knit this thing!
Materials:
–Lion Brand Color Made Easy Yarn (Weight 5/Bulky, 7 oz, 247 yds/226m)
2 balls in Prism
Grab the kit including the printed written pattern here!
–Size US 13/9mm knitting needles
Shop all my favorite tools & materials HERE!
Finished Measurements:
8 x 70"
Pattern Notes
-If you've never knit before, stop here and go watch our video tutorial on making this project!
Video: https://youtu.be/-4WeuarrOQ4
Or search "sewrella learn to knit" in the youtube app or on the youtube home page.

-Pattern includes abbreviations that are listed. However, this pattern file will not include all instruction to make the scarf if you've never knit. That's what the video is for!
-Seam scarf as written to make an infinity scarf or leave without a seam to wear as a straight scarf.

HOW TO KNIT A SCARF WRITTEN PATTERN
Cast on 23
*Note: the width of these stitches will be the width of your scarf.
Row 1: Slip 1 st, K across <23>

Rep Row 1 until you've finished 70" or 150 rows.
Cast off all sts.
Weave ends.
With a spare piece of yarn sew Row 1 to last Row with a mattress stitch – just like you're threading shoelaces.
Weave ends.

Abbreviations (US Terms):
K – knit
Rep – repeat
St(s) – stitch(es)
OTHER EASY FREE KNITTING PATTERNS YOU MIGHT LOVE