I'm so excited to show you my latest project – the Knit Simple Slouch Gwen Hat!
This project is very beginner friendly with a comfortable, slouchy finished fit. Read on below about the inspiration and yarn details, or scroll on down for the free pattern.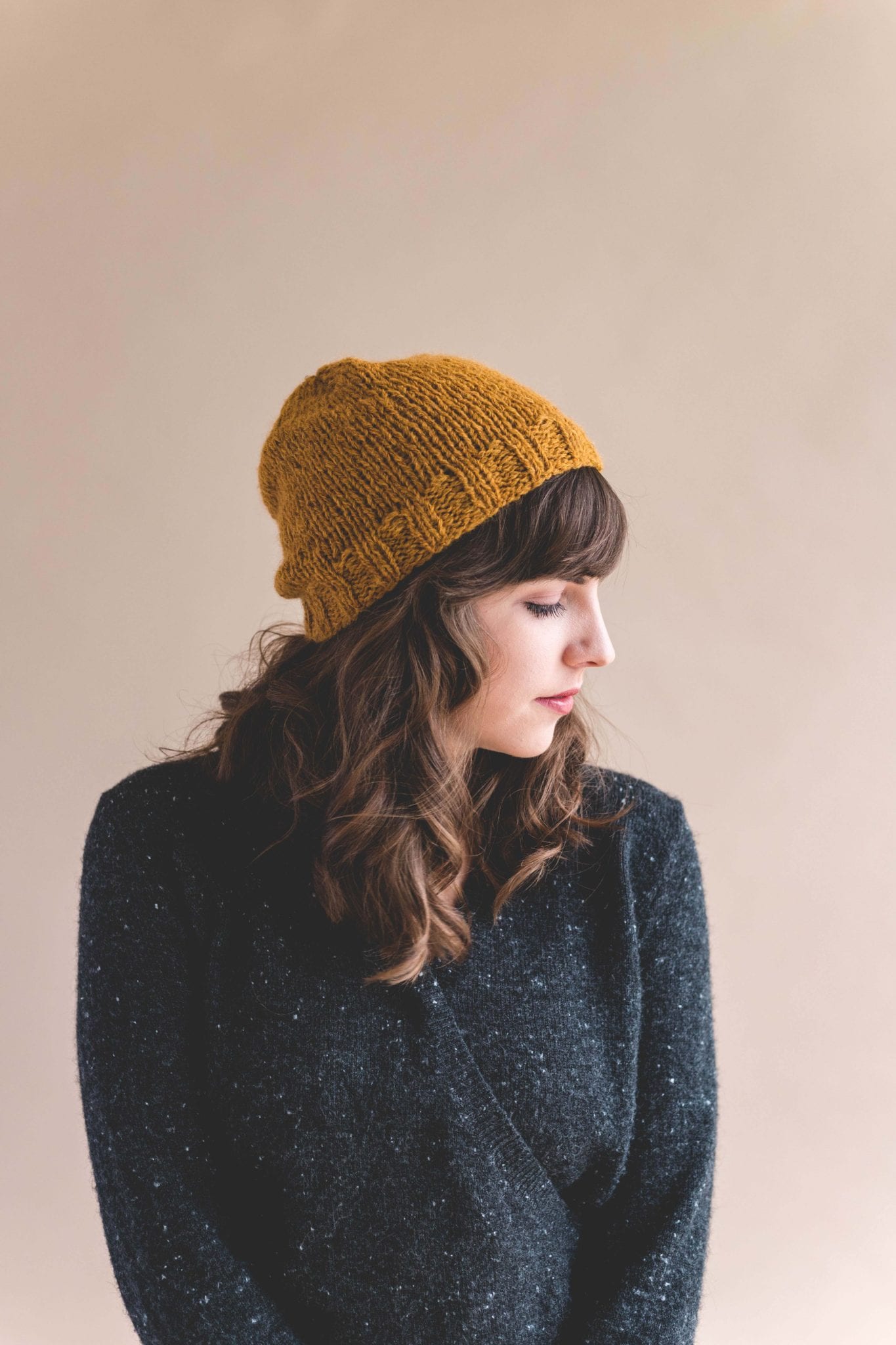 The Inspiration + Design
I've been playing around with knitting a lot over the last year and when I planned a last minute trip to North Carolina this January I needed a small, portable project & something to keep my noggin from freezing toward the end of the weekend. I brought a few balls of a new yarn from Lion Brand with me and worked up a cute little slouchy hat!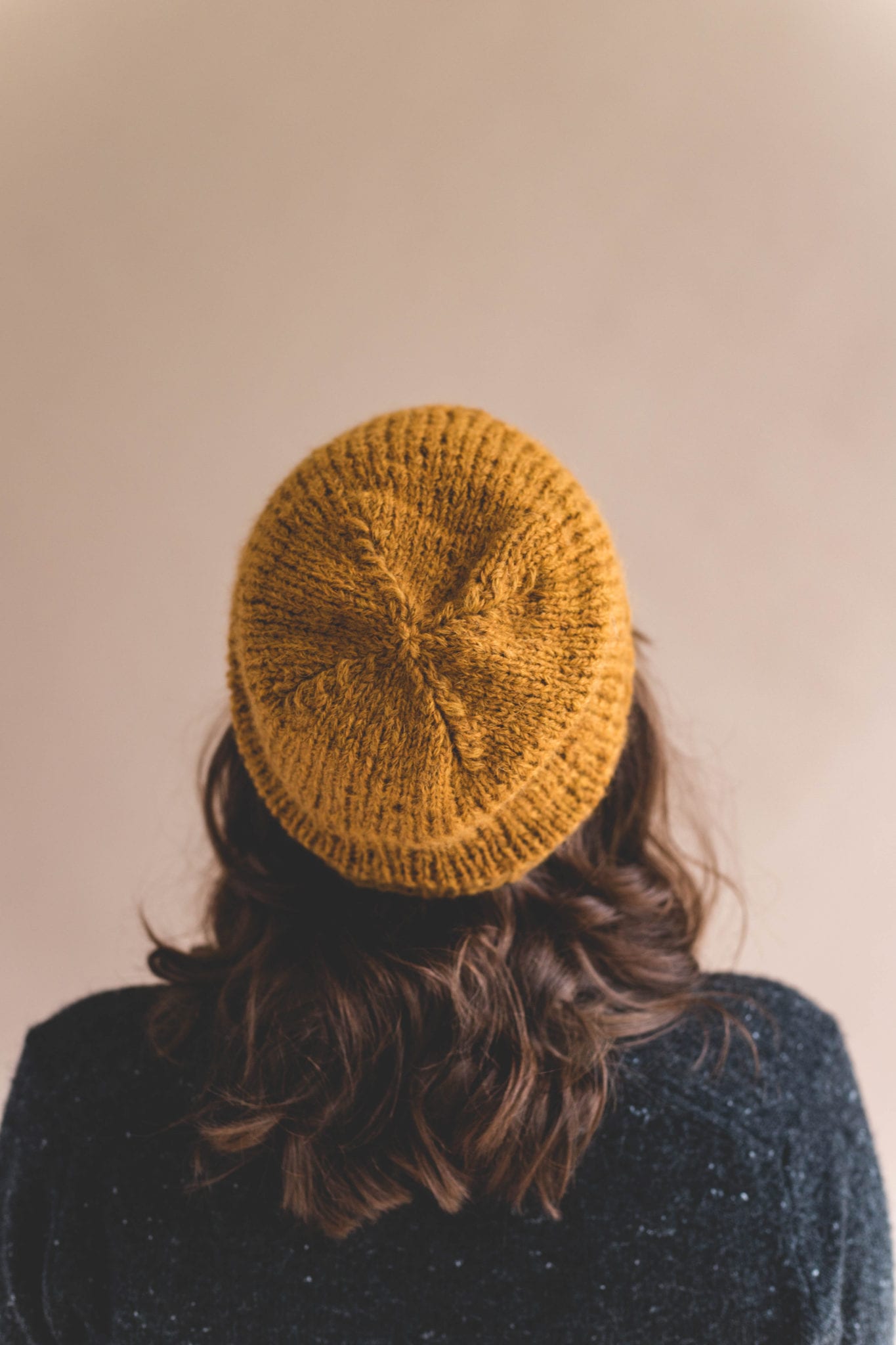 I've been loving a Knit 2 Purl 2 rib lately and the squishy base it gives to a project. Simple stockinette lets this yarn really shine and then a strong, dimensional decrease to close up the top of the hat adds a bit of subtle detail. I thought about adding a pom pom (this fluffy yarn makes such nice poms and there was plenty leftover from 1 skein) but I really love the look of those decreases at the crown so I left it alone!
I've sized this pattern for newborn babies all the way through adult mens – you'll want to make Gwen hats for the whole family after you make the first 😉
The Yarn
Lion Brand clued me into a new yarn of theirs before it was even released and let me tell you guys – it's about 10x as fluffy in person! The yarn is called Chainette due to its inventive chain construction (instead of the usual twist we see in yarn). There is no splitting on your needles and this yarn really floofs up after it's worked. It's 70% Alpaca (!!!), 20% Virgin Wool and 10% Polyamide for durability.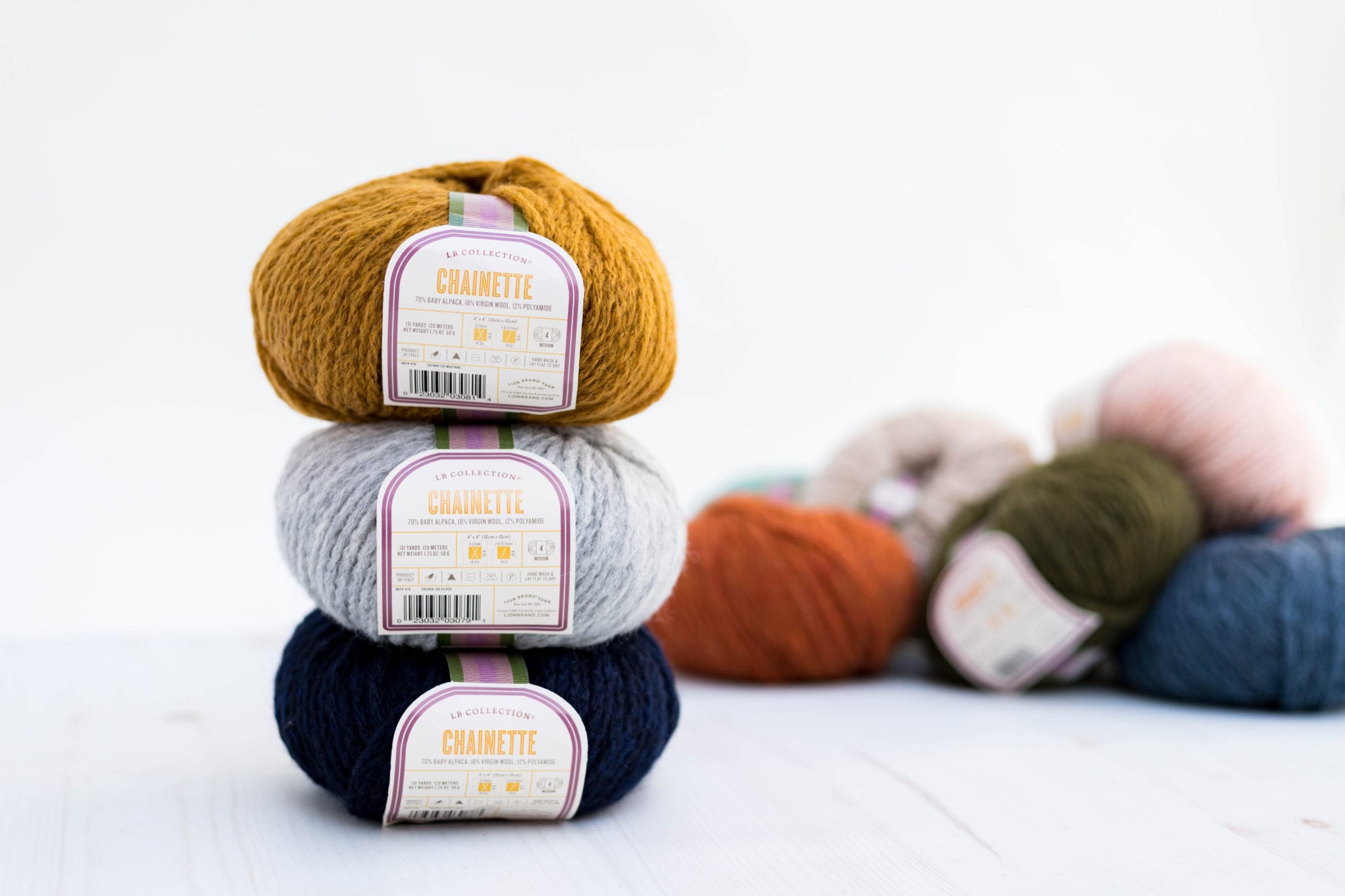 My favorite thing about Chainette is the color palette! There are so many gorgeous hues, it really is hard to choose what color to make your hat. I worked with Mustard for my hat but I'm thinking my husband has a denim hat coming his way and an olive one for Parker! Basically I will have a Gwen hat on my needles from now until forever, amen.
You'll just need one ball of Chainette for this pattern, but go ahead and grab several – you'll be glad you did. Click here to order yours, this yarn is only available on LionBrand.com!



PATTERN
To sum it up: A relaxed fit with unisex charm, the Gwen Knit Hat is simple to work up and so stylish for everyone! Beginner techniques will have you looking like a pro with a better-than-store-bought fit and unmatched softness due to the Lion Brand Collection Chainette yarn. Hat sizes in baby-adult mens.
Materials:
–Lion Brand Chainette Yarn (Category 4/Medium, 1.75 oz, 50g, 131 yds)
1 skein makes any size hat – I used Mustard
–Size US #8 (5mm) 16″ circular knitting needles (<<<my favorites!)
-optional alternate to magic loop knitting: 5mm DPNs
Click here to shop my favorite tools and materials!
Gauge:
14 sts x 24 rows in stockinette stitch = 4″
Sizes (finished head circumference):
Baby (9″)
Toddler (11.5″)
Child (13.75″)
Tween (16″)
Adult Women's (18″)
Adult Men's (20.5″)
Abbreviations (US terms):
CO – cast on
k – knit
p – purl
k2tog – knit 2 together
tbl – through the back loop
sm – slip marker
st(s) – stitch(es)
rpt – repeat
Skill Level:
Level 2 – Easy
Pattern Notes
-This hat pattern is written in several sizes, adult women's will be bolded throughout as this is our most popular size (& the size pictured).
-Hat is very stretchy, but measure head circumference to choose a size based on the Craft Yarn Council's standard head circumference chart. Finished head circumference of the hat listed above under "Sizes" should be several inches smaller than the measured head circumference.
-You may sub out other worsted weight yarns, but be mindful of your gauge.
-I will be using the magic loop technique to work the decreases at the crown of my hat. You may also use double pointed needles if you prefer.
-All stitch counts in < > are final stitch counts for the Rnd.

Knit Simple Slouch Gwen Hat
CO 32 (40, 48, 56, 64, 72)
Join to work in the Rnd being careful not to twist your stitches. Place marker at the beginning of Rnd.
Work in K 2 P 2 Rib until piece measures 1.5″ or 10 Rows
Continue in Stockinette (K all sts) until hat measures 3 (3, 3.5, 4, 4, 4.5)" from rib
Crown Shaping:
Note: Change to working in magic loop or on DPNs as needed.
Next Rnd: Knit each st around placing a stitch marker every 8 (10, 12, 14, 16, 18) sts
You should have 4 st markers total including the marker at the beginning of your Rnd.
Decrease Rnd: K2tog, *K to 2 sts before marker, K2togTBL, sm, K2tog; Rpt from * 2 times more, K to last 2 sts, K2togTBL <24, 32, 40, 48, 56, 64>
Next Rnd: K each st around <24, 32, 40, 48, 56, 64>
Rpt last two Rnds until you have 8 sts remaining
Finish off yarn leaving a long tail. Draw tail through 8 sts on needles. Remove needles and pull tail tight to cinch. Weave ends.



Looking for more SIMPLE STITCH PATTERNS? Check these out!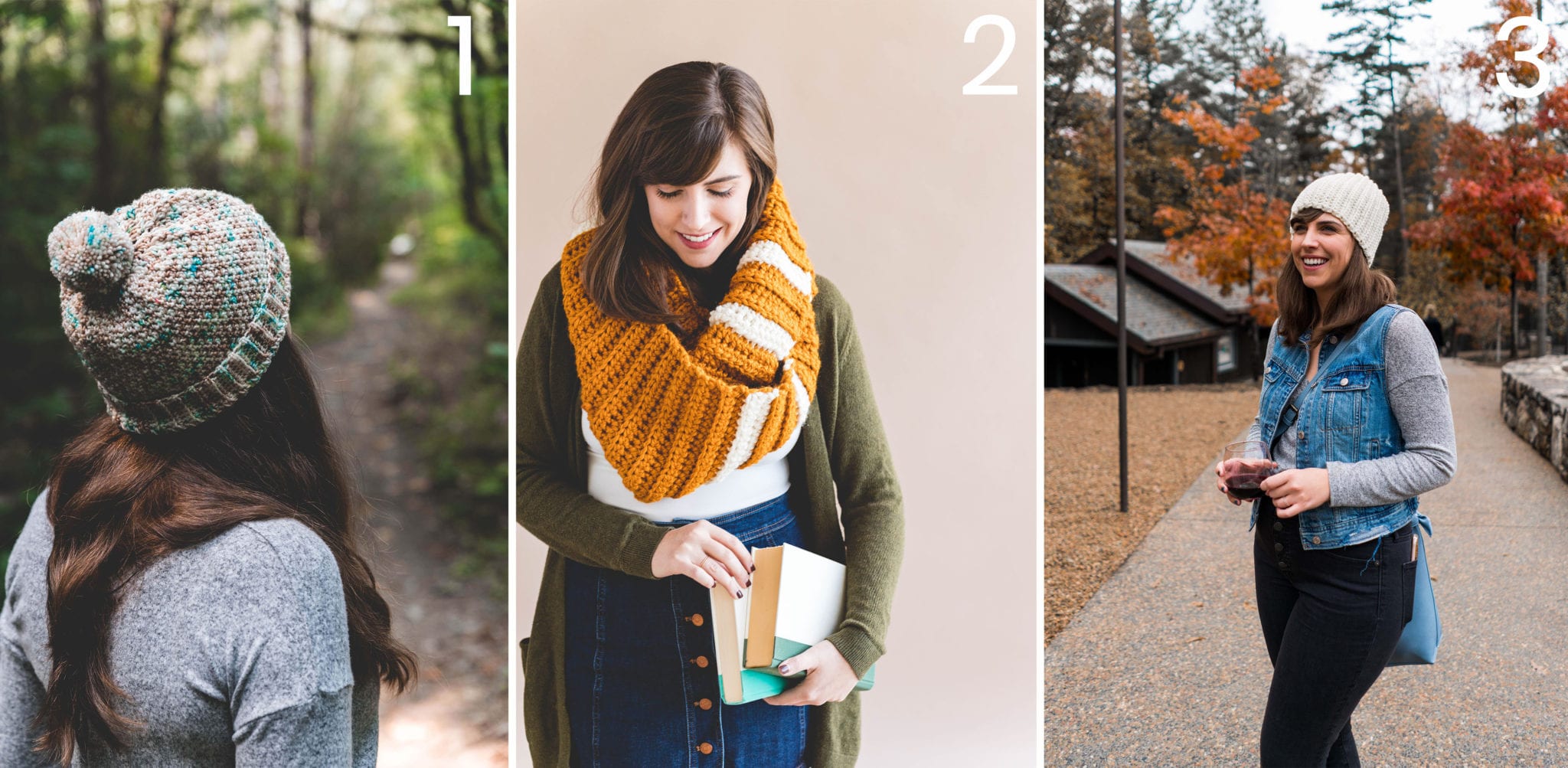 1. Crochet Avery Hat / 2. Crochet University Scarf / 3. Crochet Brooklyn Ridge Hat