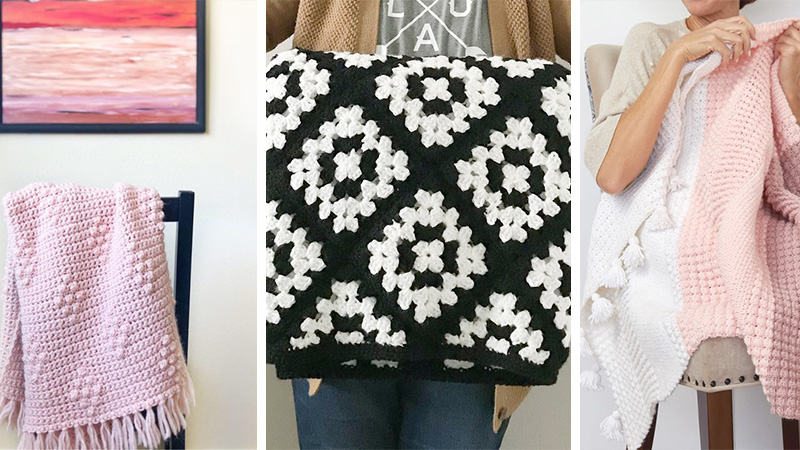 Finding the right yarn substitute is not always easy. It can be especially frustrating when you find a yarn you love but it doesn't turn out the way you want or it's not the right fit for the pattern. So I'm here to help you navigate your way down the yarn aisle, and discover your match-made-in-heaven yarn!
Of course matching fiber content and yardage (I'm anti-math, who's with me??) are ideal when substituting yarn. But what's more important is matching weight. Some weights have a broad spectrum, leaving a lot of room for variety. It can be even trickier to manage as a beginner, so here's the ultimate guide to understanding yarn weights. This is also where gauge swatching comes in handy! (If you're not familiar with gauge swatching, watch this handy video tutorial here.)
Scroll down to read about some really simple and helpful suggestions for the perfect substitute yarn for blankets!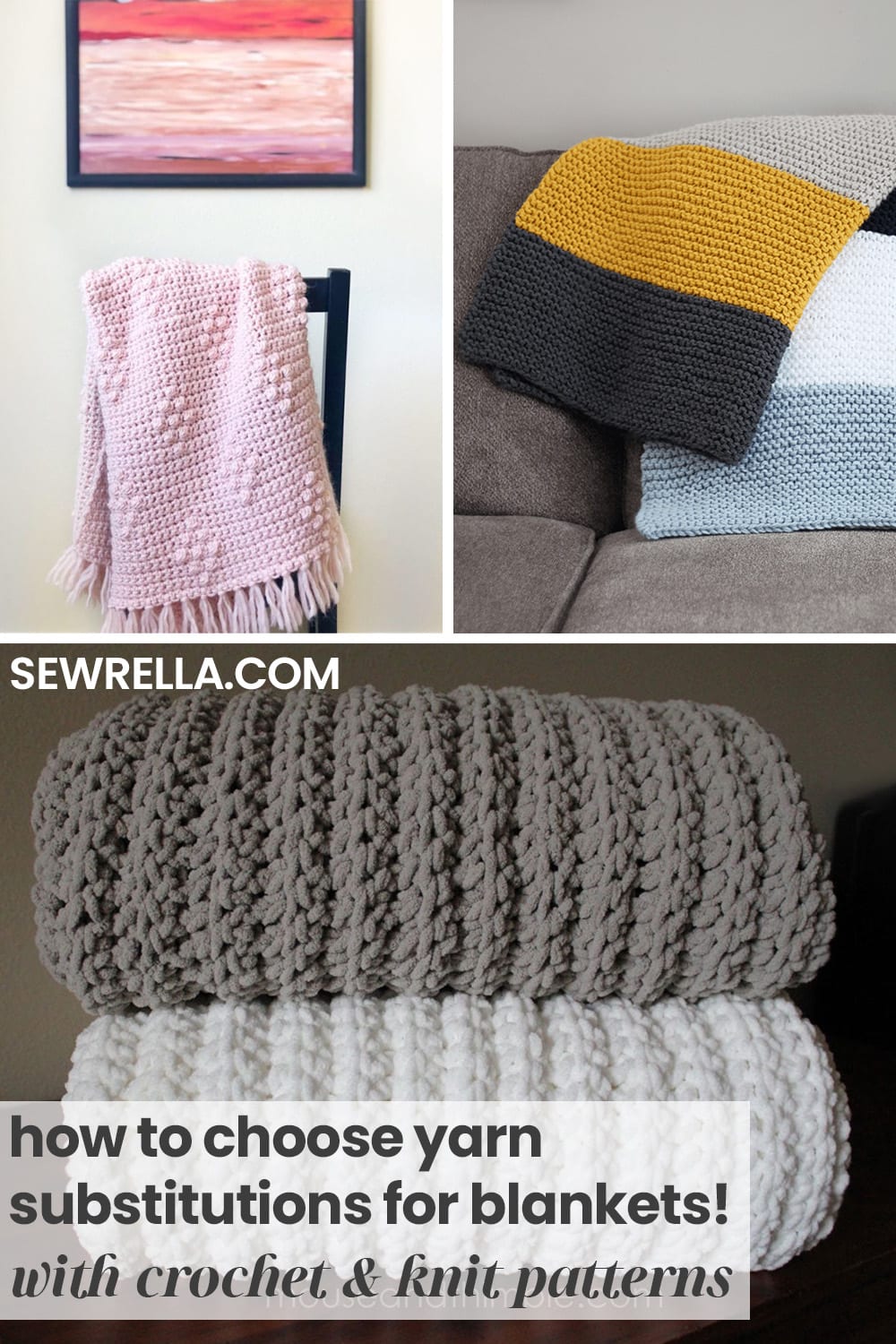 PATTERNS
Click the titles to find the patterns from fellow bloggers featured below. If you're looking for some amazing tools & materials, shop my recommendations here!

Crochet Mabel Blanket from Meghan Makes Do – Original yarn: Lion Brand's Vanna's Choice (black) & Big Twist Value Worsted yarn (white) / Substitute: Lion Brand's ZZ Twist
All 3 of these yarns share the same 100% acrylic fibers, making this one a no brainer! ZZ Twist makes these classic granny squares shine with neutral, bright, and rich colors to choose from. For the ultimate color pairing options for this blanket, stock up on some of this yarn that's made for crocheters! And maybe a few extra, because trust me – you want some leftover for other projects (like this easy beginner garment!).
Ombre Textured Crochet Blanket from Dabbles & Babbles – Original yarn: Plymouth Encore Worsted yarn / Substitute: Lion Brand's Mandala Ombre
I chose the ombre for this sub because I thought it made sense with the style of the pattern (no end weaving here!) and makes life a bit easier. And let's be real, I'll take ease anywhere I can. With multiple variations of Mandala (the original, Baby, Sparkle, Tweed, to name a few), this is a fun way to play with both colors and textures in this pattern! And I'm comin' in with another win. Sure, you gotta do a little math here, but it's the good kind! Mandala yarns are known for lots of yardage, so you're getting almost twice as much here (344 yds) than with the original (200 yds)! I'll leave you with this… If you ever wondered what goes on inside my head when I see this yarn sitting pretty on a shelf, here's my inner dialogue: "Hey there self-striping yarn. You're looking mighty fine today. Why yes, I DO think I'm in the mood for mindless crocheting! Thanks for asking!" 
Crochet Diamond Berry Stitch Blanket from Daisy Farm Crafts – Original yarn: Patons Classic Wool Roving yarn / Substitute: Lion Brand's Color Made Easy
Since CME is 100% acrylic, this is a great substitute for people with wool allergies! And I'm just especially partial to this yarn. Ever since it was debuted, I've had a hard time keeping it off my hook or needles (yes it's perfect for both crafts). It's squish-tastic, soft, smooth, and bouncy, and about as perfect as it gets for marshmallow-like fluffy blanket goodness (how's that for adjectives?!). It's a stunning weight 5 bulky yarn, which (if you ask me) is the perfect thing for beginners. It's nice and thick so you can clearly see your stitches, and easy to hold and work with for those completely foreign to yarn. And it's works up quicker than those pesky thin yarns! Triple win. I could go on ranting about the killer colors, but that's something you might as well see for yourself! 😉
Striped Knit Blanket by Rescued Paw Designs – Original yarn: Lion Brand's Vanna's Choice / Substitute: Lion Brand's Basic Stitch Anti-Pilling
There's really nothing basic about Basic Stitch. Get ready for it to be your new go-to acrylic yarn that you find yourself grabbing again and again. It can stand the test of time like no other because it's treated to resist pilling. Even if you do see those fuzzy bumps begin to appear, just pop it in the wash and they're gone! It's pretty magical. Both of these yarns also have an enormous palette for choices galore, making it an easy swap. 
Crochet Fisherman Blanket from Mouse and Thimble – Original yarn: Bernat Blanket yarn / Substitute: Lion Brand's Wool-Ease Thick & Quick OR Lion Brand's Homespun Thick & Quick
I gotta say, Bernat Blanket is a staple yarn and – as its name suggests – is a really good choice for blankets. However, these LB substitutes offer more unique texture and colorway options to bring something different to your stash. The Blanket yarn is 100% polyester, which is hard to come by. So if you can't find this one in your local store or want to work with something else, we'll need to switch fibers here. In this case, over to the wool side of the house! I am almost always able to find some kind of WETQ in my craft stores and usually only come across the classic Homespun, which is indeed different from the Thick & Quick edition – so be extra careful to double check your labels here. Also, keep in mind there's almost always more beyond what you see sitting on the shelf. So for a full range of options, I advise shopping online for this project!
OTHER FREE HOME DECOR CROCHET PATTERNS YOU MIGHT LOVE