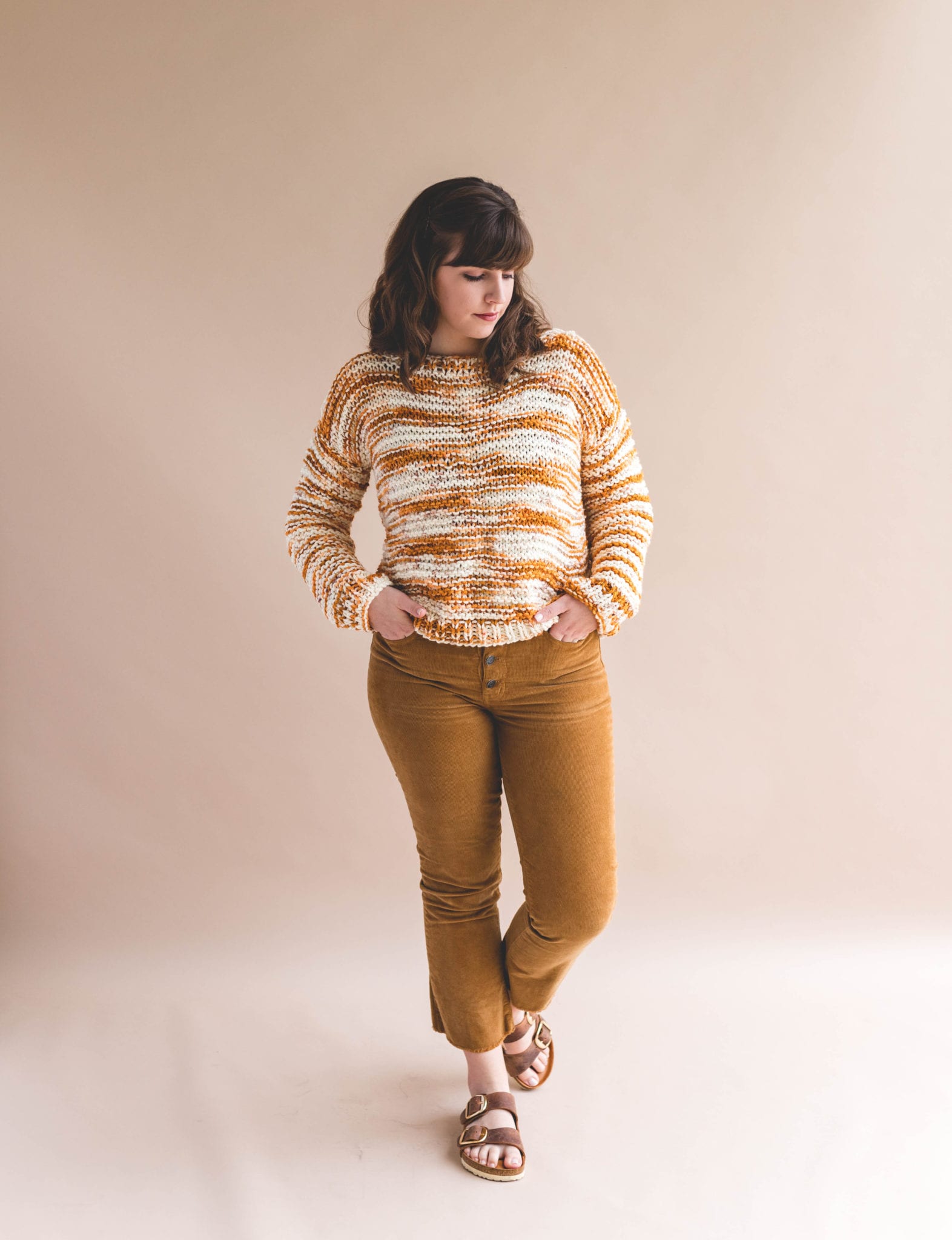 Remember the original Simple Knit Sweater? This is the Sewrella Yarn edition! And I know what you're thinking… "Ashleigh, why are we posting pumpkin things in February?" Well let me tell ya – you guys went crazy for this colorway when we brought it out last fall and I had aspirations to make something with it, but autumn came and went in the blink of an eye and here we are towards the end of winter… I'm tryin' my best y'all. This busy toddler mama only has so much steam. Better late than never though, right?!
Also worth noting: I could ride the pumpkin spice train all year long if it were up to me. Truth be told, I could probably be the conductor. Actually, I just stocked up on some pumpkin coffee creamer my local Target had left over on clearance, so the craze clearly isn't over!
Anywho, I've got the kit HERE for those of you who want to skip the reading and get to the good stuff (I don't blame you). I have 5 really gorgeous brand new jewel toned colorways, a nice, lightly speckled neutral, and, of course, the pumpkin spice pictured here. Don't miss it while it's 20% off this week only!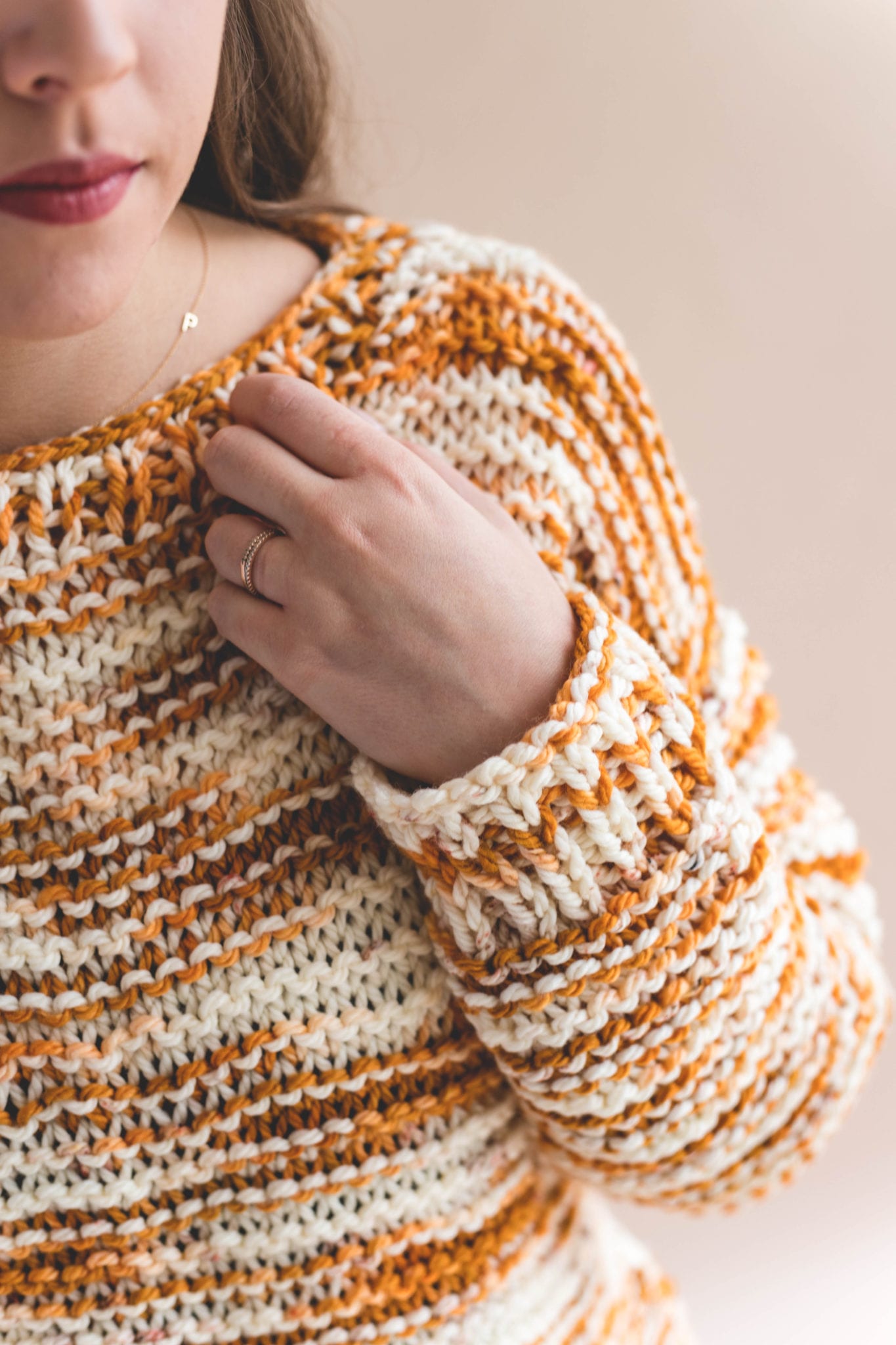 The Yarn
Alright, let's get down to the goods, shall we? We've been working on a new dye method that I am really falling in love with, and I think you will too.
It's called a Speckle-Solid and it's a tonal variation on normal solid dyed yarn! We dye the yarn all over with one made-in-house color blend and then give it another pass through the dye pans with a speckle of the same color to give even more depth. Neat, right?!
The simple knit sweater that was knit up in our yarn uses our Pumpkin Spice colorway (I know, I know I dropped the ball on getting this baby up on the blog in October when we are all about the pumpkin but just go with me here folks). This is a more variegated yarn of ours and we dye a lot of yarn this way!
Pumpkin Spice is one color option for this yarn kit and the others (pictured below left to right) are Berry Muffin, Brûlée, Vanilla Bean, Saltwater Taffy, Blue Velvet, and Wild Strawberry. They're sweet speckle solids!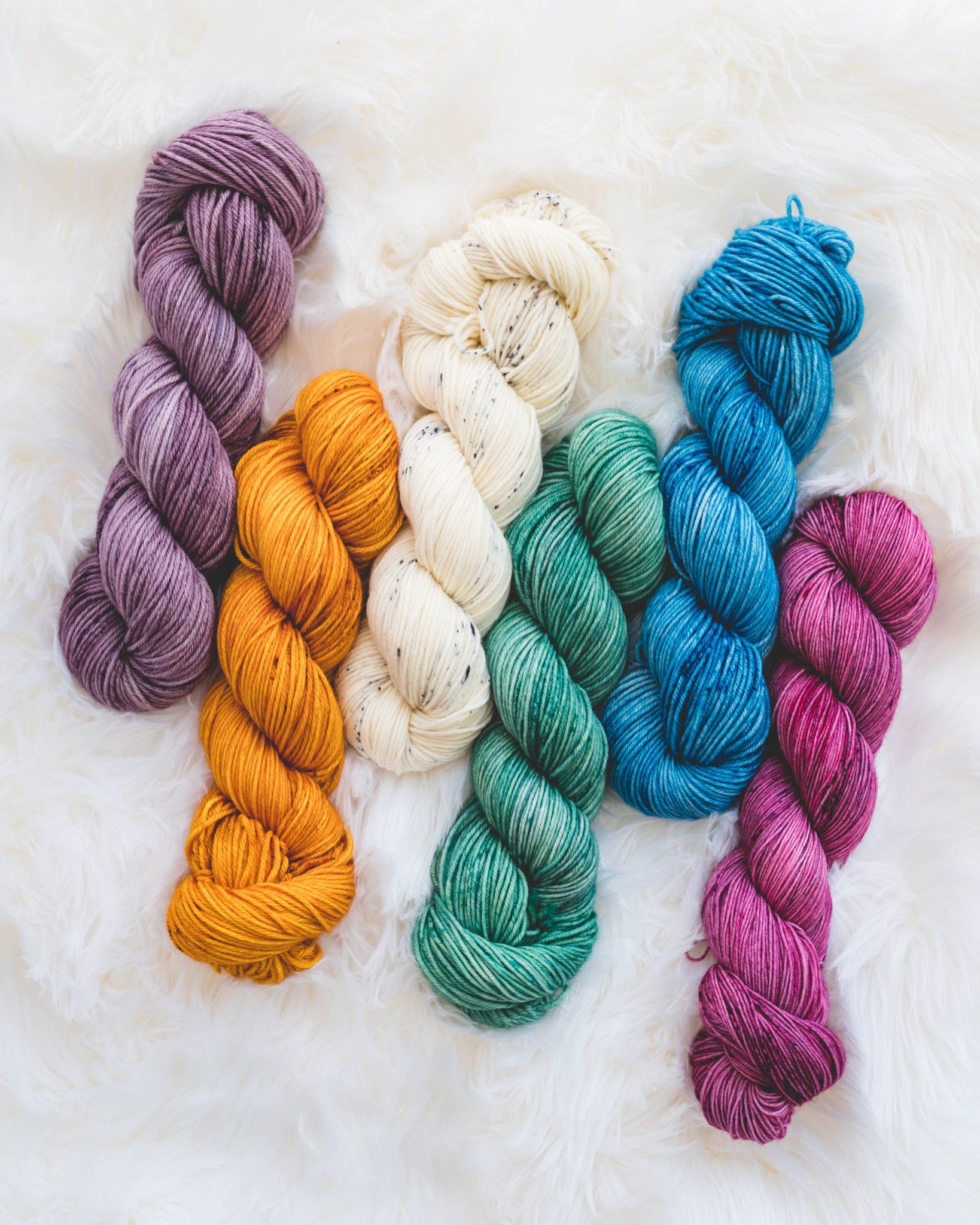 PATTERN
To sum it up: This simple knit sweater is relaxed and comfortable with the perfect slouchy fit. It's simple to knit in bottom up seamed construction and is super doable for beginners! Made with artisan hand dyed yarn, this sweater is as stunning as you are.
Materials:
–Handmade Home Fibers yarn or any bulky weight yarn (XS-S: 5 skeins, M-L: 6 skeins, XL: 7 skeins, 2XL-3XL: 8 skeins)
Shop all my favorite tools & materials here!
Gauge:
8 sts x 16 rows = 4″ in garter stitch
Sizes:
XS, S, M, L, XL, 2XL, 3XL
Measurements:
Bust: 30 (34, 38, 42, 46, 50, 54)"
Width across back: 17 (18, 19, 20, 21, 22, 23)"
Length: 21 (22, 23, 23.5, 24, 24.5, 24.5)"
Armhole: 6 (6.5, 7, 7, 7.5, 8, 8.5)"
Sleeve Length: 16.5 (17, 17, 17.5, 18, 18)"
Abbreviations (US terms):
co – cast on
k – knit
k2tog – knit 2 stitches together
p – purl
rep – repeat
rs – right side
st(s) – stitch(es)
ws – wrong side
Skill Level:
Level 1 – beginner
Pattern Notes
-For reference, model is 5'5" tall, and wearing the Simple Knit Sweater in a size Medium. Fit is oversized, for a more fitted sweater size down.
-Sizing listed in the pattern will be in X-Small with Small, Medium, Large, Xl, 2X, and 3X listed in parenthesis such as 36 "(41, 46, 51, 56, 61, 66)" whereas co 36 for size XS, 41 for size S, 46 for size M, 51 for size L, 56 for size XL, 61 for size 2X and 66 for size 3X. When only one number is given, it applies to all sizes. To follow pattern more easily, circle/highlight all numbers pertaining to your size before beginning.
-This pullover sweater is worked in 5 pieces, the front and back panels, 2 sleeve panels then seamed together. The neckline ribbing is stitched on last by picking up stitches.
-All sizing is a bit oversized and based on the CYC sizing regulations.

Pumpkin Spice Knit Sweater
Back Panel
Co 30 (38, 46, 54, 62, 70, 78) sts
Ribbing
Rows 1 – 6: K1, P1, rep across
Body
Rows 7 – 58 (62, 66, 70, 74, 78, 82): K all sts (garter st)
Bind off all sts
Front Panel
Co 30 (38, 46, 54, 62, 70, 78) sts
Ribbing
Rows 1 – 6: K1, P1, rep across
Body
Rows 7 – 52 (56, 60, 64, 68, 72, 76): K all sts (gater st)
Shoulder shaping
Row 1: K 9 (12, 15, 18, 21, 24, 27) sts, bind off 12 (14, 16, 18, 20, 22, 24) sts for the neckline, K remaining 9 (12, 15, 18, 21, 24, 27) sts for the other shoulder
Row 2: K all sts on one shoulder side (first 9, 12, 15, 18, 21, 24, 27 sts), leave remaining sts on the needle unworked (finish one shoulder at a time)
Row 3: K2tog, K all remaining sts on that shoulder side
Row 4: K all sts
Row 5: Repeat Row 3
Bind off all sts on that shoulder side
Join yarn to other shoulder side (close to neckline) and K all sts
Row 2: K all sts
Row 3: K2tog, K remaining sts
Row 4: K all sts
Row 5: Repeat Row 3
Bind off all sts
Weave ends.
Sleeves
*make 2
Co 26 (28, 30, 32, 36, 38, 40) sts
Rows 1 – 32: K all sts (garter st)
Row 33: K 3, K2tog, rep across
Rows 34 – 54 (56, 56, 58, 58, 60, 60): K all sts
Ribbing
Rows 1-6: K1, P1, rep across
Bind off all sts
Seaming
Shoulder seams: Sew front shoulder shaping with a mattress stitch to back panel with WS facing you.
Sleeve: Open your sweater with seamed shoulders to lie flat with RS facing up. Lie sleeves flat with RS facing up. Count to center of sleeve Co sts, match up with shoulder seam and place a stitch marker to hold centered in place. Sew sleeve's Co edge to sweater bodice with a whip stitch. Repeat on other side.
Side seams: Fold sweater to match the side seams and sleeve underarm seam. Sew with an invisible vertical seam beginning with sleeve ribbing, along underarm, and continuing along the front and back panel body and finish with bodice ribbing. Repeat on other side
Weave all ends.
Neckline
Pick up stitches all along the neckline of the sweater (working into the shoulder seams themselves and all cast off stitches).
# of neckline stitches will vary depending on your size, just make sure you've picked up an even number of stitches.
Rows 1-2: K 1, P 1, rep around
Bind off all sts
Weave all ends.
Pop on your new finished sweater and enjoy!



Looking for more KNIT PATTERNS? Check these out!

1. Knit Betty Cardigan / 2. Plaid Knit Baby Blanket (in 3 sizes!) / 3. Holiday Knit Sweater