The latest free DIY here on the blog – The Man with the Yellow Hat & Curious George Halloween Costume!
Read below about the inspiration, the monkey pattern I made, and the materials, or scroll on down for the free pattern, video and photo tutorial.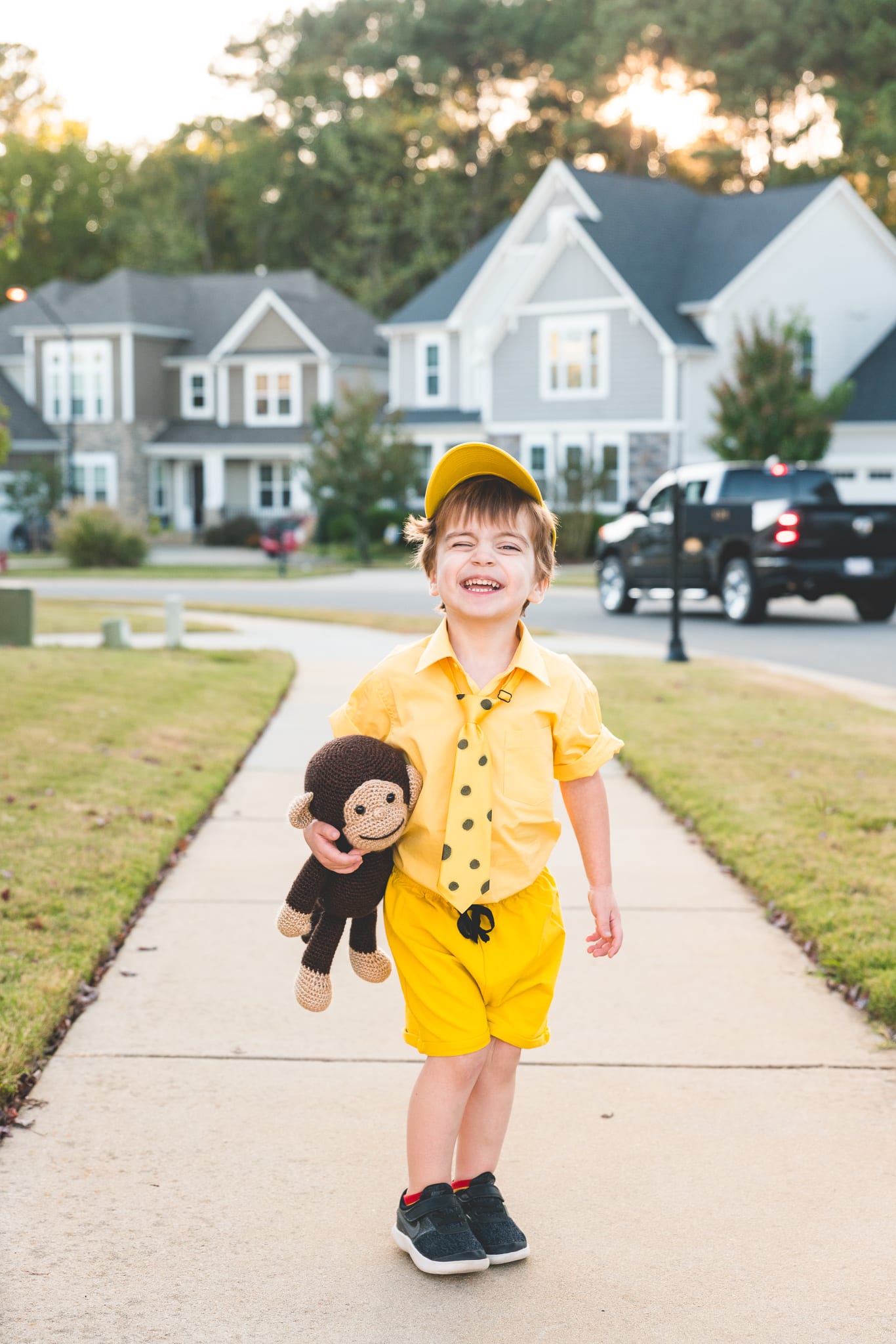 The Inspiration + Design
My three year old Parker is obsessed with Curious George – the books, the movie, everything. So when I thought about Halloween coming up, I thought surprising him with a fun costume would be just the thing!
I'll be dressing Parker up as The Man with the Yellow Hat and he will carry around a monkey! I made the monkey myself and even designed a pattern for you guys to make your own Monkey! I made him in about a week with just two skeins of yarn so you still have time to throw this together before Halloween!
See the free Happy Monkey Crochet Pattern HERE!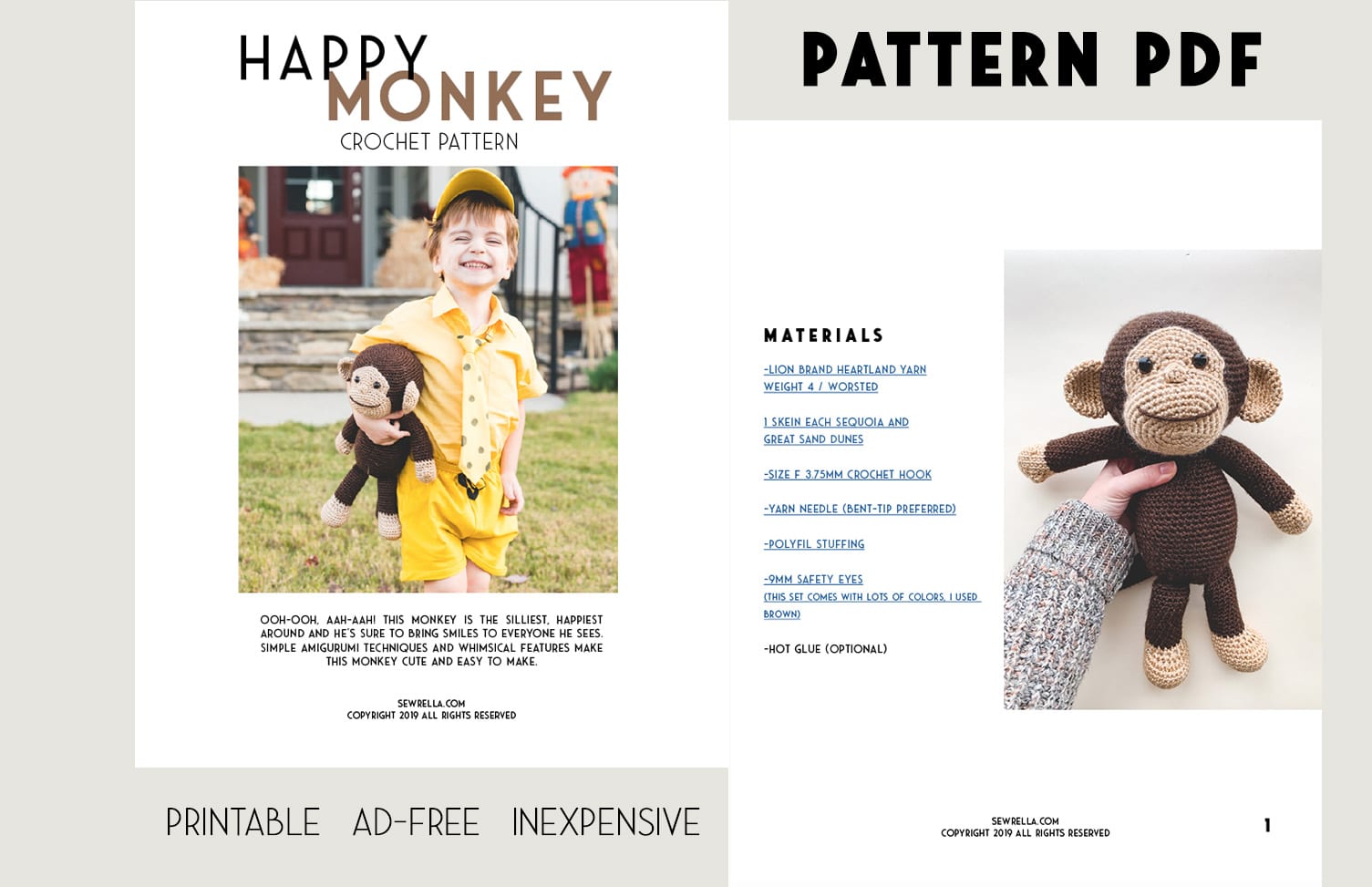 This makes the monkey component such a special piece for his first Halloween costume (he didn't dress up the last couple of years) and he can keep it around to play or sleep with beyond just Halloween! Which means all my hard work making this little guy will be so worth it.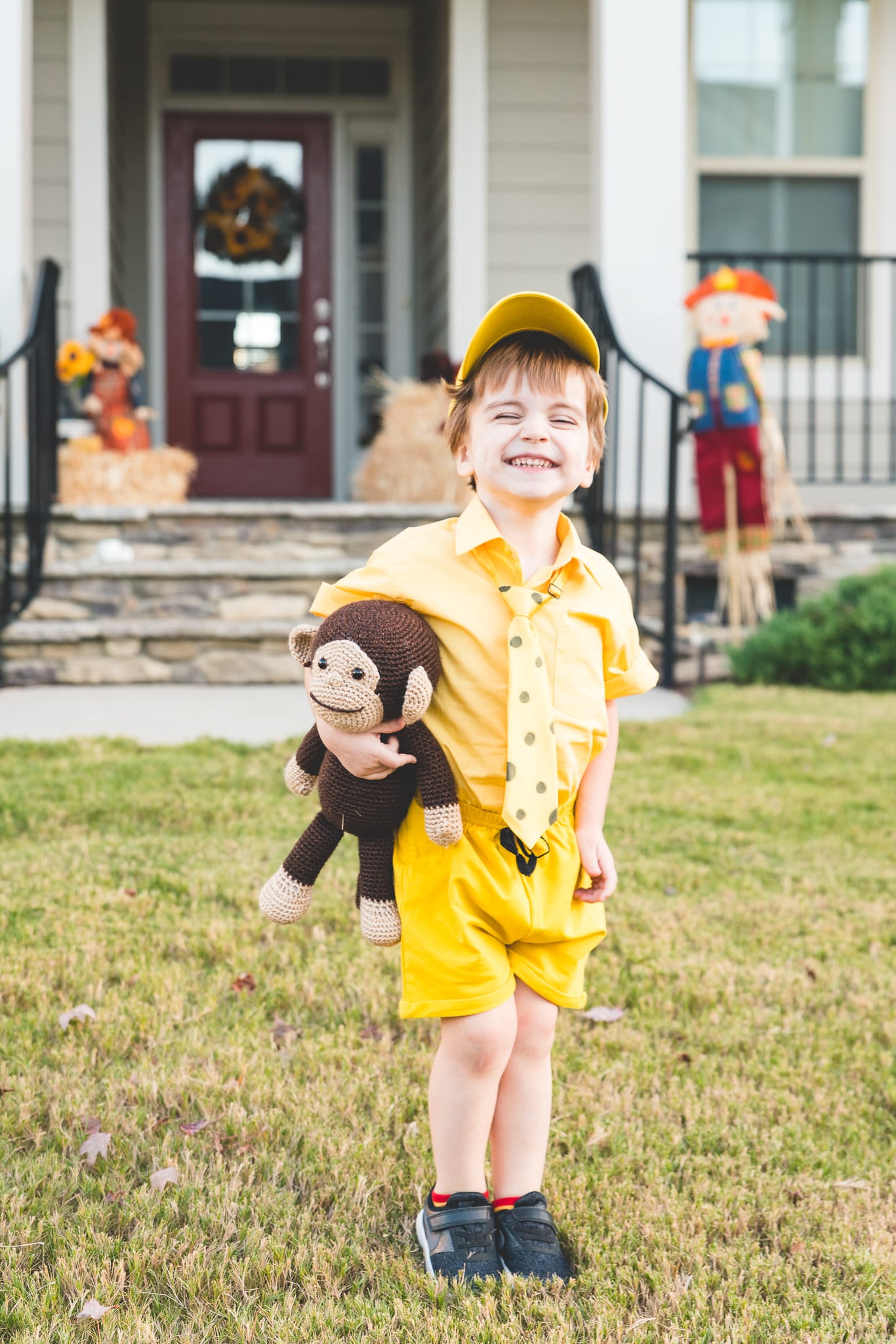 The Materials
(links below)
In the way that I wanted the monkey to be multi-purpose, the components of the outfit needed to be useful too! I hate spending money on a costume to wear for two hours and then the entire thing is wasted. Drives me nuts!
So instead of a big honkin' yellow hat that he'll never wear again, we opted for a yellow baseball cap.
I found yellow shirts and shorts in all different styles and just picked what I thought he would like to wear and would fit together with the theme. Again, he will re-wear the shirt and shorts after Halloween is over just not in one big yellow ensemble.
I found a yellow toddler sized tie on amazon and drew black circles with sharpie to make it look like The Man with the Yellow Hat's from the books. This may not be worn again but that's still only one item from the whole costume that won't get reused! WIN!



PATTERN
DESCRIPTION
Ooh-ooh, aah-aah! This monkey is the silliest, happiest around and he's sure to bring smiles to everyone he sees. Simple amigurumi techniques and whimsical features make this monkey cute and easy to make.
MATERIALS
(click the links below to find all my sources!)
–Yellow shorts (Parker loves these ones!)
-Black Sharpie
NOTES
-The only required assembly (other than creating the Monkey) is as follows:
Draw 1″ circles on tie with black sharpie.
That's it!

OTHER FREE CROCHET HOME DECOR PATTERNS YOU MIGHT LOVE