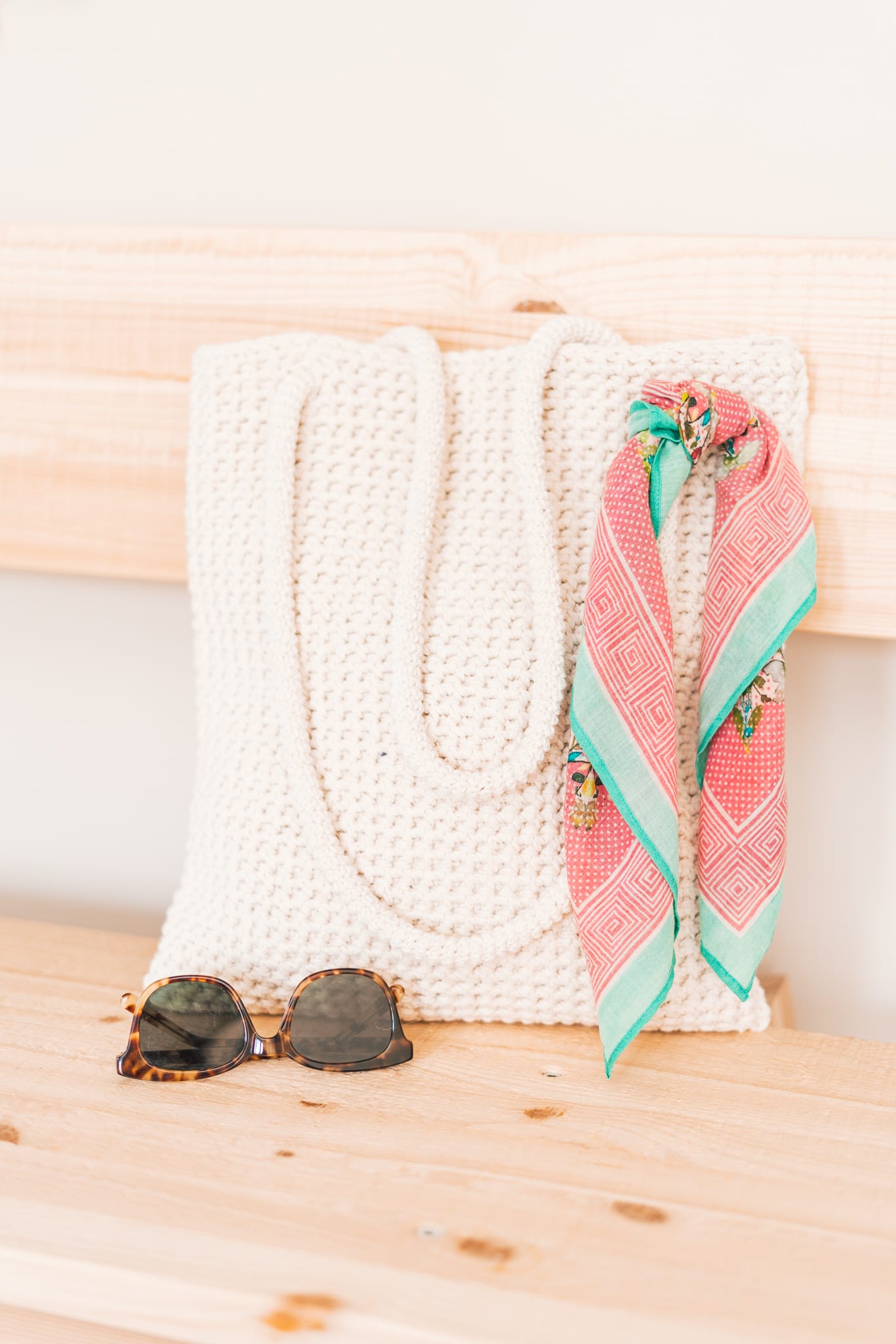 An easy crochet tote bag with a fun, thick stitch – my Fraîche Crochet Tote Bag – is a free pattern here on the blog! Read through my inspiration, design process, and lots of info on the perfect yarn I chose.
Grab the inexpensive PDF pattern here or scroll all the way down for the free pattern.
The Inspiration + Design
The Fraîche Crochet Tote Bag is one I've had on my list to make since late last summer. I've seen so many gorgeous crochet tote bags over the years but they're usually stretchy and open. I wondered what a more structured tote might be like (one that could pass my laptop test! And it did, no sagging or stretching!). After making my thermal stitch potholders last fall I knew this stitch would make an incredibly durable crochet tote bag.
Fraîche is french for "fresh" in the feminine distinction and translates also to "dewy, crisp, youthful" and I feel like those concepts perfectly describe this bag design. It's fresh and new in concept yet somehow classic and crisp. It's the perfect mixture of new, on-trend elements while still being timeless. My favorite kind of design!
The straps are my favorite part – they're all crochet so you don't need to purchase hard-to-find purse straps and they're easy to make. A simple tiny tube actually makes for a fairly durable and rigid strap – especially if you thread some macrame or parachute cord through the center to prevent against stretching even more (this part is optional). Threading the strap through simple eyelet holes in the body of the bag make assembly simple and the crochet tote bag is easy to use. One could even add rivets to the eyelet strap holes for even easier strap movement as you load and unload your crochet tote bag with goodies.
One crochet tote bag, so many uses!
In designing this crochet tote bag I wanted to make sure it could pass my "laptop test" – would it stretch out or sag with a heavy laptop inside? NOPE! It passed with flying colors! The rigid thermal stitch and the sturdy side seams supported the weight of my laptop perfectly. (Full disclosure: I have a 13″ Macbook air – so not the largest or heaviest laptop ever but I believe this bag would hold up well no matter what you load up inside!).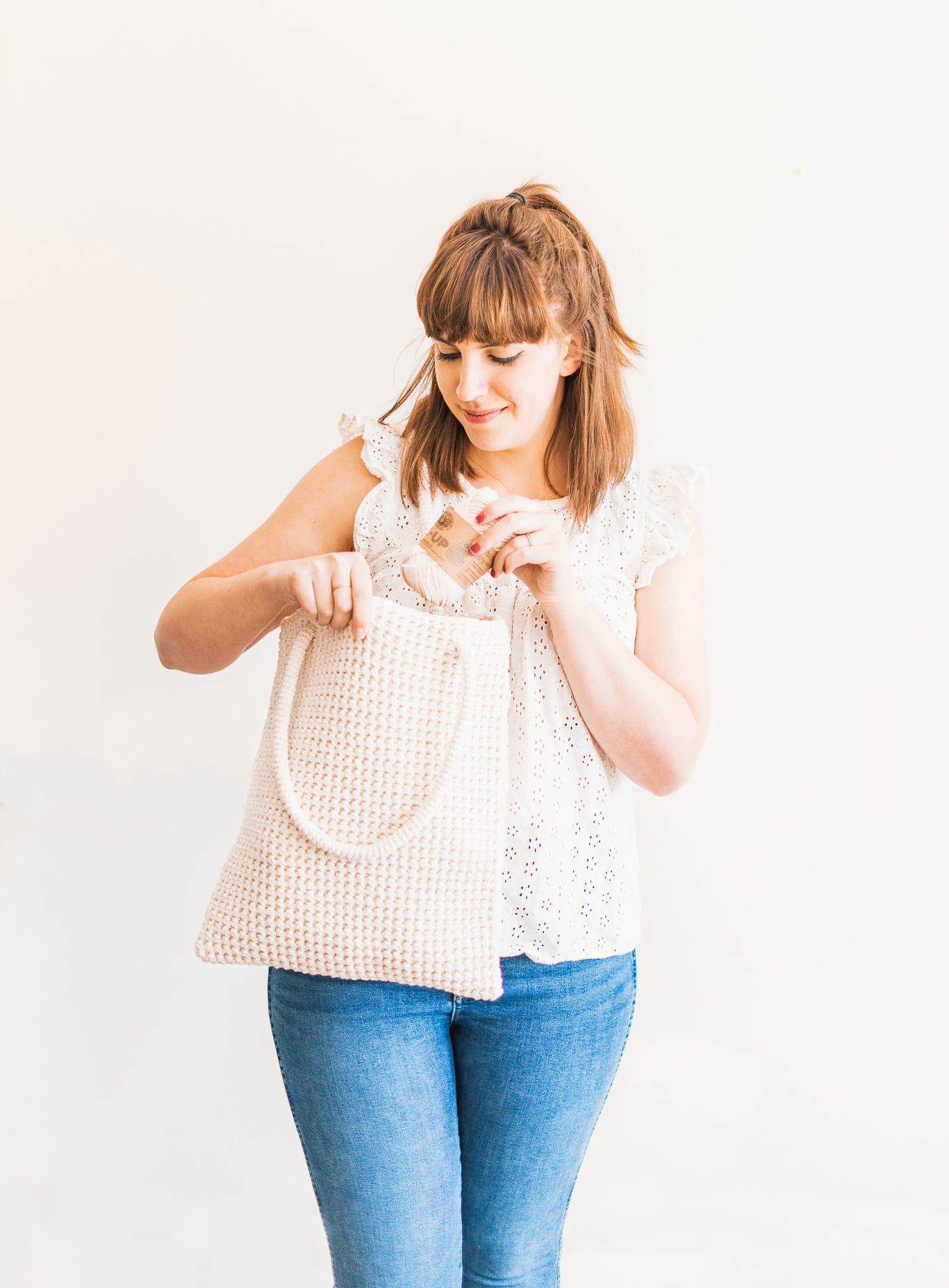 This crochet tote bag would also make an excellent farmer's market companion. Filling with fresh fruits, vegetables and flowers is easy with its accessible body and incredibly thick structure. There is also quite a bit of privacy with this bag because the body isn't see-through! Because let's be honest – we all love to stop at the local bakery table at the farmer's market and load up on chocolate croissants. Is that just me??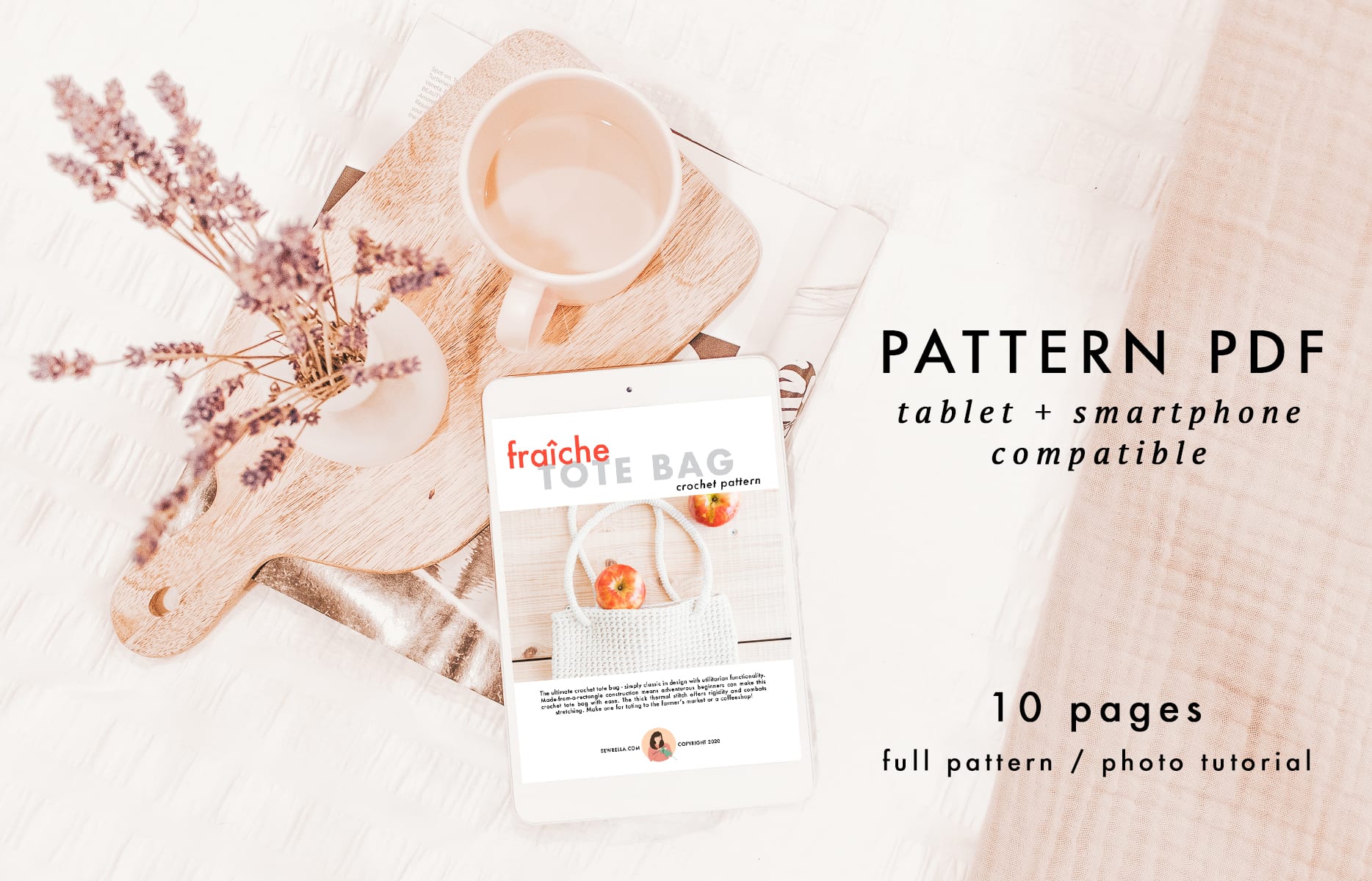 Simple and stunning construction
I wanted to make sure that this crochet tote bag design wasn't too complicated. That's why it's made from one big rectangle! I believe that adventurous beginners can make this project – if you've already learned the thermal stitch by making my potholders or coasters, this bag is no more tricky than that!
We start by making one large thermal stitch rectangle with two eyelet holes at each end (don't worry these are really just chain 1, skip 1 spaces). Then we fold it up and seam the sides, leaving a thermal stitch folded bottom for extra strength. Then the strap is made and threaded through the eyelet holes to be seamed into one continuous tube. That's it!
I've also made sure to include lots of photos on the assembly of the bag, just to take care of my beginner crocheters out there!

The Thermal Stitch
I love love LOVE the thermal stitch. It's become my favorite stitch for durable, rigid projects. Combine the stitch with a cotton blend yarn and you've got a recipe for heirloom projects that can handle regular use! Wahoo!
I have a full stitch tutorial with video here for those that are unfamiliar. I've also included a photo tutorial for this stitch below the written pattern at the end of this blog post.

Yarn + Substitution
I used Lion Brand's Re-Up yarn in ecru, which is a worsted weight yarn. It's a cotton polyester blend yarn that's made from recycled water bottles! It's a very unique yarn that comes in a lot of gorgeous, vintage-inspired colors and is extremely sturdy for projects like crochet tote bags, potholders, and coasters (all of which are free patterns here on the blog using the thermal stitch!). It's also only $1.99 per skein so it makes for a great, affordable option. Or grab the kit in any color by clicking here!
A note on substituting yarns for this project: there is a lot of variation in the yarn industry within the world of worsted weight category 4 weight yarn. The best way I know to compare yarns of different origins, fiber contents, and brand are to look at the yardage per gram. On the yarn label for any yarn (from a big box store or from an independent dyer), the yardage for the ball or skein is listed.

The Re-Up yarn I used from Lion Brand is a 70 gram ball with 114 yards. 114/70=1.63 yards per gram.
I try to make sure any yarns I'm substituting are absolutely no more than 0.5 yards per gram difference from the yarn originally used in the pattern. The lower this number is, the closer these comparative yarns will be in gauge, resulting in a seamless finished project!
I do however recommend going with a cotton or cotton blend worsted weight yarn for this project, even if you don't use Re-Up. The cotton is more stiff and rigid than other kinds of fiber meaning that your crochet tote bag won't stretch very much when you fill it with goodies!




PATTERN
Description
The ultimate crochet tote bag – simply classic in design with utilitarian functionality. Made-from-a-rectangle construction means adventurous beginners can make this crochet tote bag with ease. The thick thermal stitch offers rigidity and combats stretching. Make one for toting to the farmer's market or a coffeeshop!
Yarn
–Lion Brand – Re-Up
(weight 4 / medium, 2.5oz/70g, 114 yds/105 m)
Color: ECRU – 8 skeins or 850 yds/778 m

Grab the kit in any color from Lion Brand here!
Notions
Gauge
12 sts x 12 rows = 4″ in pattern (thermal stitch, yarn held double)
Finished Size
12 x 14″ (excluding straps)
Notes
-Chain stitches throughout the pattern do no count as a stitch, nor are they included in total stitch counts.
-Substitute other yarns of any weight by using it's recommended hook size and following the same stitch pattern with a foundation chain that's the width of your desired bag size and working row repeats until you've reached the length you desire. Alterations may affect yardage.
-Yarn is held double throughout the pattern unless otherwise stated.
FRAÎCHE CROCHET TOTE BAG
With yard held double and 7mm crochet hook, ch 37, skip 1 stitch
Row 1: 3rd loop sc across, turn <36>

Row 2: Ch 1, BLO sc across, turn

Row 3: Ch 1, thermal sc across, turn



View this post on Instagram
Row 4: Rep row 3
Row 5: Ch 1, thermal sc next 6 stitches, ch 1, skip 1 stitch, thermal sc next 22 stitches, ch 1, skip 1 stitch, thermal sc last 6 stitches, turn <34>
Row 6: Ch 1, thermal sc next 6 stitches, regular sc in skipped space, thermal sc next 22 stitches, regular sc in skipped space, thermal sc last 6 stitches, turn <36>
Row 7: Ch 1, thermal sc next 6 stitches, BLO sc in regular sc, thermal sc next 22 stitches, BLO sc in regular sc, thermal sc in last 6 stitches, turn
Note: Eyelet hole made by ch 1, skip 1 may look somewhat hidden. Place a stitch marker near the hole in case you're worried you won't be able to find it later.
Rows 8-80: Rep Row 3
Rows 81-83: Rep Rows 5-7
Rows 84-86: Rep Row 3
Row 87: Slip stitch through both top loops of the stitch and the stitch we work into from the row below, rep across
Finish off, weave ends.

Strap
With a single strand of yarn and F 3.75mm crochet hook, ch 6, skip 1 stitch
Row 1: Sc across <5>
Row 2: Wrap strip of sc into a loop and sc into the first stitch from Row 1, work sc in the round
Continue working sc in the round until your strap measures 50″ long or the desired length of your entire strap piece.
Finish off leaving a long tail for sewing, do not weave ends.

Assembly
Fold large rectangle with right sides together to seam up sides. Take care to align foundation chain and last slip stitch row. With a long piece of scrap yarn (held double) seam selvedge edges with a mattress stitch, pulling each stitch tight as you sew to create a strong seam. Weave ends to secure. Turn inside out (optional).

Thread unfinished strap through the eyelet holes created (these should match up) as pictured. You may thread a bit of macrame cord through the strap for added structure to prevent stretch but it's not necessary. With a tapestry needle, sew two ends of the strap together with a whip stitch to form one continuous tube strap. Weave ends to secure.




Abbreviations (US terms):
BLO – back loop only
ch – chain
rep – repeat
sc – single crochet
sk – skip
<> – stitch count
OTHER FREE THERMAL STITCH PATTERNS

Crochet Double Thick Potholders /2. Textured Crochet Coasters/ 3. Fraîche Crochet Tote Bag