The Parisienne Beret is the hat of european dreams! With simple stitches and all-in-one construction, this hat works up fast and is sure to please all the girls in your life!
I am always inspired by vintage fashion and feminine romance, so this Beret was a cold weather must-have! I upped the romance factor even more by cross stitching a simple heart on the side of my hat. You could get really creative with embellishments here and stitch on 3D flowers (like my crochet roses), other appliques (my crochet hearts), or just leave your simple beret bare!
SWEATER PATTERNS I LOVE (& you should too)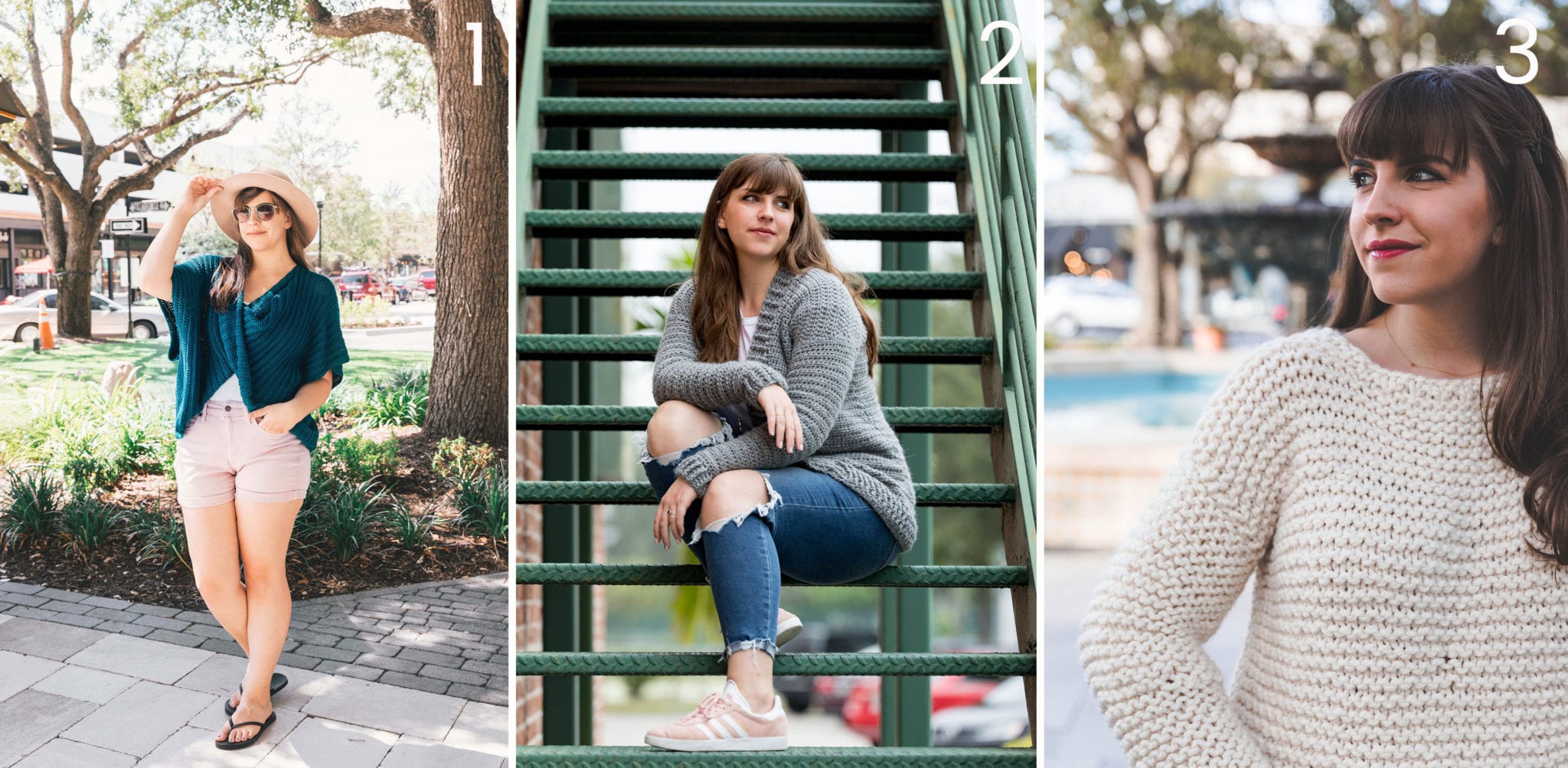 1. Crochet Twist Swancho / 2. Crochet Everyday Cardigan / 3. Simple Knit Sweater
The Yarn
Lion Brand's Touch of Alpaca yarn is one of my favorite cold weather yarns! It has a slight fuzz from the addition of luxe alpaca to the basic acrylic base yarn. The color selection from this line of yarn is one of my favorites offered by Lion Brand, and this purple aster color is gorgeous!
I also used Lion Brand's DIYarn mini skeins to make the cross stitched heart on my hat in the color Cream. These little skeins are perfect for accents like this one and are very inexpensive for the quality!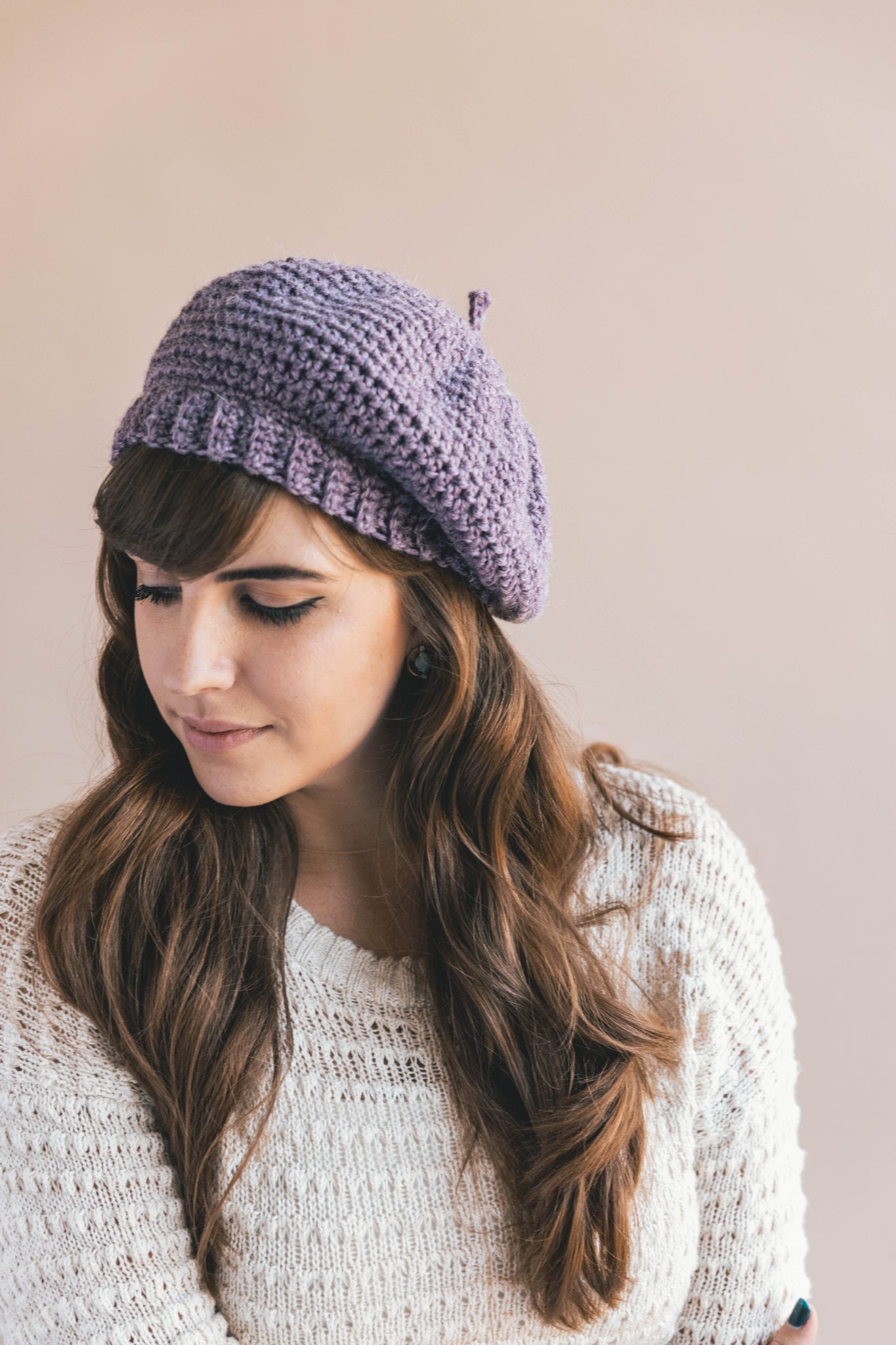 PATTERN
To sum it up:
Materials:
–1 skein Lion Brand Touch of Alpaca yarn in Purple Aster
–Additional cream yarn for cross stitch heart (I used DIYarn)
(Click HERE to shop all my favorite tools!)
Abbreviations (US terms):
ch – chain
sl st – slip stitch
Sc – single crochet
Hdc – double crochet
Hdc2tog– half double crochet two together
sk – skip
st(s) – stitch(es)
t – turn
rpt – repeat
Gauge:
3 sts x 2 rows = 1″ x 1″ in Hdc
Skill Level: 2 Easy
Pattern Notes
-This pattern will fit adults
-Hat is made in one piece with a heart cross stitched on after, you may leave off this embellishment or add other accents like flowers or appliques.

Parisienne Beret
Band:
Ch 6
Row 1: Sc in 2nd Ch from hook and each Ch across (5)
Row 2: Ch 1, t, Sc in back loops only across (5)
Rpt Row 2 64 more times
Hold first and last rows together
Join: Ch 1, t, work thourgh first and last rows at once, sl st in each across to join, don't fasten off
Body of the hat:
*work in continuous rounds
Rnd 1: Ch 1, work into rows along edge of band, work 44 Sc evenly spaced around
Rnd 2: 2 Hdc in each st around (90)
Rnd 3: Hdc in each st around (90)
Rpt Rnd 3 8 more times
Shaping the Crown:
Rnd 12: Hdc in next 13 sts, Hdc2tog; rpt around (84)
Rnd 13: Hdc in next 5 sts, Hdc2to; rpt around (72)
Rnd 14: Hdc in next 4 sts, Hdc2tog; rpt around (60)
Rnd 15: Hdc in next 3, Hdc2tog; rpt around (48)
Rnd 16: Hdc in next 2, Hdc2tog; rpt around (36)
Rnd 17: Hdc in next 1, Hdc2tog; rpt around (24)
Rnd 18: Hdc2tog around (12)
Rnd 19: Hdc2tog around (6)
Finish off leaving a long tail
Thread yarn tail through sts of last Rnd to gather, weave ends.
Stem:
Ch 7
Row 1: Sl st into back bump of 2nd Ch st from hook and in each Ch st across
Finish off leaving a long tail for sewing.
Sew onto gathered last Rnd of your beret & weave ends.
Cross Stitch Heart:
With a tapestry needle and cream colored yarn, sew cross stitches in a heart shape via the chart below, treating each Hdc stitch as a box on the chart. Begin stitches just above the brim of your Beret. Weave ends.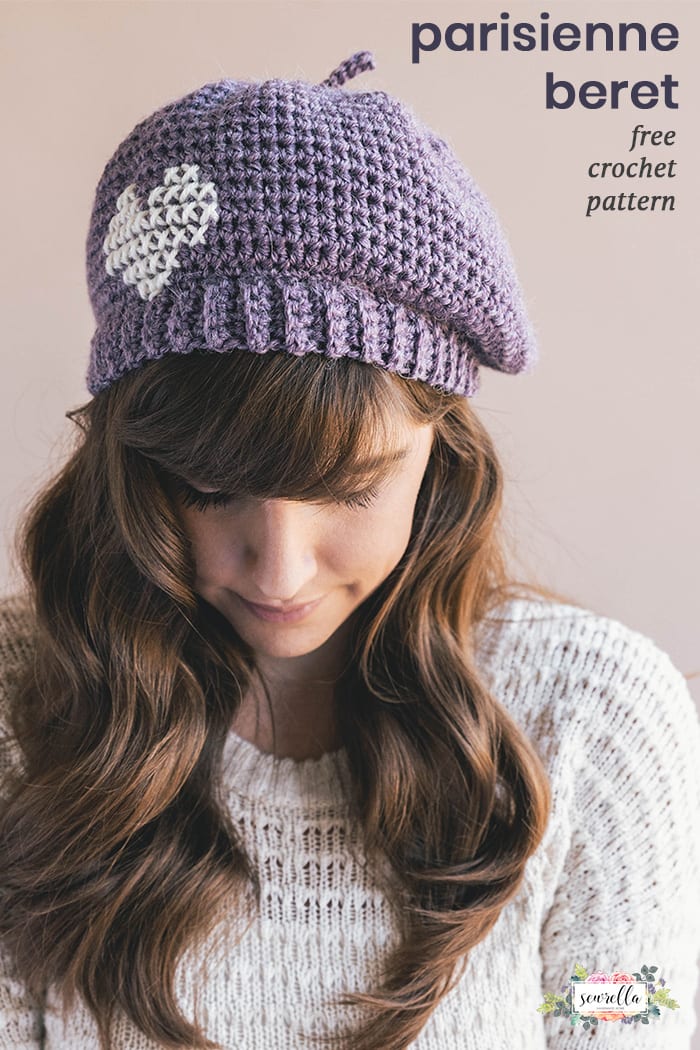 Earning a Living with my Handmade Home
If you love crocheting and knitting, you should think about starting a blog! I'll help you get started to turn your hobby into a money-making career with my free "Start a Blog" guide.
Or you can check out my latest income report to see how this blog earned over $10,000 last month!