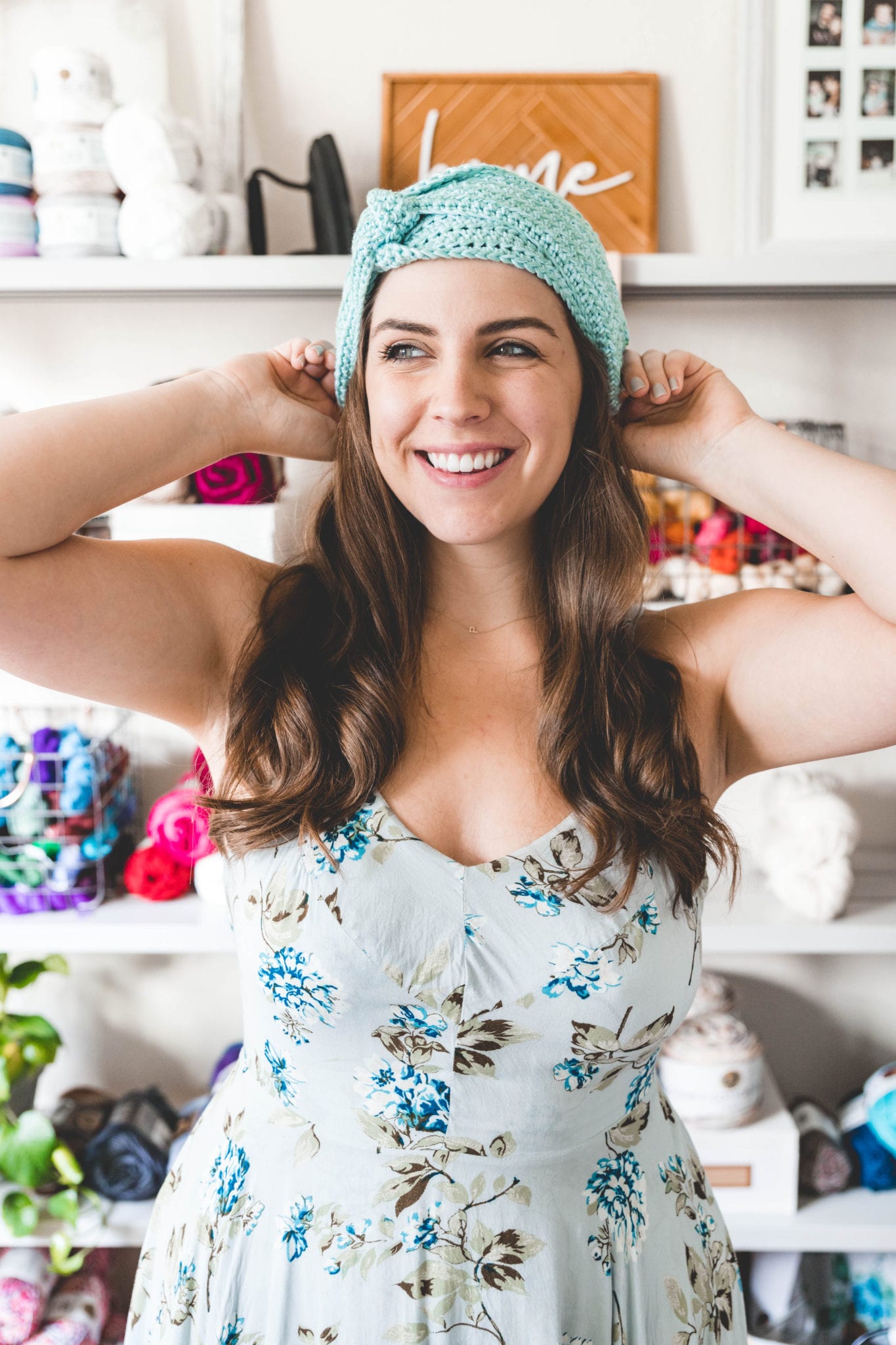 I'm so excited to be raising awareness for a very important campaign – #HATNOTHATE with my Crochet Knot Beanie Hat!
This fall, the Lion Brand Yarn team of designers are working together with the Stomp Out Bullying organization and we want YOU to get involved – find out more about it below!
Let's talk about bullying.
It's an uncomfortable subject, right? Usually something happened in our past that's a sore spot for heartache. Sometimes it's in school, sometimes it's at home, sometimes you don't remember where the bullying happened you just know this – you felt awful.
I know that for me, all the bullying happened in the mirror. That's right, I definitely bullied myself. You can see from any photos of me all over this website that I'm not runway model size. I have cellulite, I have hips and thighs, I have boobs that sag, and stretch marks that won't go away. I have chub on my back that never looks slim in a lot of dresses.
And 13 year old me would have been mortified to write this on the internet. How dare I talk about cellulite publicly!!! The audacity!!!
But lookie here, gather round kids: HUMANS ARE HUMANS.
Little dimples in our skin do not define us, wide hips are no sign of shame, and breasts that hang past where my abs "should" be are a thing of pride.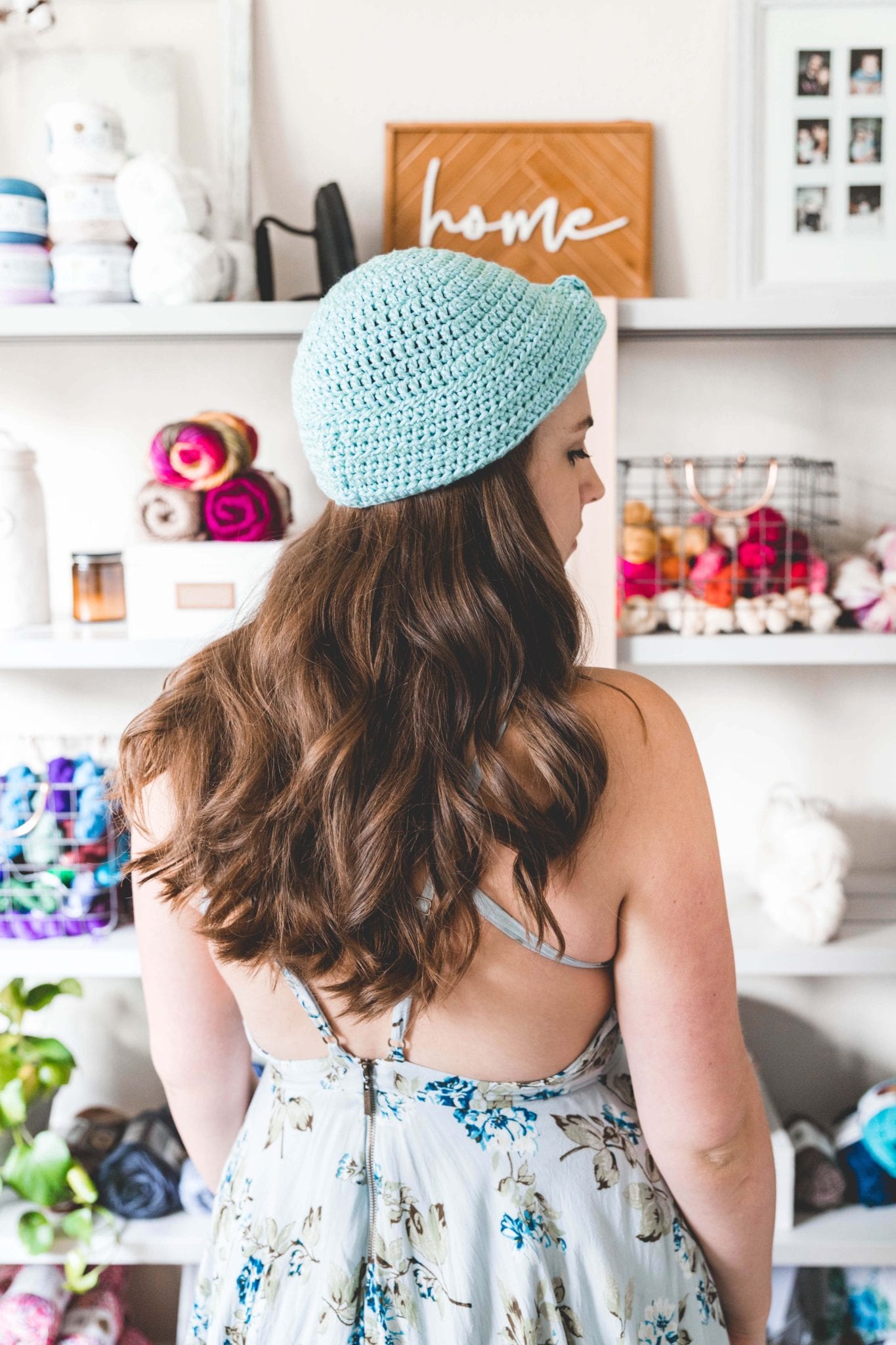 We live in these bodies every day, we'll never know another body than the one you're sitting in. So if you have long lanky limbs and wish for curves, that's okay. If you have jiggle and wish for washboard abs, that's okay. Feel your feelings, but recognize that you're human.
It's taken me a couple of decades of shaming myself, feeling guilty for my curves, and being embarrassed by my body to finally come to this realization:
I refuse to keep bullying myself. I REFUSE.
This proclamation didn't mean I was going to look any different tomorrow – but what would change is my character.
I've always said that I value someone's character, their kindness, far beyond what they look like. I don't care if you wear Gucci when you aren't a nice person. Give me a sweetheart in Goodwill hand-me-downs every damn day. But I wasn't valuing the kindness I show myself above what I look like. I was a victim of my own mirror-bullying.
I had to change my whole way of thinking. I had to look at my body as a vessel that carries my mind and my spirit, instead of my worth.
I still work everyday to think this way, and to be confident in it. Even when my thighs are too thick for my overalls.
SOME SWEATER PATTERNS I LOVE (& you should too)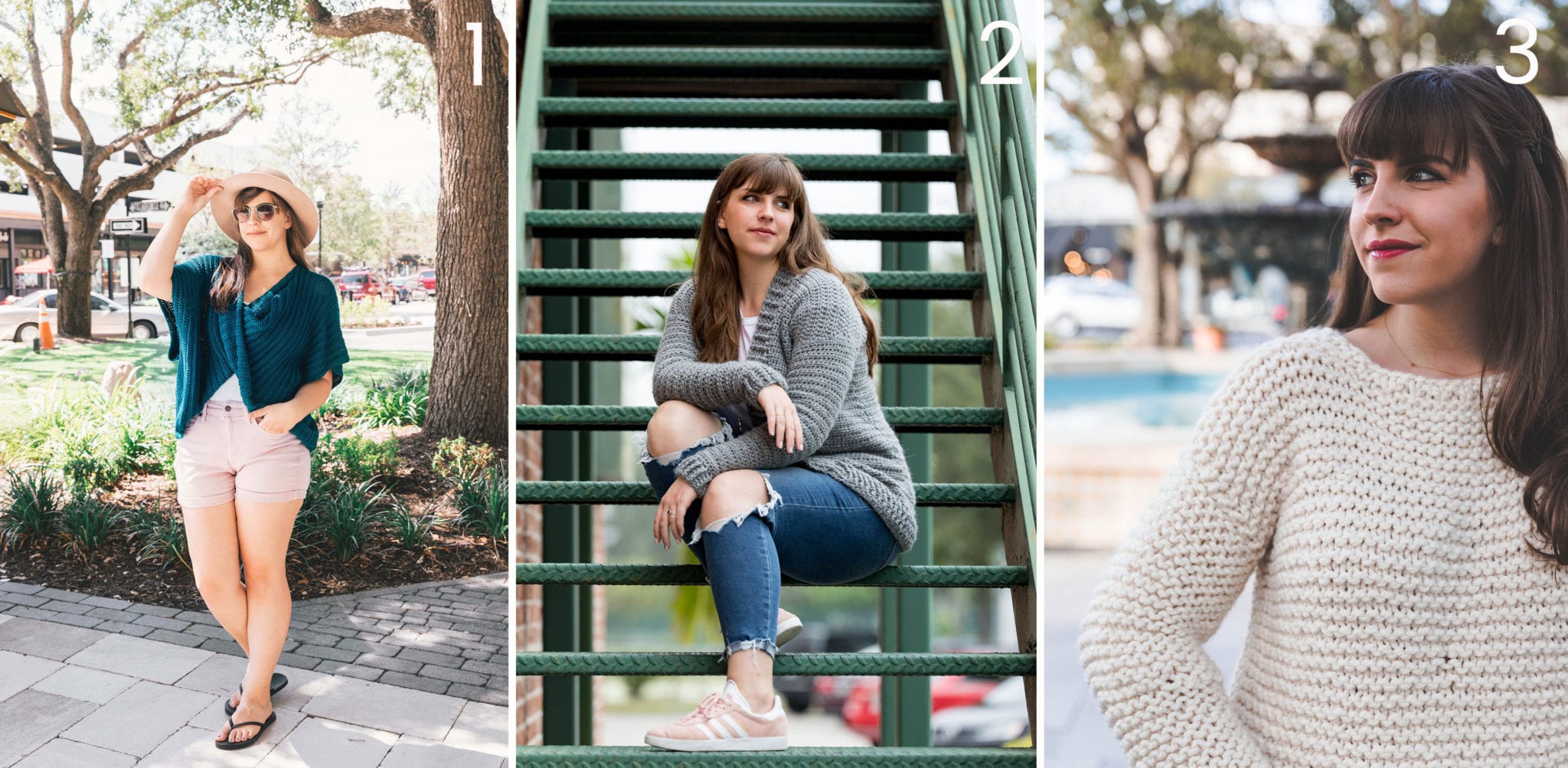 1. Crochet Twist Swancho / 2. Crochet Everyday Cardigan / 3. Simple Knit Sweater
The Campaign
Maybe you can think of a time that you've been bullied by another person, but I bet a lot of the men and women reading this have bullied themselves a time or two. Did I catch ya feeling the feels??
I hope you will join me in working to end this toxic cycle. The world is a tough, unforgiving place. Let's have a little more patience and kindness within ourselves.
Some of the most affected by self-bullying are young girls. I know that I started worrying about my figure around age six. I remember going to an open call modeling audition and worrying about the macaroni and cheese I'd had for dinner. This kind of thinking isn't a six year old's nature, it's the product of a world outside expecting her to look like a photoshopped utopian version of herself.

I hope you'll talk to the young girls in your life about the importance of recognizing their own internal bully and quieting that bully.
If you choose to make a blue hat in support of Stop out Bullying and National Day of Bullying Prevention on October 1st, know that you're making a difference to help men and women everywhere take a stand against bullying.
You can also make blue hats to donate and help spread anti-bullying awareness! Lion Brand yarn is collecting donations through September 24th, 2018 for kids blue hats. You can send your donation to:
Lion Brand Yarn Company, HAT NOT HATE, 135 Kero Road, Carlstadt, NJ 07072
The Design
I knew I wanted to make a simple hat with a fun *twist* – thus the crochet knot beanie hat was born! The campaign to raise awareness is called Hat Not Hate so I've put my punny spin on things and made it Hat KNOT Hate! Ha!
I'd love for you to make your own hat following the free pattern below (using two of my favorite brand new yarns from Lion Brand – Coboo and Amazing Lace) and tag me on social media with #HatNotHate and #HatKNOTHate to show your anti-bullying activism!



I've got all sorts of resources for you below, like links to the yarn I used and in-depth photo tutorials! If you'd like a handy printable version that includes all these helpful tools, grab the inexpensive PDF download here!
I'll be donating 100% of all proceeds from the pattern PDF sales to Stomp Out Bullying, the national nonprofit working to put an end to bullying once and for all!

PATTERN
To sum it up: This crochet knot beanie hat is simple and easy to make, stunning to wear, and even better to talk about! Make one and wear it on October 1st, national day of bullying prevention! #HatNotHate #HatKNOTHate
Materials:
–1 skein Lion Brand Coboo yarn in Ice Blue (Weight: 3/Light – 3.5oz, 232 yds)
–1 skein Lion Brand Amazing Lace yarn in Mesh Sage (Weight: 1/Superfine – 5.3oz, 1017 yds)
(Click HERE to shop all my favorite tools!)
Gauge:
14 sts x 9 rows in dc = 4"
Abbreviations (US terms):
ch – chain
sc – single crochet
hdc – half double crochet
dc – double crochet
rpt – repeat
sl st – slip stitch
t – turn
Skill Level: 2/ Easy
Pattern Notes
-This hat is sized for the average adult woman.
-Throughout entirety of pattern Coboo and Amazing Lace yarns are held together as one to create a sea foam marled look.
-You may substitute any heavy worsted yarn like Vanna's Choice with the same pattern if you prefer not to use these yarns. As always, make a gauge swatch and adjust hook size as needed if you use another yarn.
-Make the twisted headband, then make the beanie topper and sew together as pictured below.
Crochet Knot Beanie Hat
Twisted Headband
Row 1: Ch 151, Sc in 2nd ch from hook and across, Ch 2, t (150)
Row 2: Hdc in each Sc across, Ch 1, t (150)
Row 3: Sc in each Hdc across, Ch 2, t (150)
Rows 4-8: Rpt Rows 2 -3
Finish off yarn, weave ends.
Holding center of headband strip at the back of head/nape of the neck, pull two ends forward toward your face.
Twist headband strip so that they cross right over left or counter clockwise.

Twist again in the counter clockwise motion. Switch hands so your right hand now holds the left end and vice versa.

Fold ends back down to the headband.

Secure with stitch markers taking care to make sure the headband fits comfortably and snugly.

Remove headband and with scrap yarn sew the ends into place with a running stitch.
Turn headband inside out and try it on to ensure fit.

Beanie Topper
Rnd 1: Make a magic ring, Ch 2, 10 Dc inside ring, sl st to join, Ch 2 (10)
Rnd 2: 2 Dc in each Dc around, sl st to join, Ch 2 (20)
Rnd 3: 2 Dc, Dc in next Dc; rpt around, sl st to join, Ch 2 (30)
Rnd 4: 2 Dc, Dc in next 2; rpt around, sl st to join, Ch 2 (40)
Rnd 5: 2 Dc, Dc in next 3; rpt around, sl st to join, Ch 2 (50)
Rnd 6: 2 Dc, Dc in next 9; rpt around, sl st to join, Ch 2 (55)
Rnd 7: 2 Dc, Dc in next 10; rpt around, sl st to join, Ch 2 (60)
Rnd 8: 2 Dc, Dc in next 11; rpt around, sl st to join, Ch 2 (65)
Rnd 9: 2 Dc, Dc in next 12; rpt around, sl st to join, Ch 2 (70)
Rnd 10: 2 Dc, Dc in next 13; rpt around, sl st to join, Ch 2 (75)
Rnd 11: 2 Dc, Dc in next 14; rpt around, sl st to join, finish off leaving a long tail for sewing (80)
Position seam at center back of headband (between two end seams we sewed)

Sew through each stitch on beanie topper matching up to piece of twisted headband that lies highest when worn. You can see how I felt around for what layers of the headband I wanted to secure to the beanie topper in the photo below.

Sew all the way around, weave ends.



Earning a Living with my Handmade Home
If you love crocheting and knitting, you should think about starting a blog! I'll help you get started to turn your hobby into a money-making career with my free "Start a Blog" guide.
Or you can check out my latest income report to see how this blog earned over $10,000 last month!