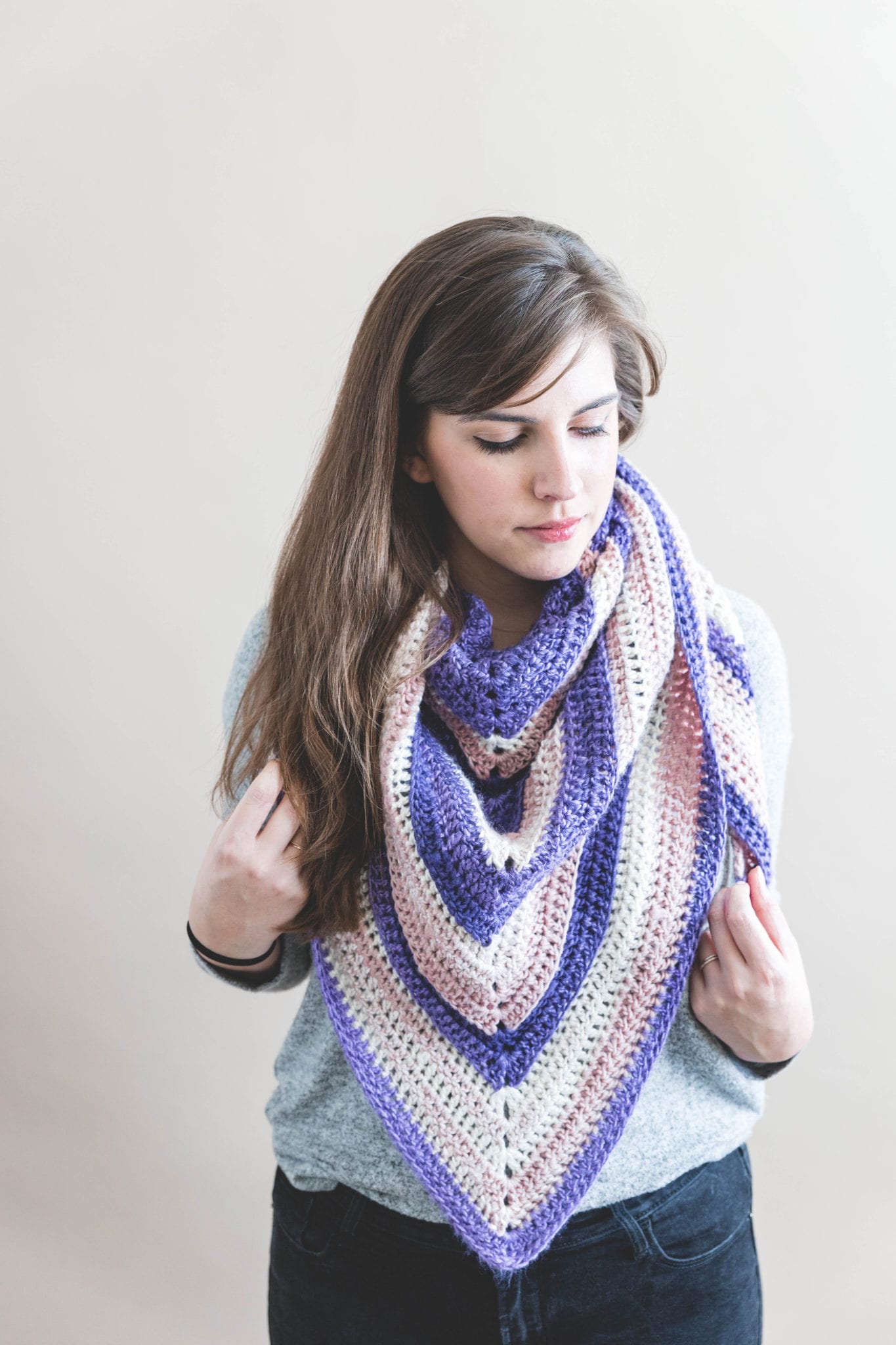 I'm so excited to show you my newest wrap design, the Crochet Gradient Wrap!
This shawl is fancy & upscale – ready for a night on the town. I love the versatility wraps and shawls have – they can be worn in so many different ways and paired with lots of different outfits (from jeans to gowns!). I used a fun new yarn from JOANN that I think you're going to want to try, read a bunch more about it below or scroll on down for the free pattern!
JOANN COLLAB PROJECTS I LOVE (& you should too)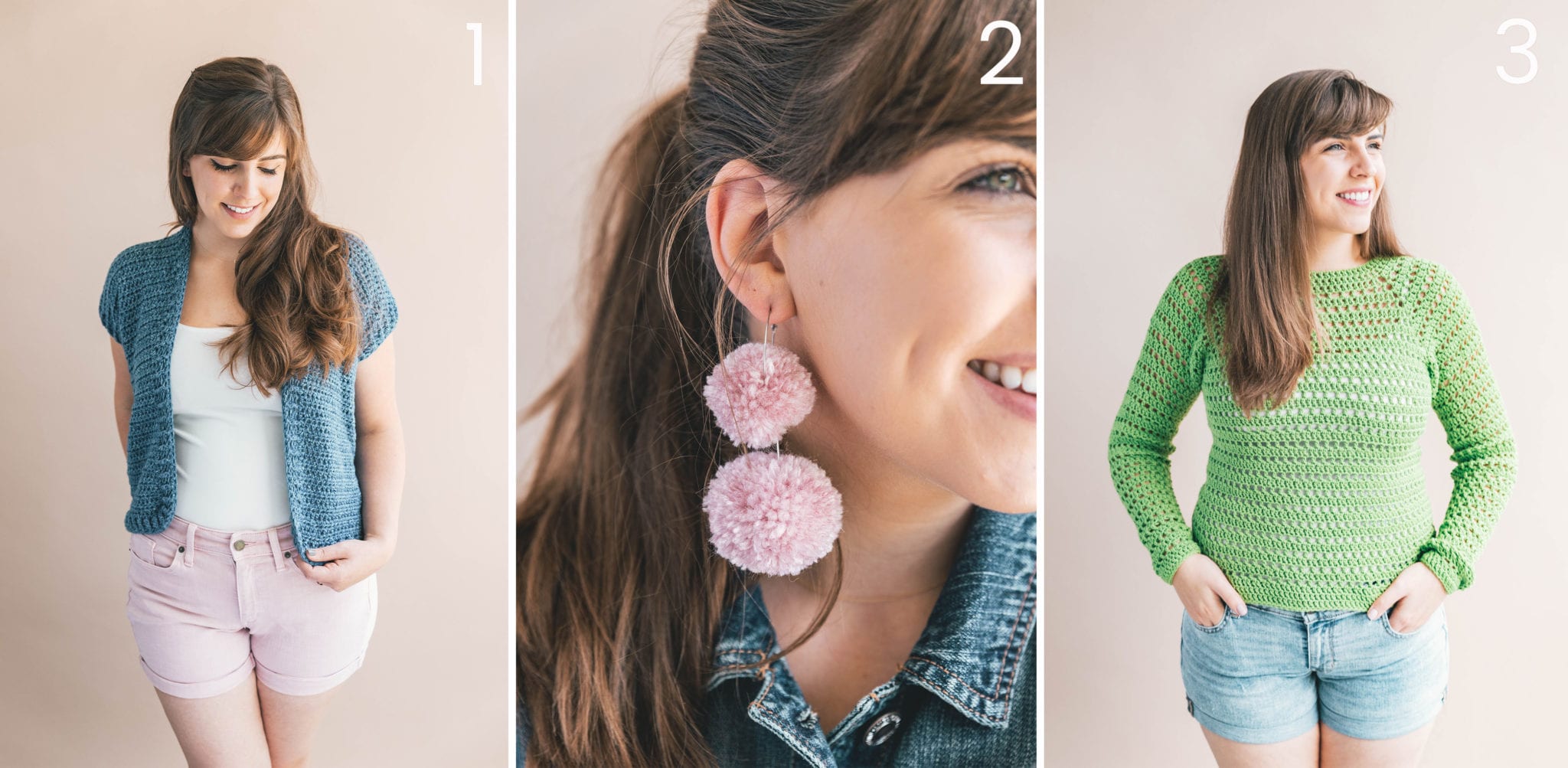 1. Crochet Lil Denim Cardi / 2. DIY Pom Pom Earrings / 3. Crochet Pucker Pullover Sweater
The Design
I've made a couple of shawls this year, but I wanted to create a bit more angular one with a pronounced point and a bit of simple striping. With the more angular look, this shawl is longer in the back than other shawls, lending it to look a bit more elegant and dramatic.
I used only 2 colors of the new Buttercream Luxe Craft Wool Blend Hanks from JOANN and worked in some gradient style striping that gives a fade look moving from one color to the other. This technique would look beautiful with a solid and variegated tone as well. I can't wait to see what color combinations you make, I'm sure they'll all be beautiful!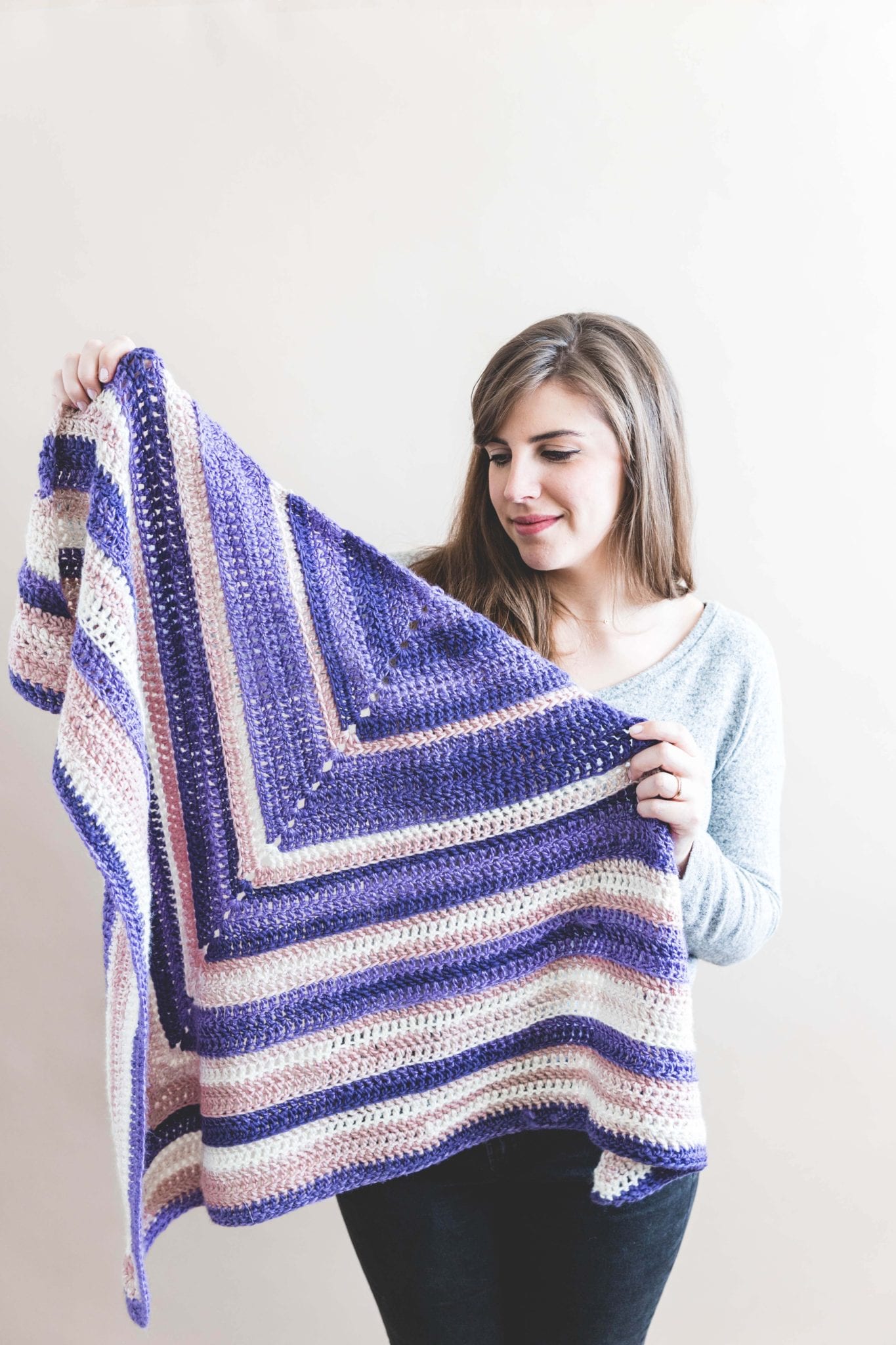 The Yarn
JOANN's exclusive line of yarns, Buttercream, is full of luxe yarns at surprisingly affordable prices. They've had several yarns over the last few years that were really intriguing but none as surprising as the new Luxe Craft Wool Blend Hanks.
The presentation of this yarn will make you stop in your yarn-aisle tracks because of the way it's wound – in a hank! Instead of the usual skein presentation we usually see in craft stores, this yarn is wound like the more bespoke cousin of big box store yarns, catching our attention and elevating the expectation.
Once we get in there and feel the yarn, the hand is just as surprised as the eye. This yarn is 50% wool, 42% bamboo derived rayon, and 8% acrylic. What a combination! This single ply blend yarn moves through several tones of color and variations of thick and thin without being too jarring a change as we work up a project. I'm not a huge fan of extreme thick & thin yarns so this variation being a bit more subtle was perfect for me, and the Gradient Wrap!
Check out this brand new yarn by clicking HERE – choose two of your favorite colors to create this pretty faded shawl along with me!






PATTERN
Materials:
–Buttercream Luxe Craft Wool Blend Hanks  (Weight: 5/Bulky – 3.5oz, 165 yds)
Colors pictured: Purple & Linen (2 skeins each color)
-Tapestry needle
-Scissors
Gauge:
12 sts x 7 rows in Double Crochet = 4″
Dimensions:
53″ x 32″
Abbreviations:
ch – chain
dc – double crochet
sl st – slip stitch
sk – skip
st(s) – stitch(es)
rep – repeat
t – turn
mc – main color
cc – contrast color
Difficulty Level:
Level 2 – Easy
Pattern Notes:
-For reference, model is 5'5" tall with a 38″ bust.
-Ch 2 sts DO NOT count as a st throughout the pattern.
-Pattern is worked beginning in the center of the wrap and worked in turned rows to expand the size. Close attention paid to increases at the beginning and end of each row are imperative.
-Each long side of the triangle (and each row) should always have the same number of stitches.
-This wrap has quite an angular shape and has a pronounced point at the center of the triangle. If you'd like a more obtuse triangle, try working (Dc, Ch 2, Dc) into the Ch 2 space of each round instead of (2 Dc, Ch 2, 2 Dc). This may change the number of rows you'd like to work up but I thought I'd make this suggestion as you may not like a wrap as angular as mine.
-To alter sizing, simply omit or add on repeats of the Row repeat pattern to desired size.

Crochet Gradient Wrap
Ch 4, sl st to 1st Ch (next to slip knot) to form a ring
Row 1: Working into center of the ring made from your Ch 2, 3 Dc, Ch 2, 3 Dc into ring (6)
Row 2: Ch 2, t, 2 Dc in 1st st, Dc, Dc, (2 Dc, Ch 2, 2 Dc) into Ch 2 space, Dc, Dc, 2 Dc in last st (12)
Row 3: Ch 2, t, 2 Dc in 1st st, Dc in each Dc st to Ch 2 space, (2 Dc, Ch 2, 2 Dc) into Ch 2 space, Dc in each st to last, 2 Dc in last st (18)
Repeat Row 3 until you've finished Row 38

Follow color changes as follows:
Rows 1-8 – purple (MC)
Row 9 – linen (CC)
Rows 10-14 – MC
Rows 15-16 – CC
Rows 17-20 – MC
Rows 21-23 – CC
Rows 24-26 – MC
Rows 27 – 30 – CC
Rows 31-32 – MC
Rows 33 – 37 – CC
Row 38 – MC
Last Row: Ch 1, t, Sc in each Dc st across (including 1 Sc in Ch 2 space) to end, finish off, weave all ends.
Earning a Living with my Handmade Home
If you love crocheting and knitting, you should think about starting a blog! I'll help you get started to turn your hobby into a money-making career with my free "Start a Blog" guide.
Or you can check out my latest income report to see how this blog earned over $10,000 last month!