Hey there blogger friend! I'm so happy to see you here. It's been a minute since I've posted a blogging resource article so without further ado, let's get into today's topic – Affiliate Marketing!
I'll take you through all I've learned about affiliate marketing below, so be sure to stick around to the end!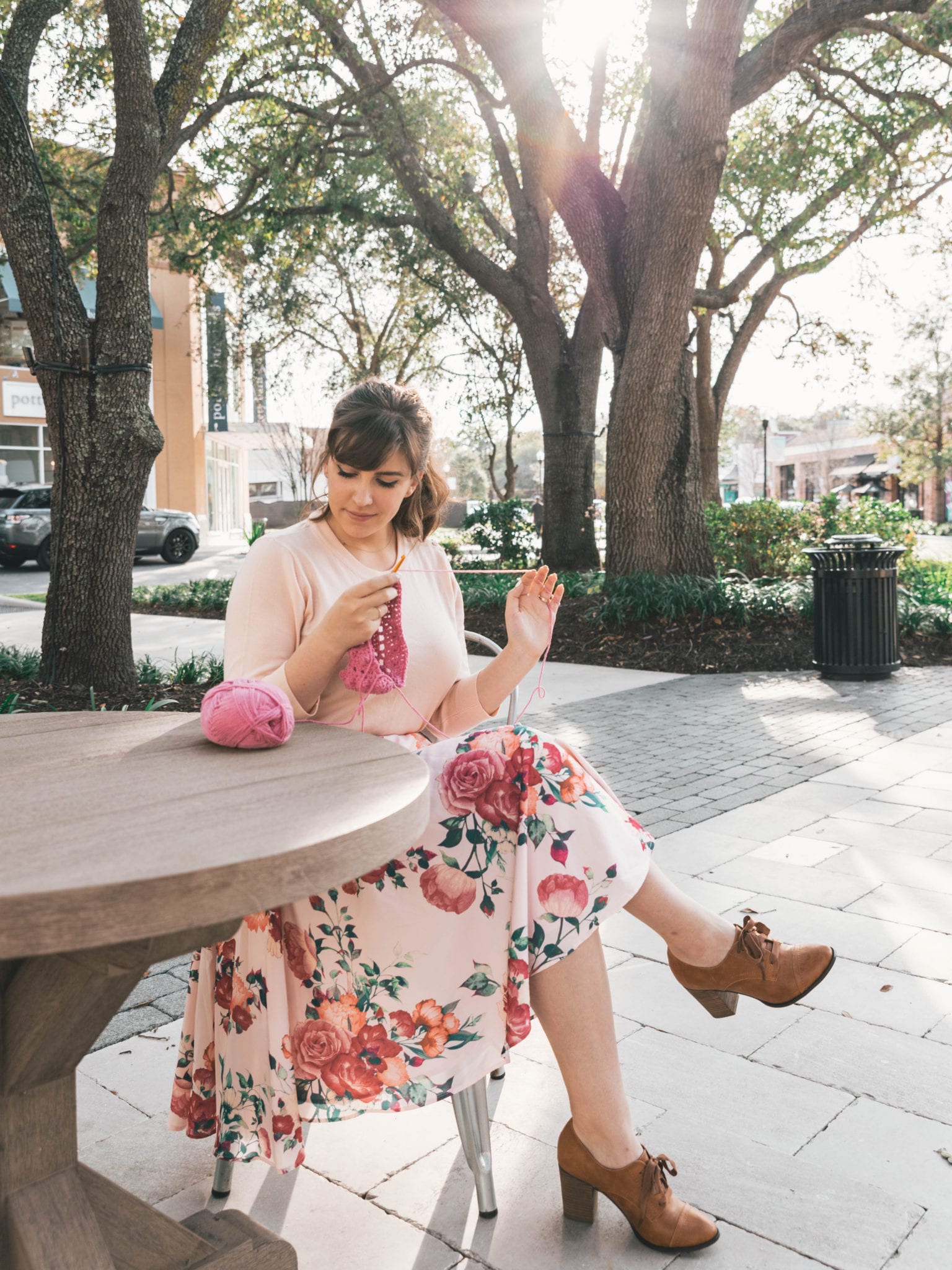 What is Affiliate Marketing?
Affiliate Marketing is a type of blog monetization (a way to make that sweet, sweet internet money). Basically it is a way of promoting products or services for different companies by way of your blog/website/social media accounts.
Basically it goes like this:
You find a company with an affiliate program
You apply to be an affiliate
Once approved, you can create your own unique links to place on your own platforms that reach back to the company's website

When a reader of yours clicks your unique link on your website, a cookie is placed on their browser.
That cookie tracks the reader's behavior and will register if the reader buys anything from the company's site.
If a purchase is made, you receive a percentage of that purchase as a commission for sending that reader to the company.
Job well done!

You get paid for sending new customers to the company – actual dollars in your bank account!
How do Affiliate Programs run?
Usually through a network. Some common ones you'll see a lot are Share A Sale, CJ Affiliate (formerly Comission Junction), and Awin.
These networks host tons of different companies within their framework. This means that you can have one account, say with Share A Sale, and apply for, use and earn from several different companies that are in that network.
Other organizations have their own affiliate program, like Amazon. Amazon runs it's own affiliate program with a unique dashboard, reports, and other tools of their own (not under a network umbrella).
Being that there are several different networks, it can make things a little cumbersome when getting started. It just takes a little organization so that you know where your income streams are and how to access them. You can always start out with one network first and move on as you're ready.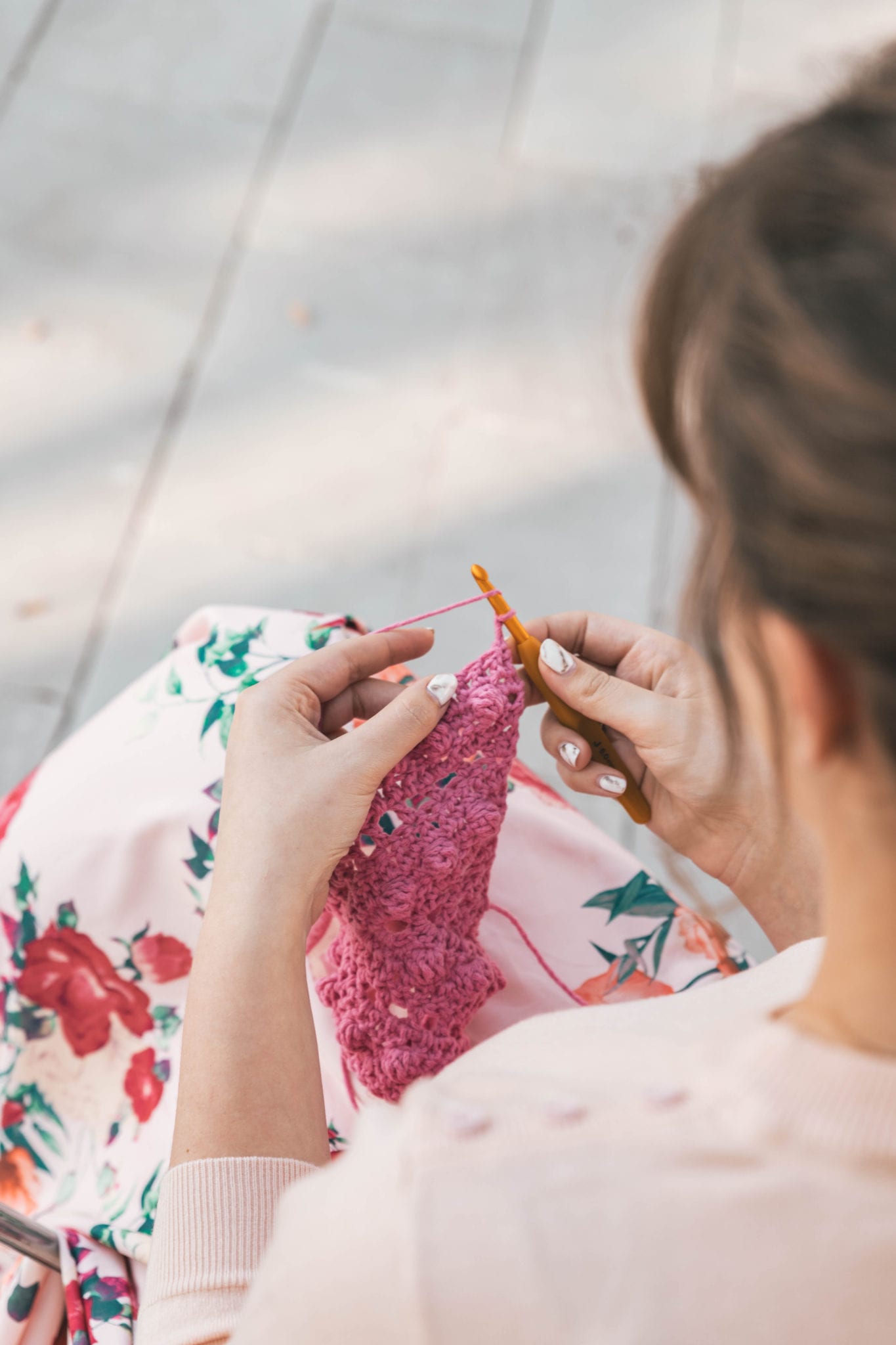 How do I get paid?
This one has lots of answers. Most commonly, affiliate programs offer a percentage of any sale made through your unique link to you as a commission.
Here's the wonderful thing – this unique link is a way to get your foot in the door.
Let's see an example, using Lion Brand Yarn's new affiliate program.
(Interjecting here to point out that I wrote a sister post over on the Lion Brand Notebook blog teaching exactly how to use their affiliate program – check that out here).
Let's say I have a new pattern coming out using Lion Brand's new Jeans Colors yarn (like the Ruffle Sleeve Cardigan!). I will go into Lion Brand's affiliate program (within Share a Sale, but we'll get to that in a minute).
I'll pull a unique link that directs my reader right to the Jeans Colors product listing on the Lion Brand website (this is called a deep link, because it goes deep into the site to pull up an exact product page).
I place this link in my blog post.
My loyal reader Judy sees the blog post and says "Golly, that Jeans Colors yarn is beautiful! I'd like to look at that a bit closer" so she clicks on the link.
A cookie is placed on Judy's browser to tell Lion Brand that she came from Sewrella. (It's worth noting that cookies can stay on the computer for a set amount of time, sometimes a day, sometimes a month depending on the affiliate program).
Oh no! Judy decides she doesn't want Jeans Colors yarn, she wants the original line of Jeans yarn by Lion Brand.
Judy orders 4 balls of plain old Jeans yarn, not the Jeans Colors I linked to.
The affiliate program's cookie was able to register this purchase came from Sewrella anyway – phew!
Sewrella get's paid 10% of Judy's order, no matter whether she bought the yarn I recommended or not, because Sewrella was responsible for getting Judy on the Lion Brand website and got them that sale.

Think of a car salesman. Even if he's trying to sell a corvette to customer A but they want and buy a Prius, he still gets the commission on the sale. Same thing here.
This makes certain affiliate programs really appealing. Like Amazon! Even though the commission percentage is usually lower, your reader is more likely to buy from Amazon during the time your cookie is placed because millions of shoppers buy from Amazon whether it's the product you recommended or not.

How do I find Affiliate Programs?
The fastest answer to this question – Google.
Think of a company who's product you'd like to recommend to your readers. Try doing a quick Google Search for the company and the words "Affiliate Program."
So if you want to become an affiliate for Lion Brand Yarn, just search Google for "Lion Brand Yarn Affiliate Program" and see what comes up! Be sure to check out any other companies' affiliate programs that Google suggests here too, they might be worth applying for!
Joining is usually quick and easy, I'll share some screenshots below to show you how to sign up!
Since Lion Brand is under the Share A Sale, I'll head to ShareASale.com and create a profile.

You'll want to click the "Affiliate Sign Up" button and follow the prompts to create your account.
Once you're logged in, you'll see your dashboard. This should look something like the following.

Now that you have a Share A Sale account, you'll need to browse or search directly for companies you'd be a good fit for.
You can find merchants to apply for under the "Merchants" tab at the top of the dashboard.
I like using the "Search for Merchants" tool to find companies that fit well with my brand.
A lot of these won't be good fits at all – like why on earth would I ever be linking you to a Snore Solution brand? Makes no sense, people.
Which brings me to my next point…
What's best for my niche?
If you're a crochet blogger like me, that could be anything in the craft space. Everything from scissors to yarn to blogging tools are what I recommend to you guys. Not snore solutions.
I also consider it a personal requirement to only be an affiliate for products and companies I would spend my own money on.
If I'm not willing to spring for that super duper high end Tiffany yarn ball, why would I encourage you to buy it? (If you don't know what I'm talking about, please google it. It's hilarious).
If you're blogging about how to dye yarn at home, that opens up a whole new area of potential affiliate programs. Personally though, I don't take the time to sign up for affiliate programs that might pertain to only one post. If you blog about dyeing yarn at home all the time, that might be worth applying for a cookware company's affiliate program.
Just remember that the more you actually love a product or company in real life, the more authentic the representation is and as a result, the payout will always be better.

How should I share Affiliate links?
There are tons of options here and feel free to get creative!
I like sharing my links within my blog posts themselves best because that's the place I have the most eyeballs.
Other great places to share are email newsletters, Instagram stories if you have the swipe up feature (or linking in your bio), or other strong social media accounts.
I will raise awareness for you in two areas:
Pinterest – many Pinterest groups prohibit selling things directly through pinterest. Make sure you don't get flagged or deleted from valuable Pinterest group boards by making your pins lead directly to your affiliate link. It's always best to link to your blog post – there's more opportunity there for you to convince your potential customer to click anyway!
Facebook – there is a grey area on the rules behind affiliate linking on Facebook with their new Branded Content feature. I'm not sure of all the specifics so I recommend linking to your blog posts here too. I think it's better to avoid any rule breaking on these valuable social media platforms.
Try to think outside the box when coming up with compelling ways to share your links. I like to watch out for sales or promotions the company is putting on to promote to my readers. They may not see the sale on their own and they might click my link to check out the deal!

If you want to dive into a super in-depth online course on all the ways you can use affiliate marketing to earn more money with your blog, check out the Making Sense of Affiliate Marketing online course!
Earning a Living with my Handmade Home
If you love crocheting and knitting, you should think about starting a blog! I'll help you get started to turn your hobby into a money-making career with my free "Start a Blog" guide.
Or you can check out my latest income report to see how this blog earned over $10,000 last month!