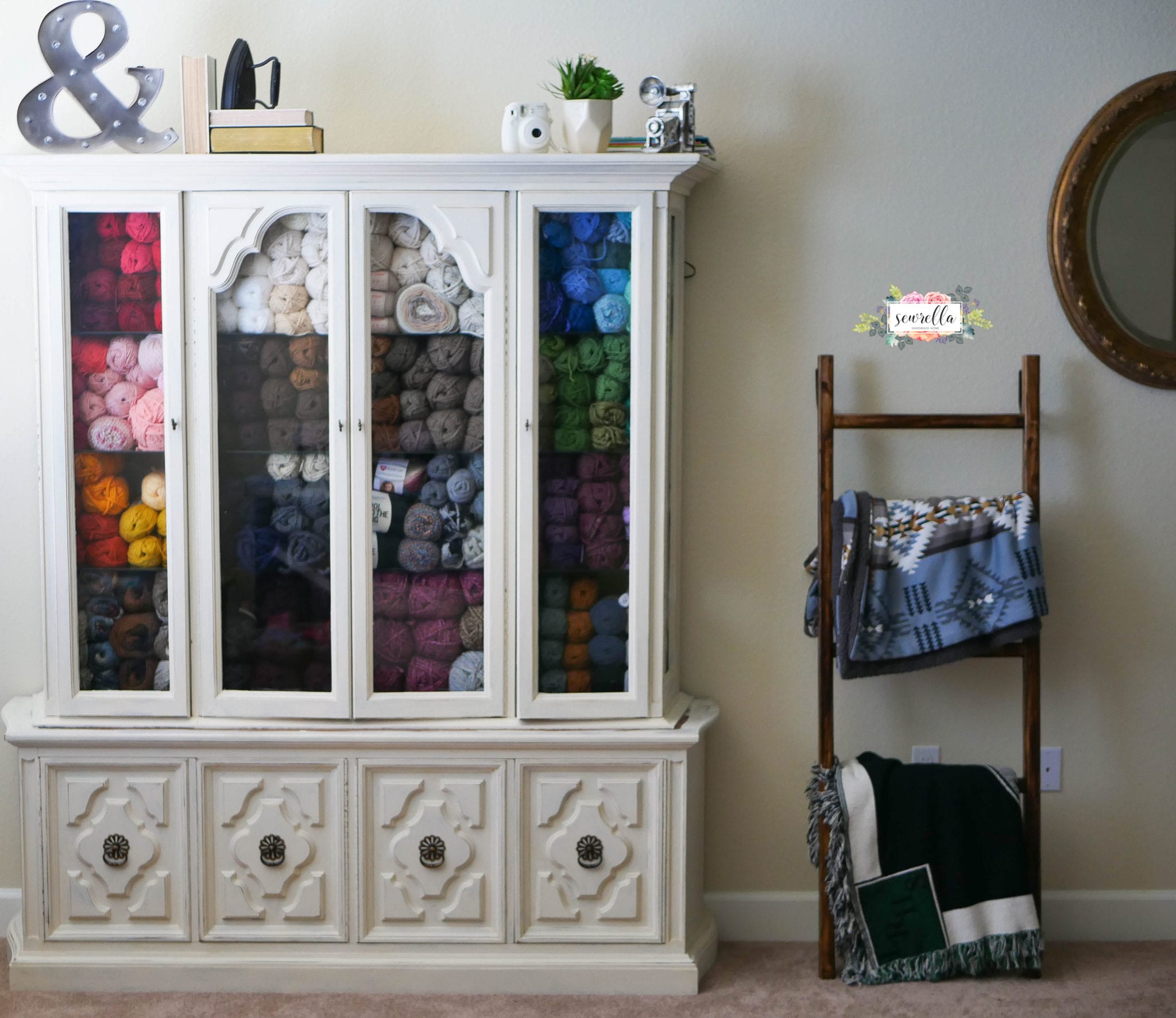 Flashback to a few months ago, I had yarn stored all over the house. In a basket next to my bed, in cubbies under the TV, scattered among bookshelves, and in ugly cardboard boxes stacked up in the corner of the living room.
As my yarn stash grew in size, I found new corners of the house to store it. This chaos went on for the better part of two years, and I'd finally had enough.
I found myself picking up skeins of yarn at the store, getting home only to realize I already had some of that yarn. I just couldn't see it all at once so it was hard to keep track of what I had.
Not only was this system messy and ugly – it was wasting money.
So I started researching yarn storage. Most of the retail options were some kind of plastic tote or shelf system. Or an awesome storage armoire that was a few thousand dollars – ouch!
I knew there had to be something cheaper out there. So I started the Craigslist hunt!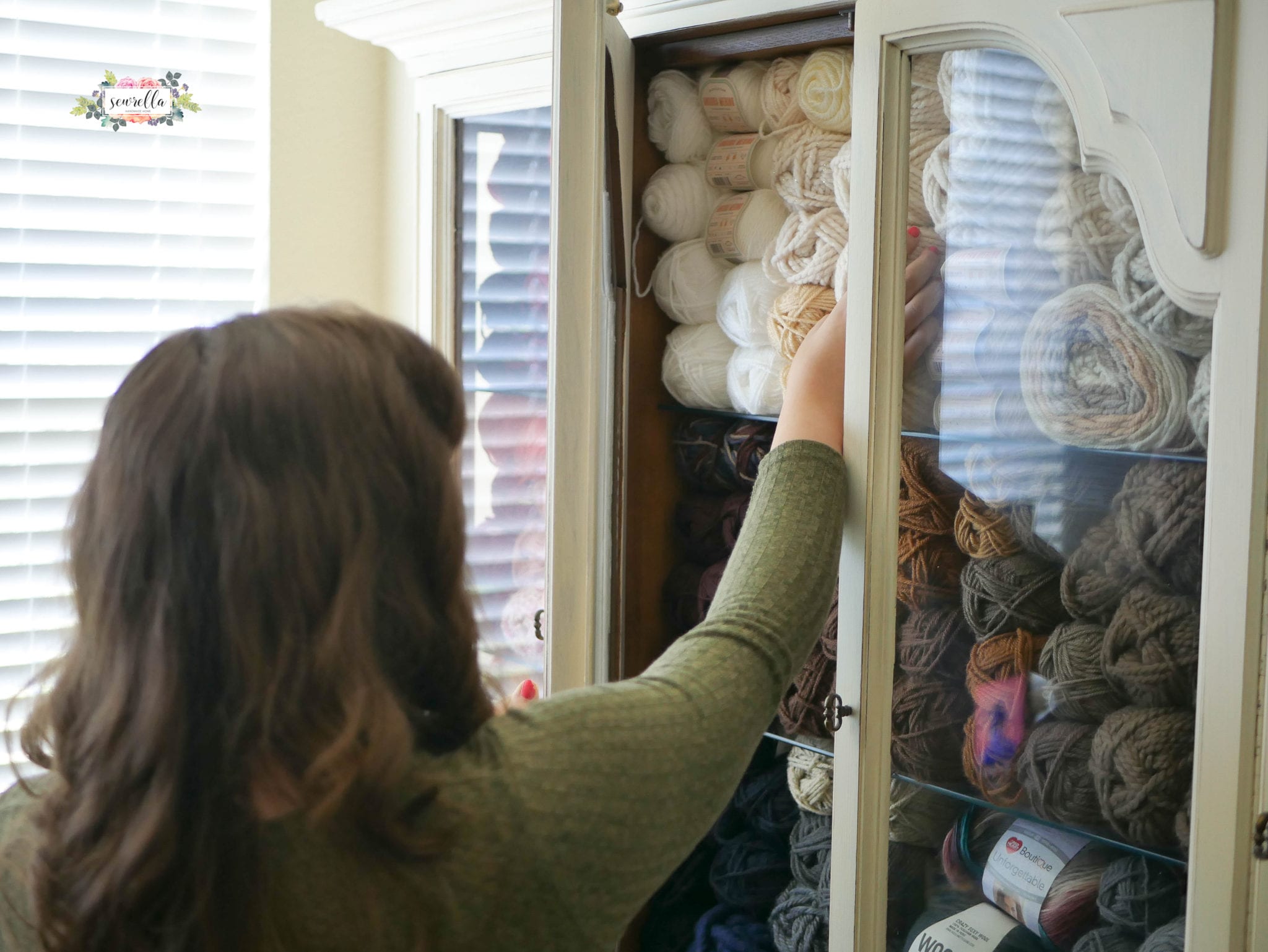 Any rehab addict will tell you that garage sales & craigslist are gold mines if you have a little bit of patience and a whole lot of creativity. Luckily, I have both! So I was determined to comb the pages until the perfect thing popped up.
I searched "cabinet" "bookshelf" "storage" "hutch" and many other furniture-y words that were close to what I had in mind.
I needed the solution to meet a few requirements:
something with doors to hide my hooks, needles, and yarn from tiny baby hands
something with character & visual interest (after all I was taking this route because I didn't want storage bins)
something large enough to hold ALL of my yarn
Then, this jewel popped up after about a week of searching…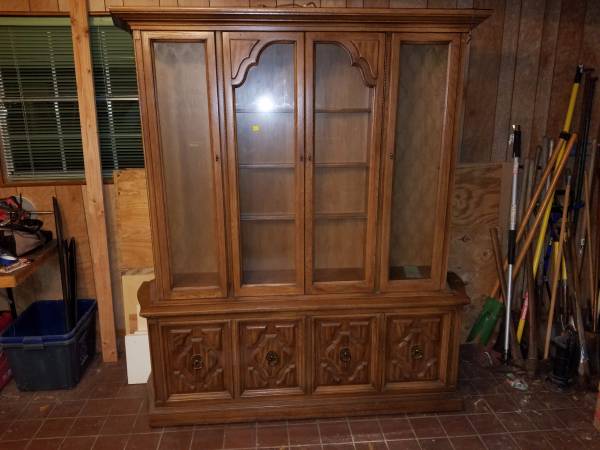 IT'S HUGE! IT'S $90! IT'S PERFECT! I loved that detailing on the bottom cupboards & I hoped it would be in good condition in person.
Turns out, it was a completely unused china cabinet that a young couple found in the garage of a house they bought. The house was built in the 1950s but who knows how old this cabinet is. It could have been made in 2010 for all I know.
It had no scratches, dings, or signs of use AT ALL. Amazing!

I didn't care for the brown color of the wood, but knew that could be fixed with a little paint. Chalk paint worked well and wasn't a ton of work to apply. This cabinet was huge but the chalk paint really made the process simple! I used:
I wound up coating the hutch top to bottom with 2 coats of paint and 1 thin coat of glaze.

Once I got all my yarn inside and organized by color – this piece really shines! It's a beautiful addition to my family room & inspires me to create every day. I'm so glad I organized my yarn in something beautiful & functional!
Don't forget to share this rehab to your Pinterest boards!
What will you use to store all of your craft supplies?