The perfect addition to an heirloom blanket, my new Crochet Eyelet Granny Square FREE Pattern – in contribution to The Traveling Afghan Square project by Alexi from Two of Wands! Just scroll all the way down for the full traveling afghan square pattern.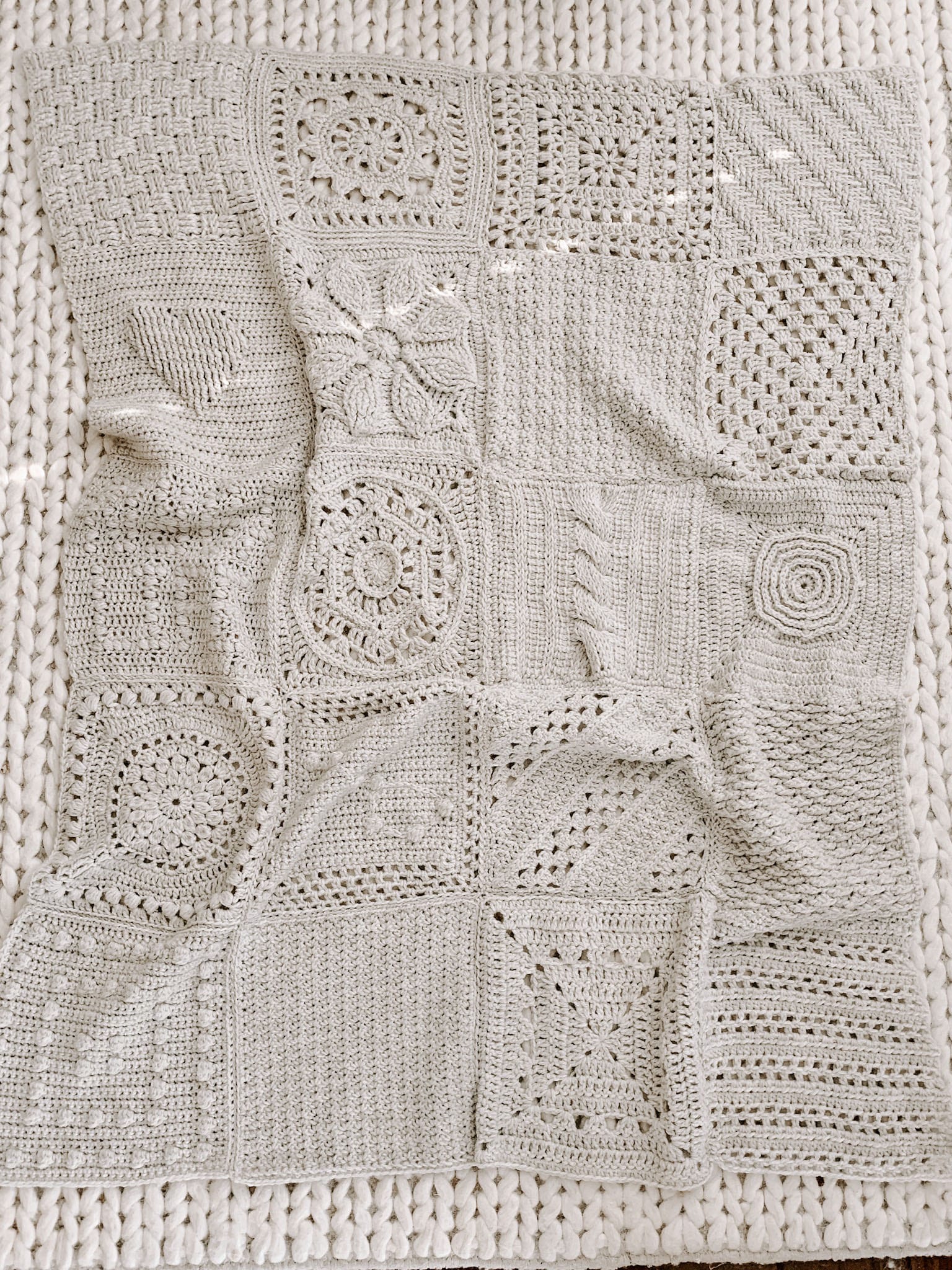 An Introduction
Hi, hello! If you've found your way here from Alexi's Traveling Afghans project, welcome to my little corner of the internet, affectionately referred to as Sewrella – but people call me Ashleigh! A bit about me: I love baking with my 4-year-old son Parker (you can often find us making Christmas cookies at all times of the year), I'm utterly and forever obsessed with Gilmore Girls, and I have a not-so-side biz hand dyeing yarn (check it out here!).
I'm so happy you're here and hope you'll grab a cup of coffee to join me on my fun crochet journey!
Traveling Afghans Project

The absolute gem behind the incredible design biz called Two of Wands, Alexi, created the idea of doing a traveling afghan project – think Sisterhood of the Traveling Pants – but better! It's traveled by old school snail mail all across the world this year, with one granny square being added to the blanket by each maker it ventures to see. This project has been in the works for almost a year, and still has some special people to visit after me before it's finished! I'm working on the crochet version, but there is also a knit traveling afghan if you prefer dusting off those needles.
To find all of the wonderful makers and patterns included in the blanket listed cumulatively over on Alexi's blog, get the inside scoop on this unique project, along with all the details, click HERE.
Inspiration + Design
When it came time to design my square I knew I wanted to make something simple, therapeutic, and familiar. I love eyelet lace stitches and the way they add breatheability to a wool afghan like this one. So I went with the same eyelet stitch pattern as my Duo Poncho from last year!
I love all the textural squares on the crochet afghan and this easy square works up QUICK to offer some light contrast to the more dense stitches around it. I love that every designer brings something totally different to the blanket and it has so much personality!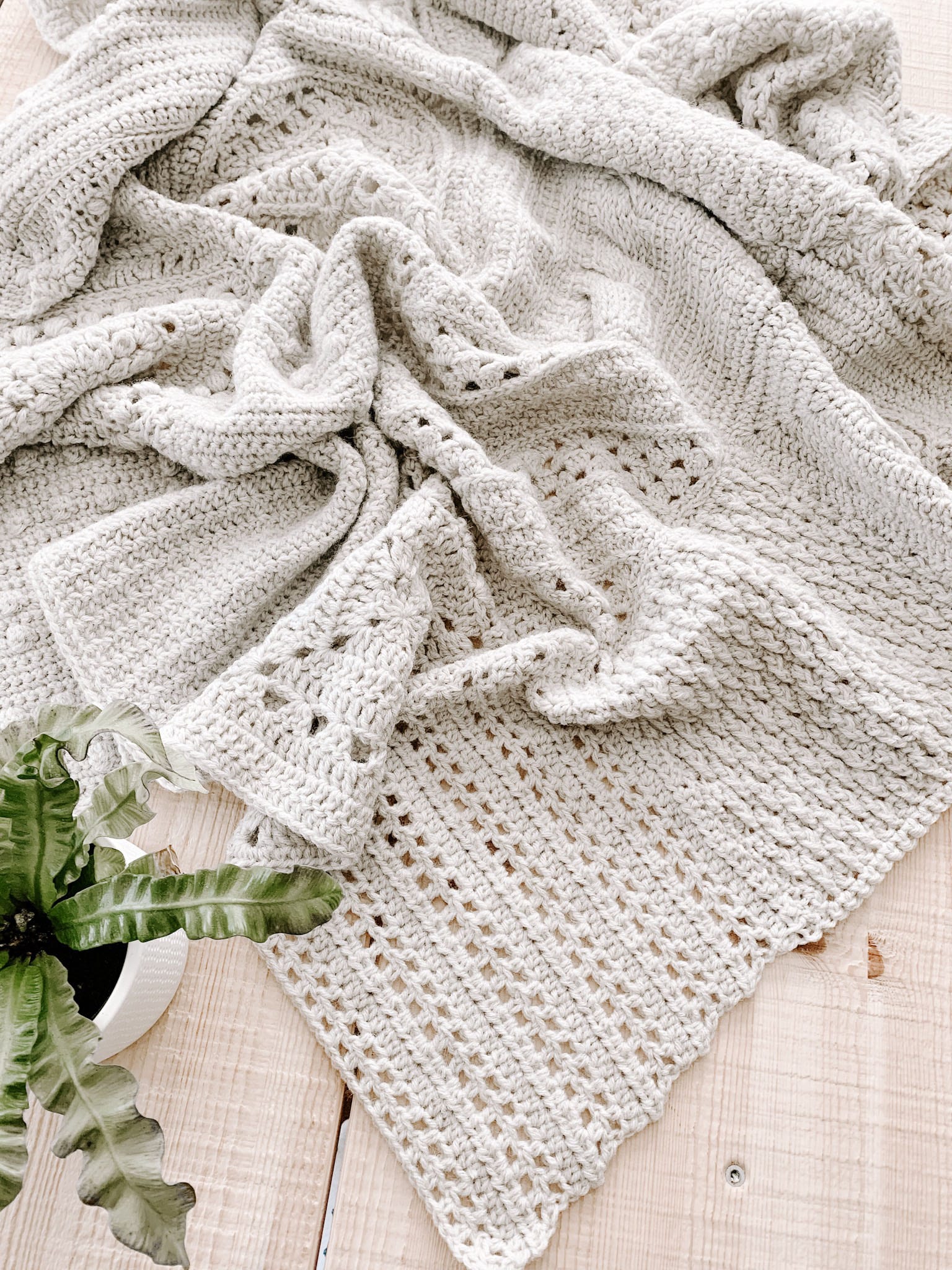 Substituting yarns
For both the crochet and knit counterparts, we all used Lion Brand's Wool-Ease, which is a medium weight 4 yarn. If you're allergic to wool or have other yarns in your stash you'd like to use – go for it! Just use any worsted yarn and make sure to check your gauge. This blanket could be made in any colors, even multiple colors! Though I love that all the squares are in the same neutral because it makes this traditional sampler style afghan really modern and elegant.




PATTERN
Yarn
Lion Brand Wool Ease
(Weight 4/worsted, 3 oz/100g,  197 yds/ 180m)
Colorway: Natural Heather
Notions
-Size J 6mm Crochet Hook
-Darning needle
-Blocking mats and pins
Gauge
14 sts x 10 rows = 4″ in pattern
Notes
-This pattern is part of an ongoing project called the Traveling Afghans. See all the other squares, find the links to all other designer's patterns, and make the entire sampler blanket here!
CROCHET TRAVELING AFGHAN SQUARE
Ch 34
Row 1: Starting in thrid chain from hook, Hdc across, chain two and turn <32>
Row 2: Hdc across
Row 3: Ch 3, sk 1 hdc st, hdc, *ch 1, sk 1, hdc; rep from * across, chain three and turn <16 hdc>
Row 4: sk 1 hdc st, hdc, *ch 1, sk 1, hdc; rep from * across. Finish last stitch with mc yarn, chain two and turn
Repeat Rows  1-4 until you've finished 24 rows.
Finish off, weave ends.
The shape of your square may be a slight bit slanted but this can be straightened out with blocking. I recommend soaking your square in a bit of wool wash or mild laundry detergent, pinning it to a blocking board (make sure it measures 10 x 10″ when blocking!) and letting it dry.
Sew square to the rest of your Traveling Afghans blanket with a mattress stitch for a seamless join.