If you want to quit that dead-end job and make amazing money blogging at home, check out my
START A BLOG GUIDE!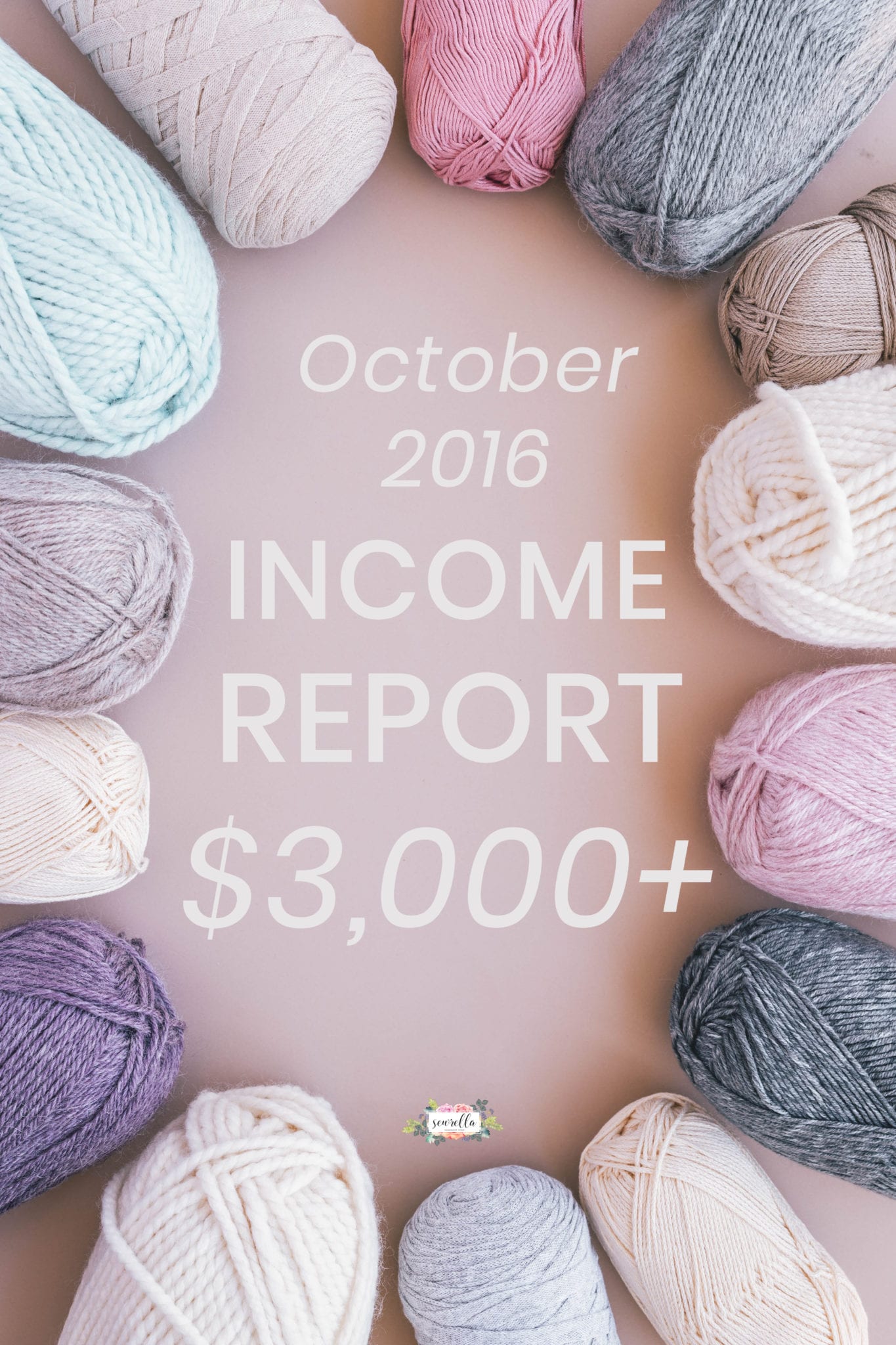 Hey there everyone!
As some of you may know I started this little bloggy right at the beginning of the year (2016) with yarn in hand, creativity abounding, and no expectations.
It's been 9 months since then and BOY have things changed.
Below is a breakdown of my current traffic and income here on the blog, and some factors that led me here.
Now, you may be asking yourself "Why on EARTH would she put her income and numbers out there for all the world to see? Isn't that part of the secret sauce?"
Nope! I started this blog a short while ago and have found great success (considering how long I've been working on it).
I want to encourage others to blog too!
Actually I put together my 3 Easy Steps to starting your own DIY blog HERE!
In the crochet niche of the internet, I've found one thing to be true – lots of people crochet, but not very many are publishing new patterns and putting out content.
There is a very small group of crochet bloggers out there (spend any time on Pinterest and you'll quickly name several) dominating the market.
And this job is not hard to do!
Let me repeat that. THIS JOB IS NOT HARD TO DO.
It took me about half an hour to set up my blog initially and although I've made many adjustments along the way, my blog has been earning me good money with a really basic setup.
Now what do I mean by "good money"?
October 2016 Income
Google Adsense (this month I left Adsense and joined Mediavine – see why below): $355.56
Mediavine: $1,257.87
Sponsored Content: $1,925
Amazon Associates: $39.68
Bluehost Affiliate: $130
Beautiful Dawn Designs Affiliate: $13.50
Infolinks (this month I left Infolinks): $43
Etsy Pattern Sales: $386.31
October 2016 Expenses
Blog Redesign: $550
Bluehost hosting (paid for the whole year at once): $107.28
Making Sense of Affiliate Marketing Course: $210
MadMimi: $42
Adobe Creative Cloud: $9.99
Etsy Seller Fees: $53.67
Supplies for blog posts: $80
*Keep in mind that not all of this money is mine forever. I am the sole proprietor of my business and will pay taxes, am responsible for my own health insurance, and other expenses that a traditional job would supply. That's still a lot of dough for playing with yarn though!
October 2016 Traffic
Some screenshots from google analytics:
Pageviews for the month of September:

Top ten traffic sources: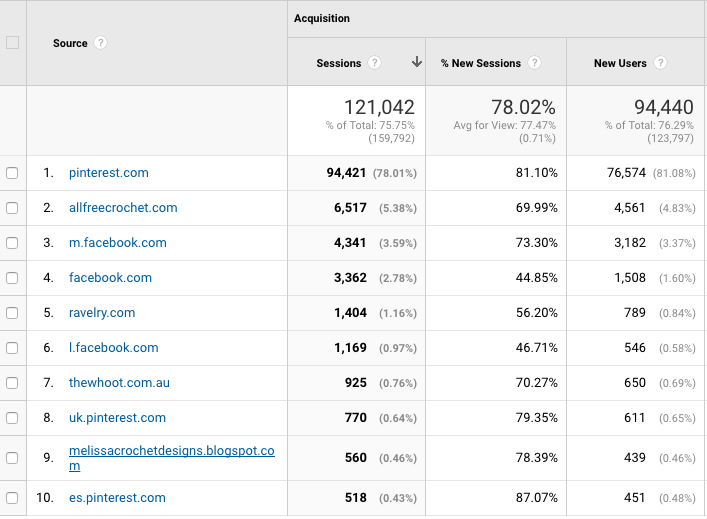 Let's talk about what happened this month:
Quite a few things changed as far as income, expenses, and traffic. Let's look at it a little more closely!
I dropped Adsense and got accepted to Mediavine's ad network. On the 14th of October I started running Mediavine ads on my site and dropped my other ad networks, Google Adsense and Infolinks. Now let's look at the numbers:

from the 1st-14th I earned $389.56 from these two ad networks. Not too shabby, but I had heard (and was told by the Mediavine team when I applied two weeks prior) that if accepted, my income would see a big improvement on their network.
from the 14th-31st I earned $1257.87 from Mediavine alone. WOW. Over triple my income from the other two. I'm so glad I made the switch!
-I made the move because of the increase in pay and because Mediavine is more user/viewer friendly. Their philosophy is that less is more. I now run far fewer ads on my site and they pay more per ad placement than Adsense or Infolinks ever did, even on their best day.
-Mediavine does this by being very exclusive when matching Ad networks to influencers (bloggers like me). Not just anybody with a brand new blog will be accepted to Mediavine – they have certain requirements as far as who they bring on to their network.
-I waited to apply to their network until I had well over 100k pageviews per month and was confident I would be accepted. Adsense and Infolinks were a great place for me to start, as there is a lot less screening to become a part of their ad networks, but now that my blog is really rocking and rolling, it was time to move on!
-This opened the door for some affiliate marketing. Currently I am an affiliate for Bluehost and Beautiful Dawn Designs and these links are placed on my Start a DIY blog page. I'm planning on writing several other articles to go along with this page and branch out into more affiliate marketing.
I hired Laura from Pixel Me Designs to redesign my blog. This was a decision I made months ago, as I put together the old design of my blog myself. And let me tell ya, I'm no web designer. So once I was earning enough to afford it, I reinvested in my business and I think it looks LOADS better! Don't you?
-Laura had a waiting list, so after I signed up in the end of June, my redesign date finally came up at the end of October! This investment really racked up my expenses for the month (I won't be spending $550 on redesign every month) but I still came out with a very profitable bottom line.
I invested in an online marketing course. I'll be writing much more about this in a later post, but I invested $210 this month into my own blogging education.
-I knew that I could be doing a lot more with my affiliate marketing strategies, so I signed up for Making Sense of Affiliate Marketing which is a course designed by a very successful blogger. The course helps you to understand and incorporate affiliate marketing strategies to your blog and diversify your income. It has already proved to be a worthy investment because just this month I've earned back my investment with just my affiliate income after applying what I learned in the course!
–CLICK HERE to check out this awesome asset to any blogger!
I did my first Social Fabric blog posts! Social Fabric is a website that connects brands with bloggers. You go on, make a profile, and can apply to different "shoppertunities."
-Basically a brand will list a job (like the Command Hooks brand listed a job for selling their hooks with an autumn DIY tutorial), a blogger applies for the job, and the brand chooses who among applicants to offer the job to, you can then accept or deny the opportunity. I took two shoppertunities this month that you can see HERE and HERE.
-It was so much fun to shop for supplies with a budget from the brand, create something new, and tell my readers about a product. Doing the shoppertunities brought in some extra cash and helps to push me outside my comfort zone – I probably wouldn't have made a wreath if I weren't working with Command Hooks!
If you want to quit that dead-end job and make amazing money blogging at home, check out my START A BLOG GUIDE!
I'll catch you back here next month for our next Income Report!