If you want to quit that dead-end job and make amazing money blogging at home, check out my
FREE START A BLOG GUIDE!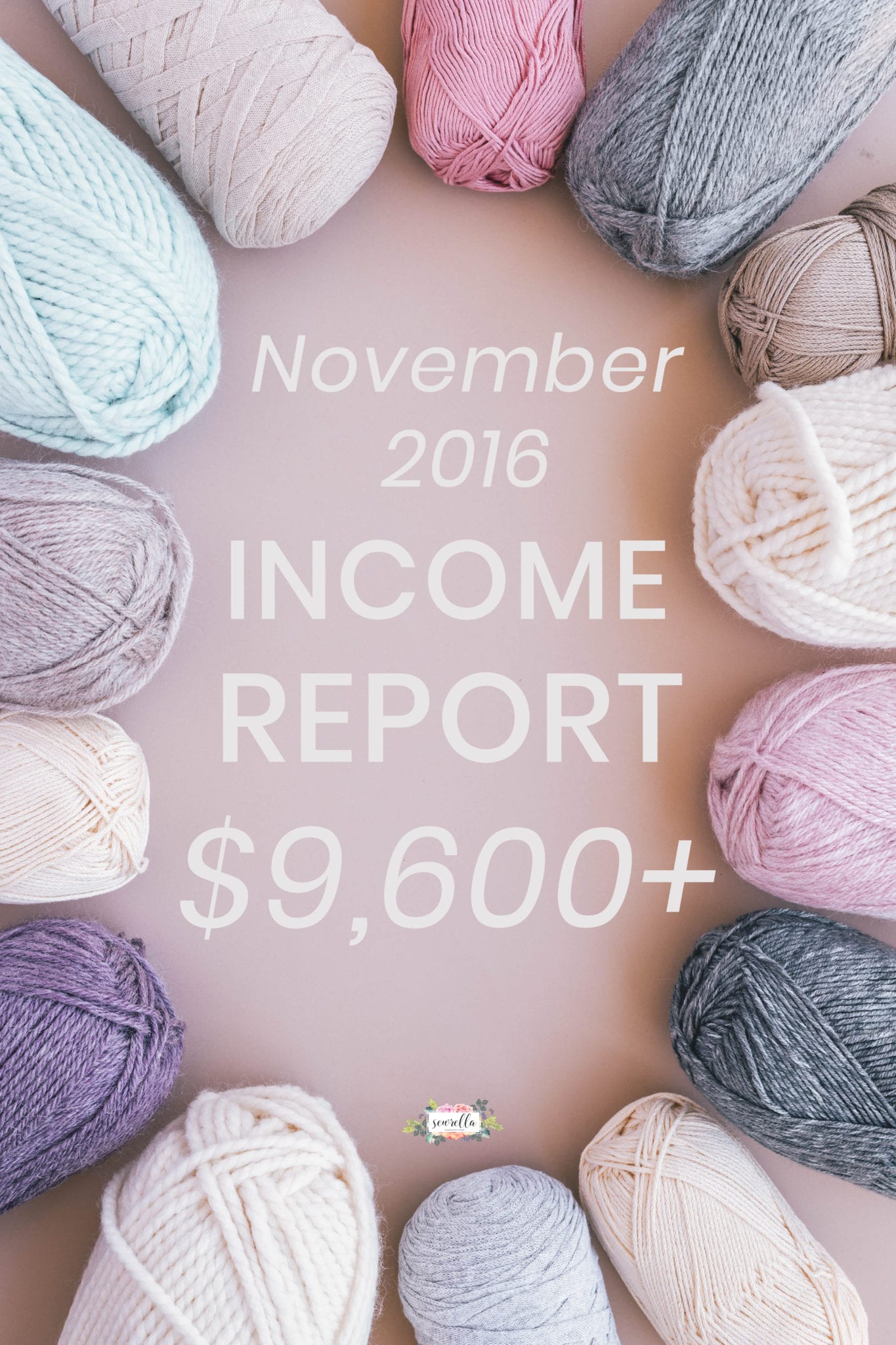 Hey there everyone!
As some of you may know I started this little bloggy right at the beginning of the year (2016) with yarn in hand, creativity abounding, and no expectations.
It's been 11 months since then and BOY have things changed.
Below is a breakdown of my current traffic and income here on the blog, and some factors that led me here.
Now, you may be asking yourself "Why on EARTH would she put her income and numbers out there for all the world to see? Isn't that part of the secret sauce?"
Nope! I started this blog a short while ago and have found great success (considering how long I've been working on it).
I want to encourage others to blog too!
Actually I put together my 3 Easy Steps to starting your own DIY blog HERE!
In the crochet niche of the internet, I've found one thing to be true – lots of people crochet, but not very many are publishing new patterns and putting out content.
There is a very small group of crochet bloggers out there (spend any time on Pinterest and you'll quickly name several) dominating the market.
And this job is not hard to do!
Let me repeat that. THIS JOB IS NOT HARD TO DO.
It took me about half an hour to set up my blog initially and although I've made many adjustments along the way, my blog has been earning me good money with a really basic setup.
Now what do I mean by "good money"?
November 2016 Income
Mediavine: $2,377.91
Sponsored Content: $5,825

Sponsored video: $2,750
Sponsored blog posts: $3,075

Youtube: $146.49
Amazon Associates: $30.89
Bluehost Affiliate: $910
Beautiful Dawn Designs Affiliate: $27
Etsy Pattern Sales: $502.40
October 2016 Expenses
MadMimi: $42
Adobe Creative Cloud: $9.99
Etsy Seller Fees: $60.94
Supplies for blog posts: $100
*Keep in mind that not all of this money is mine forever. I am the sole proprietor of my business and will pay taxes, am responsible for my own health insurance, and other expenses that a traditional job would supply. That's still a lot of dough for playing with yarn though!
November 2016 Traffic
Some screenshots from google analytics:
Pageviews for the month of September:

Top ten traffic sources: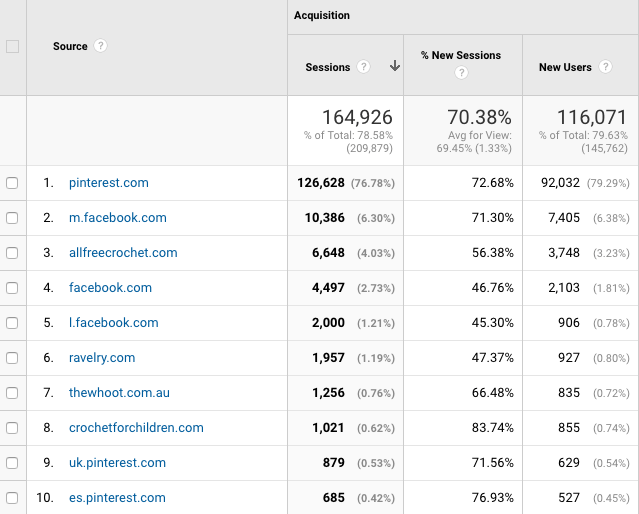 Let's talk about what happened this month:
Quite a few things changed as far as income, expenses, and traffic. Let's look at it a little more closely!
My first full month under Mediavine's umbrella and look at that earnings number! I'm so so glad I dropped Adsense and picked up Mediavine – I've earned thousands more than I ever had with Adsense. Especially considering my traffic boost was smaller (more on that later).
I am still pulling some money from Adsense via Youtube. You'll see that as it's own listing from here on out, since it's my only Adsense income (Youtube runs Adsense ads and technically my check from Youtube earnings will come from Adsense).
Sponsored content has gone BANANAS this month! (Super grateful to them, thanks guys!) Let's look at this more closely:

A good portion of the sponsored blog post income came from one big project that ended in November. I've been working on this project, spending hours every week on it, since August. So really I was working for this money for over 3 months. It's just that the actual payment was issued in November, so it falls under income for this month. Keep in mind that if I was paid as I worked (like a traditional hourly or salary job) this would have been evened out a bit more.
Sponsored video has been a somewhat new area for me – I've stepped away from my Youtube channel since my blog has taken off, but I have been approached to create video content for other sites. Being the busy holiday season, there has been more of this work available to me lately – but it won't stick around forever.
The holidays are HUGE for bloggers (or so I've read, remember – this is still my first year blogging!). Quarter 4 is the quarter when big companies spend the most money on advertising. So I've had a lot more opportunities for sponsorships and collaborations this month.

The holiday season has brought me more traffic. At least, I'm pinning the increase in traffic on the business of the season. I hear that bloggers see a big spike in traffic during the last couple of months during the calendar year (particularly craft and DIY blogs) and then it tapers off after the turn of the calendar. We'll see if that's true! This is my first November as a blogger so I have nothing to compare to. Hopefully the traffic is here to stay and is just a reflection of my organic growth, but I also understand that this behavior could be due to Christmas.
Expenses were low this month, without spending any money on reinvestment in my blog, and a lot of my supplies being donated or sent for free via sponsorship collabs. I did spend a little too much leisurely money this month, but I don't think my Lularoe addiction counts as a blogging expense. Perhaps I'll come back to Youtube and feature my outfits – then it's a tax write-off right? 😉
If you want to quit that dead-end job and make amazing money blogging at home, check out my
FREE START A BLOG GUIDE!