If you want to quit that dead-end job and make amazing money blogging at home, check out my
FREE START A BLOG GUIDE!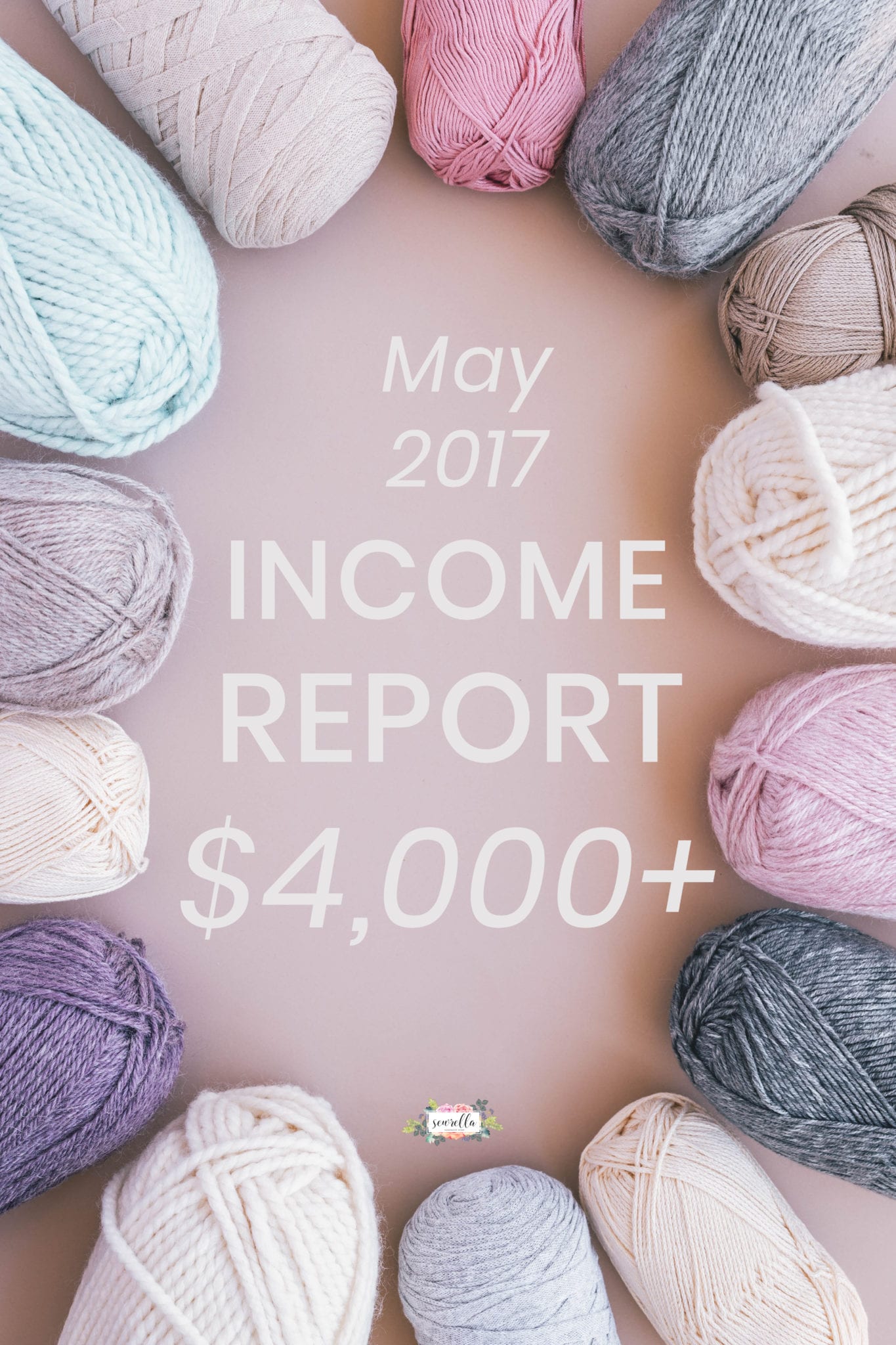 Hey there everyone!
As some of you may know I started this little bloggy right at the beginning of last year (2016) with yarn in hand, creativity abounding, and no expectations.
It's been a while since then and BOY have things changed.
Below is a breakdown of my current traffic and income here on the blog, and some factors that led me here.
Now, you may be asking yourself "Why on EARTH would she put her income and numbers out there for all the world to see? Isn't that part of the secret sauce?"
Nope! I started this blog a short while ago and have found great success (considering how long I've been working on it).
I want to encourage others to blog too!
Actually I put together my 3 Easy Steps to starting your own DIY blog HERE!
In the crochet niche of the internet, I've found one thing to be true – lots of people crochet, but not very many are publishing new patterns and putting out content.
There is a very small group of crochet bloggers out there (spend any time on Pinterest and you'll quickly name several) dominating the market.
And this job is not hard to do!
Let me repeat that. THIS JOB IS NOT HARD TO DO.
It took me about half an hour to set up my blog initially and although I've made many adjustments along the way, my blog has been earning me good money with a really basic setup.
Now what do I mean by "good money"?
May 2017 Income
May 2017 Expenses
MadMimi: $42
Adobe Creative Cloud: $9.99
Etsy Seller Fees: $49.72
Supplies for blog posts: $25
*Keep in mind that not all of this money is mine forever. I am the sole proprietor of my business and will pay taxes, am responsible for my own health insurance, and other expenses that a traditional job would supply. That's still a lot of dough for playing with yarn though!
May 2017 Traffic
Some screenshots from google analytics:
Pageviews for the month of May:

Top ten traffic sources: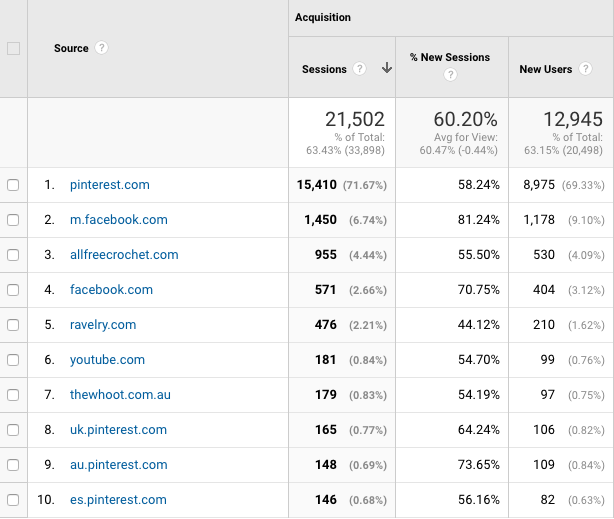 Let's talk about what happened this month:
Quite a few things changed as far as income, expenses, and traffic. Let's look at it a little more closely!
AdThrive is still amazing.

My RPM (Rate per 1000 pageviews) has moved back up to the $10 range, which is awesome since my traffic is NOT where I would like it be
An interesting thing happened – my AdThrive video ads jumped up to over $132… THAT'S ALMOST AS MUCH AS YOUTUBE WAS A FEW MONTHS AGO. WHAT. I only have about 5 videos uploaded to the AdThrive video player (just because it's a longer process to upload here and integrate on my page instead of copy/pasting the youtube code). These videos are really only in the sidebar of the main blog page and have required NO extra effort on my part, and this month it earned enough to pay for a trunk full of groceries? WIN!

I've worked on YouTube videos even more this month and it's helping my channel to continue growing. I uploaded several new videos this month & I'm starting to restructure things to devote more time to YouTube.

More videos to come – make sure you're subscribed to my channel!
I've earned a few more dollars here than in previous months, but YouTube is not a world of quick gratification (maybe it is if you go viral). For my niche and my videos, its a slow and steady climb to great income. I'm still at the bottom of that hill, but with time and consistent watering – this plant is sure to grow.
My subscriber count is really starting to grow too, I just broke 25,000! With YouTube, there is a "snowball effect." What that means is that there is slow and steady growth for a while, but as you start to pick up steam (as far as subscriber counts) that number only grows more rapidly as it gets larger. Imagine a small snowball rolling down a hill – every time it gets slightly bigger, it rolls faster and thus get's even bigger. Make sense?
I'm having a lot of fun shooting videos and trying to upload 2-3 times per week is forcing me to remain consistent with blog posting as well (because I always link up a blog post to my videos — this means DOUBLE MONEY due to ads on my site and youtube).

Sponsored content was not really great this month. This is one of those areas that's always changing and will never be predictable income. So even though I'm super motivated to work with sponsors, this is the time of year that it's really not in their budget to hand out sponsorships all day long.

I've let go of my sponsored video job. I was creating videos and selling them to another website. This was great because it allowed me to earn some fast cash making simple videos, but after doing this for months (and with Happy Yarn Mail starting) my time was becoming really limited. I had to cut back in some areas, and this got cut from the list. Although that means less money in the bank this month, it DOES mean that I'm focusing on building my own brand & content, not somebody else's.
I've got some new relationships with brands blooming, even though during this time of the year my niche is slow so brands aren't spending lots of cash on sponsoring bloggers. Rather, they are sending lots of free product. So the money I'm saving on supplies is in the neighborhood of HUNDREDS per month. Not a bad gig, y'all!

(These notes from last month are even more true –) Those page view counts are less than stellar, considering the counts I've had over last winter. I took a big dip in a less than ideal direction but I attribute this to a few things:

We are embarking on the slowest part of the year. For bloggers in general, and especially crochet bloggers, I hear that now through about August the numbers are pretty dismal.
We are moving through Q2 – which automatically means a big dip is coming. Companies I usually work with are pulling back on advertising expenditures and this is the part of the year when everyone is stingy with their pennies. The populous is spending less frivolously and creative industries are seen more as a luxury than a necessity.
With getting my new spinoff business (Happy Yarn Mail) up and running, my blog has gotten less attention than it usually would. I'm trying to pay as much attention to my blog as possible, but I'm not posting as much as I was before starting up HYM. It's all good though, because there are entire weeks of the month I don't touch or think about my blog but guess what? IT'S STILL EARNING MONEY.
All of these things combined resulted in less traffic and less moo-lah. I've still got enough to pay the bills, though so I'm a happy camper!

HAPPY YARN MAIL IS STILL AMAZING! (Click HERE if you haven't heard of HYM!) We sold out again this month and that means that where my Sewrella money has dipped, HYM is making up for it.

I'm not including those numbers here because it's really a separate business from my blogging business.

Bluehost and Beautiful Dawn Designs have continued to do well – I'm so glad you guys are taking what I write to heart and starting those blogs! If you haven't started your blog yet, need I say more?? Click here to get started!
Expenses were low this month, without spending much money on reinvestment in my blog, and a lot of my supplies being donated or sent for free via sponsorship collabs.
What do you want to see from my blog in 2017? I have so many ideas up my sleeve, it's hard not to start them all at once! Leave me a suggestion in the comments below.
If you want to quit that dead-end job and make amazing money blogging at home, check out my
FREE START A BLOG GUIDE!